News
Ieva Bidermane 'Best Footballer in Latvia'
22 / 12 / 2015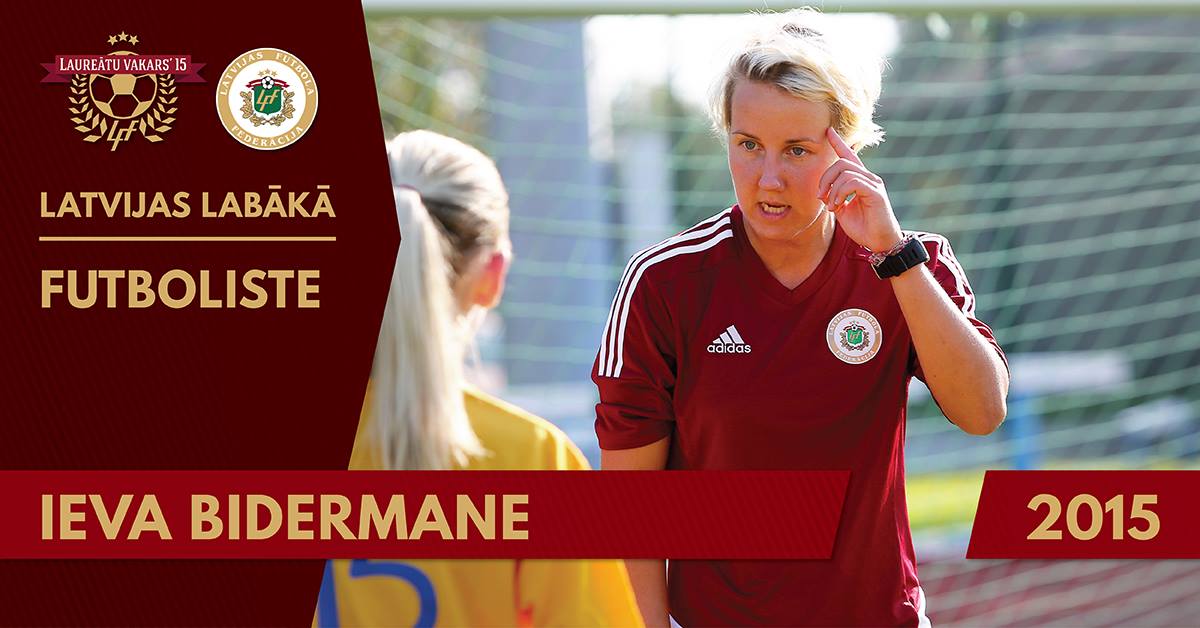 Riga United player Ieva Bidermane has picked up the prestigious award of 'Best Footballer in Latvia' at the annual LFF Awards evening
Ieva Bidermane has picked up the prestigious award of 'the best female footballer in Latvia' at the annual Latvian Football Federation awards night, held on December 21, 2015 in the Latvian capital. In early December, Ieva was voted the best female midfielder in Latvia at the annual SFL awards night, but the 'Best Footballer in Latvia' title is the top award in Latvian football for men and women. Andris Vaņins, who plays for FC Sion in Switzerland, took the award for the best men's player in Latvia.
Ieva Bidermane has been recognised as being the best female footballer in Latvia despite missing several weeks of the 2015 SFL league season; returning from injury sharper and hungrier than ever, and scoring Riga United Ladies first ever league hattrick in September 2015. She also impressed for the national team, switching from a wide midfield position to a more influential central midfield role during the 2015 campaigns for both club and country.
Ieva Bidermane told RigaUnited.com: "I couldn't have wished to finish off this year on a better note. Yesterday's award was a very pleasant surprise and as I tried to explain in my (totally not prepared) speech, last year was amazing for me. Maybe because it was the first full year I played coming back from long-term injury and, after quite some time, I was back in Latvia, which allowed me to participate in all the SFL games as well as all National Team fixtures. And with the help of Ņina (Travkina) I also got offered the chance to be involved in making women's and girls' football more visible in Latvia, which was super nice to be part of. So it's been a great all-round-football-year for me and, being acknowledged in this way, just warms my heart and gives me even more motivation for next year!"