News
RIGA UNITED'S 3RD ANNUAL AWARD CEREMONY
18 / 10 / 2015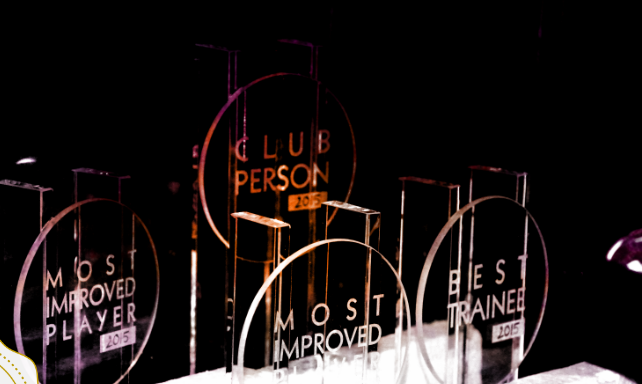 GREAT ATTENDANCE FOR THE CEREMONY AS KAREEM GOUGLOU AND IEVA BIDERMANE PROVE TO BE THE SUCCESSES OF THE EVENING.
Yesterday evening (17/10/2015), Riga United held it's 3rd Annual awards/end of season party at Paddy Whelan's pub. All the votes were cast by players and fans alike.

There was a great turnout from the players as the evening proved to be the most successful yet. The awards were jointly hosted by Richard Youatt and Mo Awada with cameos from Justin Walley and John Whitmore.

The evening's big successes turned out to be Kareem Gouglou (Riga United FC) and Ieva Bidermane (Riga United Ladies), who both picked up 3 awards each 'Top Goalscorer'. 'Goal of the Season' and 'Players' Player' respectively. However club favourite, Paul Andrez picked up 'Club Person 2015', to the delight of everyone attending.

Three of the players who won awards were not able to attend, Niels Krause 'Manager's Player' (Riga United FC), Anton Agebrant 'Supporters' Player' (Riga United FC) and Stefanos Panagidis 'Best Trainee' (Riga United FC). They did leave video messages thanking everyone for their vote and Stefanos' video, got a particularly rapturous reception after he brought the attendees to tears with his funny acceptance speech.

Men's team coaches Mo Awada and Graham Williams also presented the club a trophy from the Rīgas Futbola Federācija for "The Best Home Match Organisers'. This story is to be followed up soon.

Riga United FC would like to thank everyone who came to the event and we gratefully appreciate the hospitality of Paddy Whelan's.

Here is the list of the award winners:
Club Person:
Paul Gloria Andrez

Top Goalscorer:
Ieva Bidermane
Kareem Gouglou

Manager's Player:
Kristin Aune
Niels Krause

Players' Player
Ieva Bidermane
Kareem Gouglou

Supporters' Player
Liene Vaciete
Anton Agebrant

Goal of the Season
Ieva Bidermane
Kareem Gouglou

Best Trainee
Viginija Liepina
Stefanos Panagidis

Most Improved
Aina Bikse
Uldis Aliks

HeroAwards
Nandi Bardosi
Paul Gloria Andrez
Niels Krause
Murat Kelkit.

The club also received an award from the RFF a few weeks previously but it was presented to the rest of the club by Mo Awada nad Graham Williams. The club were awarded the 'Best Home Game Organizers 2015'

Photos from the event can be found here.