History / Vēsture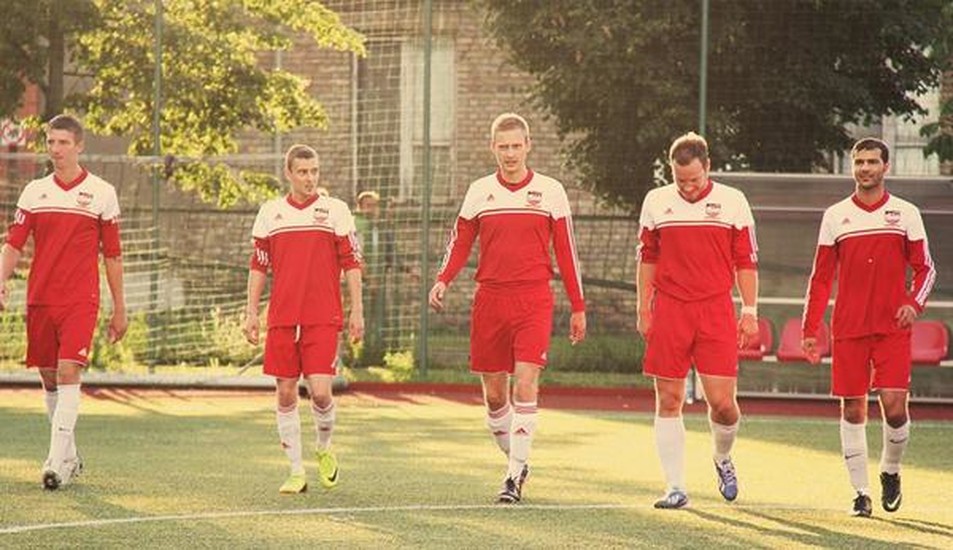 Riga United Club History
Around the turn of the Millennium, there were only a handful of foreigners living in the Latvian capital who wanted to or who were capable of playing football at a competitive level. The only team around the year 2000 that offered the opportunity for foreign amateur footballers to play football was 'the British Embassy football team'. Among its number was the Latvian national football team manager at that time - Gary Johnson - as well as fellow Englishman Justin Walley. In fact, half of the team was made up of Danish diplomats, who passed as British citizens simply because the whole team communicated in English.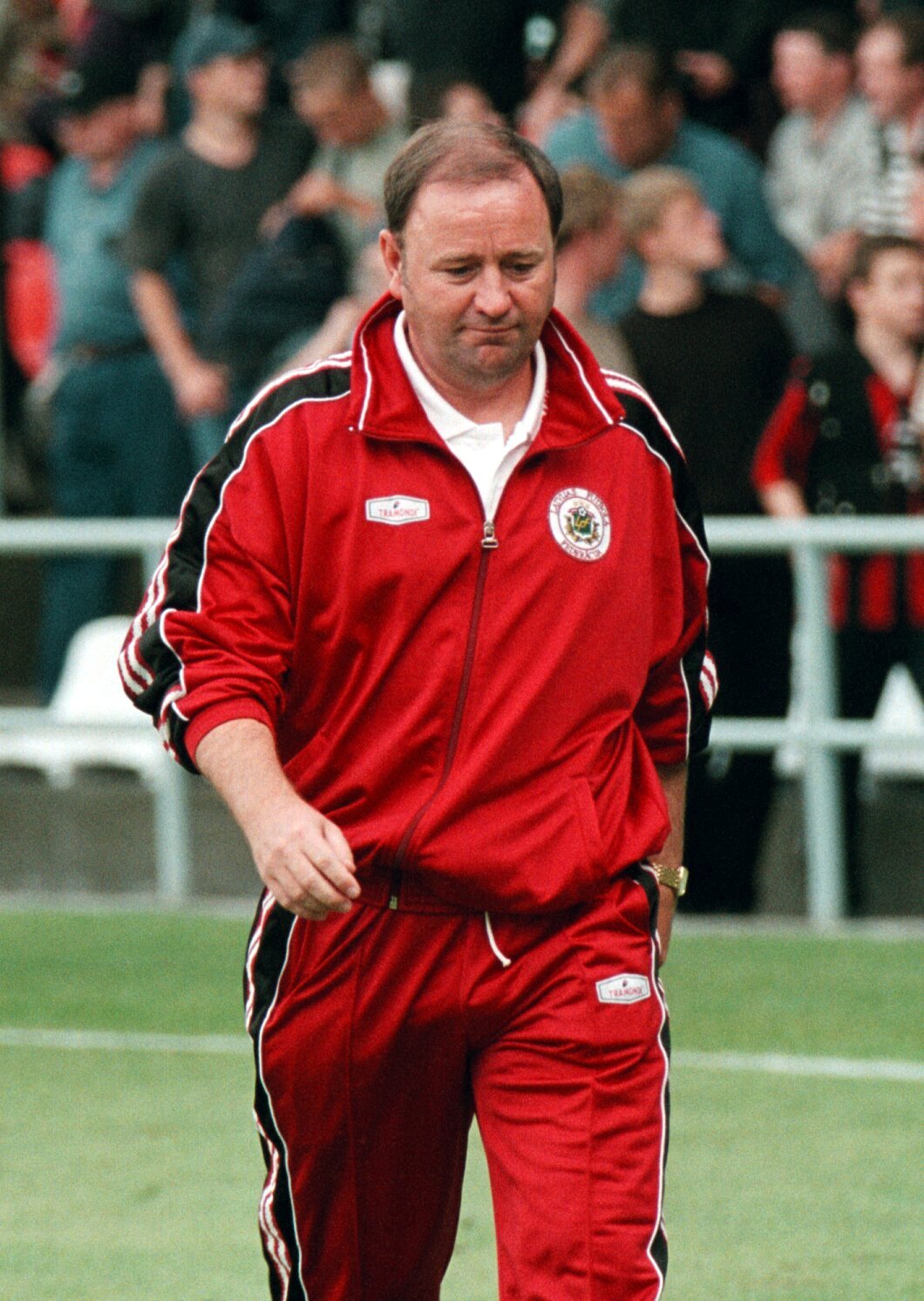 Gary Johnson, former Latvian national football team manager
'The Golden Cicus'
Eventually, the British Embassy team faded away leaving a football-less vacuum for local expats who wanted a kick about.
In 2001, Englishmen John Whitmore and Justin Walley - who worked together as English-language teachers - decided it was time to create a football team in Riga that both Latvians and foreigners could play for. For several months this didn't amount to much more than the odd indoor five-a-side game but, with perseverance, some kind of team was born, and a year later John Whitmore took his brave band of Latvians and Russians on tour to Holland, where they finished a credible last in an invitation tournament. The team was simply referred to as 'Zelta Cirks' or 'The Golden Circus'.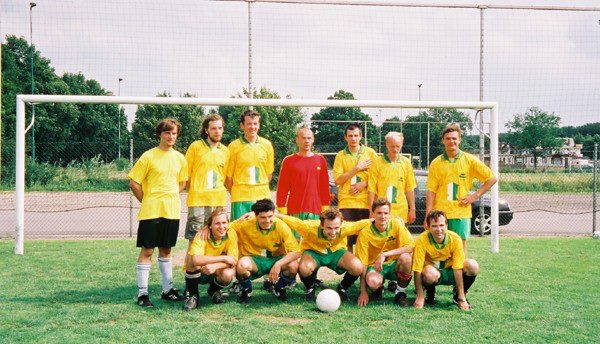 The Zelta Cirks team
Football 'arrives' in Latvia
After the team finished third in a tournament in Kuldiga in 2002, Justin Walley departed the club to live in Japan, leaving John Whitmore to continue his good work with 'the Golden Circus'. Latvia's well-deserved qualification for the 2004 European Football Championships in Portugal helped finally put football on the sporting map in Latvia after it had been eclipsed for decades by ice hockey, basketball and winter sports. Latvia drew with Germany in the group stage and only narrowly lost to a very good Czech Republic side. Suddenly many young Latvians were interested in playing football for the first time.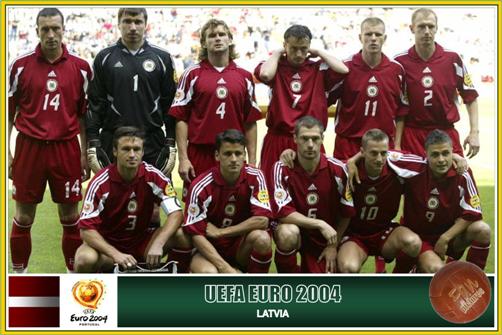 The same year, Latvia joined the EU and the number of foreigners living in Latvia saw a dramatic increase. Suddenly, the demand for a Riga-based amateur football team open to players of any nationality, was significant.
American Thuc To and Spaniard Vicente Navas teamed up with John Whitmore in the running of an informal football team with a regular core of players competing against one another playing solely indoor 5 a side.
Later, Welshman Austin Nicholas became heavily involved as dreams of creating a 'real team' began to take shape. Soon, in 2006, the team 'Riga Out There' was created to play matches. Italian Tancredi Palmeri (pictured bottom right), who now works as a football pundit for CNN, was an important member of that team.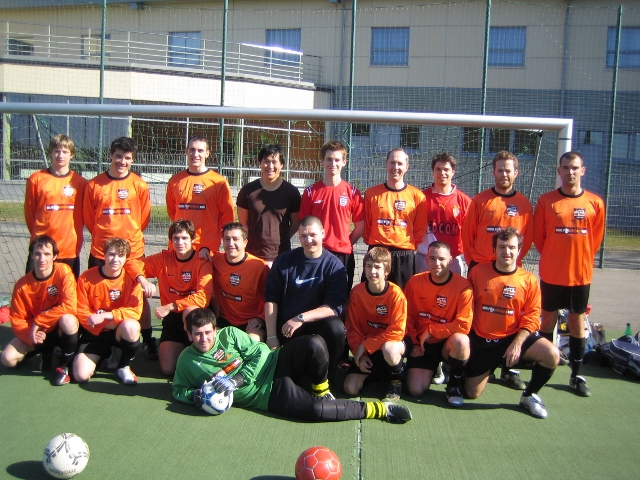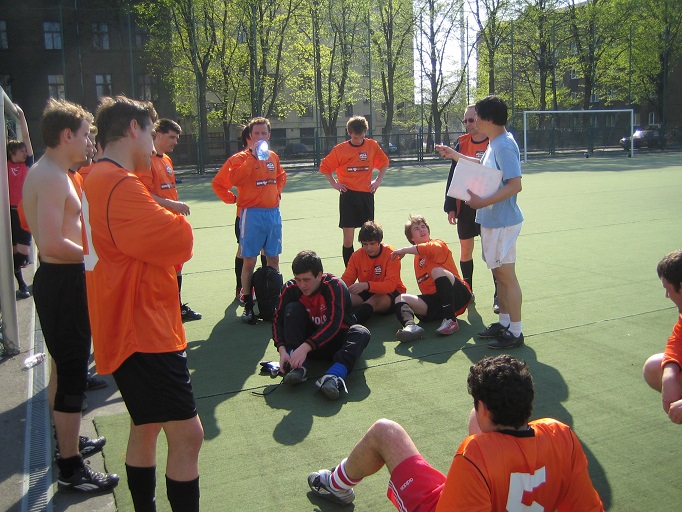 Riga Out There FC in 2006
Welsh dreamer
Austin Nicholas had big dreams of founding a football team that could unite locals and expats, and also play touring teams from abroad coming to Latvia. The club began to attract some good players, which in turn created the desire to play regular competitive football. Making the most of the long, beautiful Latvian summers was also a reason why many players wanted to start playing outdoors from May until September, instead of being stuck inside local gyms playing six-a-side matches. Austin took on the running of the club and his company, Travel Out There, financially supported the setting up of Riga United in 2007.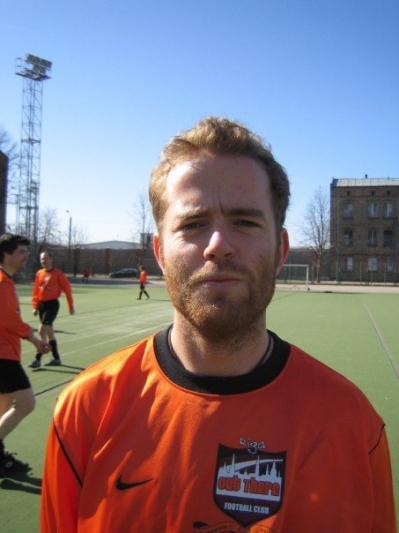 Austin Nicholas

Riga United is born
Riga United Football Club was officially founded on April 20, 2007, around six years after John Whitmore and Justin Walley had first discussed the idea of creating a football club that would unite expats and locals. The club's name was chosen to reflect the fact that this amateur sports club united members of both the local Latvian and expat communities socially and in sport. That said, the overwhelming majority of its players were foreigners living in Riga.
The team made its debut in the Latvian Amateur Football League in May 2007 and, in doing so, became the first truly multinational team to ever compete in the Latvian Amateur League. The team included players from Latvia, Italy, England, Nigeria and a host of other countries. The LAFL was the best amateur league in Latvia at that time and despite a couple of notable victories, Riga United finished in the bottom half of the table, unable to match the best teams, many of which included ex-professionals, including a number of retired internationals.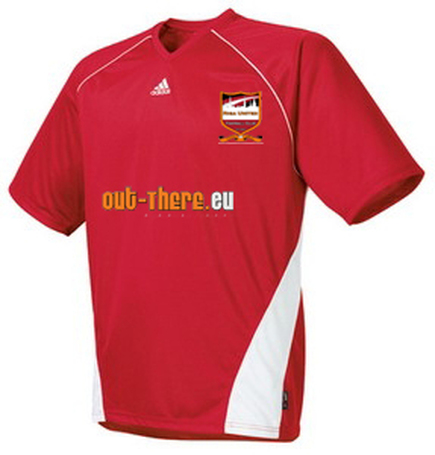 The first ever Riga United club shirt, created in 2007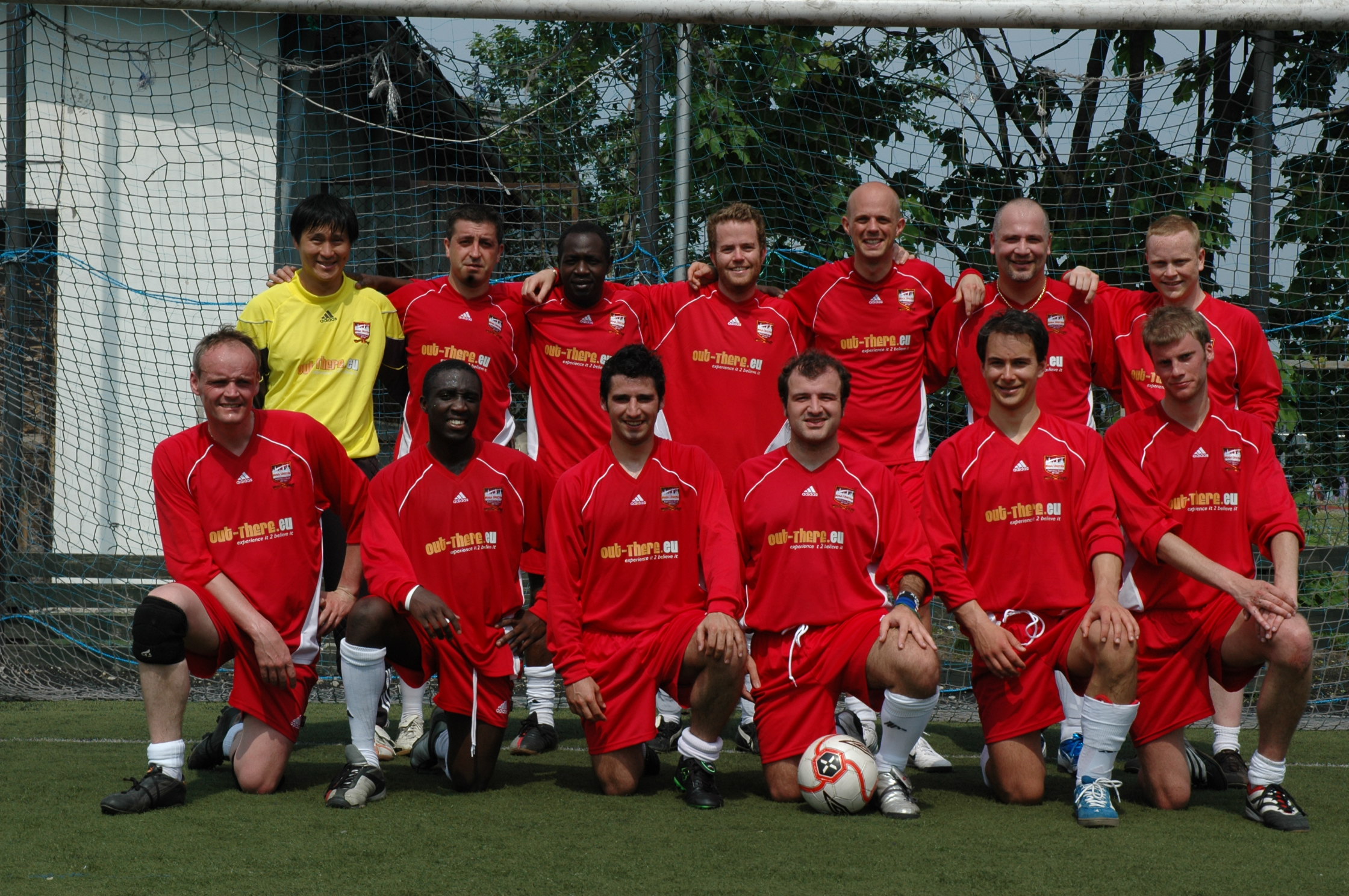 Riga United FC in 2007 wearing the club's brand new official club shirt, which was used until the end of 2012

'United for the game'
The club's crest was designed and chosen to reflect the image of Latvia's beautiful capital city, together with the idea of a 'united Riga'. The club's Latvian motto - Vienoti Spelei - translates as: 'United for the game'.
In the summer of 2007, Austin Nicholas and Justin Walley met the General Secretary of the Latvian Football Federation, Janis Mezeckis, and discussed the club's 'long term vision' of playing in the Latvian national league within five years. Mister Mezeckis told the two of them he believed their dream was achievable and that the Latvian Football Federation approved greatly of their football project.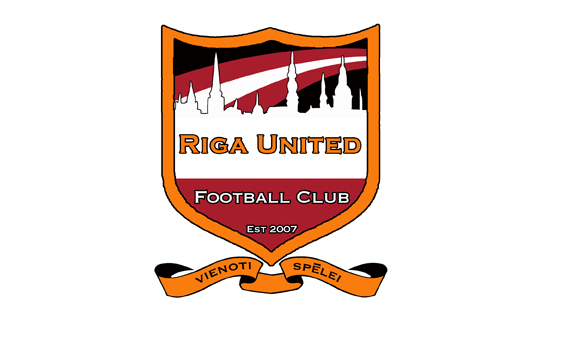 The Riga United club badge: created in 2007 and trademarked in 2014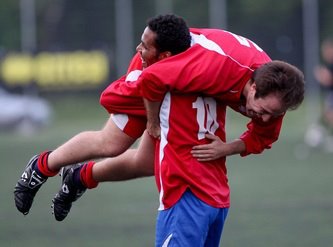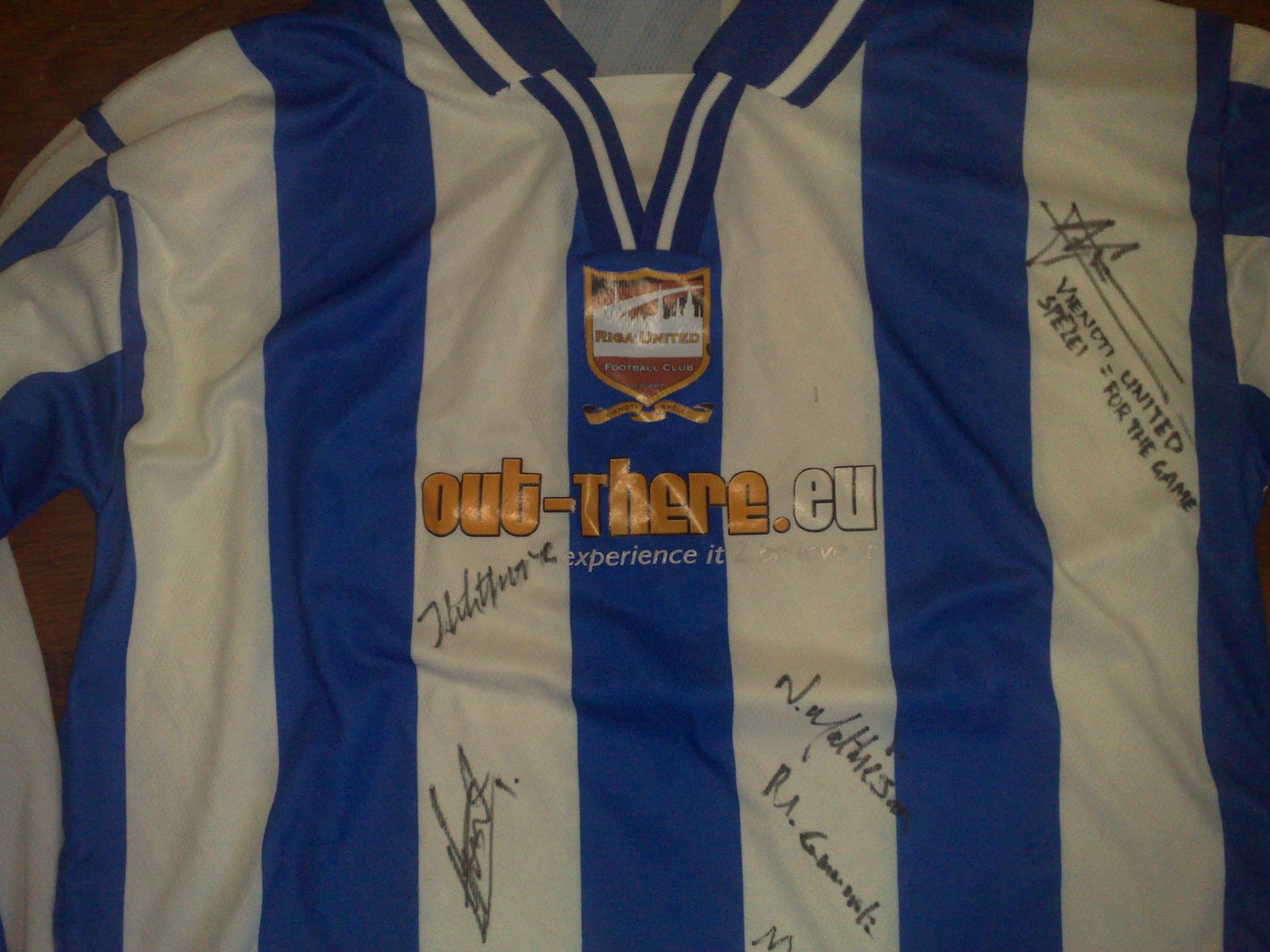 Riga United's first ever away strip
Taking on Northern Ireland
One of Riga United's first high points was representing Latvia as they played a friendly against the Northern Ireland national team's supporters' club in autumn 2007, a day ahead of the UEFA 2008 international Latvia v Northern Ireland. RUFC won the match, with Cameroonian Emmanuel Njodzeka Wirdzemo scoring a sensational hat-trick.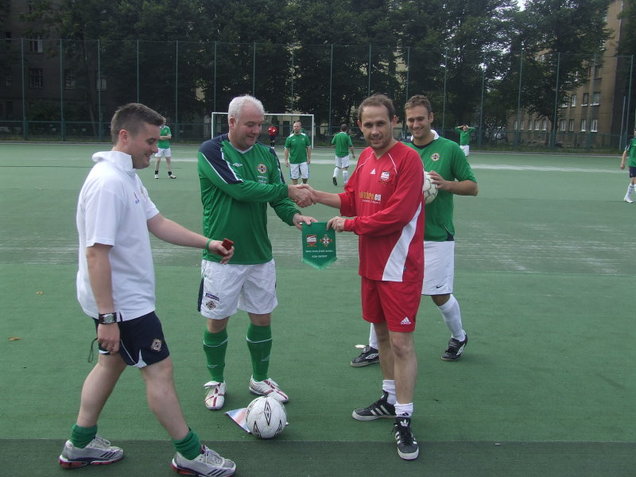 Riga United & the Northern Ireland Supporters' team in 2007
The Cameroonian (pictured below) went on to play for one of Latvia's leading clubs - FS Metta - and later signed for Premier League side FK Riga just prior to the club becoming defunct due to crippling financial debts. 'Manu' was also offered a trial by a Scottish Premier league side Inverness Caledonian Thistle but sadly his visa application was not granted at the time.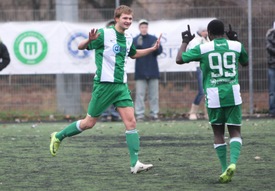 Emmanuel Njodzeka Wirdzemo
The class of '08
Riga United's first tournament success came in 2008, when the team finished third in the 32-team 8-a-side LAFL league, which ran over the whole summer. The team was coached by Emmanuel Njodzeka Wirdzemo and managed by Mo Awada, John Whitmore and Justin Walley, with Awada and Whitmore ever present on and off the pitch throughout the campaign.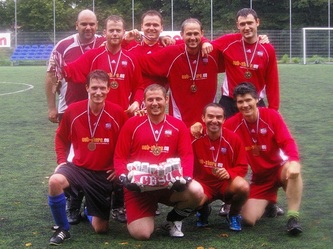 The Riga United team that finished 3rd in the 2008 LAFL League
Early on in the competition United had been in the bottom half of their qualifying table, but an unbeaten winning run saw them qualify for the play-offs, where they thrashed much fancied Kengarags 4-0 in the quarter final before narrowly losing 1-2 to eventual winners Ulbroka in the semi-final.
Midway through the campaign, United were filmed both training and in a competitive match by UK television company Bravo TV. The documentary took a look at the lives of expats living in Latvia with special emphasis given to some of the foreign members of Riga United FC.
'Mike the Manager'
During 2009 and 2010 , the team concentrated on playing 11-a-side international friendlies against quality touring teams from abroad.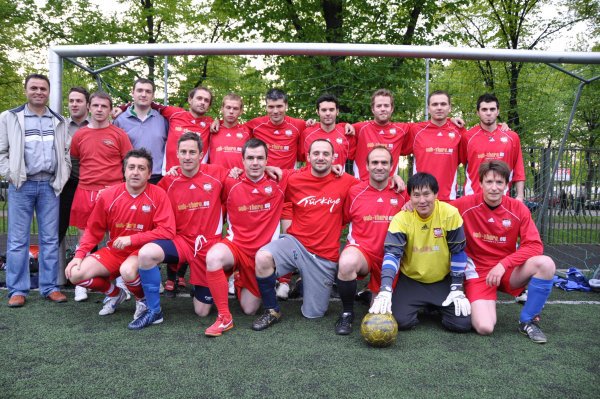 Scotsman Mike Eames became the club's first ever full-time manager, and the club continued to develop both on and off the pitch under his stewardship.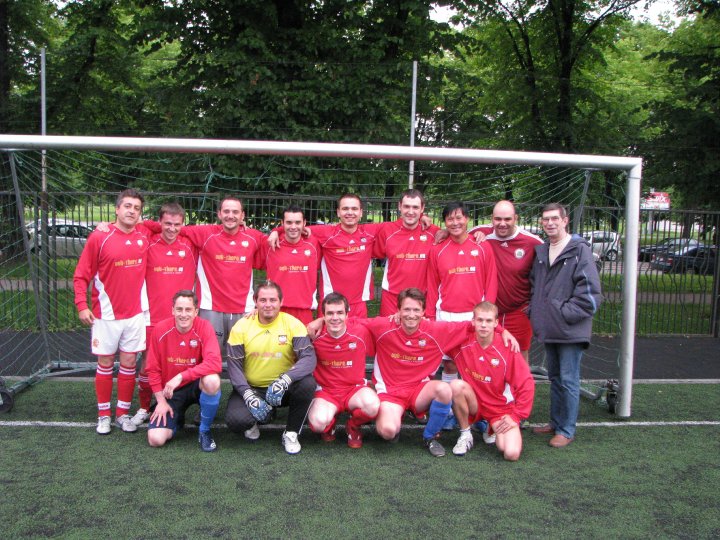 Riga United FC in 2009 together with its first ever full-time manager, Mike Eames
Rivals become best friends
During that time, Riga United regularly played the team from Rigas Stradins University, which was also largely made up of foreign players. Matches with RSU often became heated with the rivalry seemingly intensifying with each encounter. These games were usually close, perhaps finishing 4-3 or 3-2 with a last minute goal here and there.
Over time, however, this rivalry turned into respect for one another and RSU and RUFC began to regard the other as friends rather than as football enemies. So much so, in fact, that on occasions, RSU players turned out for Riga United in matches against foreign touring teams from England and Holland.
Off the pitch, players from both teams began socializing with one another but the RSU v RUFC rivalry remained. From this time, Riga United established a close relationship with student footballers from Rigas Stradins, the Stockholm School of Economics in Riga, and Erasmus. In later years, some of Riga United's best players -both men and women - were discovered from its student contacts.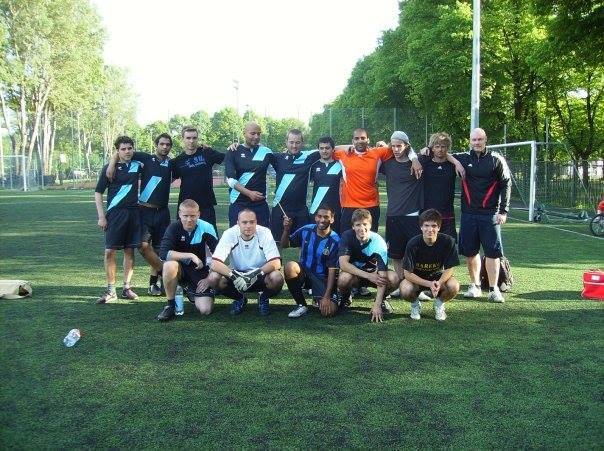 The RSU team ahead of a match with Riga United in 2010
Twelve months per year
In the winter of 2010, Riga United joined a Futsal league and, for the first, time the club played and/or trained for the whole 12 months of the year.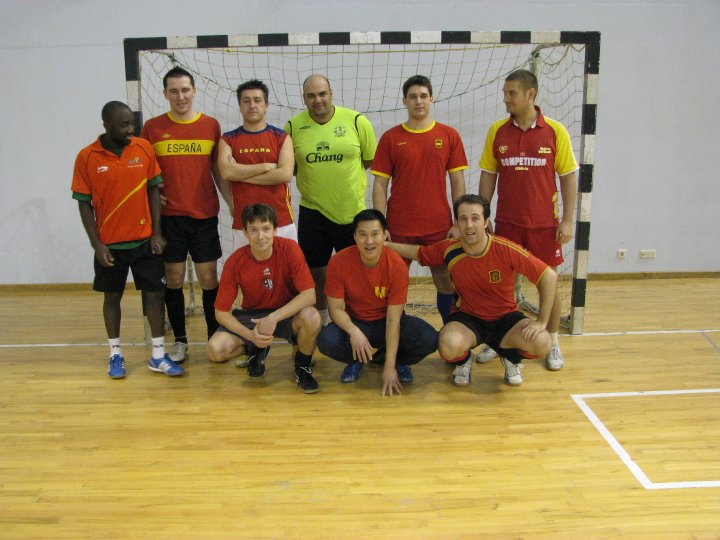 The Riga United 2010 futsal team
Tragedy strikes
Tragically, Mike passed away from cancer in late 2010. His passing was rapid and a tremendous shock and loss to many; especially Riga United's 'old guard' who had lost a good friend.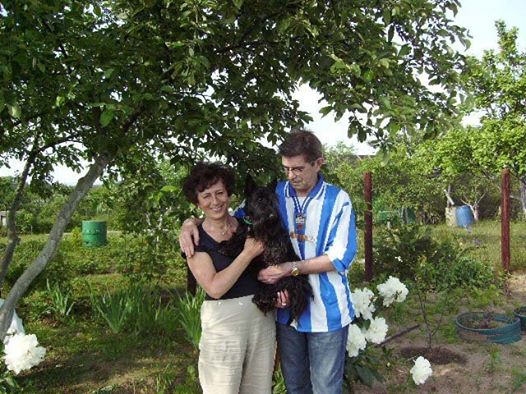 Mike Eames RIP. You are greatly missed!
New beginnings
American UEFA-qualified coach Jeffrey Young joined United in late 2010 as the club began to develop its philosophy and training techniques. At the same time, many of Riga United's 'old guard' departed Latvia as the Latvian economic depression cost them their jobs and they were forced to return to their native countries. A number of other long time regulars also began to retire from the game of football.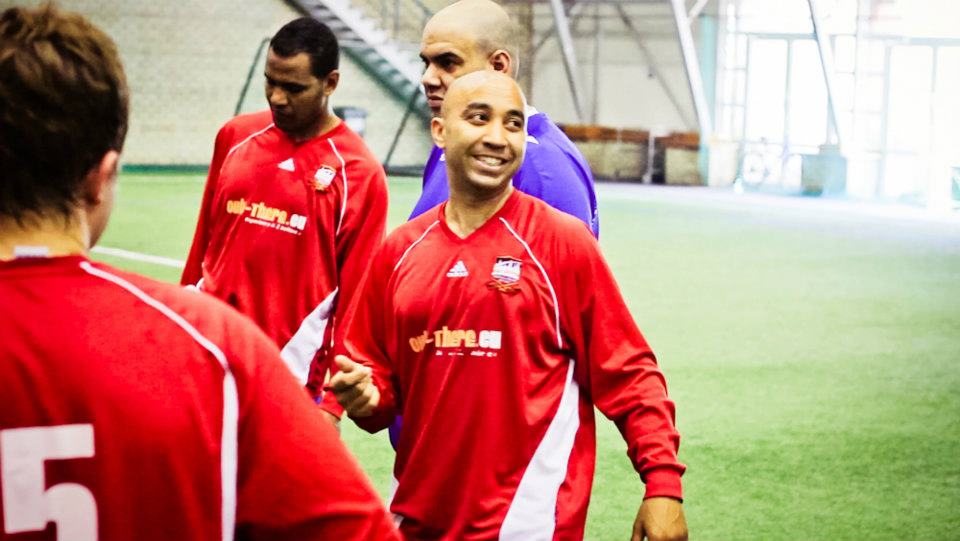 Jeffrey Young, who joined United as a player before later becoming head coach
In 2011, Riga United FC toured in Estonia, beating a team from the Estonian third division. The majority of the squad involved in the Estonian tour were Latvian for the first time in the club's history.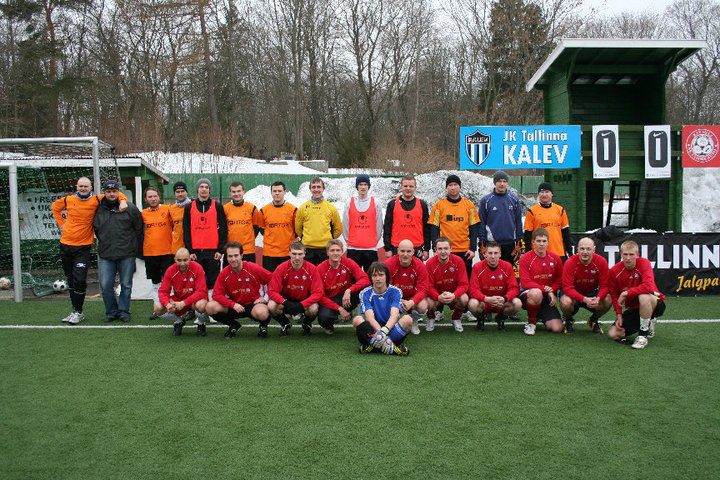 Riga United touring in Estonia in 2011
Is this the end?
In late 2011, Riga United was in danger of folding as the financial- and time-commitments needed to maintain regular football for the club in Latvia became a personal burden on those who ran the club. During the second half of the year, the team stopped training and playing competitive matches. Now team mates were more likely to meet in a local pub than on a football pitch.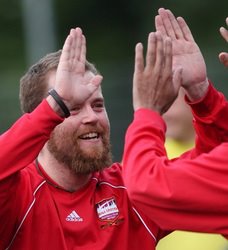 Having left Latvia six months earlier, Justin Walley returned in December 2011 determined to resurrect Riga United Football Club. With the help of Jeffrey Young and Graham Williams the three men agreed that the club needed to start training again and also be run on a more 'professional basis'. It was also agreed that in order to survive and grow, the club's players needed to make the necessary financial commitment to ensure that Riga United operated without any debts. Beginning in January 2012, twice-weekly training sessions were held at Skonto Riga's indoor 3G pitch as Young, Walley and Williams attempted to rebuild the club both on and off the pitch. Many of the club's long-serving players such as Awada, Navis, Kelkit, Benders and Hellstrom played their part in keeping the club alive, while a 'hard-core' of new regulars boosted the club's chances of survival. Proof of this progress was apparent when RUFC toured in Lithuania, where they beat FK Pionieriai at the brand new Lithuanian national football stadium in Vilnius.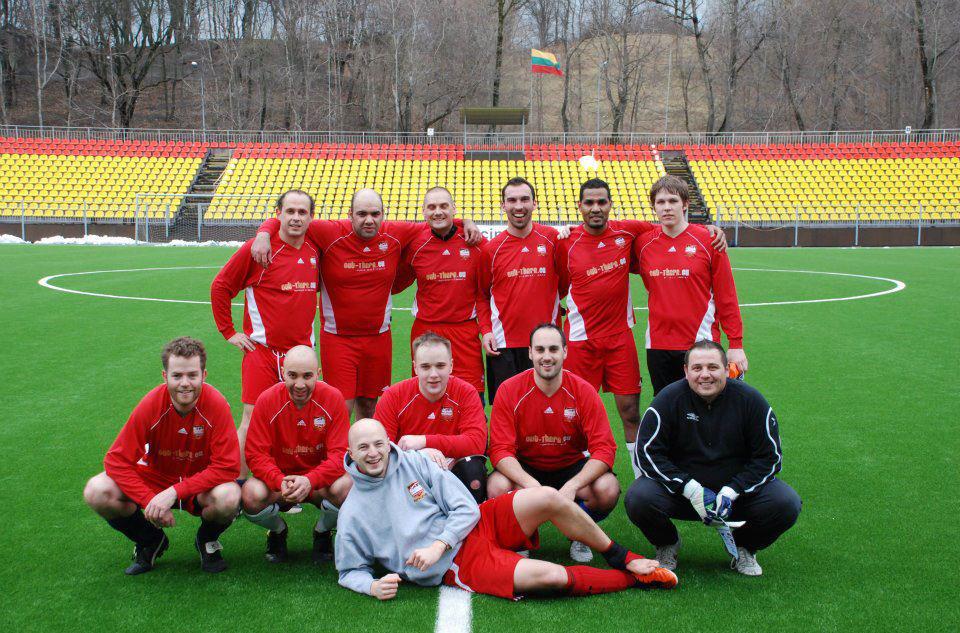 Riga United playing at the new Lithuanian national stadium in 2012
Cup win inspires league dream
Later in 2012, Riga United won its first cup competition, when the team triumphed in the 2012 Olaine Cup, beating semi-professional side Olaine 1-0 in the final after finishing second in their group, and winning their quarter final and semi final matches. This cup success convinced many involved with the club that Riga United was ready to make the jump from 'glorified pub team' to becoming one of Latvia's leading amateur football clubs. In November 2012, an informal meeting was held in Old Riga at Victory Pub, with around twenty players present, where the idea of entering Riga United in national league competition was discussed and agreed upon. A week later, RUFC won another tournament, this time an indoor cup competition.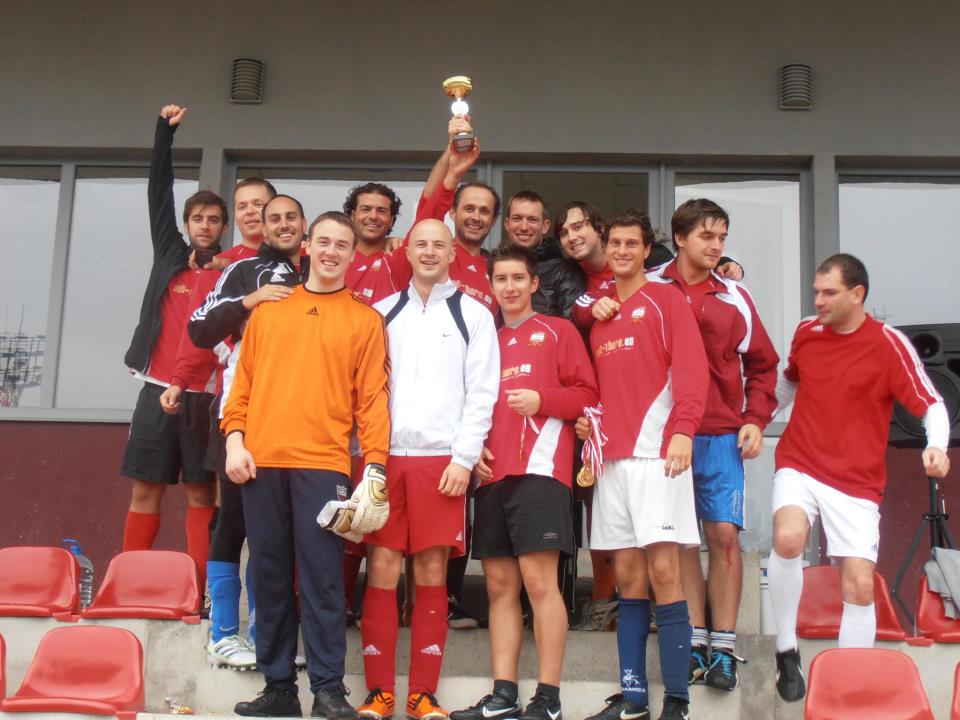 The successful Riga United squad that won the 2012 Olaine Cup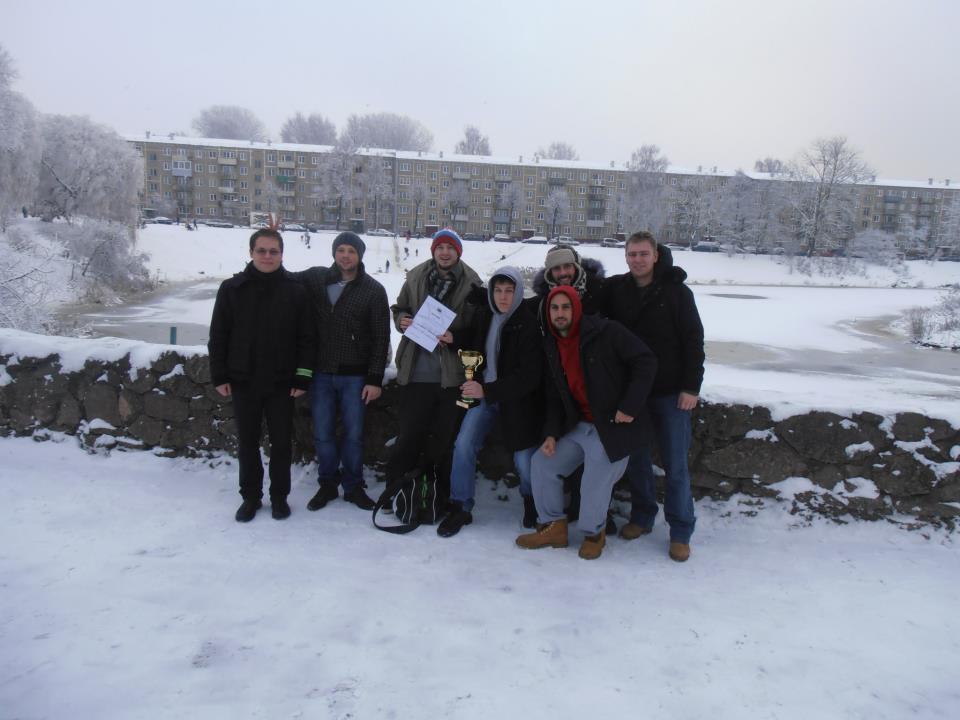 Players from the victorious 5-a-side team after their tournament victory in December 2012
First website launched
On March 18, 2013 Riga United launched its first ever dedicated club website.
Riga United Youth Academy is born
During 2011-2012, a number of United players had coached at local schools. As the popularity of these after school classes grew, the idea of Riga United creating its own youth academy was discussed. After lots of hard work through the winter months of 2012/13, particularly from Jefrrey Young, Sascha Gussen and Justin Walley, Riga United's Youth Academy was launched in April 2013, six years after the club was first founded. The aim was to create a unique football academy where children from the international community can mix, learn and play together with kids from the local Latvian community. Longer term it was hoped that the youth academy would also produce players capable of playing for the men's senior team.
"Riga United FC Youth Academy wishes to improve the individual understanding and enjoyment of the game of football by each and every single child that joins the club. The club's goal is not to develop one or two fantastic individual players but instead to help develop dozens of intelligent, well disciplined and sociable young football players."
Riga United under-9s lost their first ever game 0-3 to the mighty Skonto Riga, having gone in at half-time drawing 0-0 after hitting the crossbar twice in the first period. Riga United FC Academy is the first youth academy run by foreign coaches to ever play in Latvia.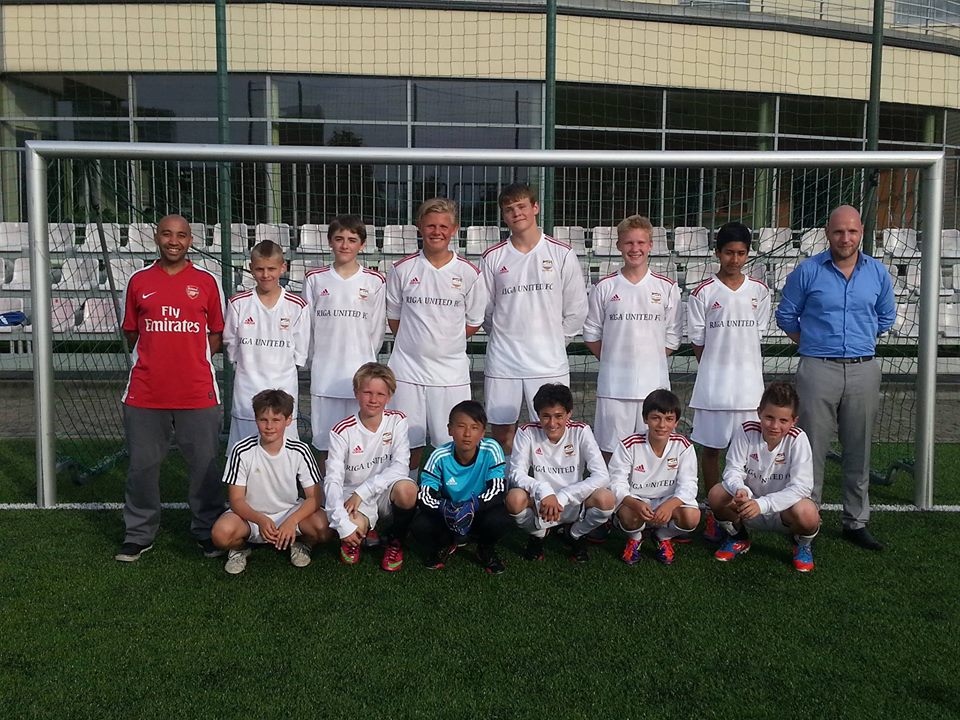 Riga United under-14s in 2013 with Jeffrey Young and Sascha Gussen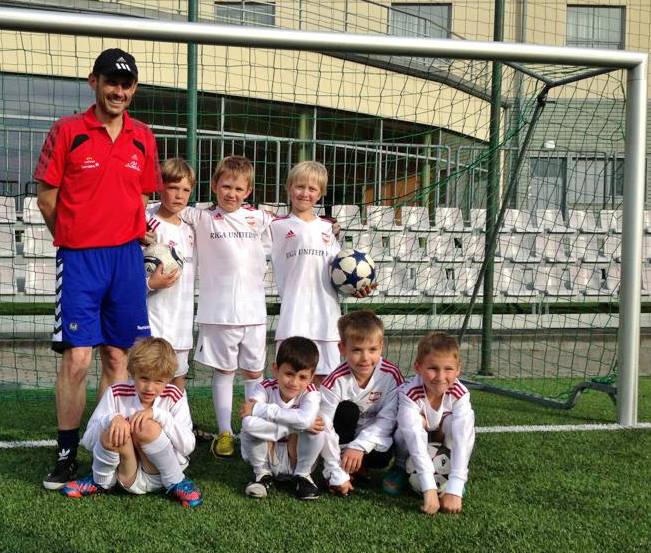 Riga United under-9s in 2013 with Justin Walley
A dream come true
With big ambitions to develop the club, Riga United FC officially entered the Latvian Second Division in May 2013. For many involved with Riga United, the team becoming part of the Latvian national football league, and just two divisions below the nation's premier league, was a dream come true.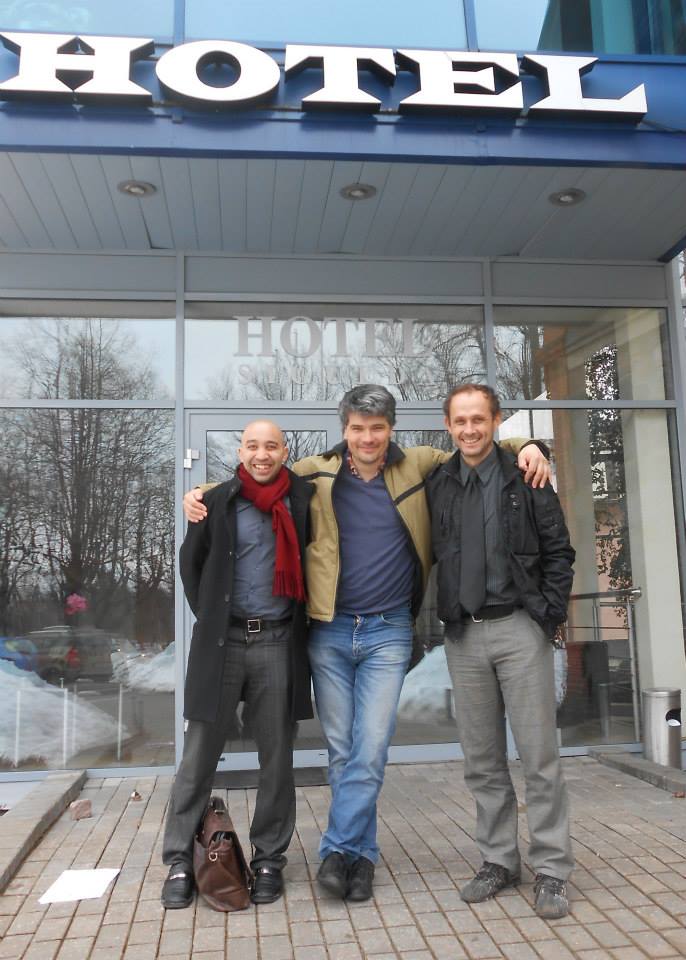 Young, Whitmore & Walley at the Hotel Sigulda in 2013 after the club's application to join the Latvian national league was accepted by the Latvian Football Federation
Management team gears up for national league football
Jeffrey Young became the official coach of Riga United as the club faced national league football for the first time. Young had previously coached in Holland and the United States and held a UEFA-B license. Young's assistant Justin Walley had first been licensed as a coach in 1996. Club captain Graham Williams had played semi-pro level in England before settling in Latvia.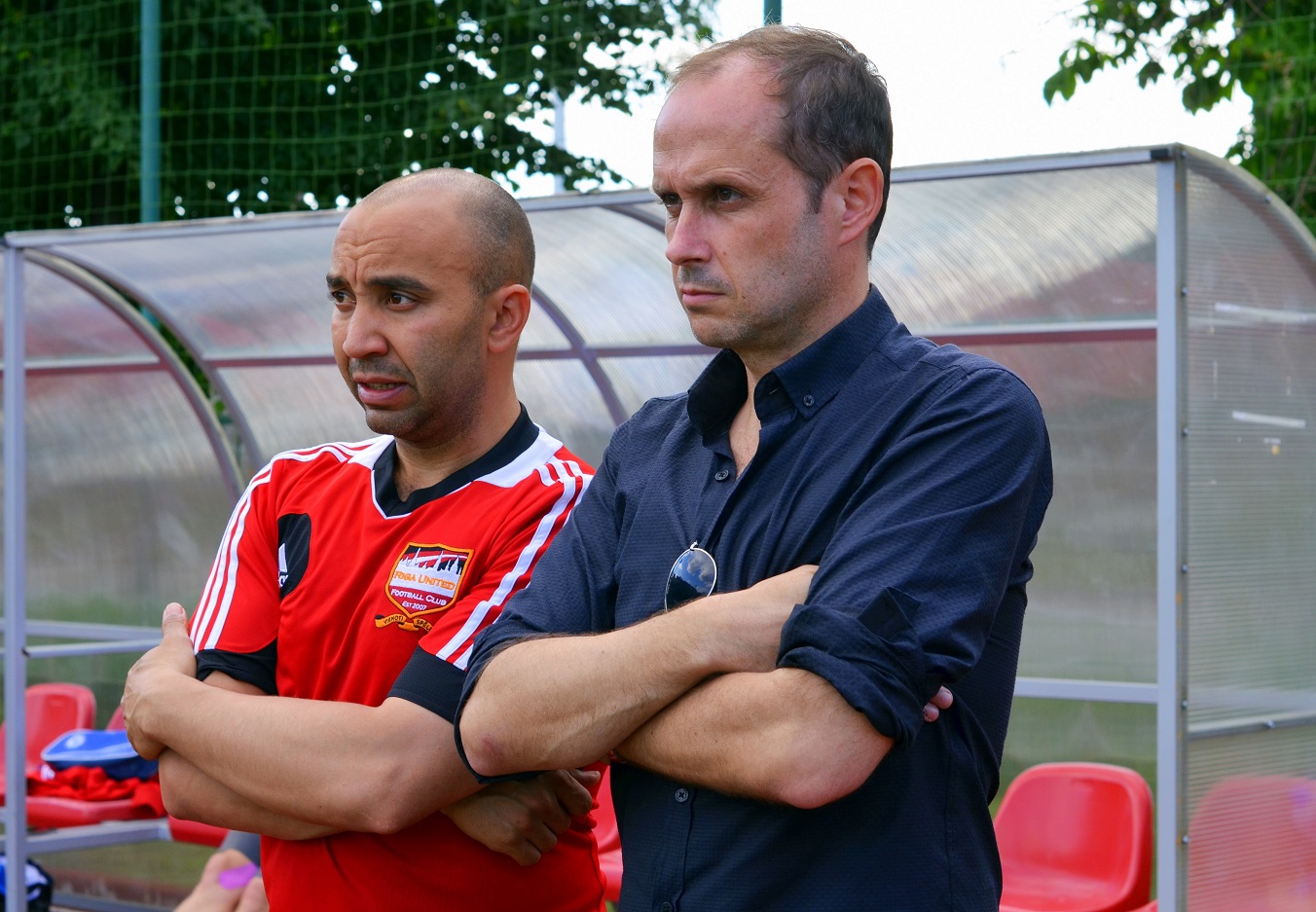 Jeffrey Young (left) with Justin Walley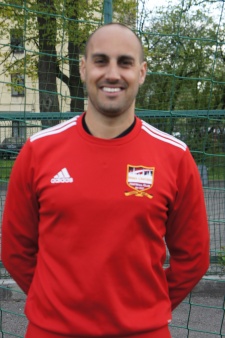 Graham Williams, the 2013 RUFC Club Captain.
Feeling like home
A contract was signed with Riga Council that Riga United would play all its home matches for the 2013 season at Vidusskola 49. 'School 49 stadium' quickly became Riga United's home as the men trained there three times per week and the Youth Academy also used it as their home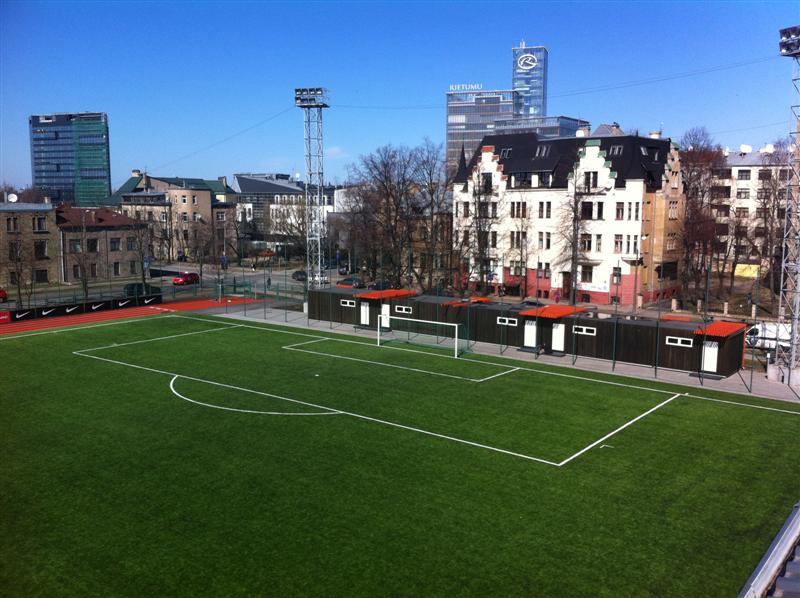 Vidduskola 49 football pitch: Riga United's home stadium
Proud and historic day for Riga United FC
Playing its first ever game in the Latvian national league on May 11, 2013 the senior side lost 1-4 at home to Adazi. Player coach Jeffrey Young became the first Riga United player to score in the national league. Assistant player coach Justin Walley, who captained the side on its league debut, was the first RUFC player to pick up a booking.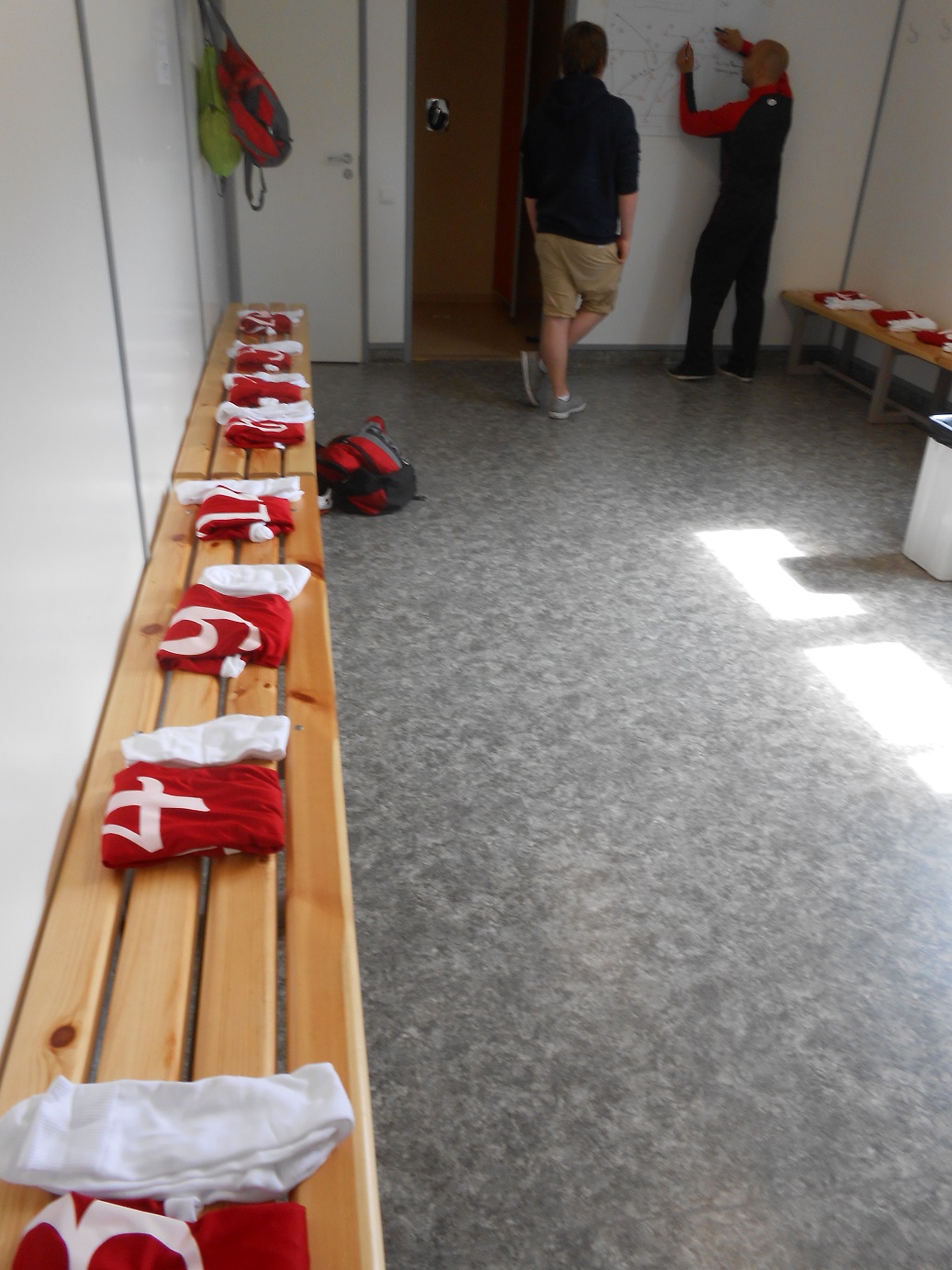 Young preparing for his first pre-match team talk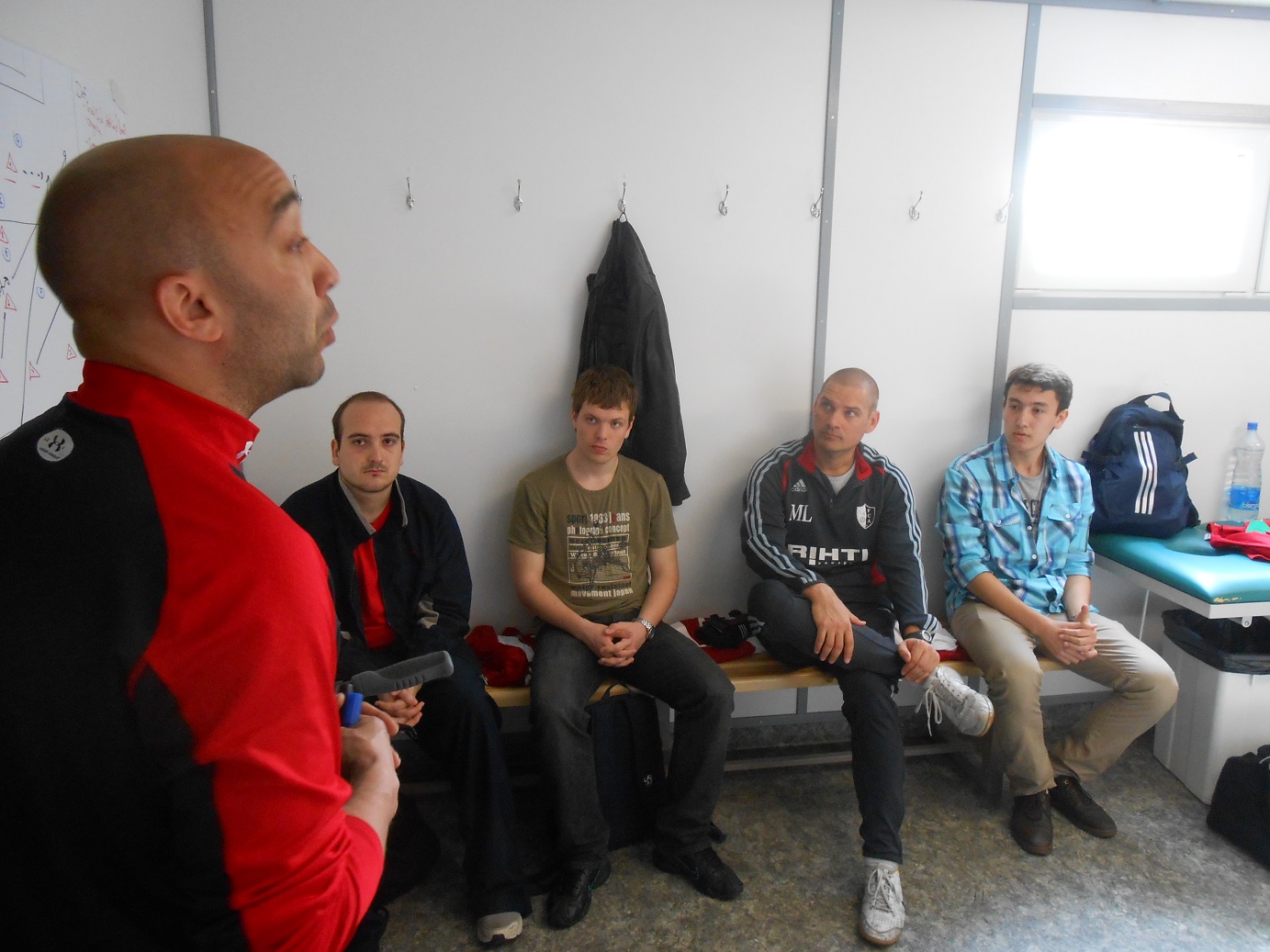 Historic first team talk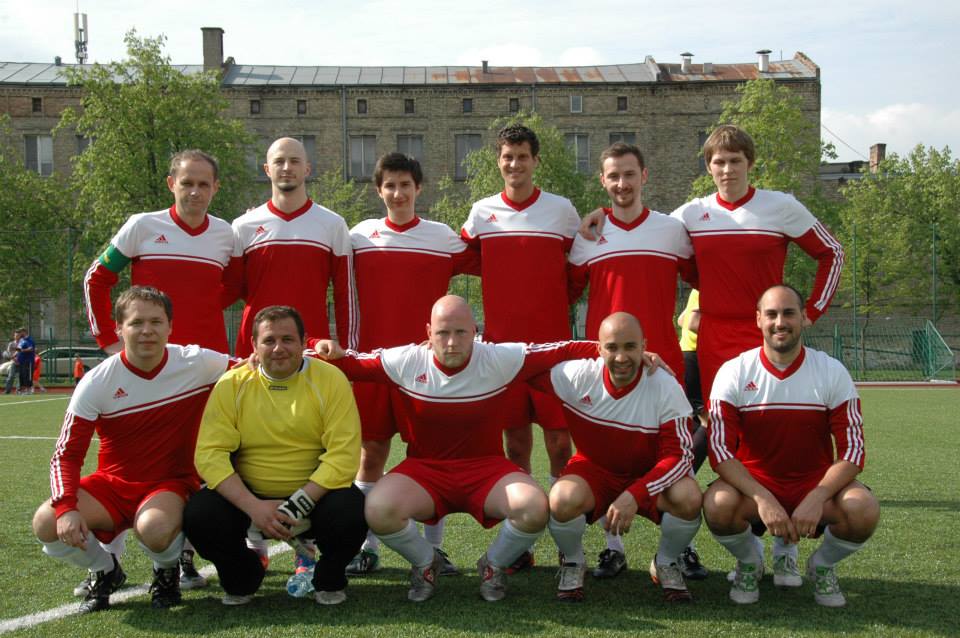 The Riga United team that took to the field for the club's historic national league debut on May 11, 2013
Swede inspires historic first win
Riga United's first ever victory in Latvian League Two was a 2-1 away victory against FK Alberts on May 31, 2013. Swede Tommy Eriksen scored both goals.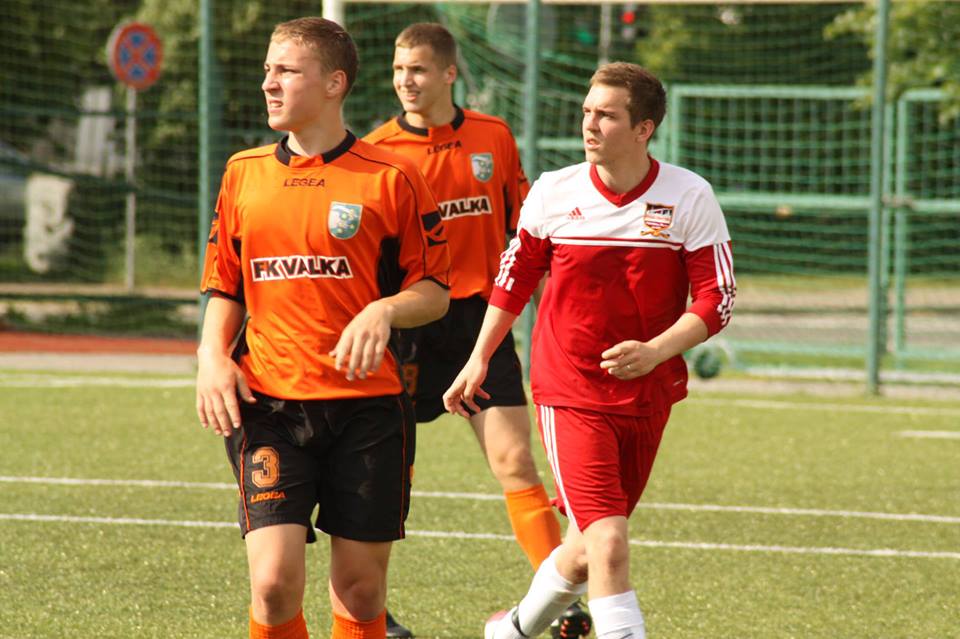 Tommy Eriksen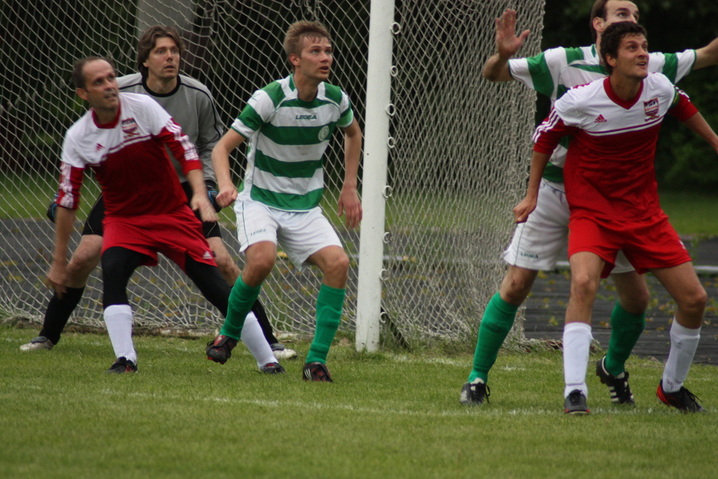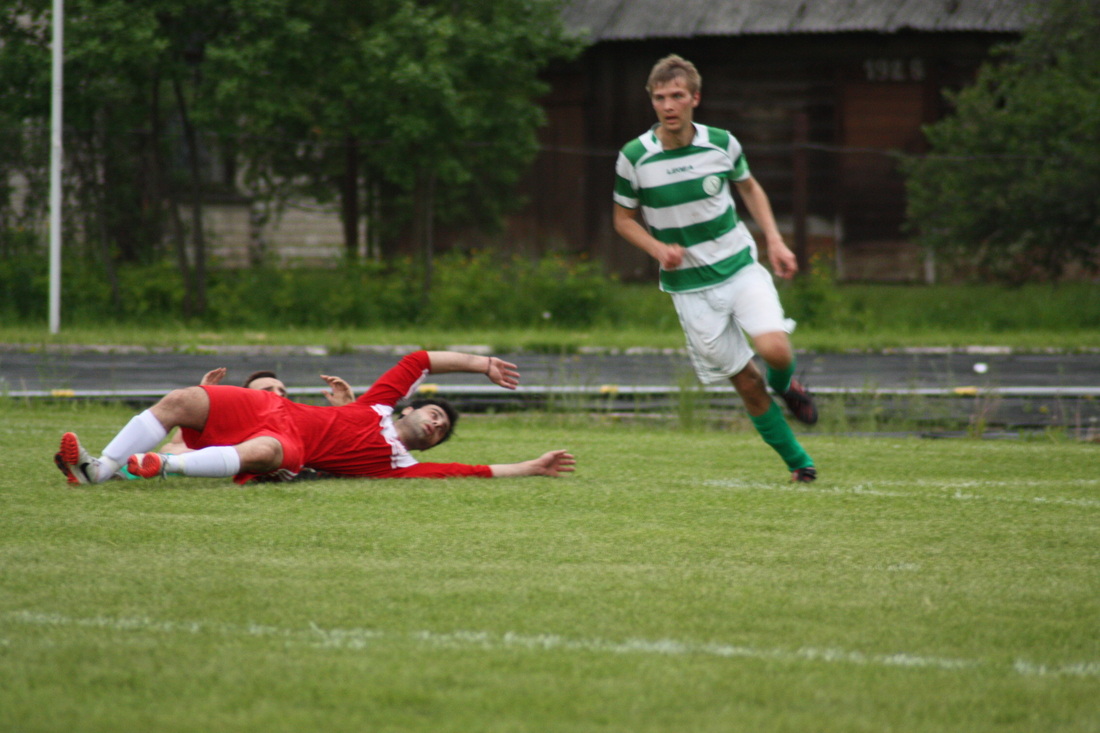 Action from United's historic first victory
The Riga United squad that gained the club's first ever national league victory in May 2013

National cup debut
The club made its debut in the Latvian national cup on June 12, 2013 when it lost 0-4 away to Olaine in the first round, having gone in at half time comfortably drawing 0-0. The match was played in front of a crowd of more than 200. The match was included on most of the world's leading bookmakers' betting coupons for that day.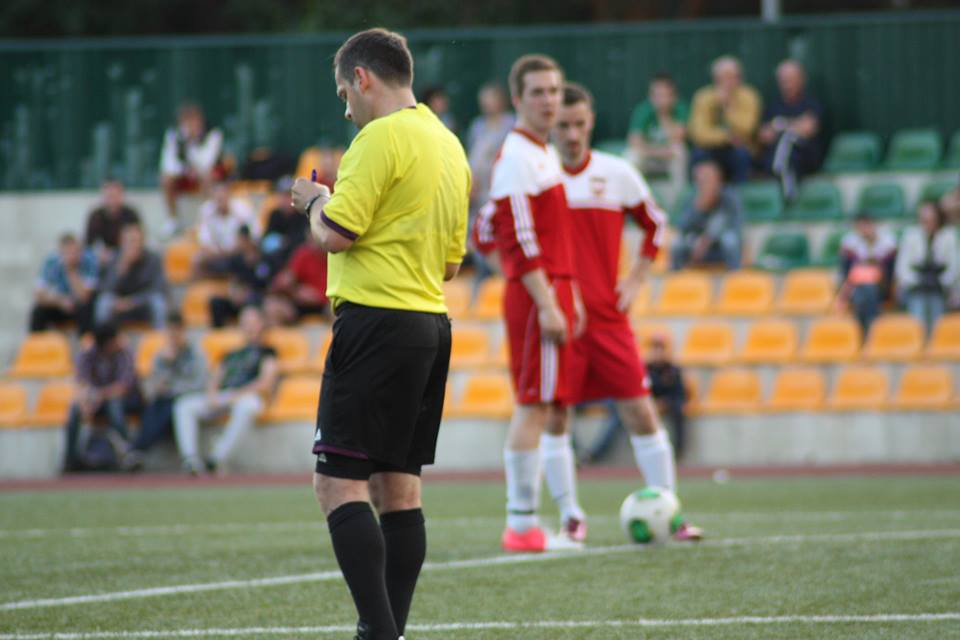 RUFC making their national cup debut in front of a crowd of 200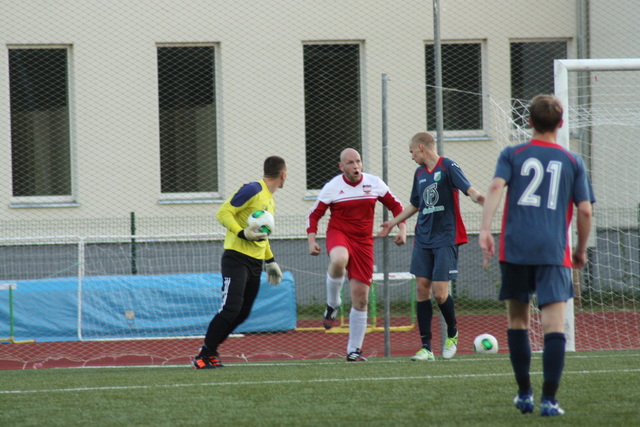 Attendance record
The club set a new home attendance record on July 11, 2013 when 140 supporters watched their 1-2 defeat to then league two leaders Marienburg. United's attendance for that match was actually higher than for a number of league one and premier league matches played that week.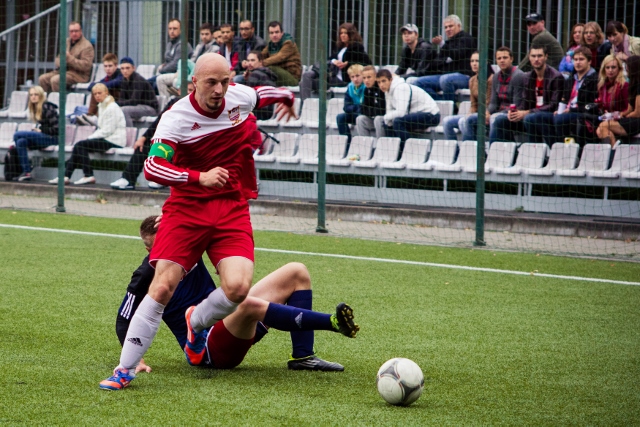 Josu Samaniego surges past a Marienburg player in front of a record Riga United crowd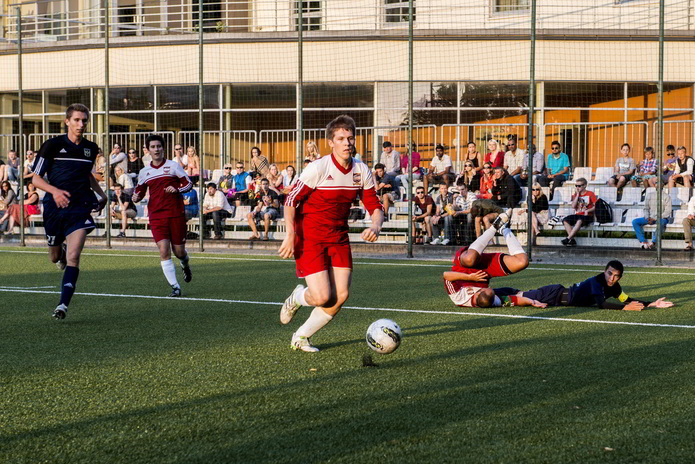 Uldis Aliks keeps Marienburg out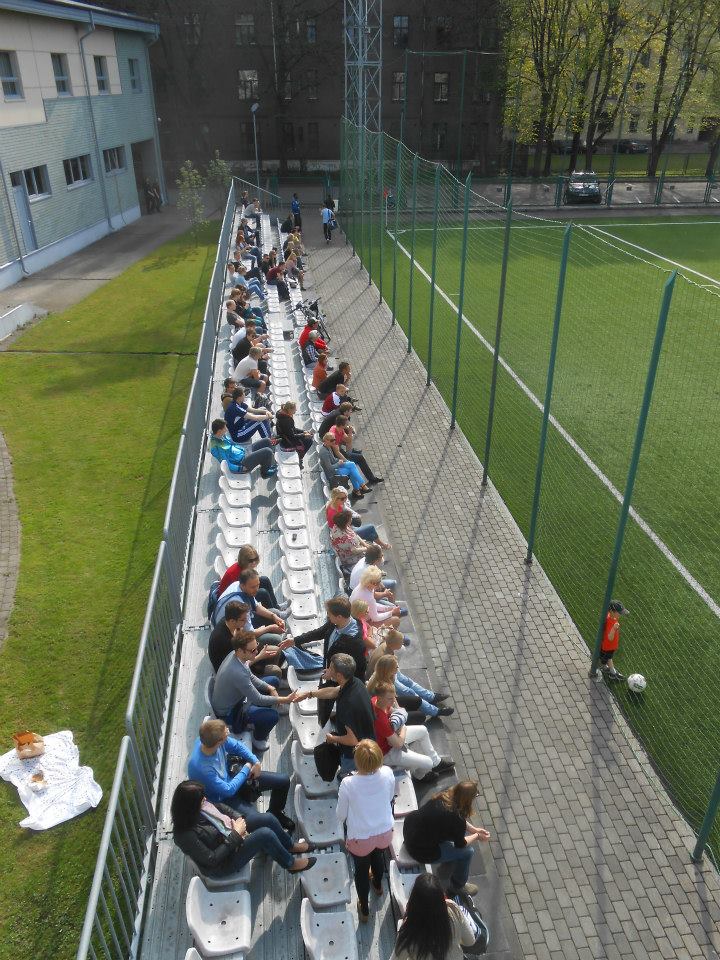 Some of the 140 spectators who watched Riga United take on Marienburg
Naughty boys
Uldis Aliks became the first Riga United player to receive a red card in league two, when he was sent off after being cautioned twice in the same game away to Upesciems on July 18. Upesciems successful spot kick in that match was the first time any league two side had beaten Murat Kelkit from a penalty. Upesciems had missed another penalty earlier in the same match, while another four penalties were saved or missed prior to the Upesciems fixture, including two in the same game by Valka/Valmiera. Aliks' one-match suspension following his red card was the second ever suspension of an RUFC player. Defender Sascha Gussen was the first Riga player to be suspended after he picked up three bookings in his first six league matches. In fact, Sascha Gussen was the third 'naughtiest' player in Latvian league two in 2013, with only Drazdovskis of Alberts and Pavliks of Marienburg picking up more cautions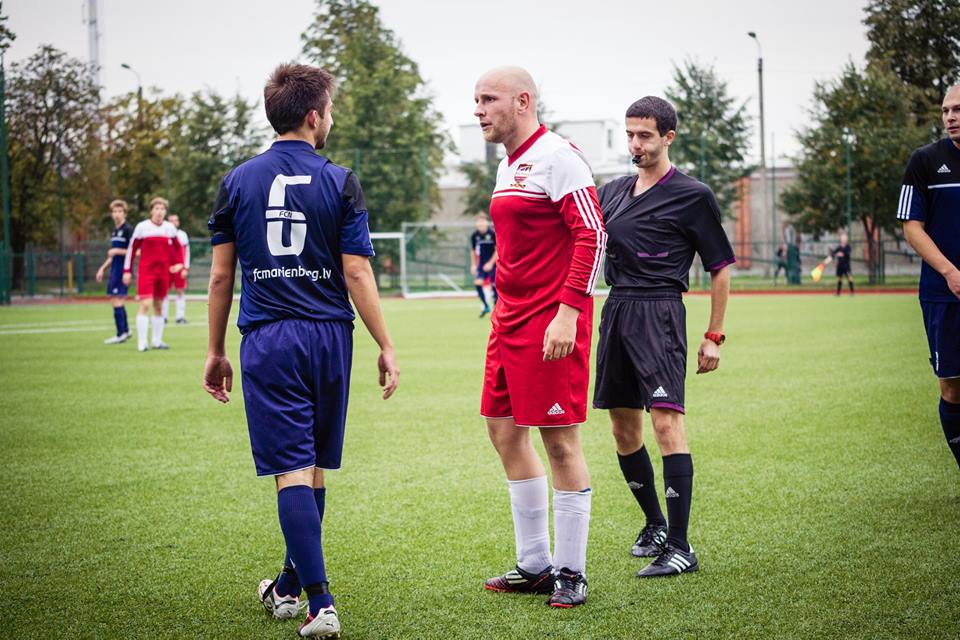 In trouble again ... Riga United hard man Sascha Gussen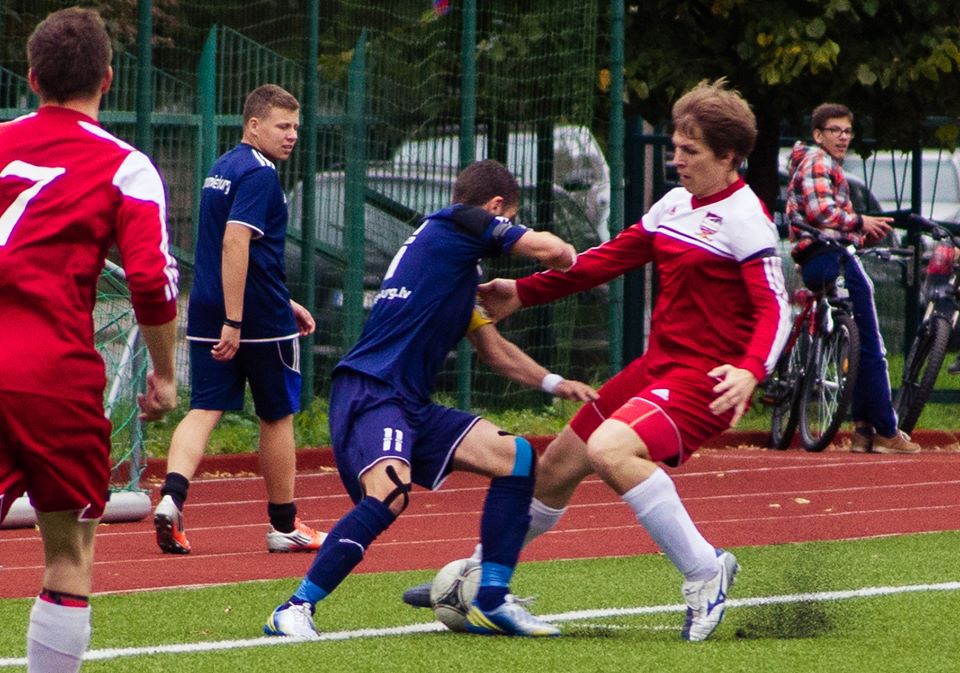 Uldis Aliks in action. The United central defender was the first RUFC player to ever pick up a red card
Penalty King
Eventual champions Smiltene made it six missed penalties out of seven by league two opposition when facing Murat Kelkit as they missed an 85th minute spot kick against him on August 10, 2013; the match ending 1-1. Carnikava also missed from the spot against Kelkit on September 7, 2013. This was the final penalty faced by the Turkish keeper in the 2013 season and his save completed a remarkable record of keeping out seven of the eight penalties he faced in Liga 2. Kelkit's efforts earned him the nickname 'hero' from Riga United's fans.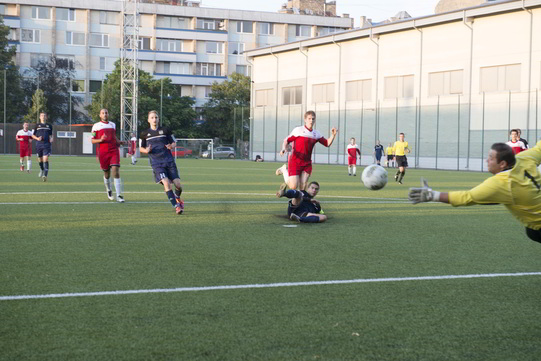 Keeper Kelkit makes yet another penalty save
League of nations
When Scotsman Graham Laing and Italian Marco Spinola signed on to the Riga United league two squad in July 2013, they became the 16th and 17th nationalities, respectively, to play for Riga United during the club's 2013 league two campaign. Norway's Johan Nordby became the 18th in August 2013.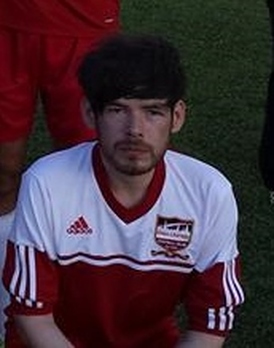 Scotsman Graham Laing
Emils goes viral
In July 2013 a Riga United team travelled to Parnu, Estonia to play in a beach football tournament. Emils Benders ended up in an ambulance and later needed surgery on his nose. However, this image of Emils (below) was retweeted by UK sports betting company Paddy Power and soon went viral.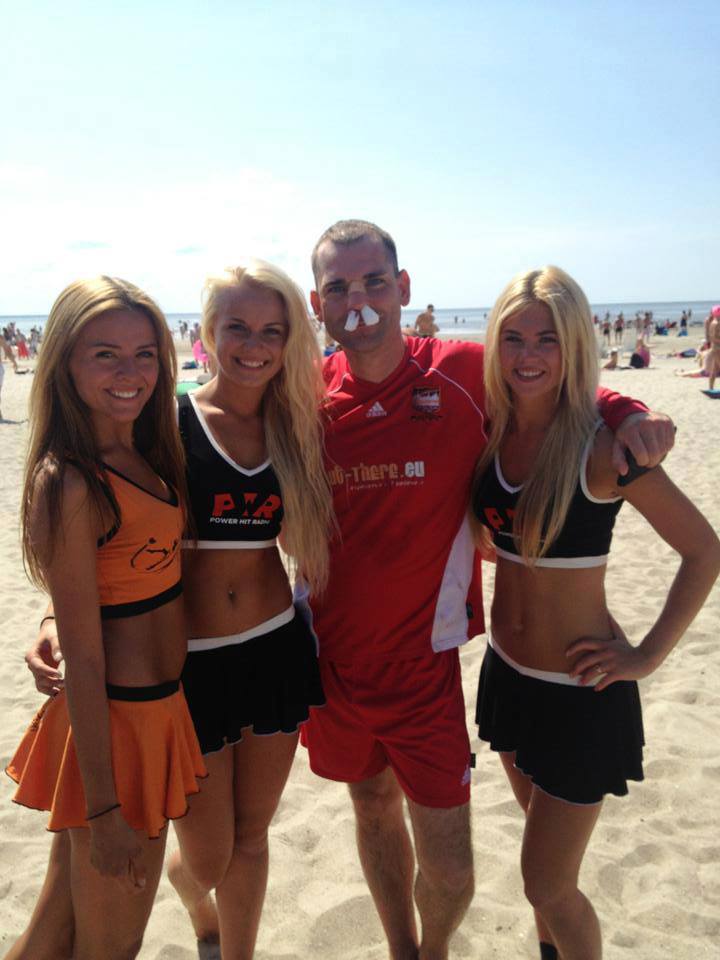 Making future plans
Riga United Development Squad was created on July 31, 2013. The squad was initially managed by Daniel Vezis and Austin Nicholas. The Development Squad was created to give players not signed on for Latvian League Two, regular training and matches, as well as to help develop Riga United's plans for its first and second teams in 2014. Riga United Development Squad played its first match against FK Lielupe on Friday, August 2, 2013. Vlad Romanchenko scored the side's first ever goal in a 3-1 victory.


The 2013 Riga United Development Squad which was the precursor for the creation of Riga United Reserves a year later
Riga United Supporters Group officially launched
Riga United Supporters Club was officially launched on August 2, 2013 by Richard Youatt. The Supporters Club helped organise matchday entertainment, including pre-match music, matchday programmes and matchday announcements. The RUSSG also began posting live tweets from matches and regular news on their Supporters Groups Facebook page.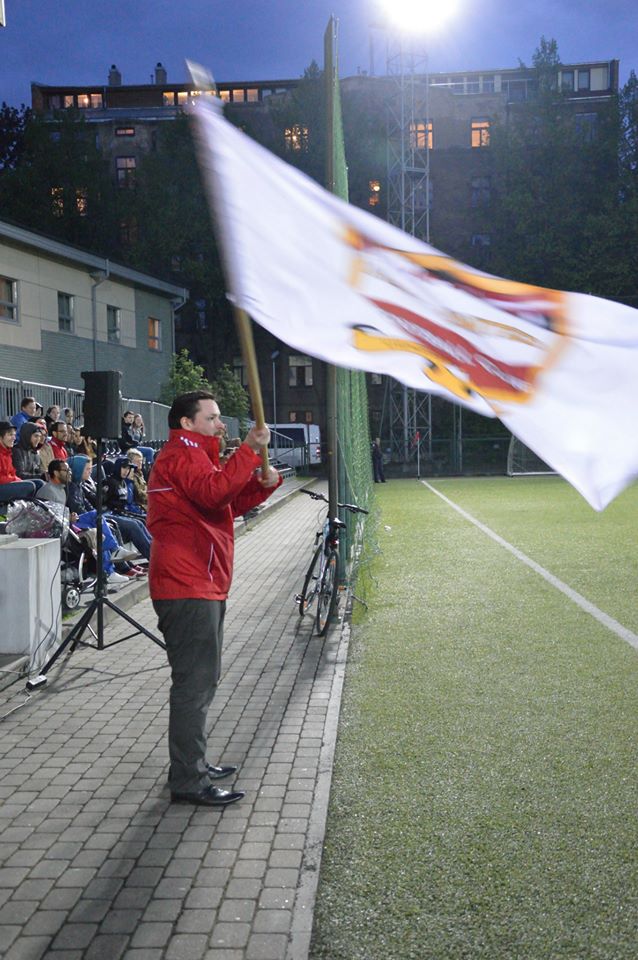 Richard Youatt and the Riga United Supporters Group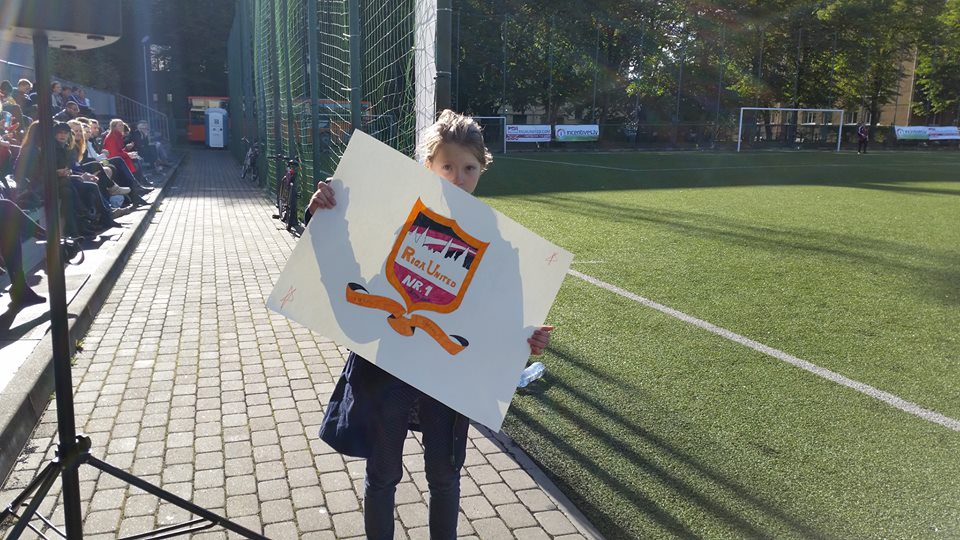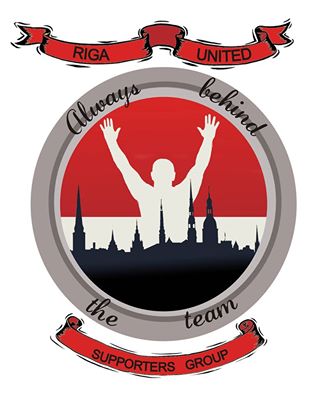 The new Riga United Supporters Group badge
Thrashed and injured
On August 3, 2013 Riga United suffered its heaviest ever defeat, losing 1-9 at home to league leaders Staicele. Riga United went into that match with 15 squad members unavailable for selection due to injury, suspension and holidays abroad. United finished the match with nine men after goalkeeper Murat Kelkit and midfielder Robin Janssen were taken to hospital with injuries and defender Sascha Gussen was sent off. Staicele had only led 1-0 at half-time.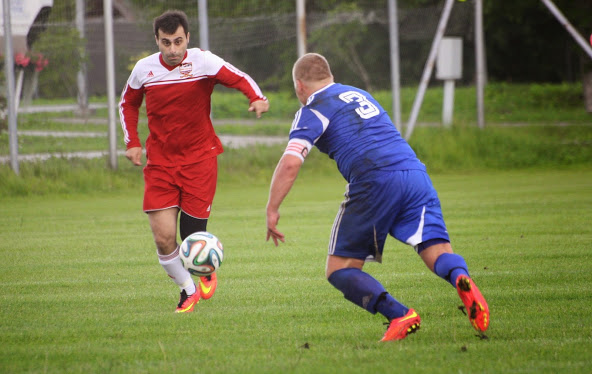 Stefanos Panagidis in action against Staicele
Membership scheme launched
On August 28, 2013, Riga United officially launched its Riga United members club with 77 members provided with members cards on launch day. Members were given discounts on local restaurants, bars and sports shops.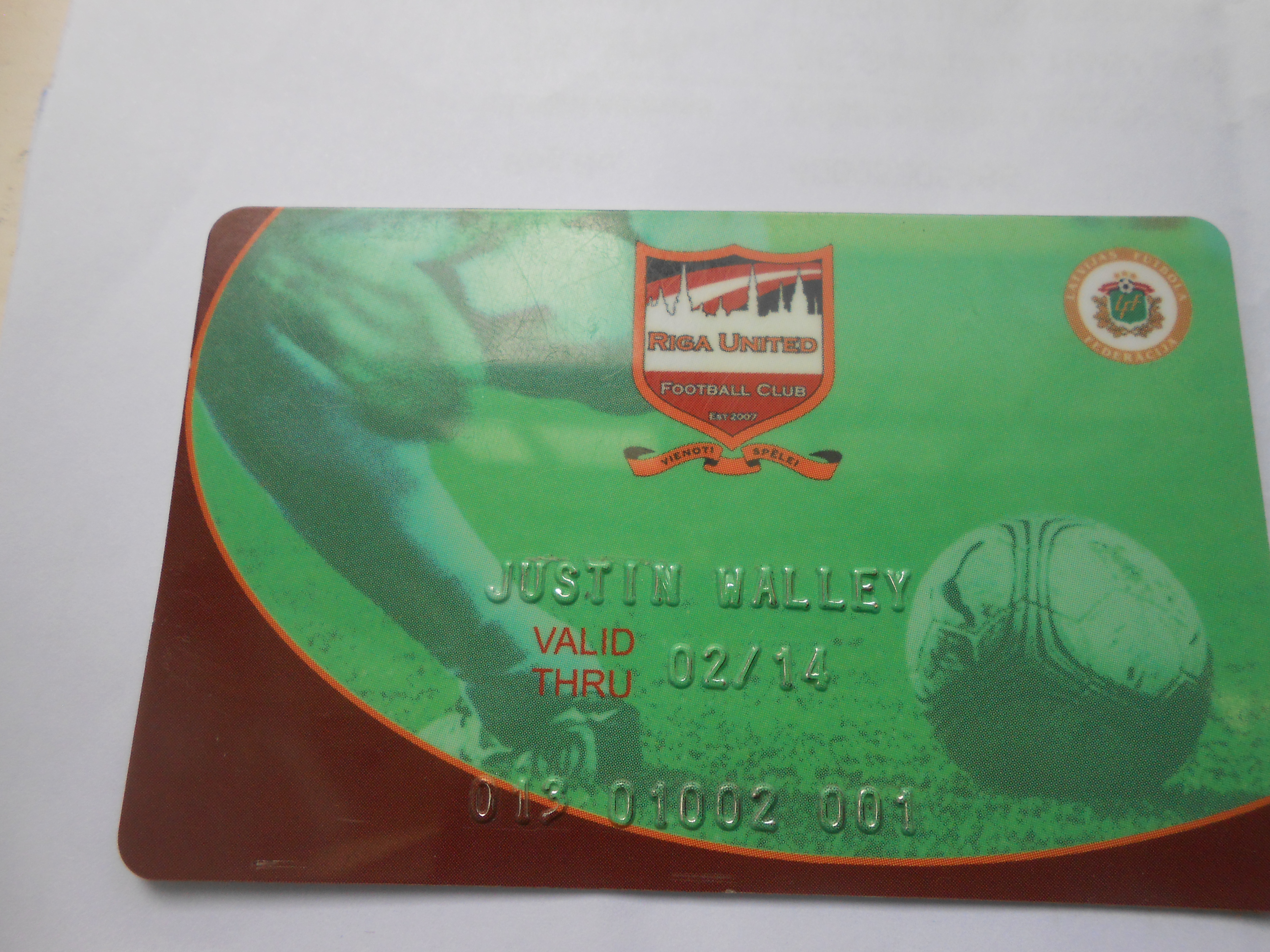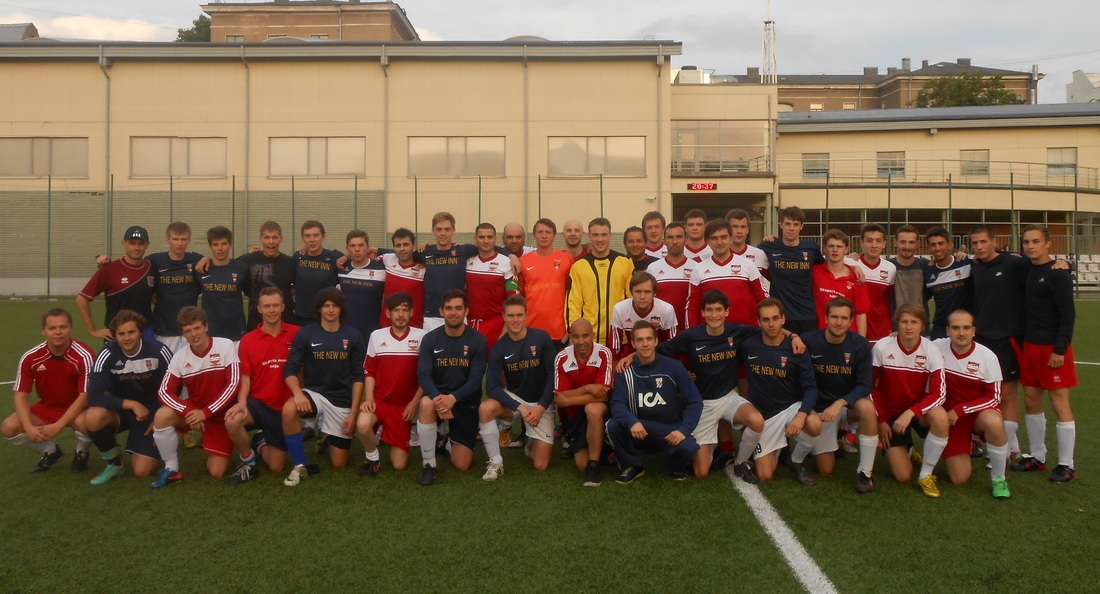 Club gets its first ever intern
Jeffrey Young brings in Portuguese Daniel Lopes as Riga United's first ever intern. Daniel begins his time at the club supporting Jeffrey Young and is soon added to the club's youth academy coaches team. At the end of his internship, Daniel decides to stay on in Latvia and with Riga United FC.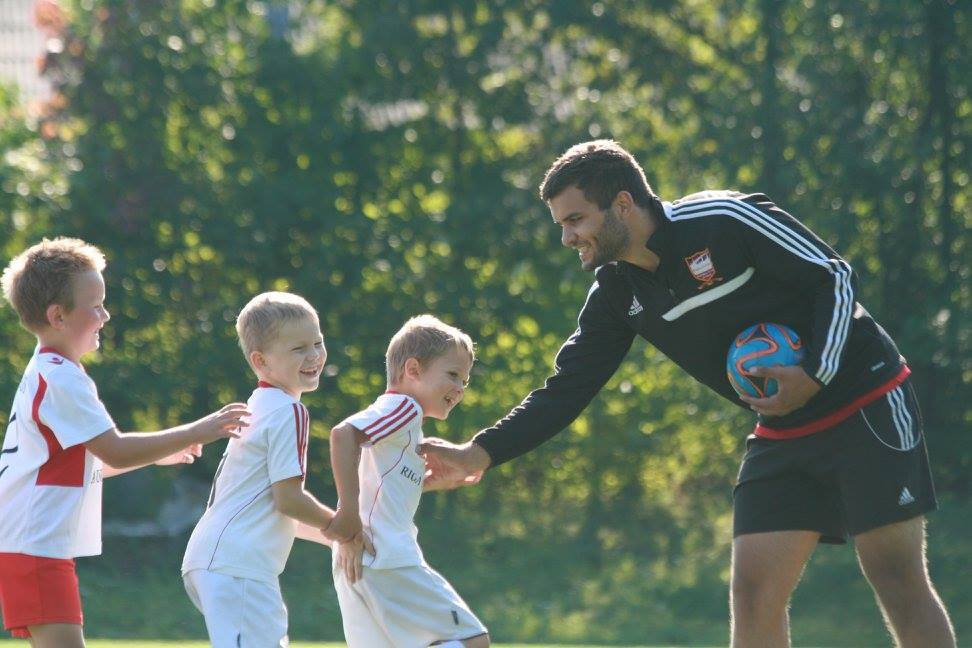 Season high
Riga United shocked everyone, including themselves, when they managed to pick up an away point against champions Smiltene. United even missed a penalty as they returned home for the three-hour journey back to Riga with a 1-1 draw.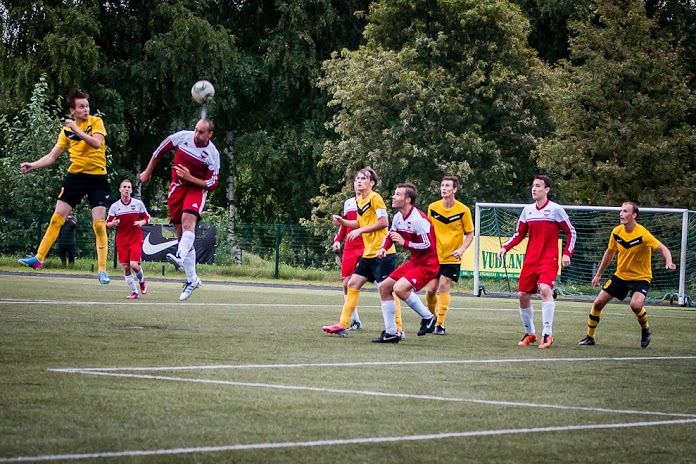 Riga United in action away to league two champions Smiltene

2013 AGM On September 4, 2013 Riga United held its second Annual General Meeting with 30 members present. The existing board of Jeffrey Young, Sascha Gussen and Justin Walley was re-elected, while two new members were elected to a new five-man-board: Dutchman Marc Wijnards and Riga United's Supporters' Club president Richard Youatt. During the AGM, all members present signed the Riga United 'Core Values' statement, declaring the future phylosophy of the football club.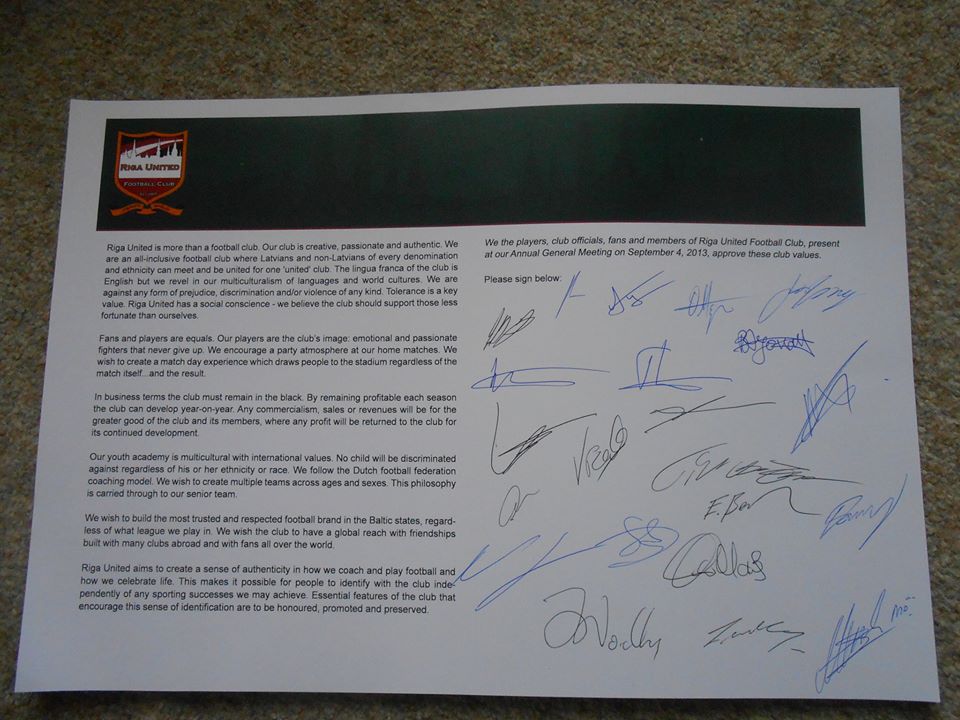 Riga United's 'Core Values'
Mission accomplished
On September 19, 2013 Riga United completed their first ever season in Latvian league 2 with a 2-5 home defeat to the 2012 champions Upesciems. United had opened the scoring in the match in the second minute. The defeat saw United end the season with a record of three wins, two draws and thirteen defeats, having scored 21 and conceded 60. Riga United's final league position in its inaugural season in national league competition was 8th from ten teams. This was the position targeted by Young and Walley at the start of the club's first season at this level.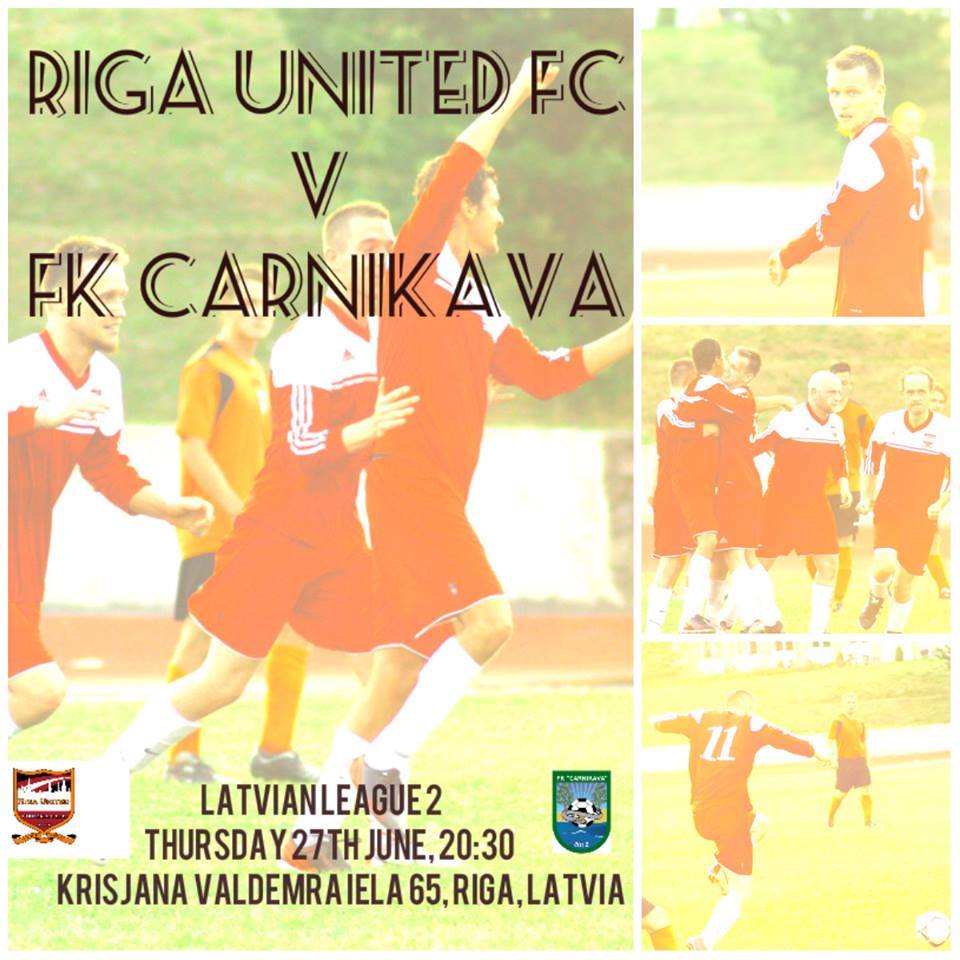 Latvian Division Two final league table: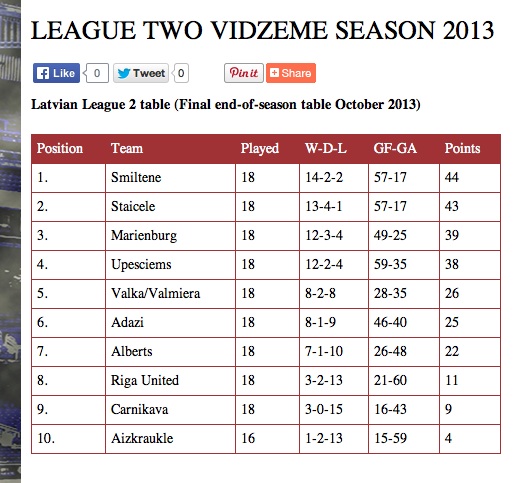 Awarding the hard work
On October 12, 2013 Riga United FC held its first ever annual awards ceremony to mark the end of the 2013 campaign. Players, fans and sponsors voted for the winners of each award in the weeks leading up to the night. The winners were: Players' Player of the Year - Murat Kelkit. Fans' Player of the Year - Josu Samaniego. Managers' Player of the Year - Berrahal Sofian. Young Player of the Year - Edgar Arakelyan. Trainer of the Year - Uktam Abdunazarov. Mr Injury - Paul Featherstone & Graham Williams. Funniest Moment of the Year - Parnu Beach Tournament. Most Improved Player - Janis Osis. Supporter of the Year - Richard Youatt. Top Goal Scorer - Josu Samaniego. Best Goal of the Year - Josu Samaniego.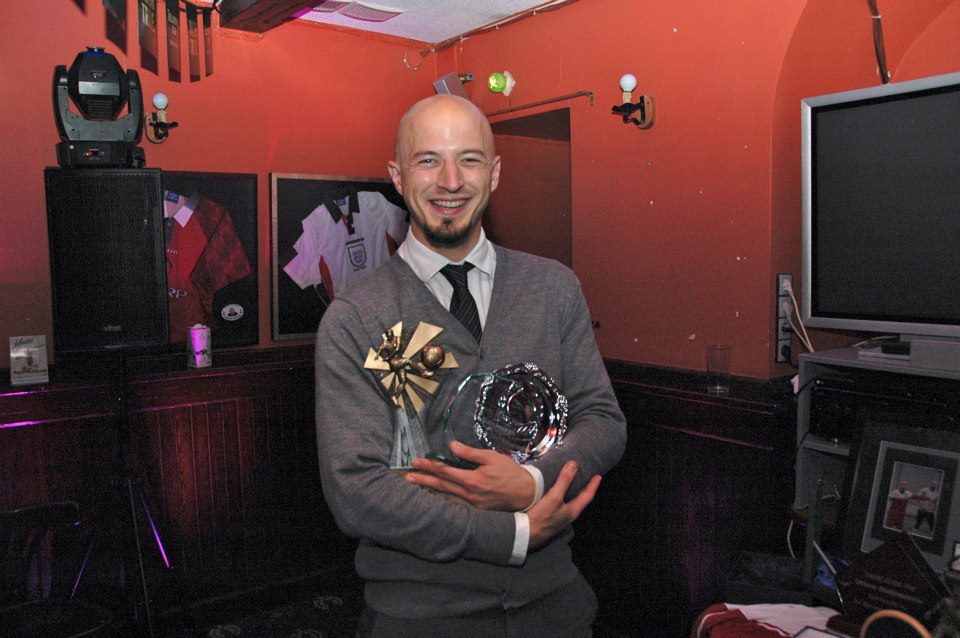 Josu Samaniego with his awards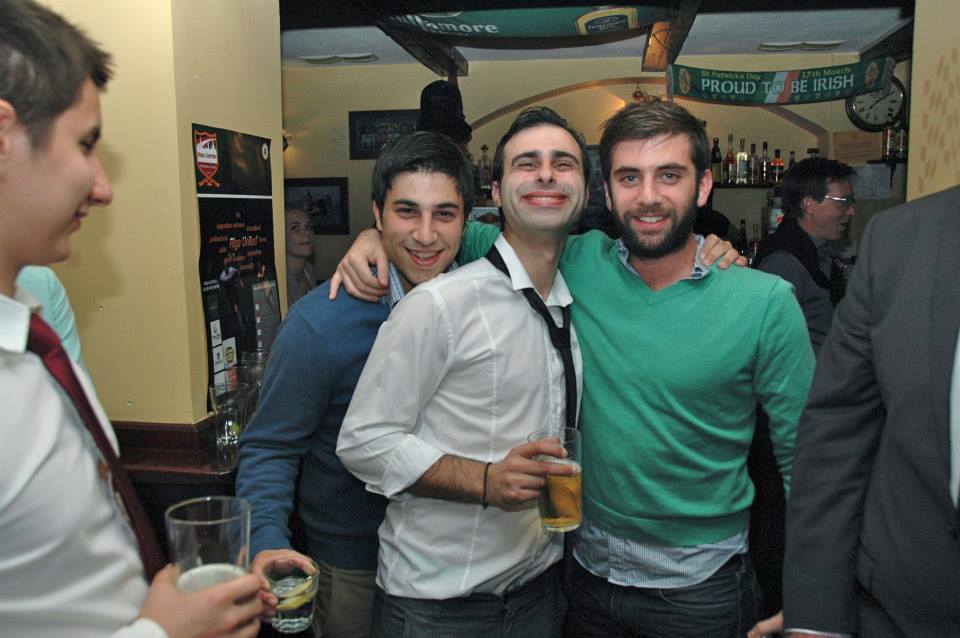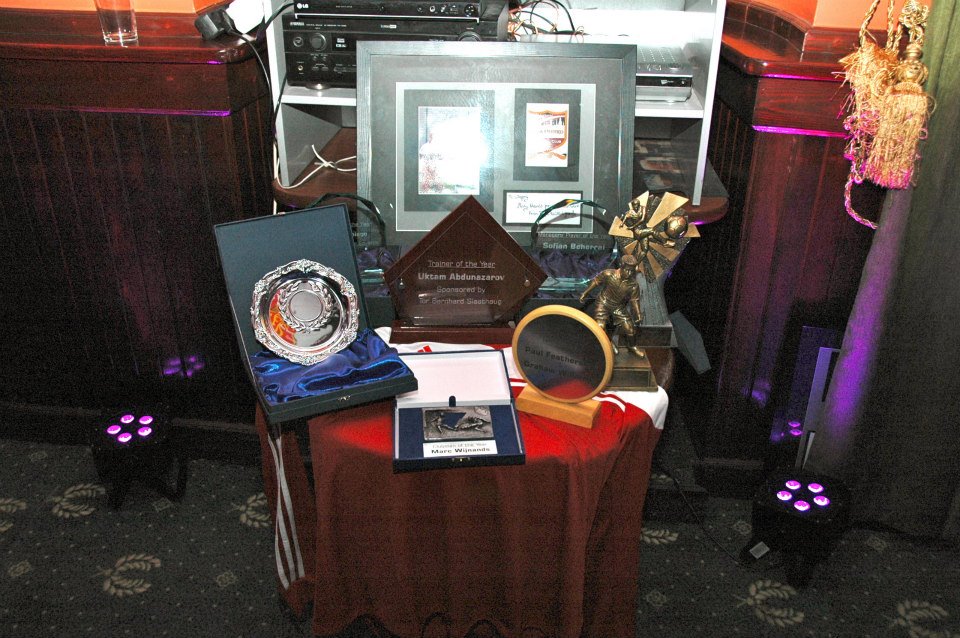 The men who made it happen
Below is a list of the Riga United 2013 Latvian League Two Squad:
1. Murat Kelkit (Turkey) 2. Artis Kromanis (Latvia) 3. Vicente Navas Mesa (Spain) 4. Alexandre jean Luc Gemin (France) 5. Graham Williams (England) 6. Margus Leiar (Estonia) 7. Jeffrey Young (United States) 8. Thomas Hellstrom (Sweden) 9. Josu Samaniego del Campo (Spain) 10. Justin Walley (England) 11. Mo Awada (England) 12. Arturs Kozars (Latvia) 14. Edgar Arakelyan (Latvia) 15. Janis Osis (Latvia) 16. Robin Janssen (Netherlands) 17. Salvis Licitis (Latvia) 18. Paul Featherstone (England) 19. Sascha Gussen (Germany) 20. Sofian Berrahal (Poland) 21. Theofanis Mermigkousis (Greece) 22. Stefanos Panagidis (Cyprus) 23. Caner Gokce (Turkey) 24. Jesus Miguel de la Fuente (Spain) 25. Aleksandrs Zincenko (Latvia) 26. Tommy Eriksen (Sweden) 27. Uktam Abdunazarov (Uzbekistan) 28. Till van Zwamen (Germany) 29. Graham Laing (Scotland) 30. Marco Spinola (Italy) 31. Aleksandrs Kocanovs (Latvia) 33. Uldis Aliks (Latvia) Head Coach: Jeffrey Young; Assistant Coach: Justin Walley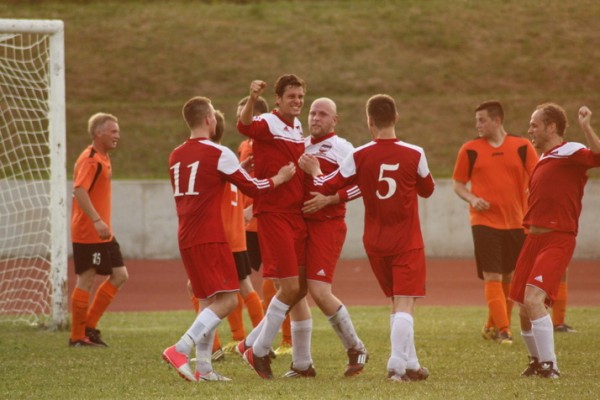 Robin Janssen, 'the flying Dutchman', celebrates after scoring away at Aizkraukle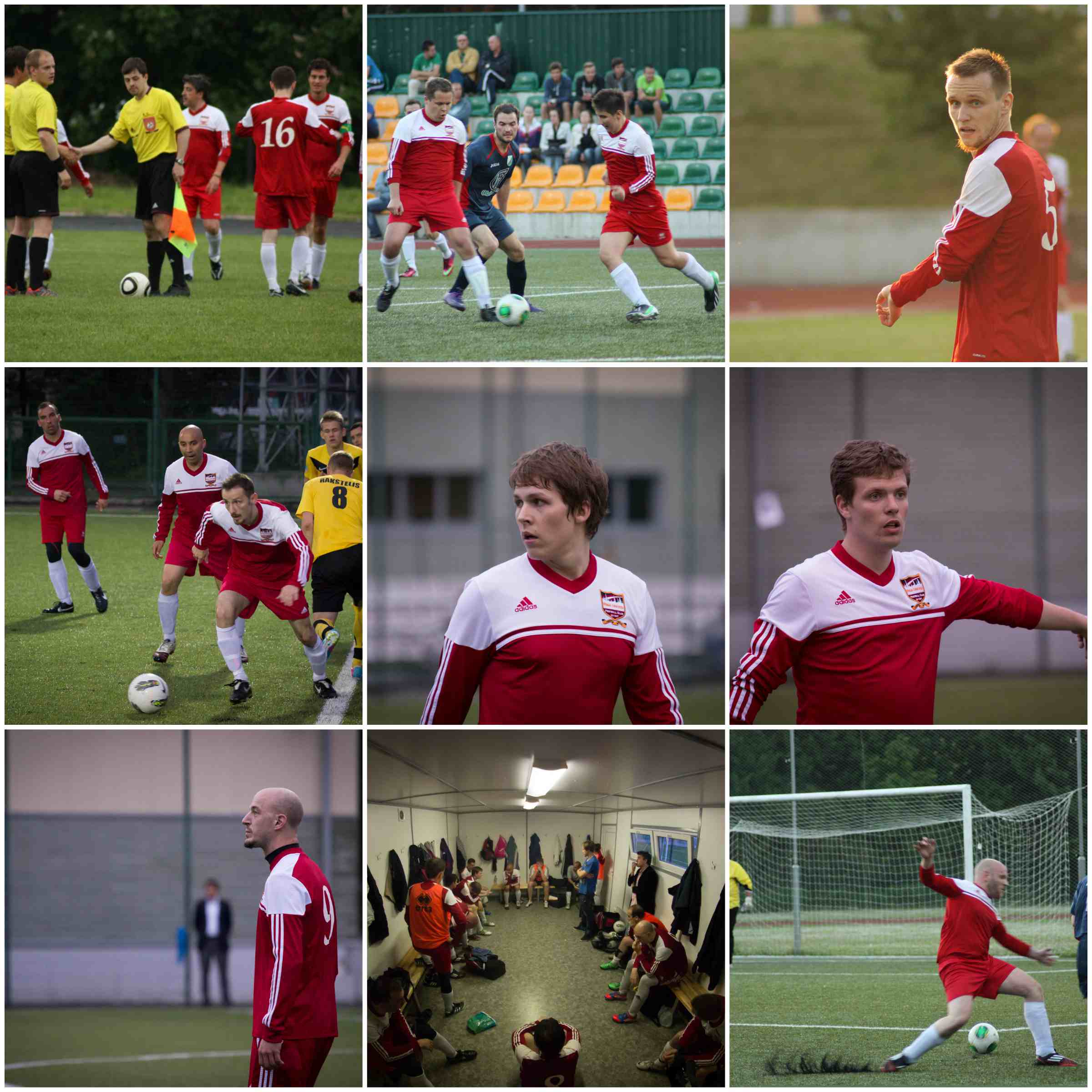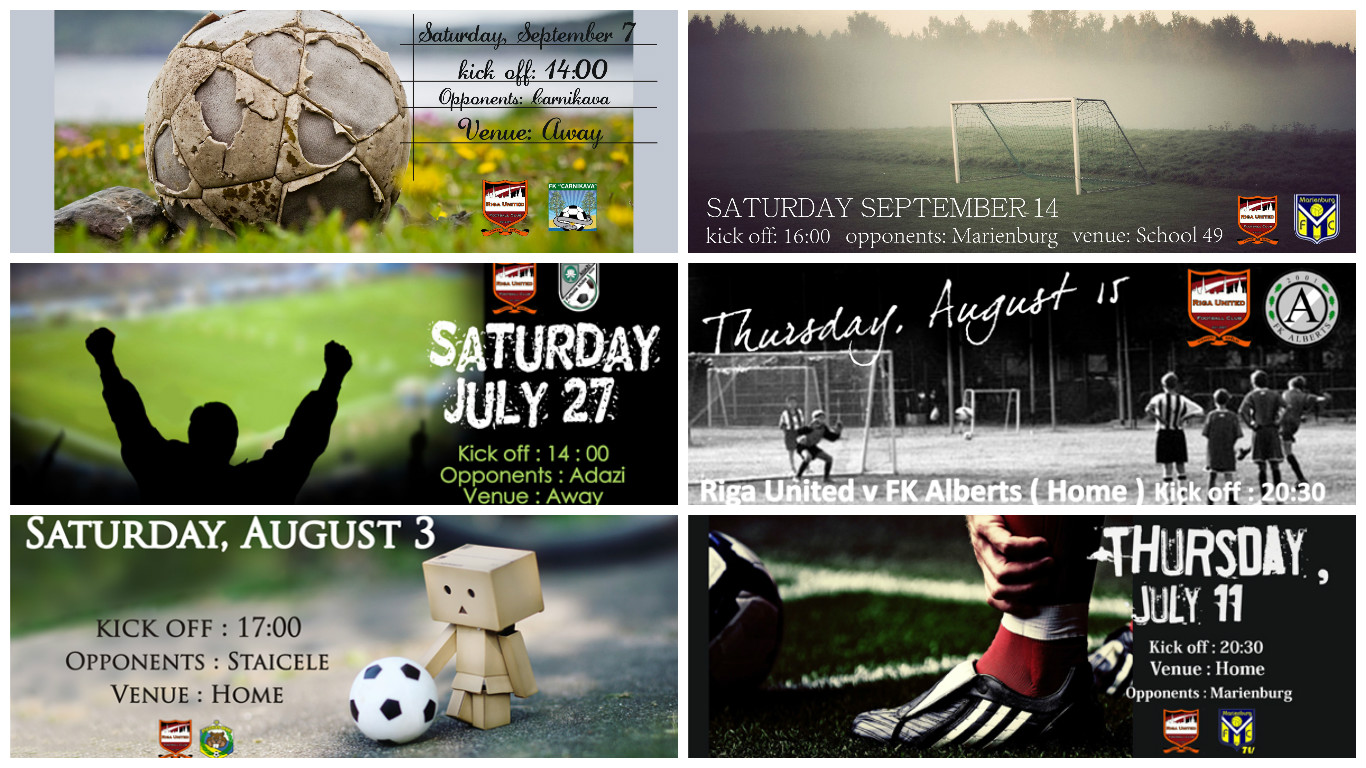 A successful first season
Riga United ended 2013 with an end-of-season tour to Estonia, where the team lost a highly entertaining game 1-2 to FC Tartu in the Estonian second city. Riga United's former Nigerian player Jiro, who left the club to live in Estonia, made a guest appearance for United in the second half. Scotsman Neil Mathieson, who also left Latvia to live in Estonia, also put in a guest appearance for his former club, picking up the man-of-the-match award in the process. During the 2013 Latvian winter break the club concentrated its energies on accreditation of its adult and youth teams, and on building the club's infrastructure and squad for the 2014 campaign.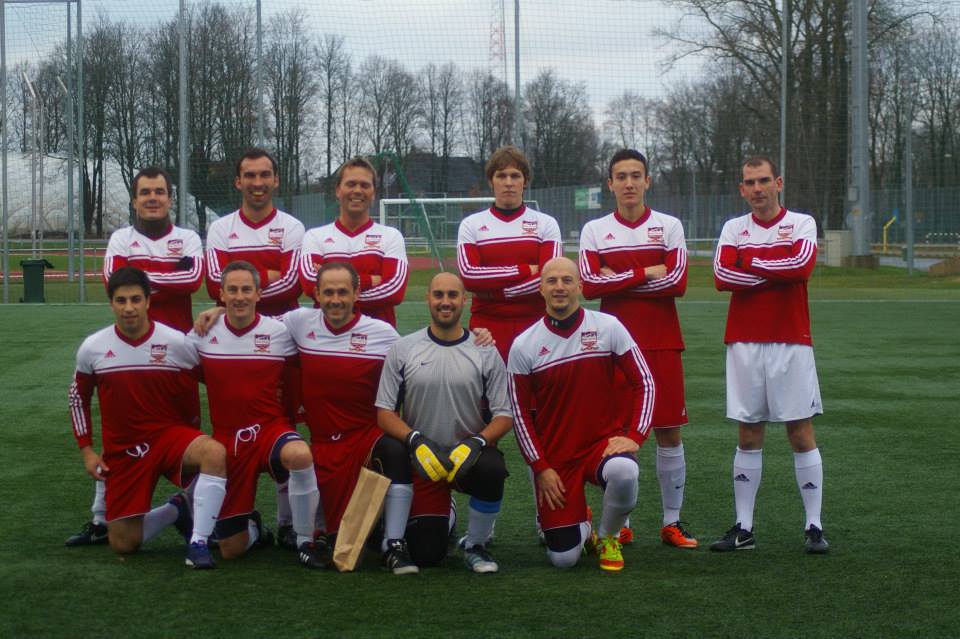 The Riga United side that toured in Estonia at the end of the 2013 season
Academy boys win first silverware
In November 2013, Riga United's under-9 team won the first ever silverware for the Youth Academy when they finished third in the Adazi Cup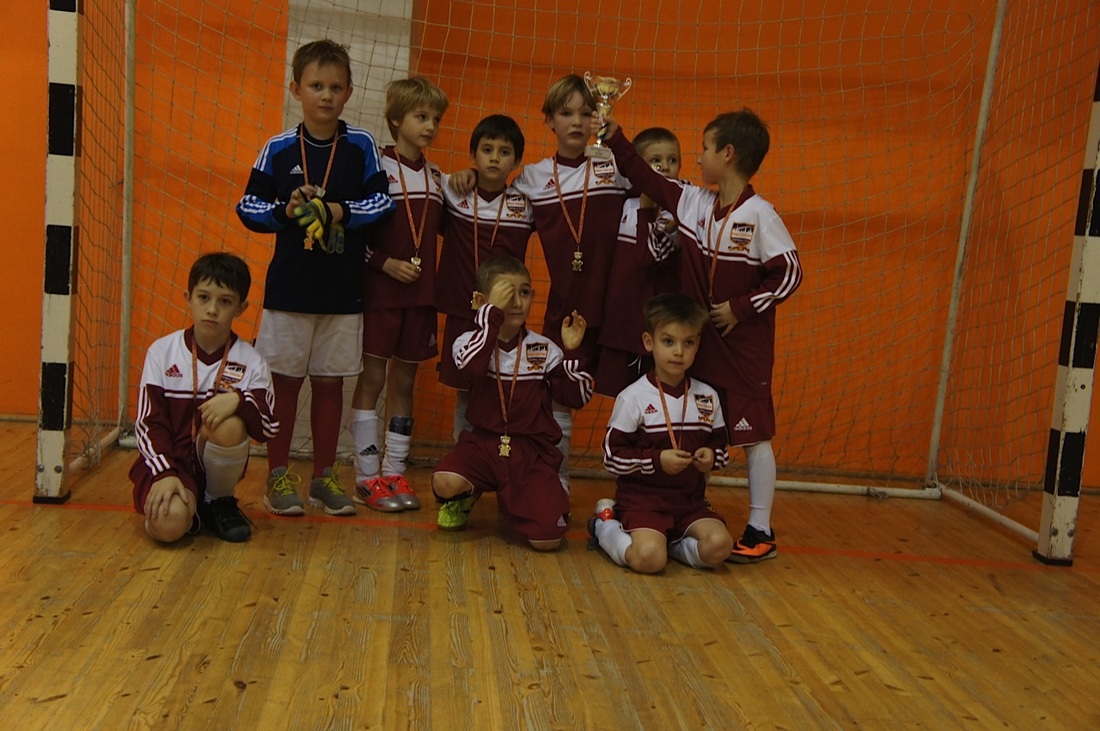 Riga United's under 9s with the academy's first ever medals
United launches its own merchandise range
Riga United launch a range of merchandise, including training tops, hats, water bottles and replica shirts.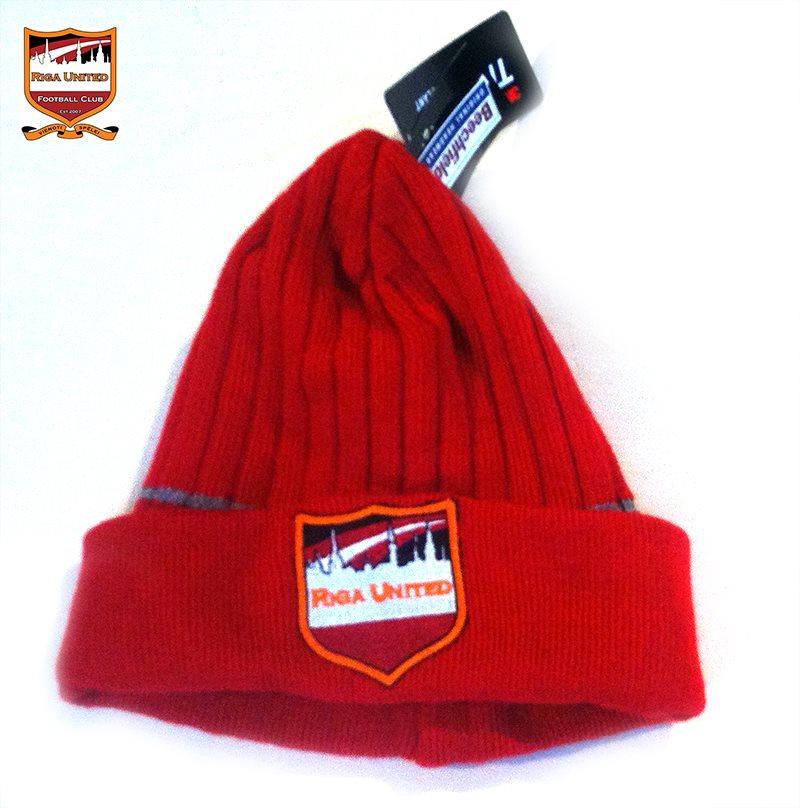 United 'Go Dutch'
In January 2014, Riga United travelled to Holland where they met officials from NEC Nijmegen. Jeffrey Young spent several days watching the Dutch Premier League side's youth training sessions as part of Riga United's plans to create a Dutch-inspired philosophy for its Latvian-based youth academy.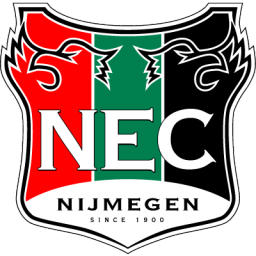 Spanish Television visits
In February 2014, Spanish TV station RTVE visited Latvia as part of their series following the lives of Spanish nationals living abroad. RTVE came down to watch Riga United and its Spanish players at training, which was later shown in the film. They also followed United's Josu Samaniego around Riga and gave Spanish viewers an impression of what life is like in Latvia.

Riga United sign Italian at San Siro!
On March 2, 2014 United raised a few eyebrows when they announced on Twitter that they were signing a mystery Italian on the pitch at the San Siro Stadium ahead of the Milan v Juventus match. It turned out it was former United player Tancredi Palmeri, who managed to get pitchside access due to his journalist credentials working for the likes of CNN. Even Milan boss Clarence Seedorf got in on the ruse as he told Tancredi a week later he was surprised to hear the Italian had joined a Latvian third division side!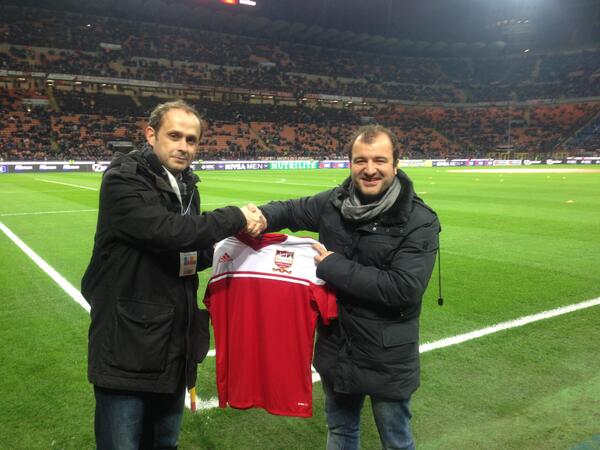 CNN journalist Tancredi Palmeri pictured signing for Riga United on the pitch at the San Siro before Milan v Juventus
Academy celebrates one year
Riga United Youth Academy celebrated its first year anniversary on April 6, 2014. Having started with 14 children, the academy had grown to 42 members at the time of its first birthday.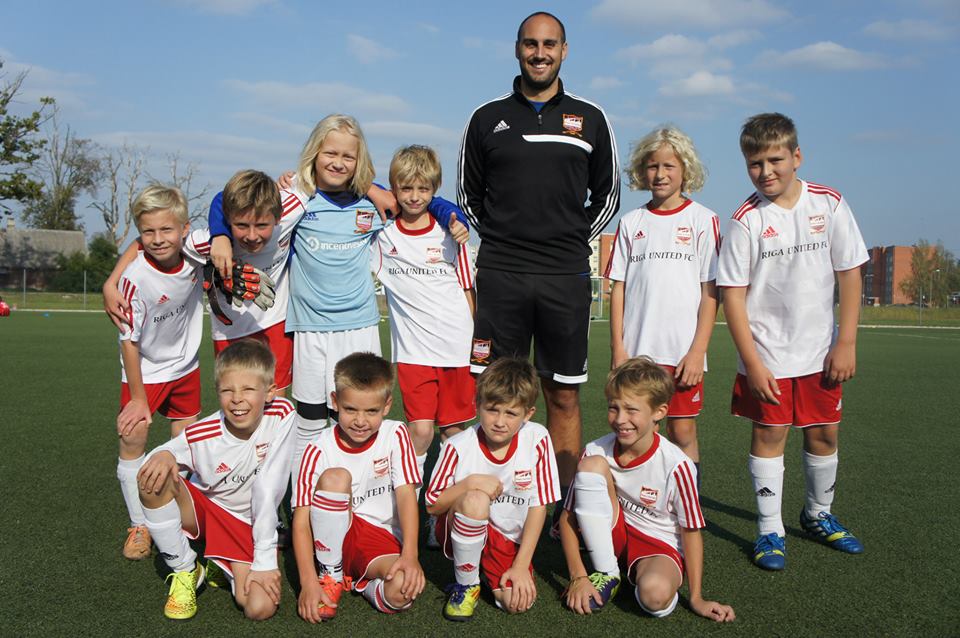 Graham Williams with some of the Riga United Academy boys in 2014
Riga United host NEC Nijmegen
Dutch Premier League side NEC Nijmegen were Riga United's guests in April 2014 as the Dutch side's under-14 Academy side visited Latvia. During their week-long stay, NEC's coaches gave guest coaching sessions for Riga United's youth and adult teams. The academy side, which included a number of highly-rated Dutch youth internationals, beat local sides FK Jelgava and FK Auda 10-0 and 18-1 respectively. Riga United and NEC Nijmegen discussed working together in the future.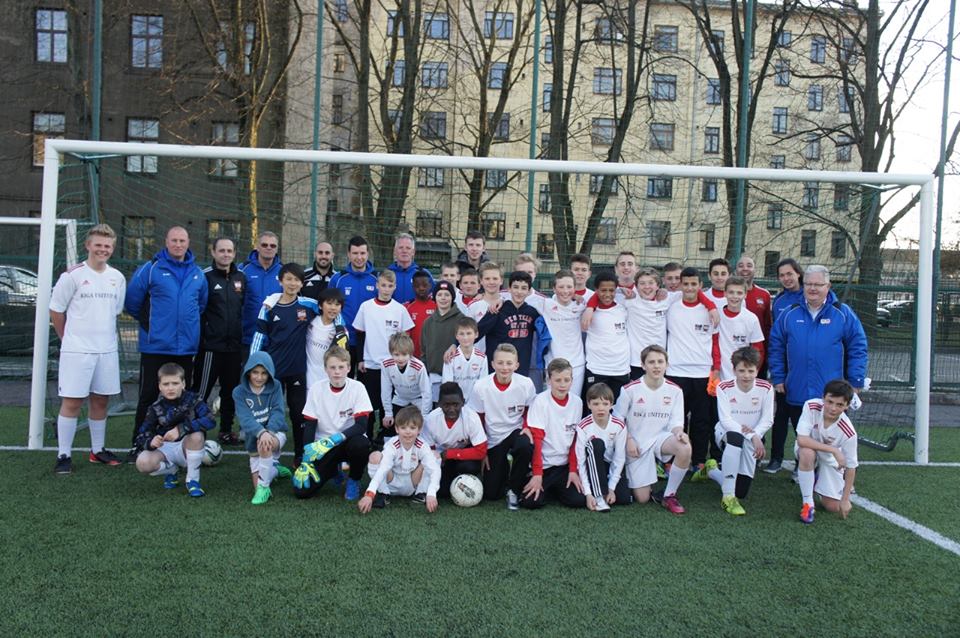 Dutch Premier League side Nijmegan's academy kids together with Riga United Academy kids
One team becomes six
On April 12, 2014 at the annual Vidzeme Latvian Football Federation meeting in Sigulda, Riga United officially submitted applications for six teams to play in 2014 competition. As well as Riga United competing in Latvian league two for the second season, it was agreed that 'Riga United Reserves' would compete in Latvian League 3 in 2014. The club also agreed to field teams in national competition at Under-15, Under-12, Under-10 and Under-8 levels.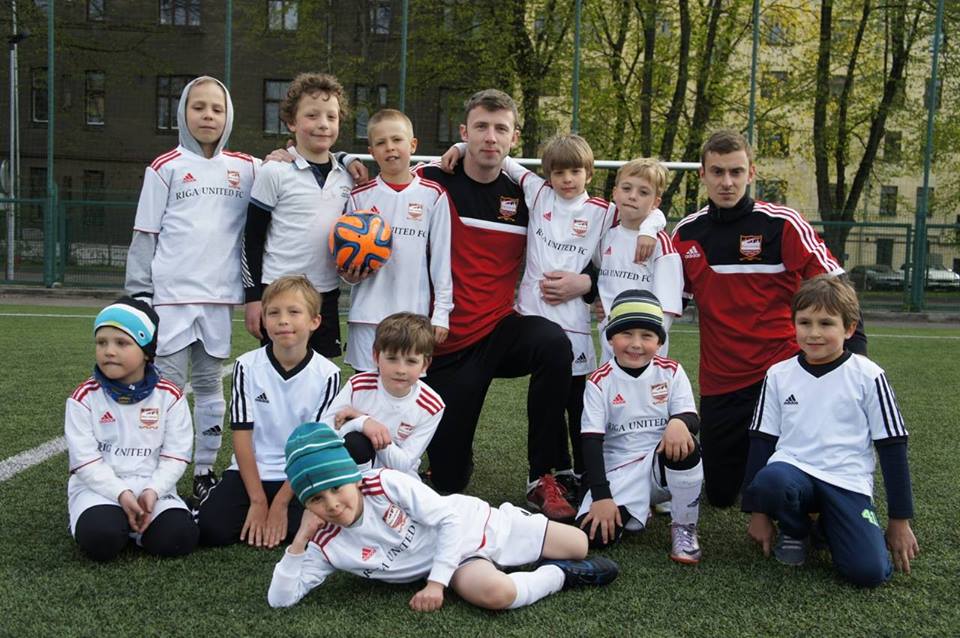 Youth team coaches Arturs Zalitis and Edgars Arakelyans
2014 squad announced
The new 2014 squad was officially announced on May 7, 2014. 25 members of Riga United's 2013 squad stayed on with the club for its second league two campaign in 2014. 10 Players departed the club: Vicente Navas, Thomas Hellstrom, Janis Osis, Paul Featherstone, Sascha Gussen, Theofanis Mermigkousis, Jesus Miguel De La Fuente, Aleksandrs Zincenko, Graham Laing and Luke Shuttleworth. 20 new players joined Riga United during the winter break (three of whom had played for United in the past), with a record 22 different nationalities represented within the squad. 14 of the squad were Latvian.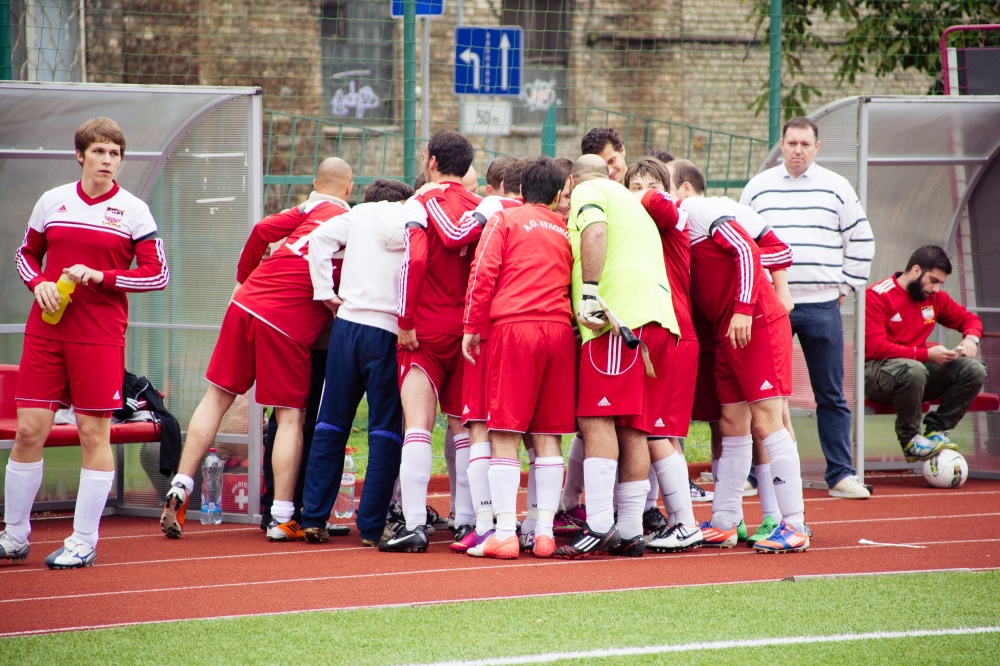 The 2014 Riga United squad:
1. Murat Kelkit (Turkey) 2. Alexandre Jean Luc Gemin (France) 3. Salvis Licitis (Latvia) 4. Julian Lock (Germany) 5. Frederic Demessine (France) 6. Robin Janssen (Holland) 7. Jeffrey Young (USA) 8. Artur Kozars (Latvia) 9. Josu Samaniego del Campo (Spain) 10. Justin Walley (England) 11. Tommy Eriksen (Sweden) 12. Sedat Yildirin (Turkey) 13. Vladimir Janevski (Macedonia) 14. Stefan Christiiaan Ton (Holland) 15. Caner Gokce (Turkey) 16. Ahmed Mohamed Mohamed Elaarag (Egypt) 17. Roman Sarando (Latvia) 18. Mo Awada (England) 19. Uktam Abdunazarov (Uzbekistan) 20. Sofian Berrahal (Poland) 21. Margus Leiar (Estonia) 22. Dans Gobocevs (Latvia) 23. Edmunds Snickeris (Latvia) 24. Vullnet Latifi (Germany) 25. Dainis Savickis (Latvia) 26. Graham Williams (England) 27. Karim Gouglou (Morocco) 28. Sergey Chetverikov (Russia) 29. Alex Zotimovs (Latvia) 30. Marco Spinola (italy) 31. Johan Nordby (Norway) 32. Stefanos Panagidis (Cyprus) 33. Uldis Aliks (Latvia) 34. Dimtrijs Afansjevs (Latvia) 35. Milan Hesko (Slovakia) 36. Aleks Kocanovs (Latvia) 37. Artis Kromanis (Latvia) 38. Lukas Labonte (Germany) 39. Marco Corattela (Italy) 40. Klavs Jurciks (Latvia) 42. neil mathieson (Scotland) 47. Slava Melniks (Latvia) 69. Till van Zwamen (Germany) 77. Stavros Onoufriou (Greece) 80. Tancredi Palmeri (Italy) 99. Edgar Arakelyan (Latvia)

2014 Season begins
United lost their first match of the 2014 season 0-1 away to title favourites Staicele. The team recorded its first victory of the 2014 season in their second match; winning 3-0 away to FK Alberts. This was the first time that Riga United had ever kept a clean sheet in a national league match, and came in their 20th match played in national competition over two seasons. United crashed out of the Latvian national cup in the first round, losing 2-7 away to Rinuzi.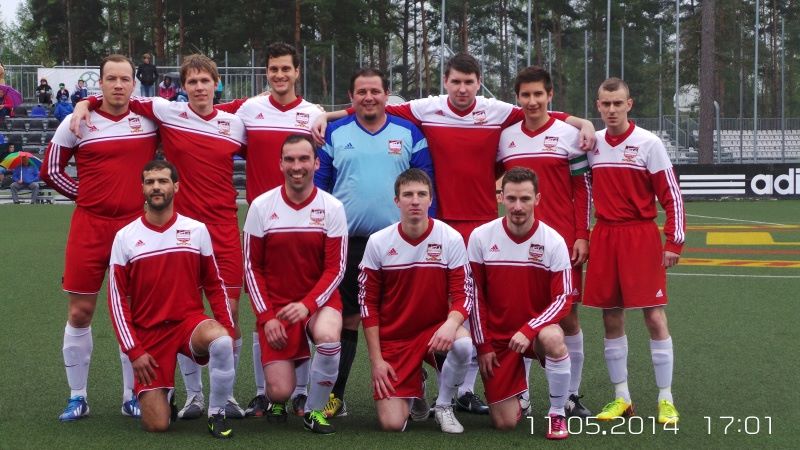 Riga United make their 2014 debut with a 0-1 away defeat to eventual champions Staicele, who now play in Latvian League One
Team Talk created
On May 20, 2014 the first episode of Riga United's 'Team Talk' was released on YouTube. These short videos feature interviews between the Riga United Supporters Club President Richard Youatt and staff and players from Riga United Football Club. It is hoped the programme is the first step towards the club eventually creating Riga United TV.
Riga United Ladies team created
Following a Facebook message exchange between Marit Gjerde, Inese Keisa and Justin Walley, it was agreed that an informal training session for adult female players would be held at Riga United's training ground on May 13, 2014. If the response was positive and the quality high, then the club would consider the possibility of creating a Riga United Ladies team. Around 20 ladies attended the first ever training session and from this Riga United Ladies was born.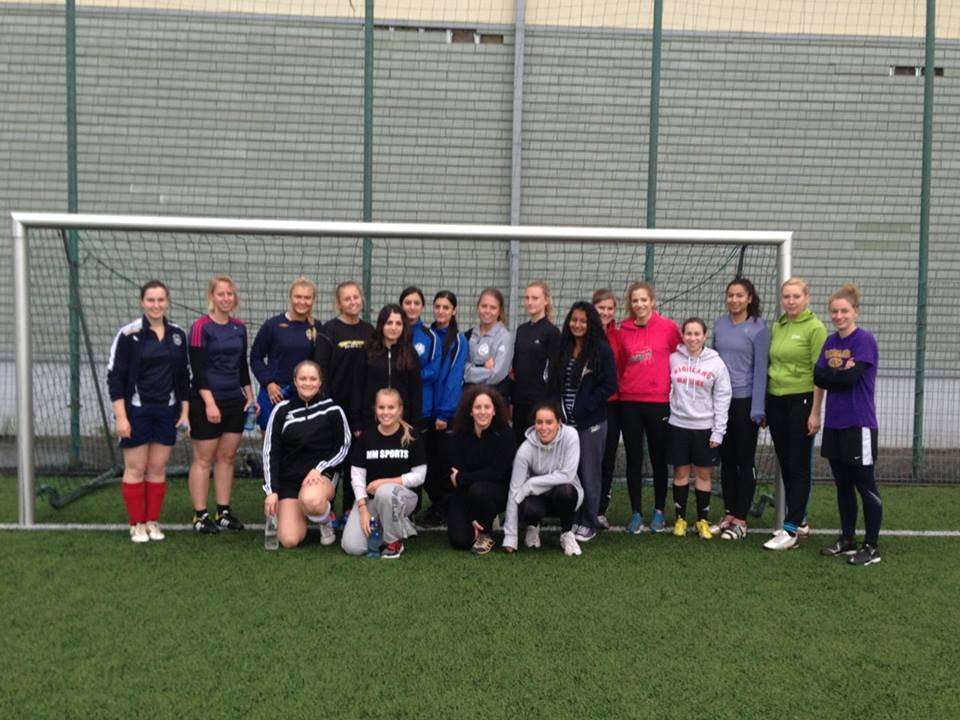 May 13, 2014: the first ever training session for Riga United Ladies
Riga United Reserves make epic league debut
Riga United Reserves played their first ever official national league match on May 24, drawing 4-4 away to FK Preikuli. The first player to score a goal for the reserves was Graham Williams. Artis Kromanis scored a spectacular last minute equalizer.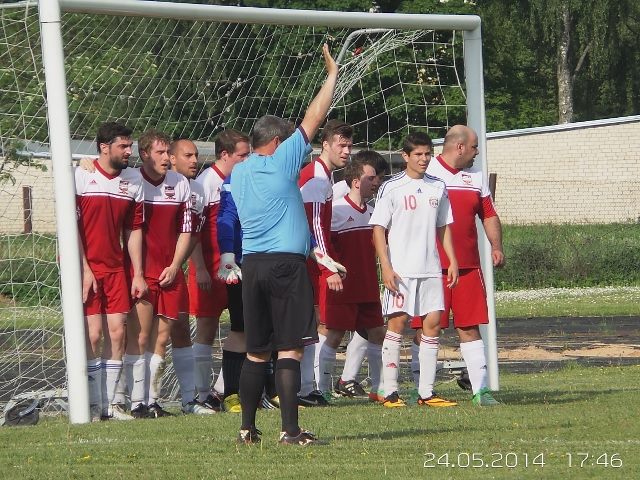 Riga United Reserves desperately defend a 10-yard indirect free kick during their epic 4-4 league debut away to FK Priekuli
Whitmore becomes first RUFC Reserve team manager
Former United player John Whitmore became manager of Riga United Reserves for the 2014 season. RUFC Reserves recorded their first ever league three victory in their second match.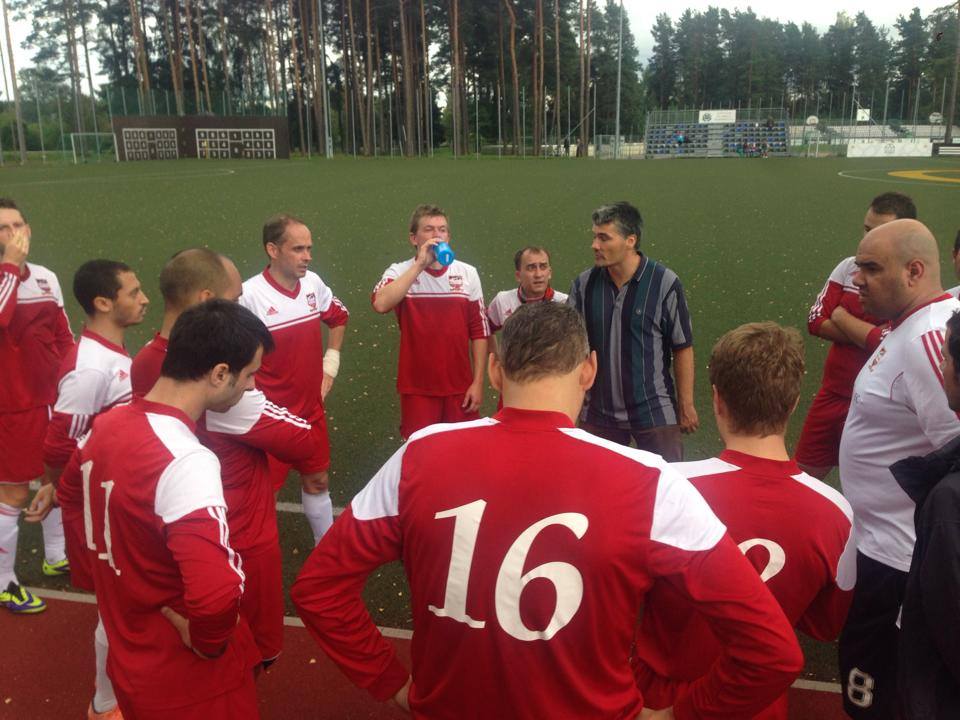 John Whitmore and the RUFC Reserve team
Reserves play in front of record crowd
On 11 June 2014, Riga United Reserves won away in Salacgriva in front of a club record crowd of 300 as they remained top of Latvian League 3.
Documentary film about Riga United FC released
In July 2014, film-maker Stefanos Panagidis completed his documentary film about Riga United Football Club. The 42-minute production featured interviews with managers, coaches and players, as well as some video highlights of the team in action.
RUFC Ladies application to join national cup accepted
In the summer of 2014, the head of women's football in Latvia, Nina Travkina, accepts Riga United Ladies' application to join the 2014 Latvian national cup.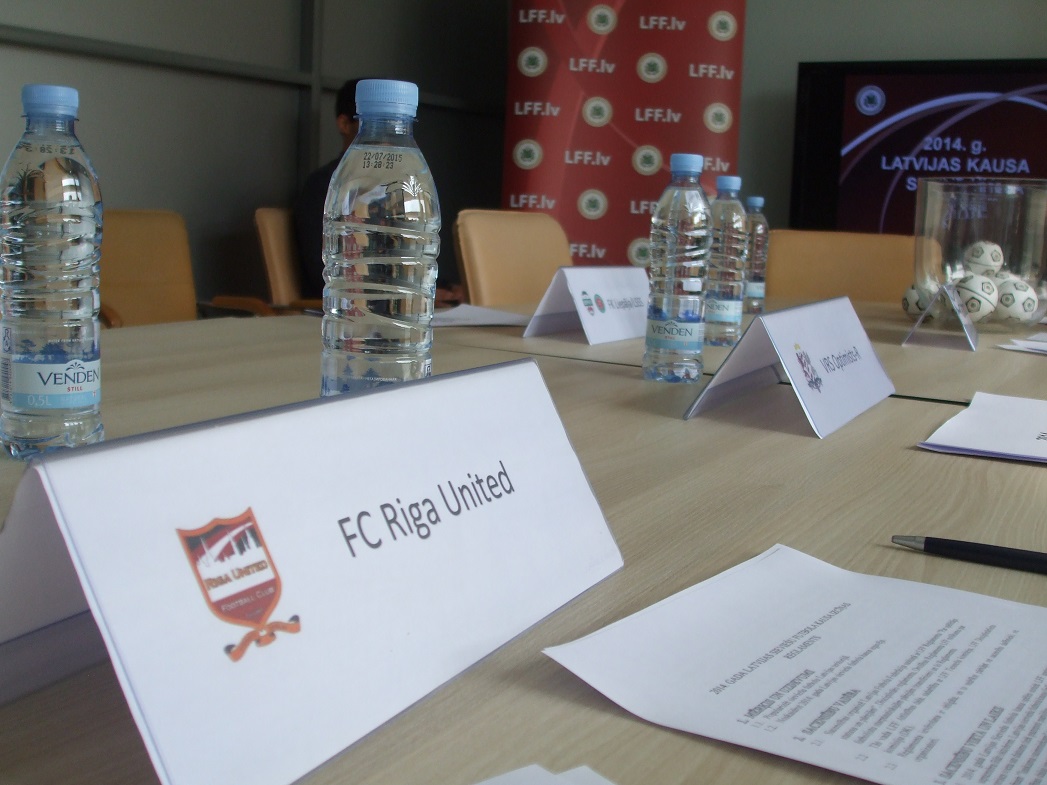 The 2014 SFL Cup draw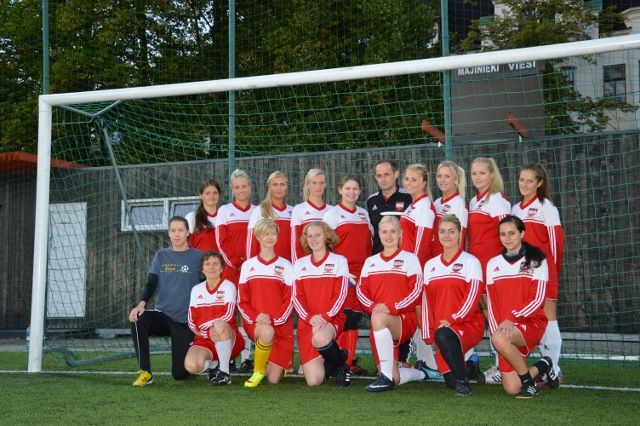 Riga United Ladies 2014 team shoot
Slava is first hattrick hero
Slava Melniks was the first player to score a hat trick for Riga United in national competition when he scored 4 goals for the reserves against FK Lielupe on July 26, 2014. United Reserves won the match 6-4.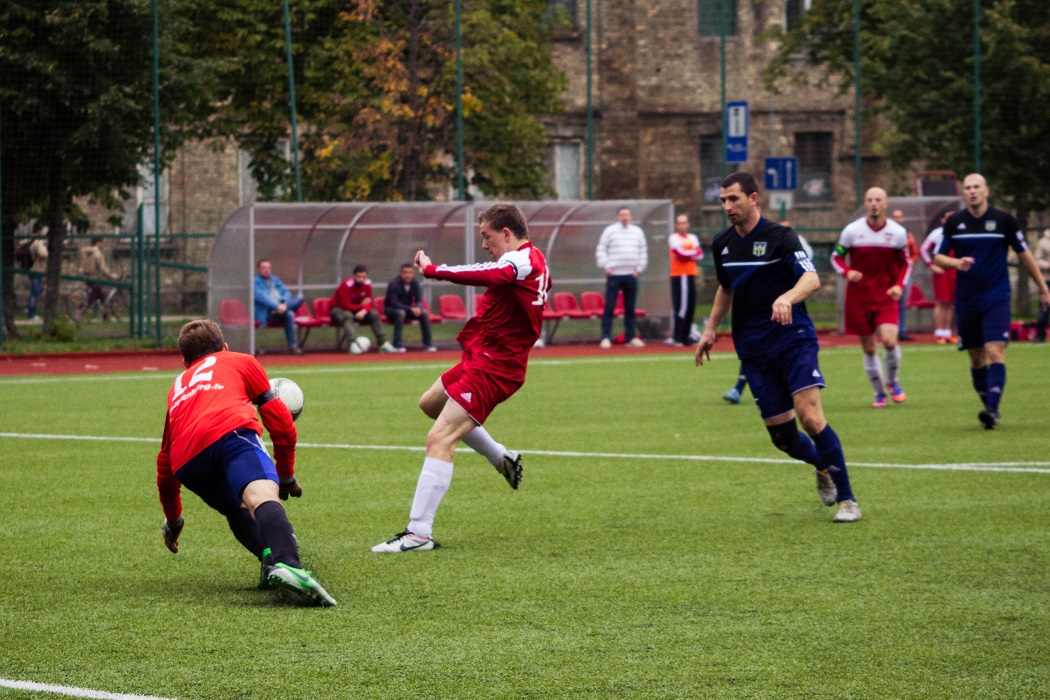 Slava Melniks in action
United sign their first ever international player
In late summer 2014, Riga United signed its first ever international player, when Latvian international goalkeeper Enija Anna Vaivode joined the club. Enija had previously played for Kokkola in Finland as well as in the German league.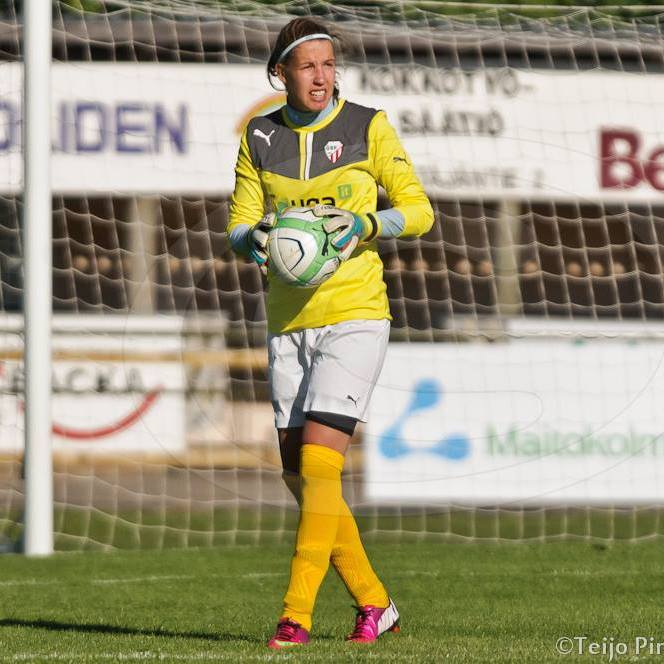 Enija Anna Vaivode playing in the Finnish Premier League
Riga United Dutch Clinic "a great success"
August 22-24, 2014 Riga United invite over renowned coach Greg Day from Holland for a special weekend 'Dutch Clinic' attended by over 50 children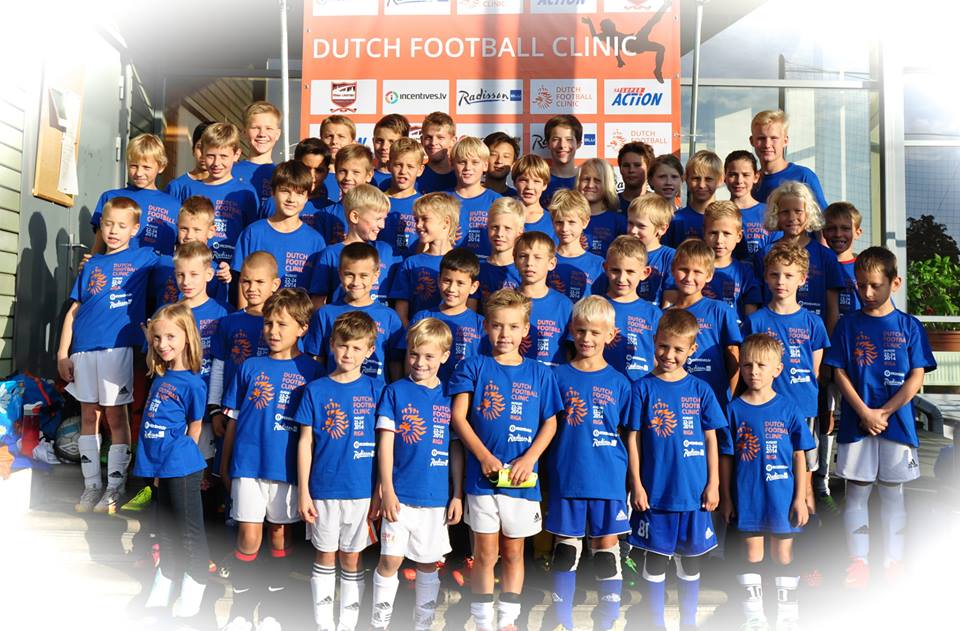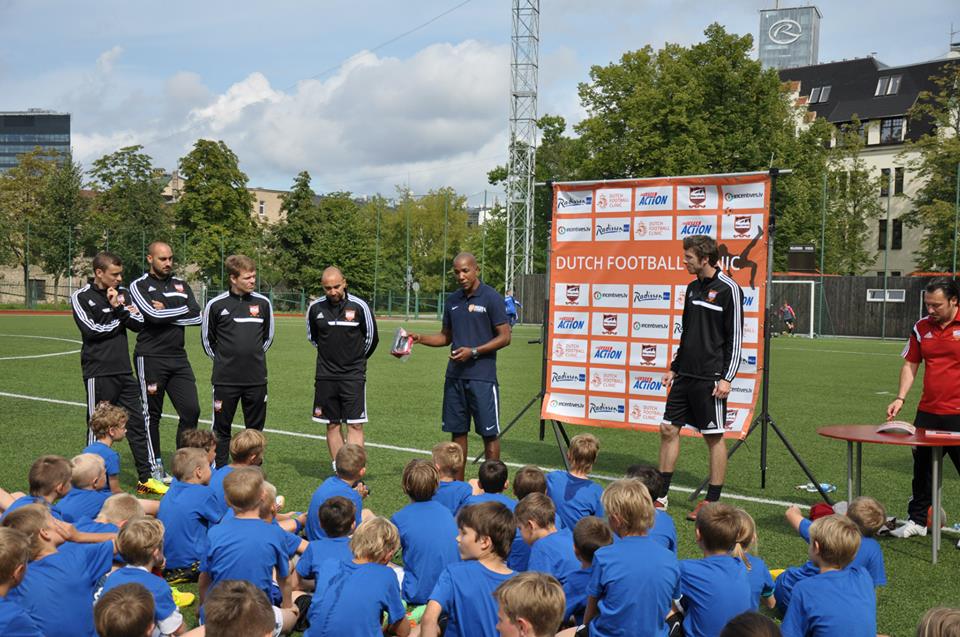 Riga United Youth Academy coaches with Guest Coach Greg Day
Record unbeaten run comes to an end
On August 22 RUFC Reserves lost 3-2 at home to Skorpions after the Smiltene side scored an 86th minute winner. The defeat was the first ever suffered by RUFC Reserves after going undefeated in their previous seven matches.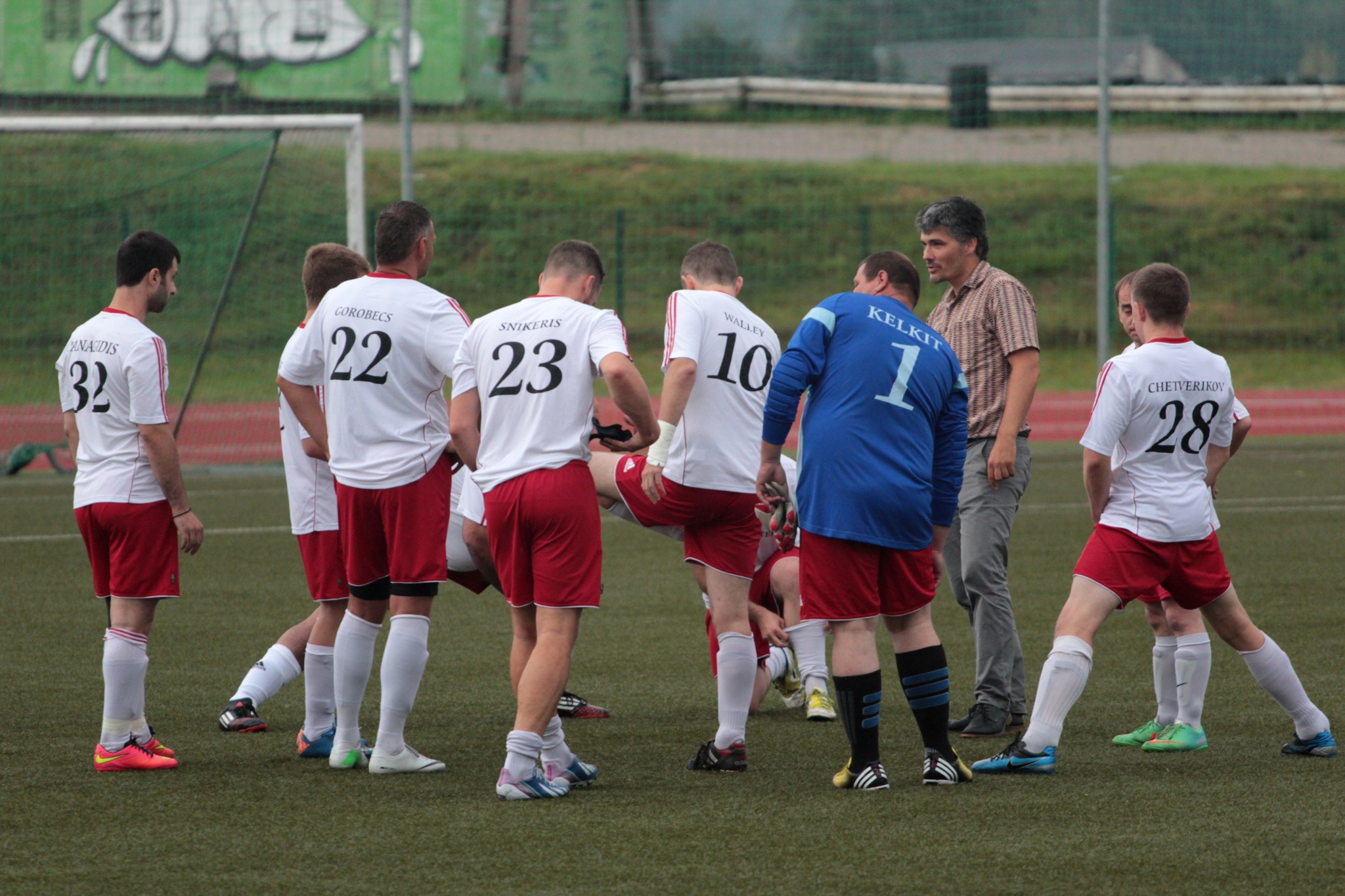 Whitmore preparing Riga United Reserves for their away game against the Skorpions
RUFC Ladies get first club captain
Marit Bjørkum Gjerde was announced as the first ever club captain of Riga United Ladies on August 29, 2014. The Norwegian forward was instrumental in the creation of Riga United Ladies.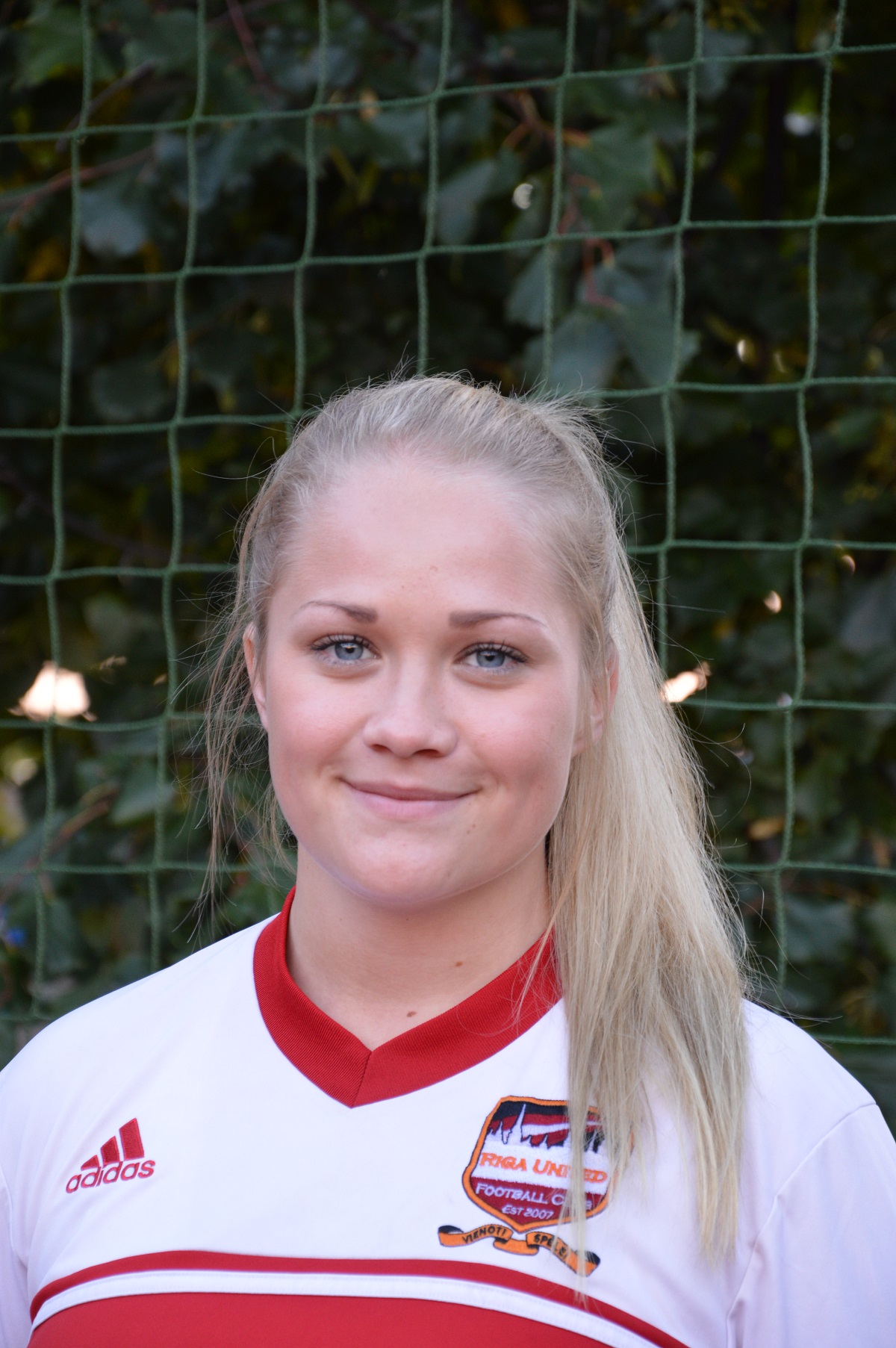 Marit Bjørkum Gjerde

Riga United shock LFF League 2 Champions
September 17, 2014 Riga United FC recorded its most significant ever victory as the team beat Latvian League 2 Champions Staicele 2-1 at home.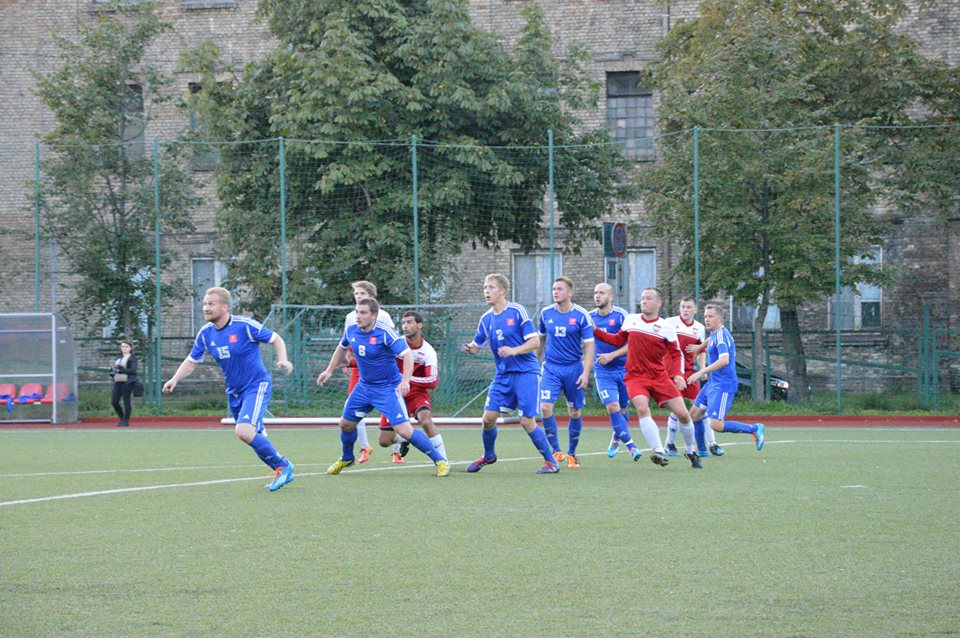 The Black Cats in action against league two champions Staicele
Ladies make historic cup debut in front of bumper crowd
Riga United Ladies receive a bye to the semi-final of the Latvian national cup where they faced FK Liepaja in their first ever official match. The match, which was played on September 25, was an epic encounter with the United Ladies losing 3-1 in front of a bumper crowd of 130. Kristin Aune scored the club's first ever official goal.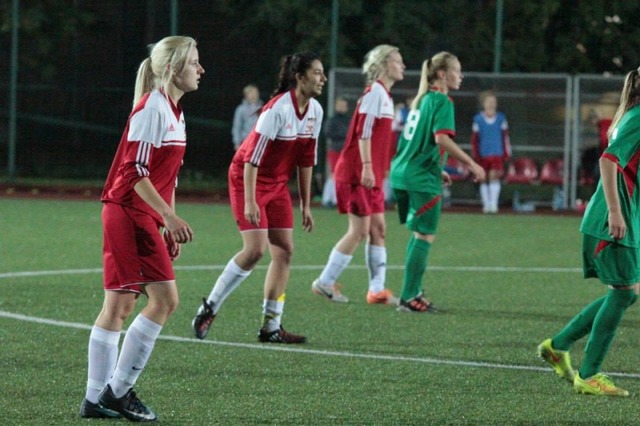 Liga Kempe, Zara Tahir and Hanna Eriksen in action (left to right) against Liepaja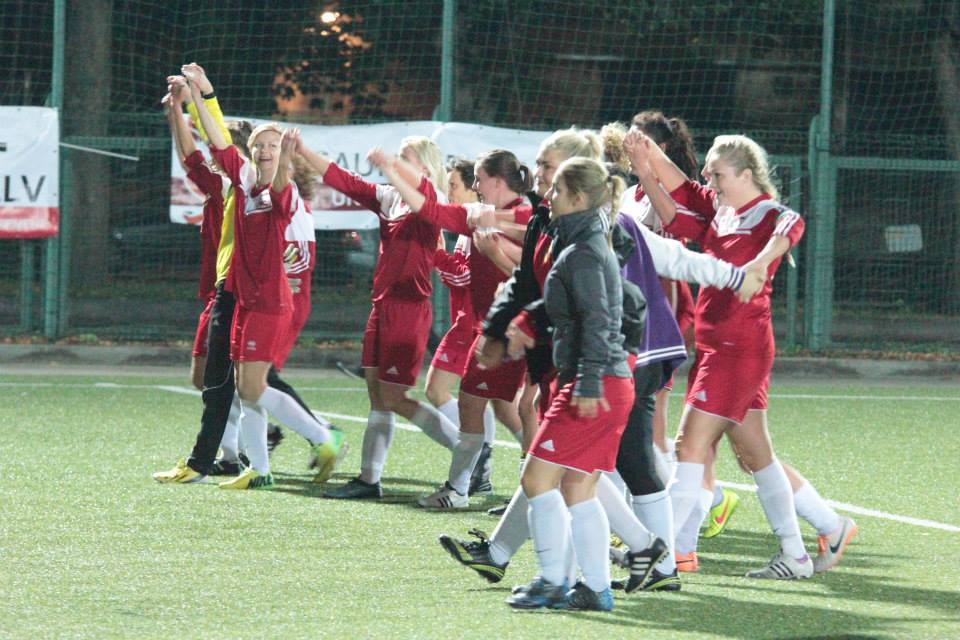 Riga United Ladies salute the crowd after their semi-final match

United finish fourth in Latvian League Two
Riga United first team beats Upesciems 5-2 to finish 4th in Latvian League 2, missing out on the bronze medal position on goal difference.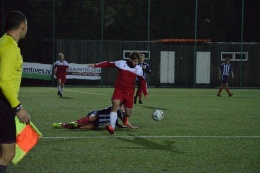 Marco Spinola in action during United's 5-2 home victory over Upesciems
Final league table 2014: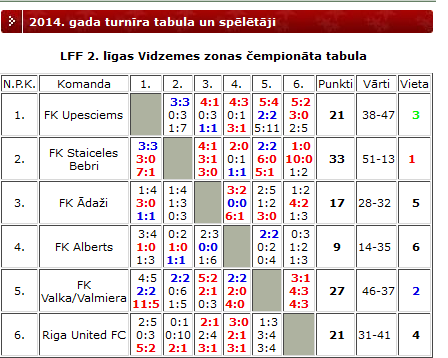 Heartbreak for Riga United Reserves
It is heart break for Riga United Reserves as they lose out on the Latvian Division 3 league title on goal difference after losing their final game of the season at home to champions Staicele.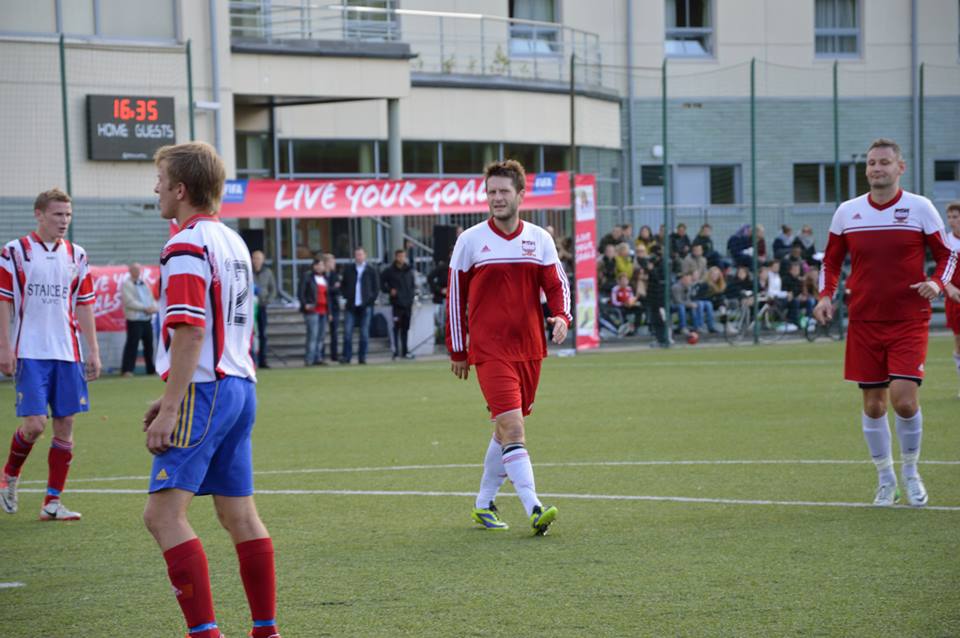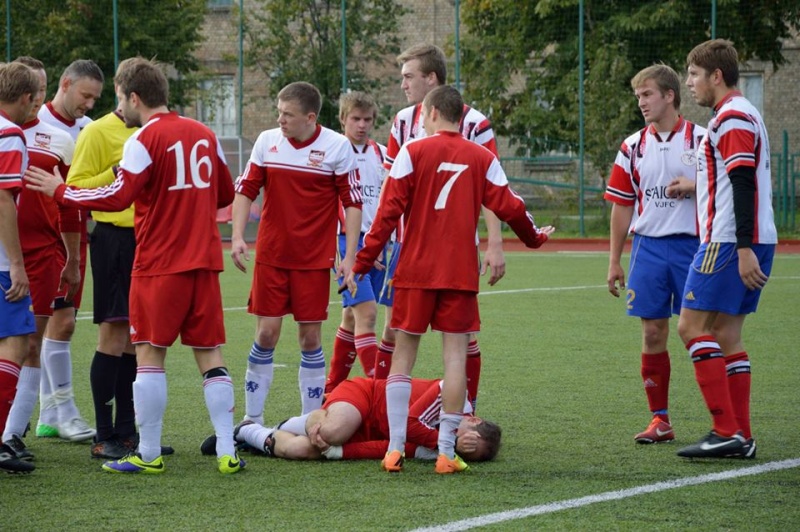 Staicele go down to ten men after one of their players sees red
Final league table 2014 Riga United Reserves: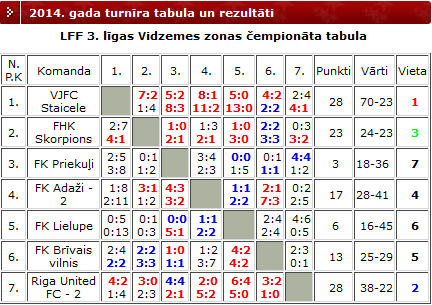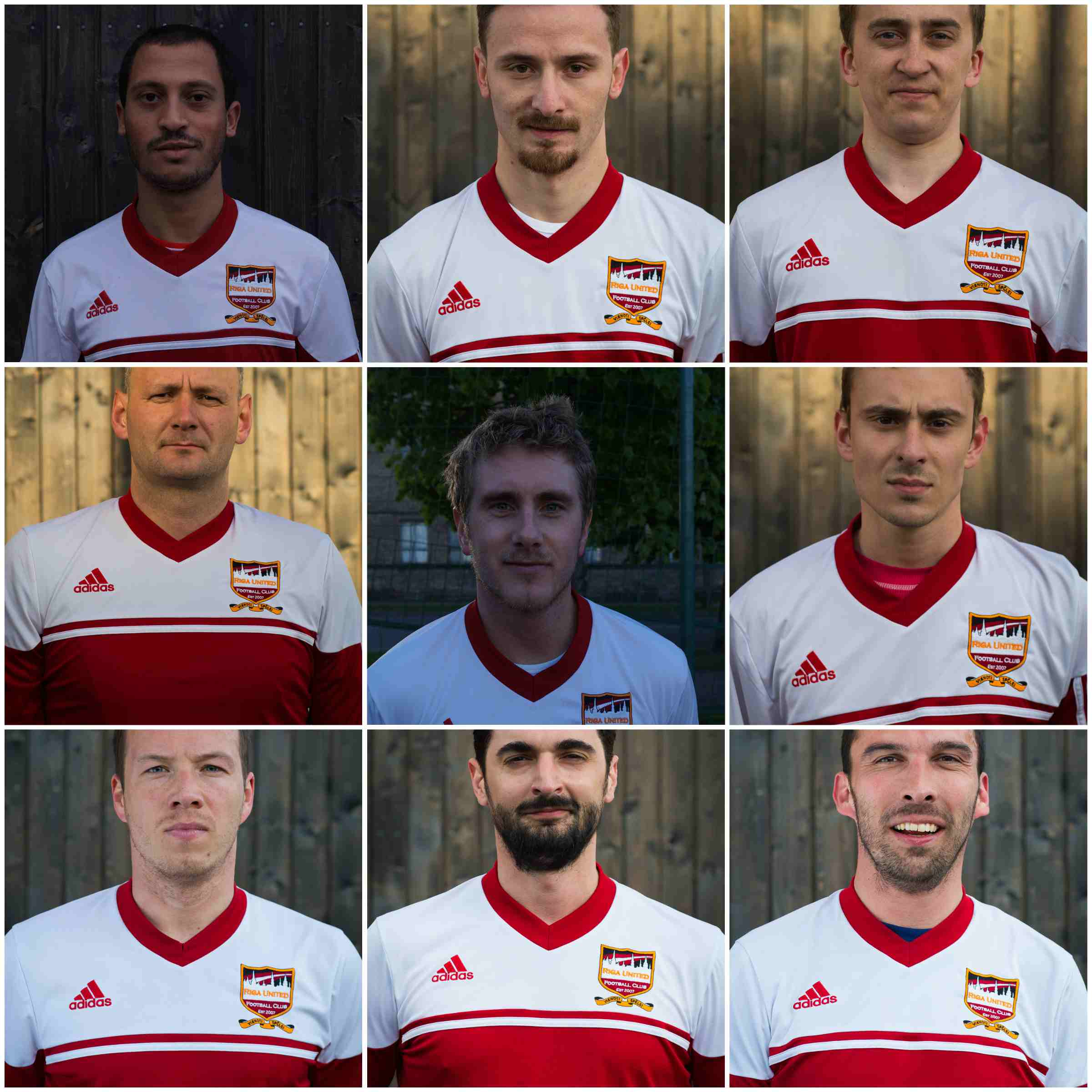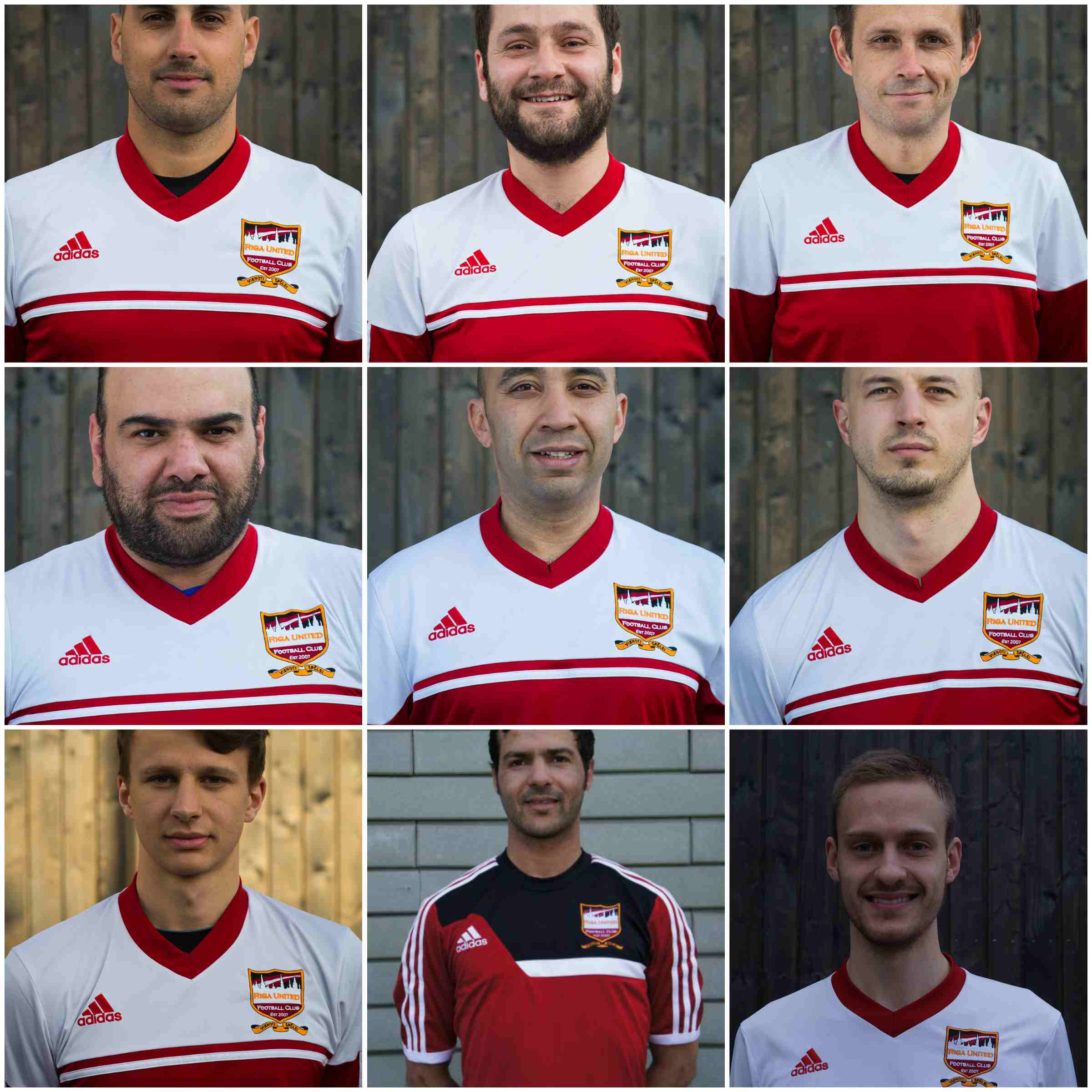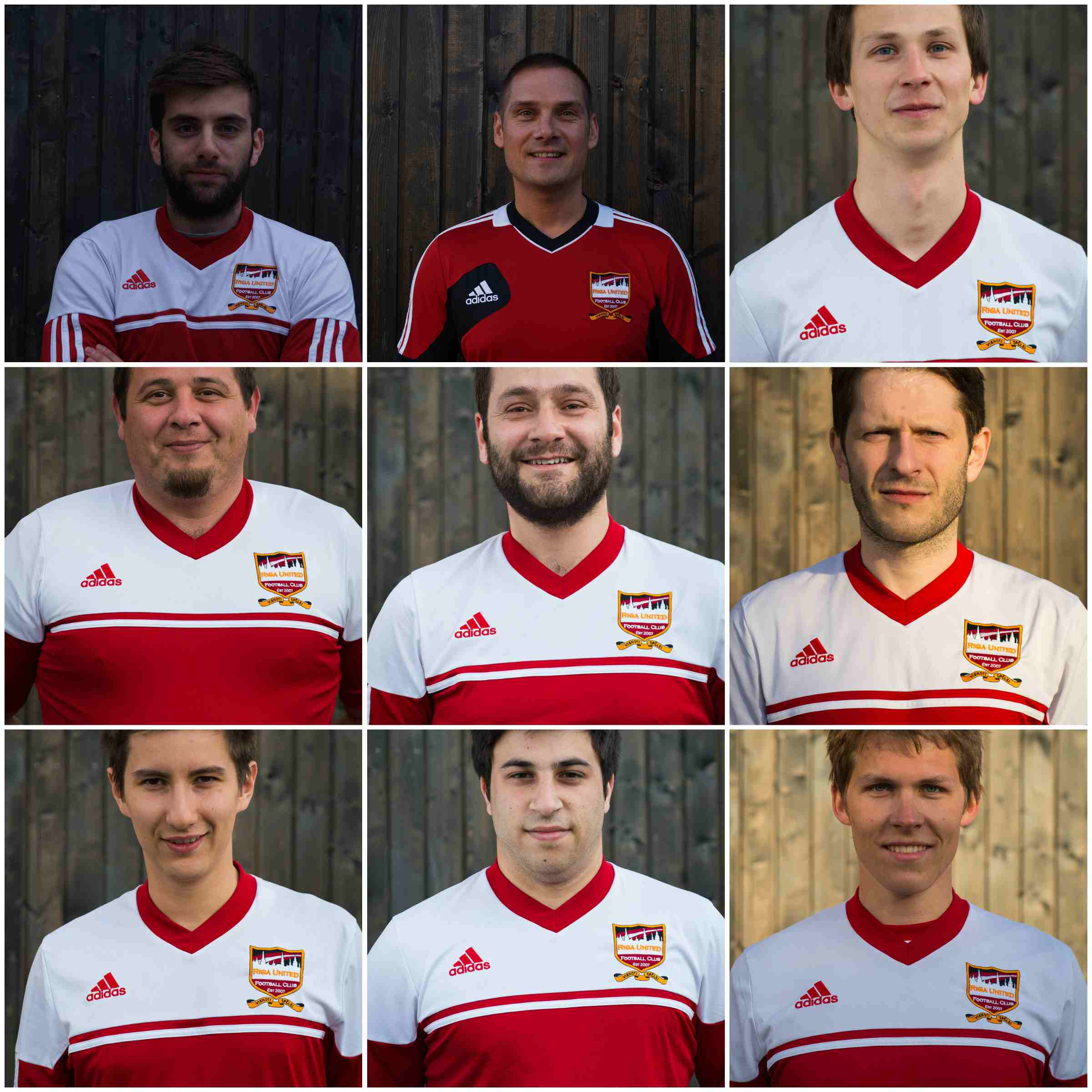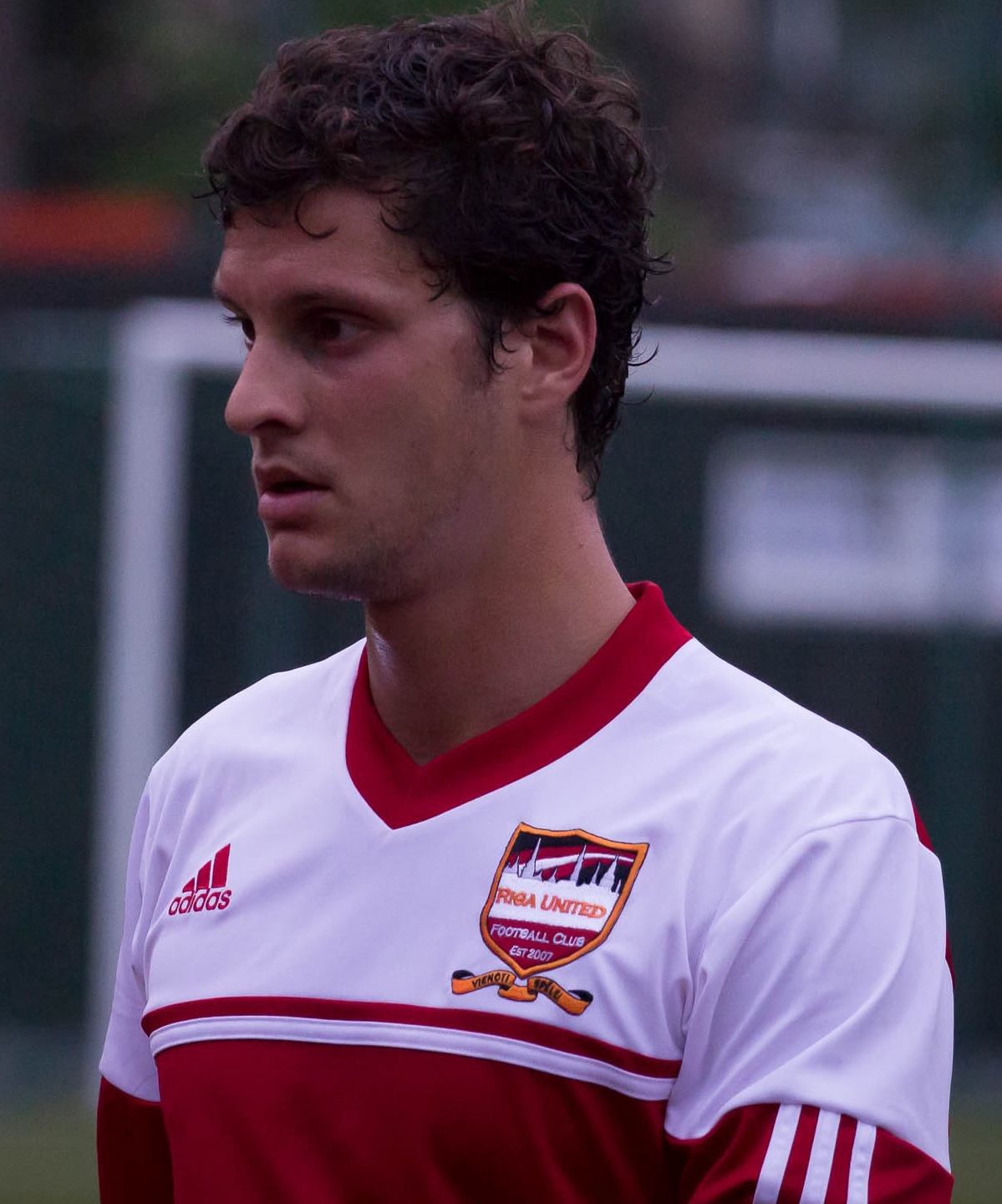 2014 RUFC Awards Evening
Riga United's second annual awards evening was held at the Raudi & Draugi Hotel.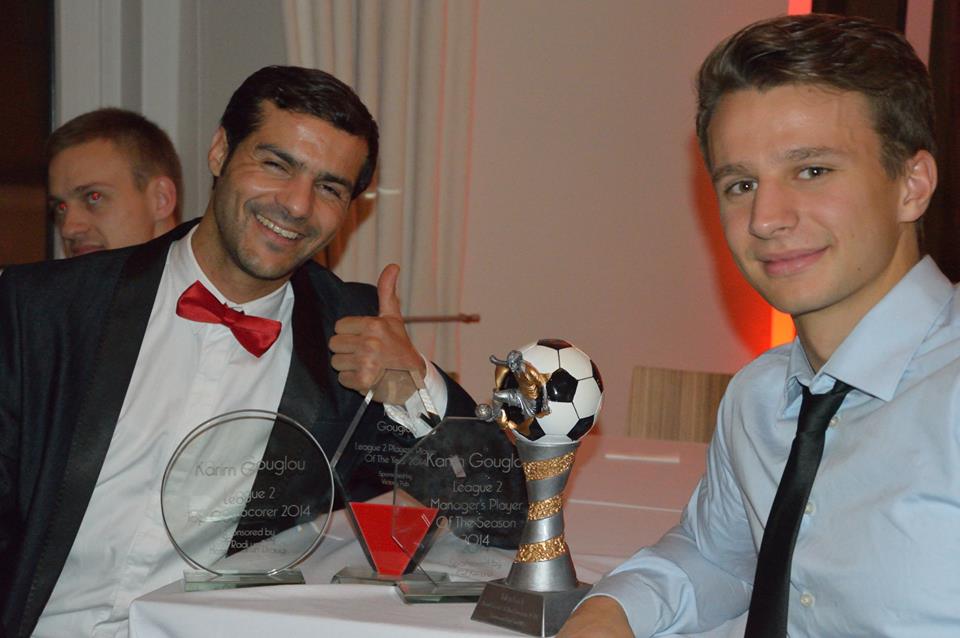 Kareem Gouglou and Julian Lock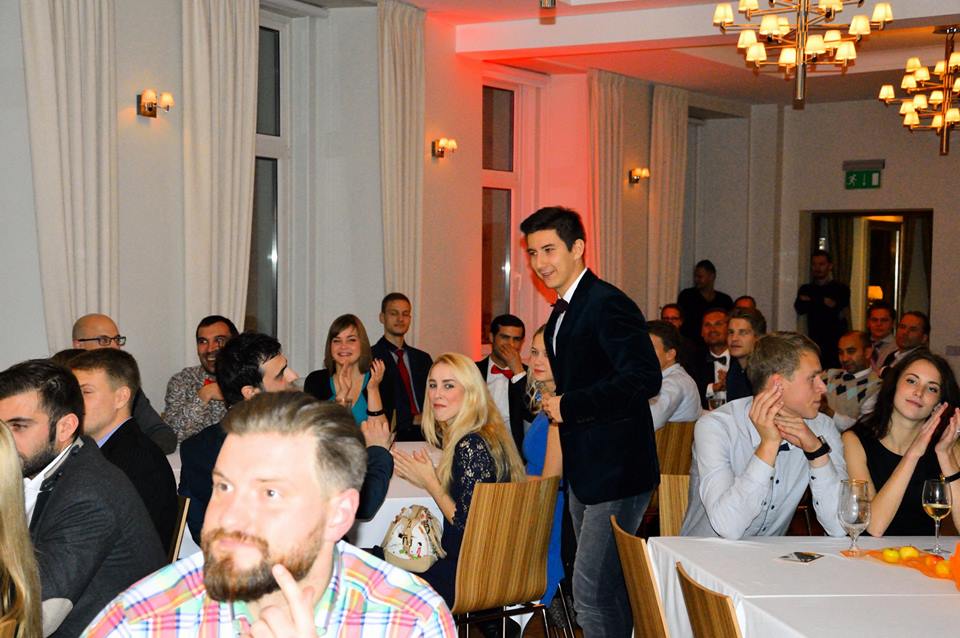 Sofian Berrahal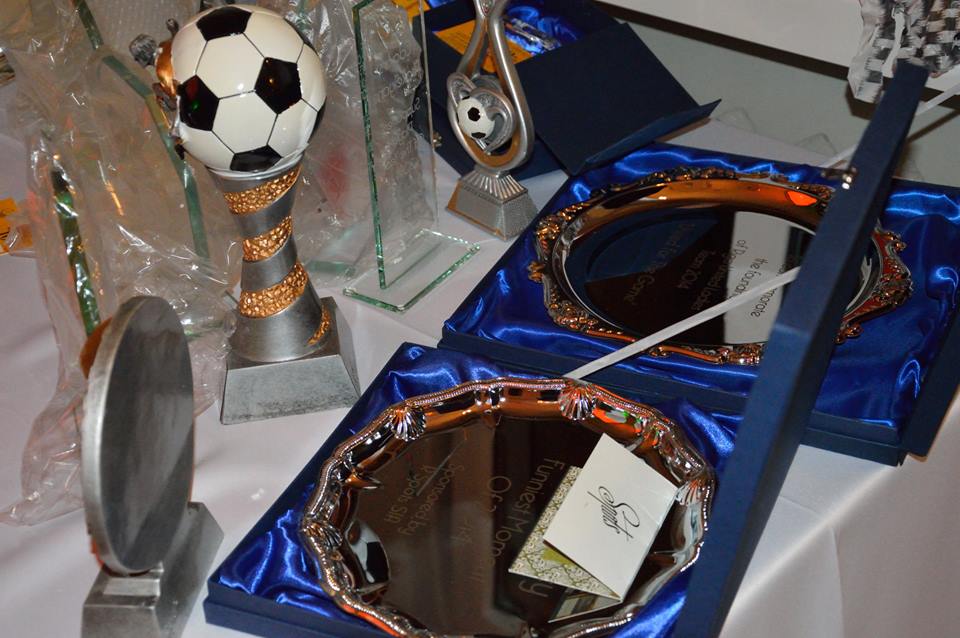 Vita Jansone: Riga United's club person of the year 2014



Images from the 2014 season
Ladies tour in Lithuania
Riga United Ladies hit the road and played only their second ever competitive match, when they took on Lithuanian Premier League side Zalgiris Vilnius. Kristin Aune scored but then missed a penalty as the Ladies lost a respectable 1-4 to the third best team in Lithuania.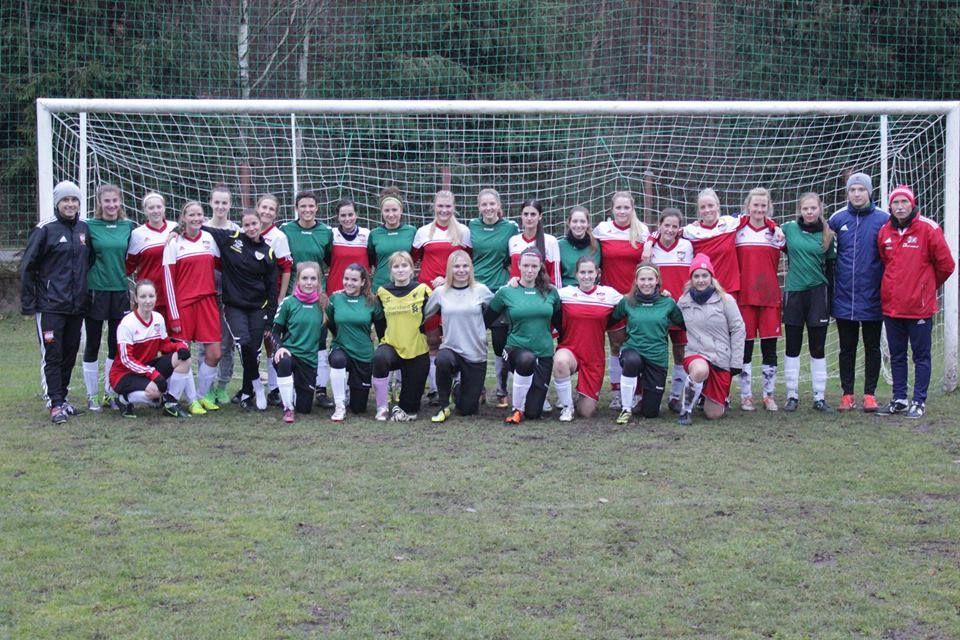 Members of the Zalgiris Vilnius and Riga United Ladies teams after their friendly in Lithuania
Black Cats get their first girls team
In November 2014, Jeffrey Young created Riga United under-15 girls team and began training the girls twice weekly.
Riga United sign major kit partnership deal
In December 2014, Riga United signed a two-year kit sponsorship agreement with Macron. Macron, who sponsor many of the top teams in world football, approached United and asked to sponsor them for 24 months. As part of the deal, the men and women's teams were provided with new kits for the 2015 season

Ladies get second international
Liene Vaciete becomes the second Latvian international to sign for Riga United as she joins them after a spell in the United States.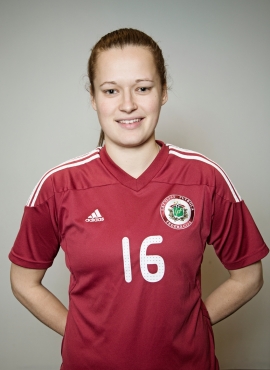 Liene Vaciete
Women make futsal debut
The RUFC women entered two teams in the Latvian national futsal league, with the 'A' squad beating Preiļu novada BJSS 4-1 in the first match, and drawing 1-1 with Rīgas Futbola Skola reserves in their second match, both games played on January 4, 2015.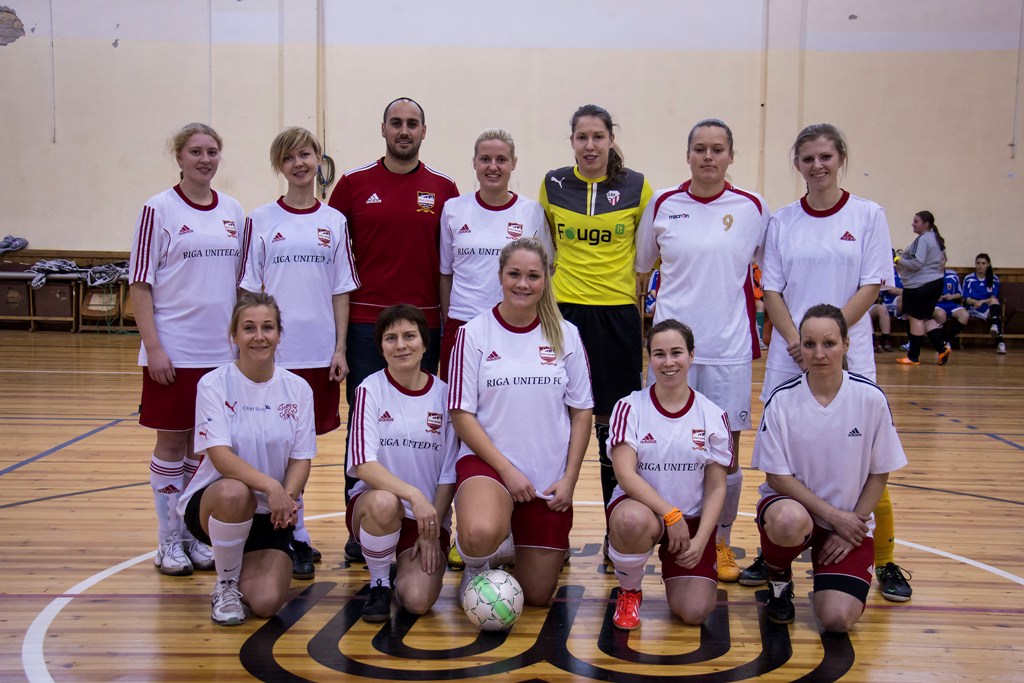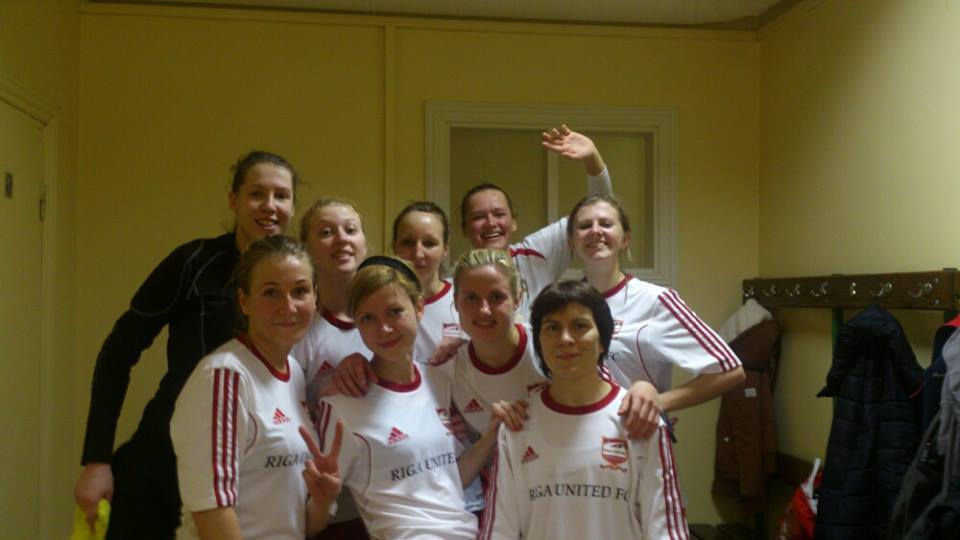 Riga United futsal team
Marit featured in LFF magazine
In January 2015, Ladies' captain Marit Gjerde is featured in the LFF football magazine. (Click on the image below to see the magazine)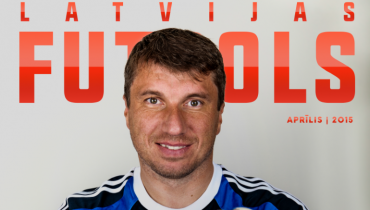 Ladies reach quarter final
Riga United Ladies 'A' team reached the quarter final of the national futsal league where they lost to the eventual winners RFS '1' in Talsi.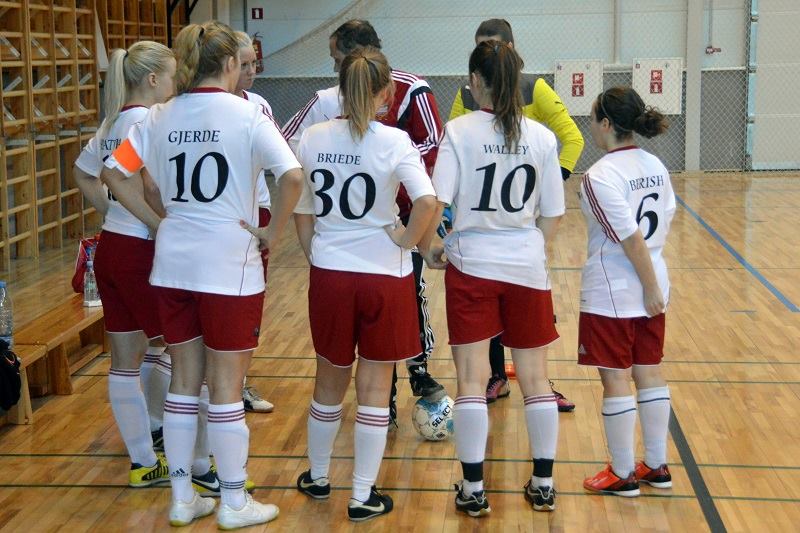 RUFC Ladies get a half time team talk during their quarter final in Talsi
United Ladies sign third international player
After talks with head coach Justin Walley, talented international midfielder Ieva Bidermane joins Riga United in February 2015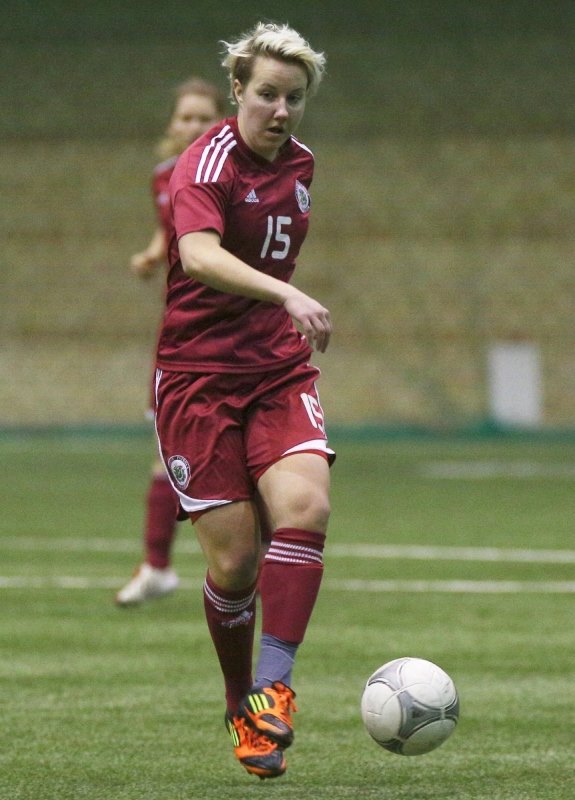 Ieva Bidermane
EGM February 2015
Following the resignation of Marc Wijnards from the Riga United board, Jeffrey Young also steps down during the club's Extraordinary General Meeting in late February 2015. During the EGM, a new club constitution is approved by all members present as well as a new club structure. The new structure of the club for 2015 was as follows:
Men's senior team management: Mo Awada and Graham Williams
Men's captain: Aleks Alunans
Youth teams management: Jeffrey Young
Women's team management: Justin Walley, John Whitmore and Ieva Bidermane
Women's captain and assistant captain: Marit Gjerde and Liene Vaciete
Club board: Richard Youatt, Mo Awada and Justin Walley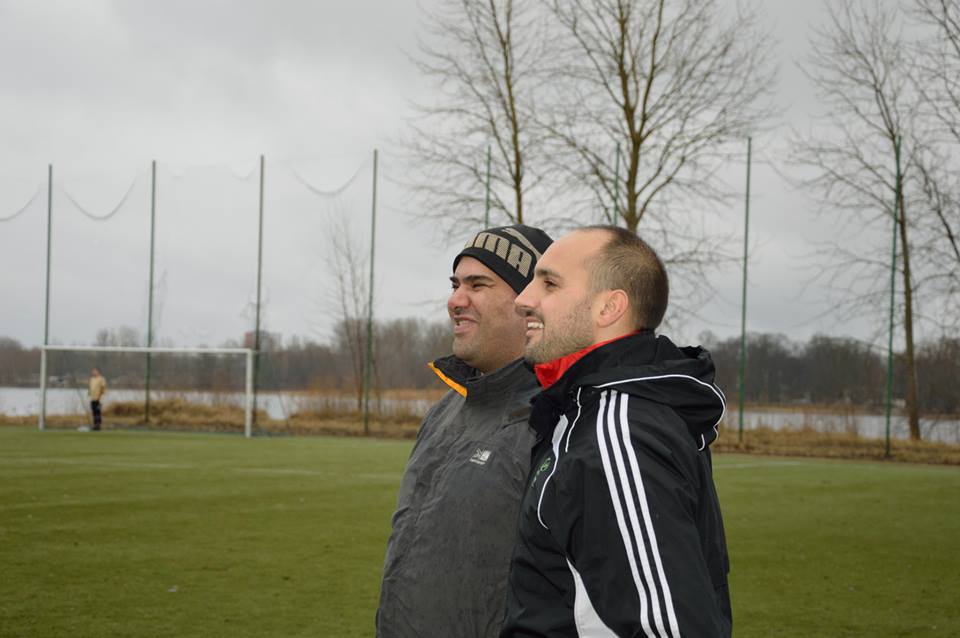 The new Riga United men's management team for the 2015 season: Mo Awada and Graham Williams
Cup success
The Black Cats enjoy pre-season success as they finish runners up in the Auda Cup. United beat first division Preilu BJSS before losing the final to one of league one's best teams: hosts FK Auda.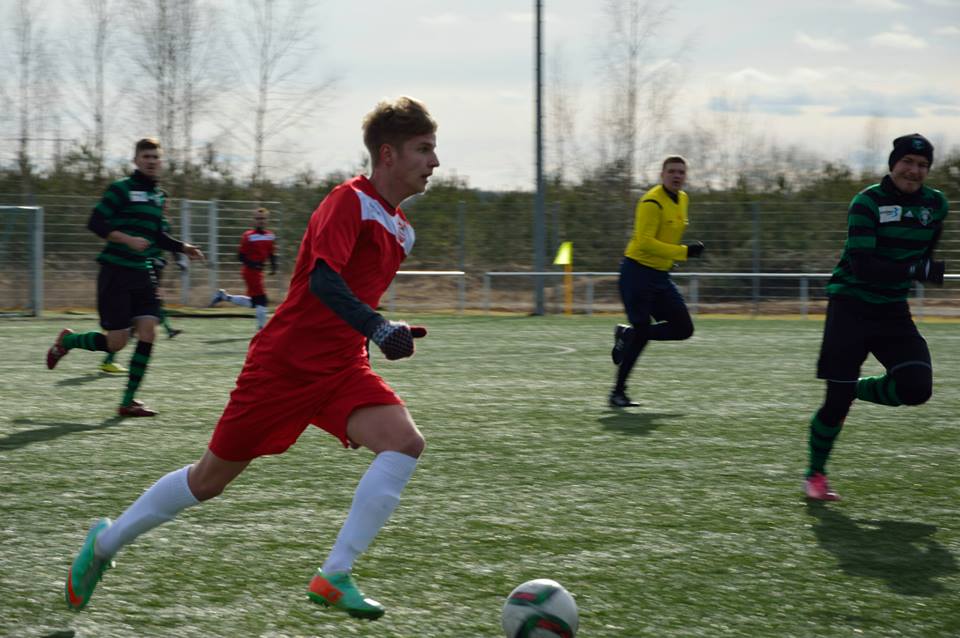 Anton Agebrant playing in the Auda Cup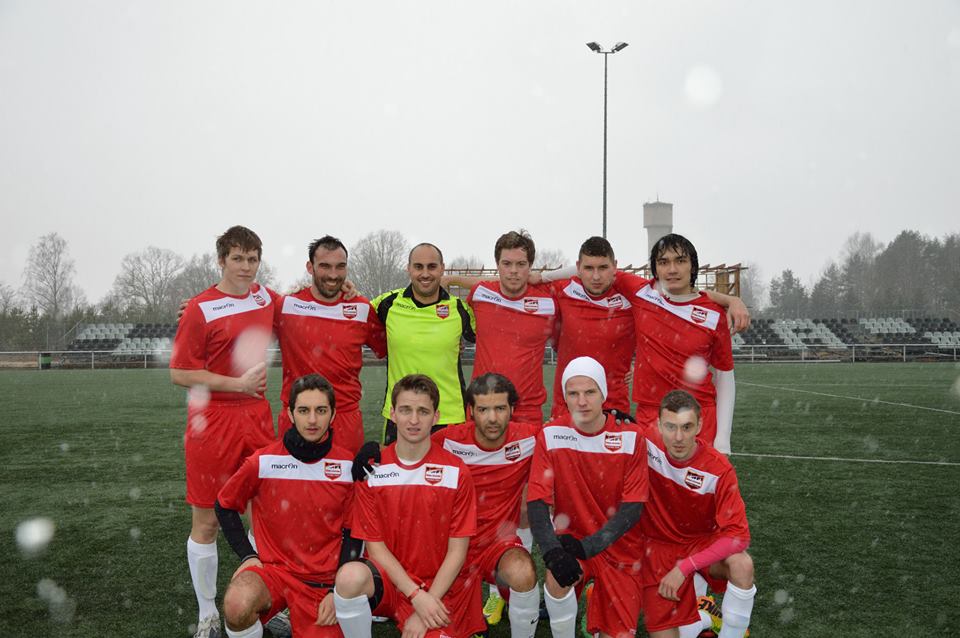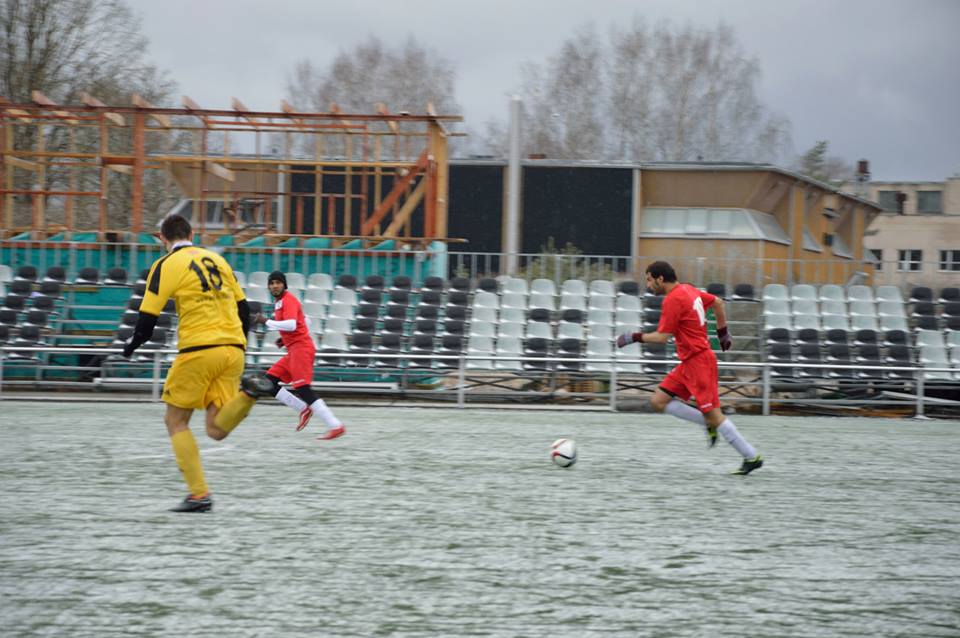 Two Riga United players play in European Championships qualifiers
It is a historic day for Riga United as two of their players - Ieva Bidermane and Liene Vaciete - play in the 2017 European Championships qualifiers in Moldova. Liene scores but the national team just misses out on qualification.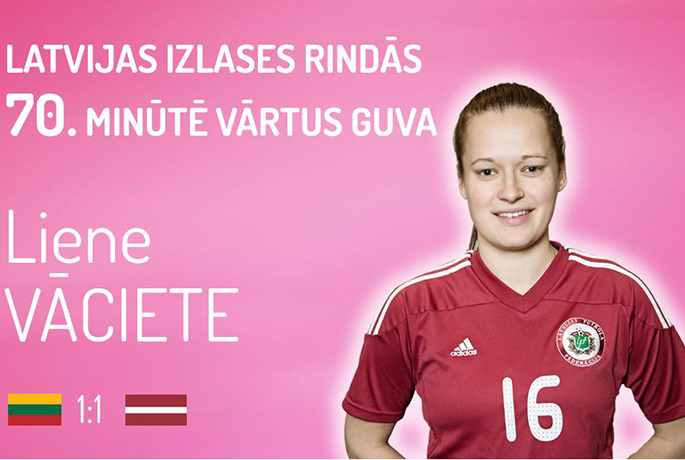 Liene scores against Lithuania
Riga United joins Football Manager 2015
On April 1, 2015 many people think it is an April Fool's joke as it is announced that Riga United FC has joined the Football Manager 2015 computer game. But, in fact, truth is stranger than fiction as the Black Cats are indeed featured in a YouTube Football Manager Series as Football Manager Central attempts to guide the club from the virtual Latvian First Division to the European Cup. (Click on the image below to be redirected to the Football Manager Central YouTube channel)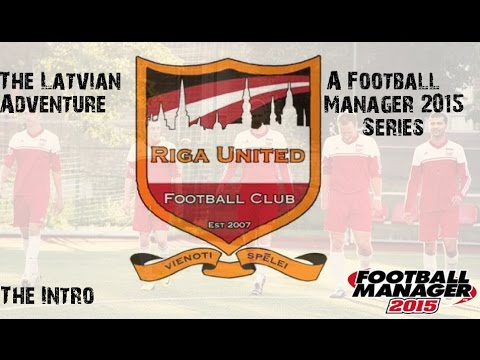 Ladies make league debut
After receiving 15 new training balls from the LFF and FIFA along with training tops, boots and bibs, the Riga United Ladies are ready to make their debut in the SFL.
Riga United took on reigning champions RFS away in the opening game of the 2015 season on April 12. After an excellent opening 20 minutes, United Ladies fade away and lose the game 6-0.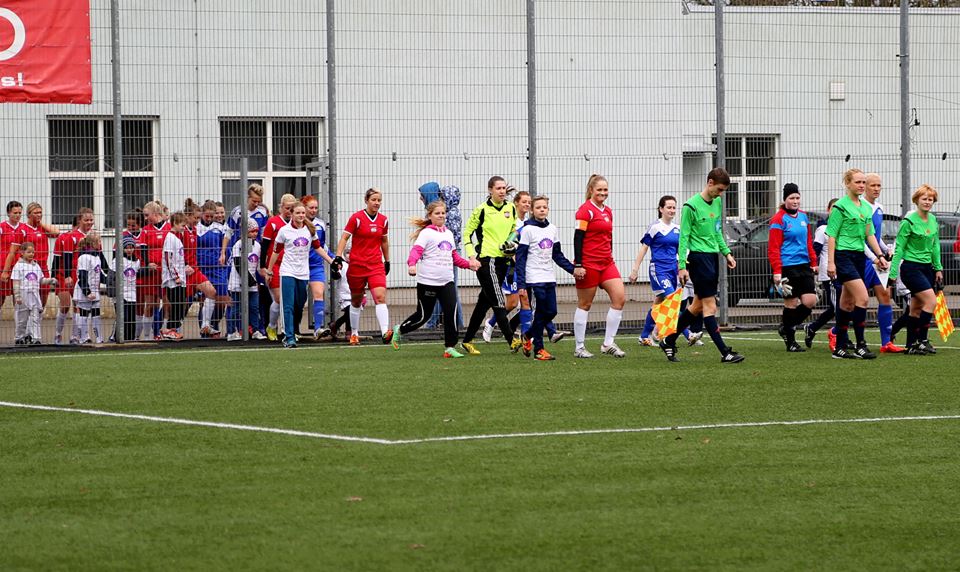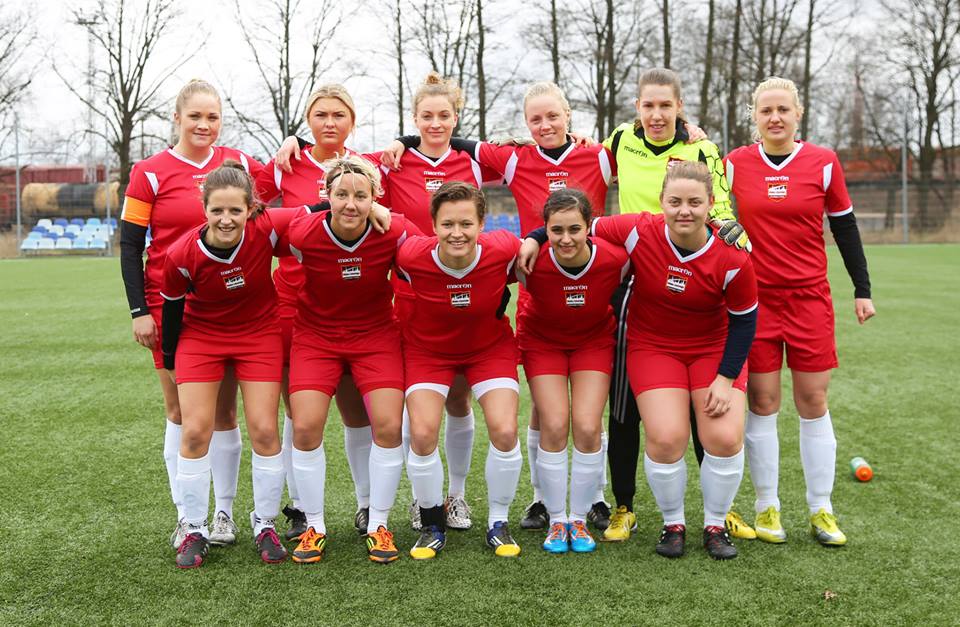 The starting XI for Riga United Ladies debut match in the Latvian Premier League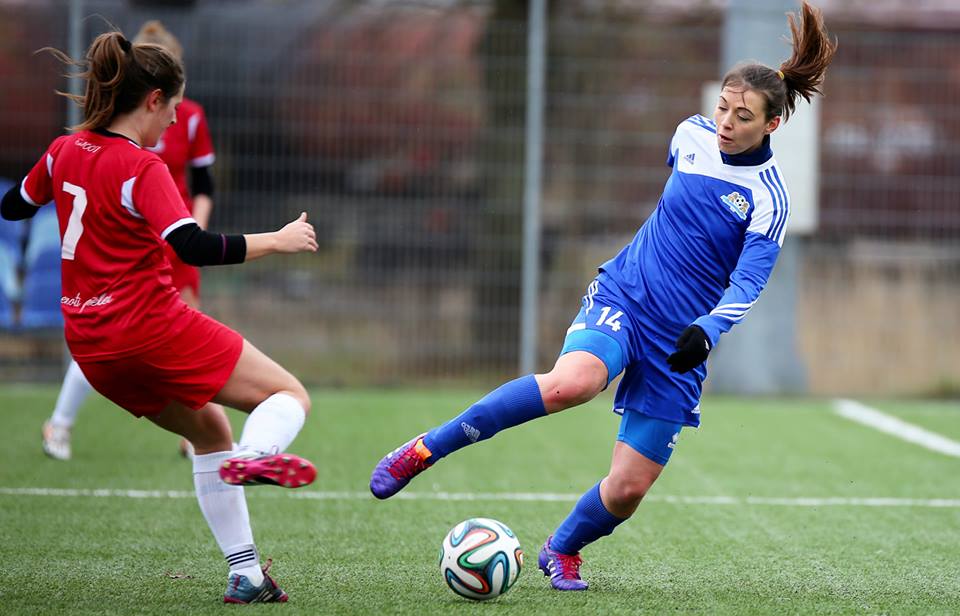 Kristin Aune in action against RFS
First goal and point for female Black Cats
Riga United Ladies grab a 1-1 draw in their second SFL match. Ieva Bidermane gets the club's first ever league goal in the match against Optimists Rezekne on April 14, 2015.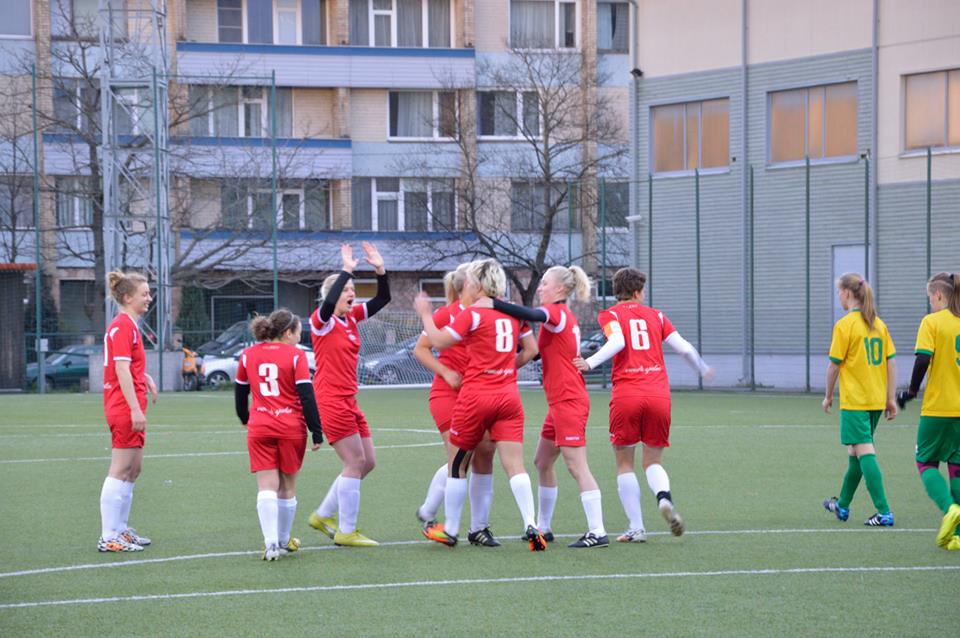 The United players celebrate the club's historic first league goal
Club celebrates 8th birthday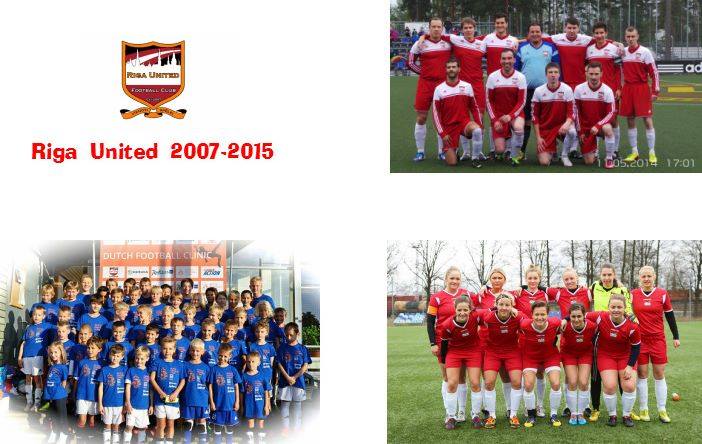 United kick off their third season in national competition
On may 14 2015, Riga United men make their debut in Latvian League Two (Riga division), having played two seasons in the Vidzeme zone. They lose their opening game 2-4 at home to Dinamo Riga.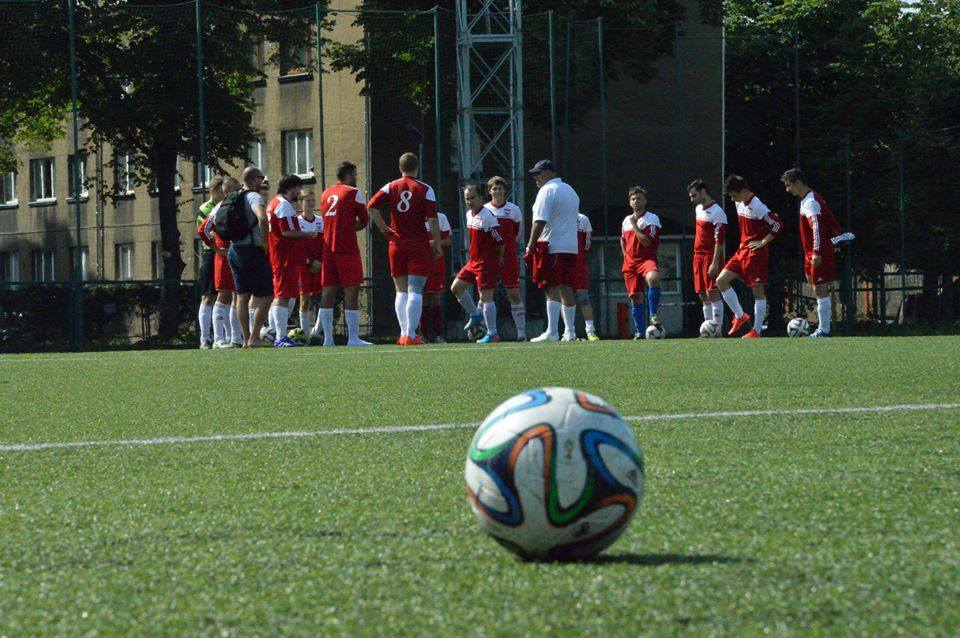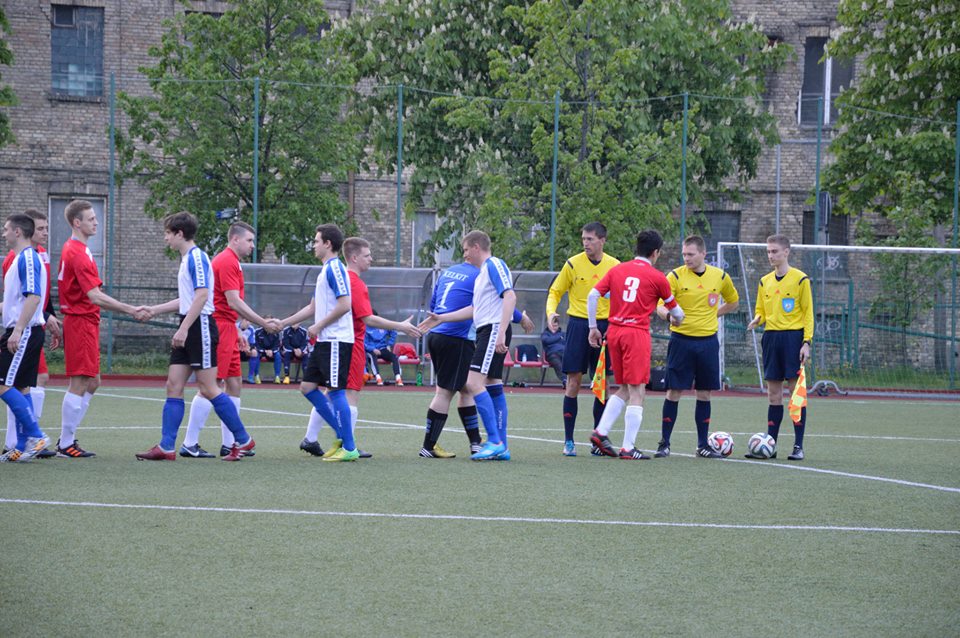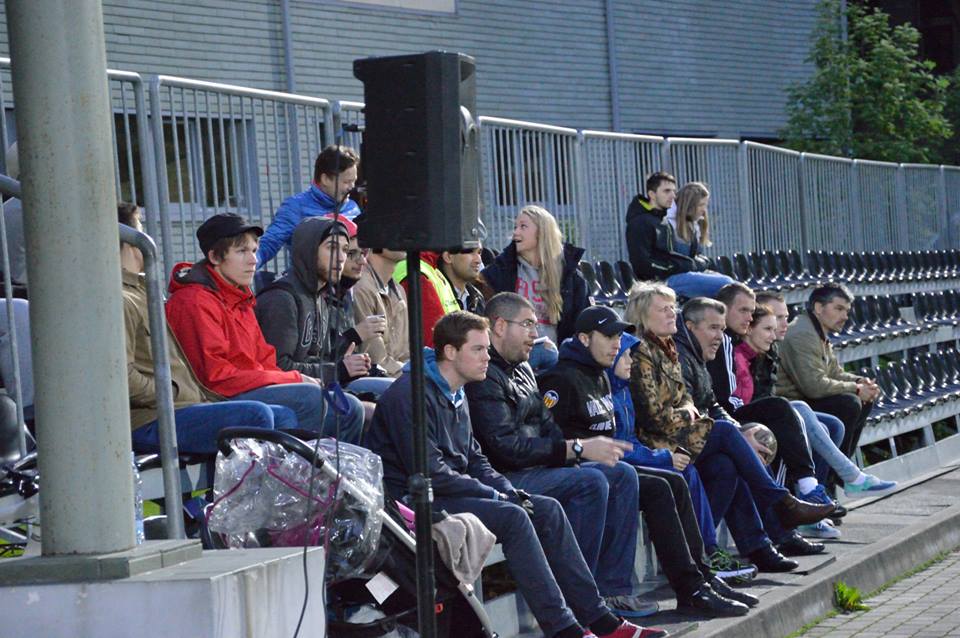 Fans watch on as United kick off their third season in national competition
Riga United added to UEFA.com website
In May 2015, the ladies won their first ever competitive match with a 2-0 victory over Ceriba, and Riga United's name was added to UEFA.com (Click on the photo to go to the RUFC page on UEFA.com)
Tragedy narrowly averted
Tragedy is narrowly averted on May 25 when Julian Lock is severely injured during a league match in Salaspils. The match was abandoned as an ambulance took Julian away to hospital. It is an anxious one-week wait before the United player is declared safe from his head injuries and discharged from hospital.

Club receives Football Federation funding
In June 2015, Riga United received financial support from the Latvian Football Federation for the first time since its founding. The Ladies team was given 1000 euros towards pitch costs and trasnport for long-distace away games.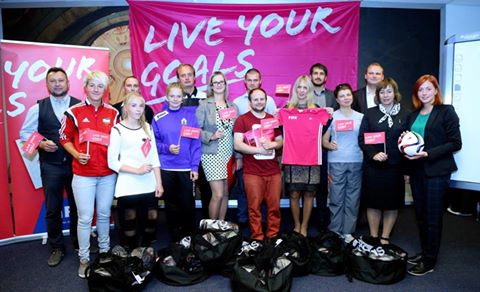 Players take coaching badges and appear on national radio
Two female players (Ieva Bidermane and Liene Vaciete) took their Latvian LFF-C Coaching badges during the summer, and appeared on national radio the same week.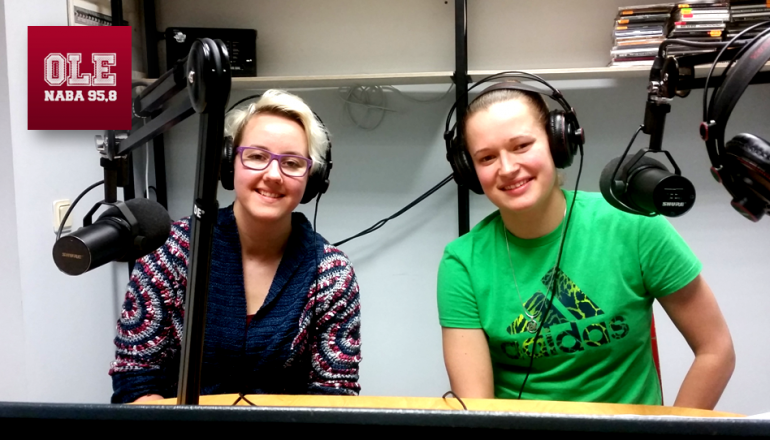 United humiliated
On June 10, 2015 the club suffered its record defeat as United were completely destroyed 13-2 by eventual champions FC Caramba Riga.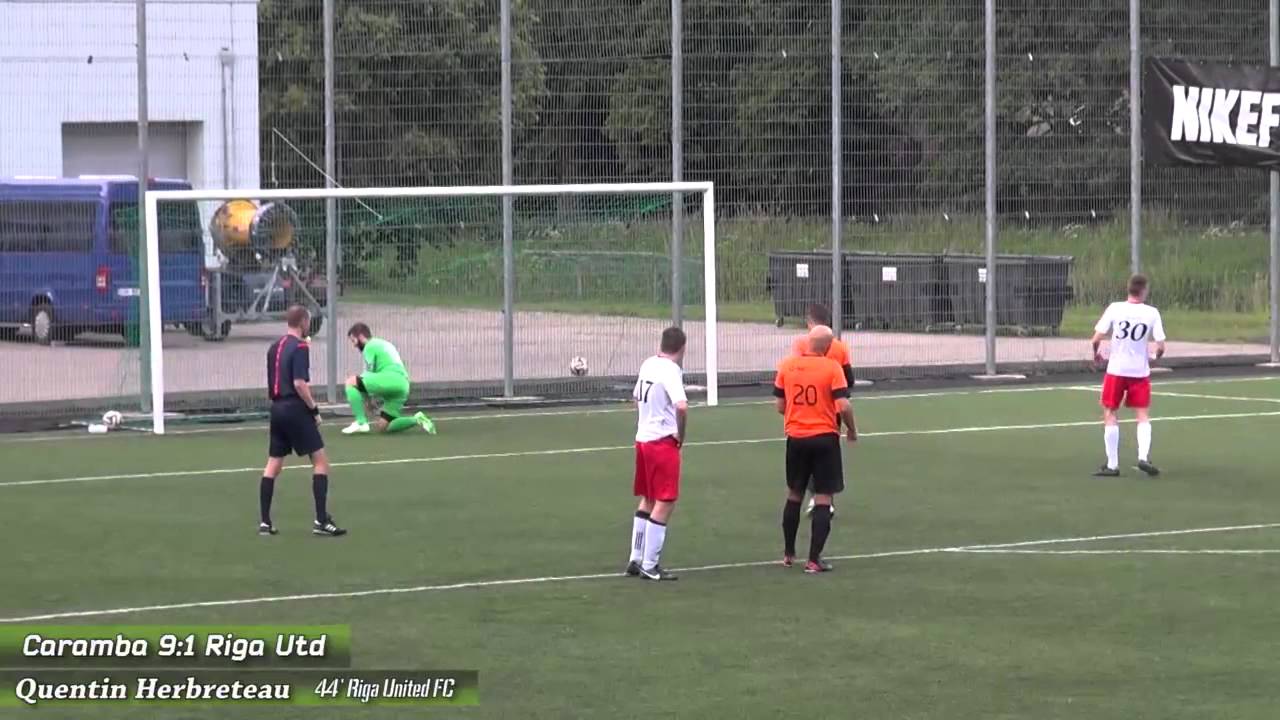 Frenchman Quentin Hertbreteau scores against Caramba during the team's record defeat
Jeffrey Young departs Riga United
In June 2015, Academy head Jeffrey Young announces he is leaving Riga United and Latvia to take up a coaching post in China. The former head coach of the men's team had spent five years with the club. Portuguese youth team coach Daniel Martins was made interim head coach of the RUFC Academy.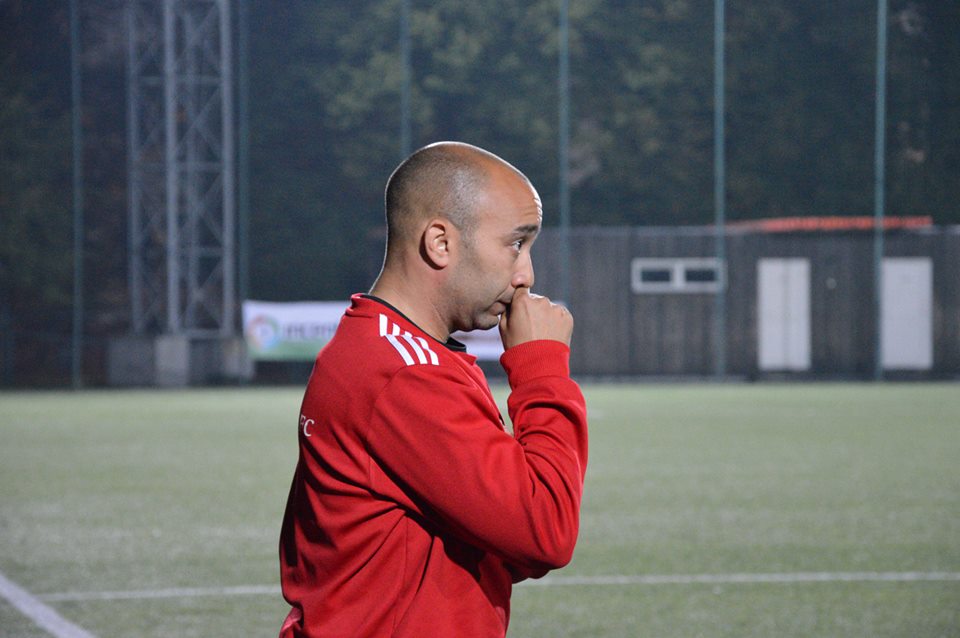 Jeffrey Young looks on during his time as head coach of Riga United men
Three players featured in TV advert
In July 2015, three Riga United Ladies - May Gullord Ali, Rachel Xoubanova and Liene Vaciete - were chosen along with just 5 other players from the women's game to star in a television advert promoting women's football.
Men almost cause major cup upset
Riga United's men almost cause a major cup upset in the second round of the Latvian national cup when they take league one side FK Jekabpils to extra time and penalties. Sadly, the men lost the shootout 2-1.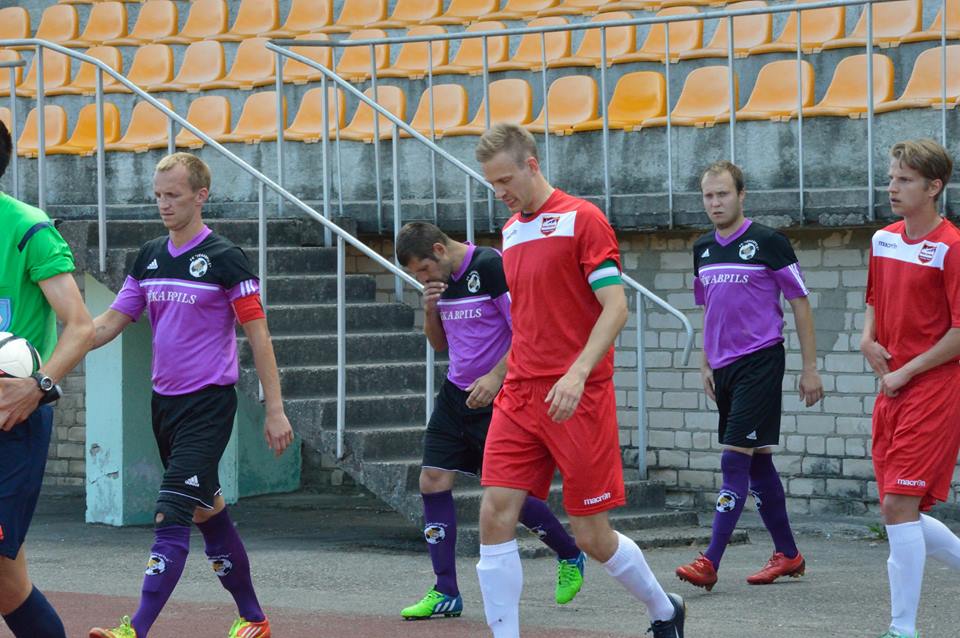 Men's team's cursed season
United's 2015 season continues to feel cursed as the men's team suffers countless serious injuries and illnesses. Anton Agebrant, Karim Gouglou and Abdou are all hospitalised. And then an explosive device is thrown onto the pitch during the reserve team match between RUFC and FK Lielupe. The Lielupe goalkeeper is taken to hospital and the police open a criminal investigation into the incident.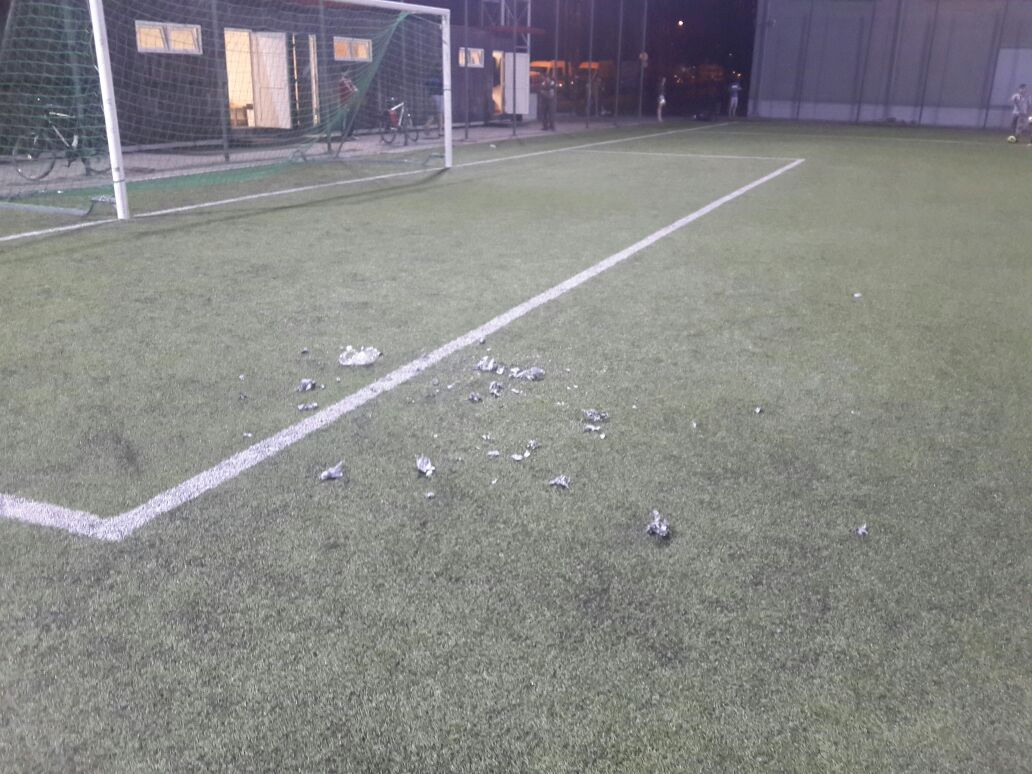 The remnants of the explosive device thrown on the pitch during the 3rd division match between United Reserves and FK Lielupe Reserves
Academy kids promoted to men's team
In summer 2015, a handful of the Riga United under-17 academy boys get called up to play for Riga United Reserves. The youngest is Alexandrs Balodis, who becomes the youngest player to ever play for Riga United (Reserves), aged 15. The previous record was held By Till Van Zwamen, who was 16 when he made his debut for the first team.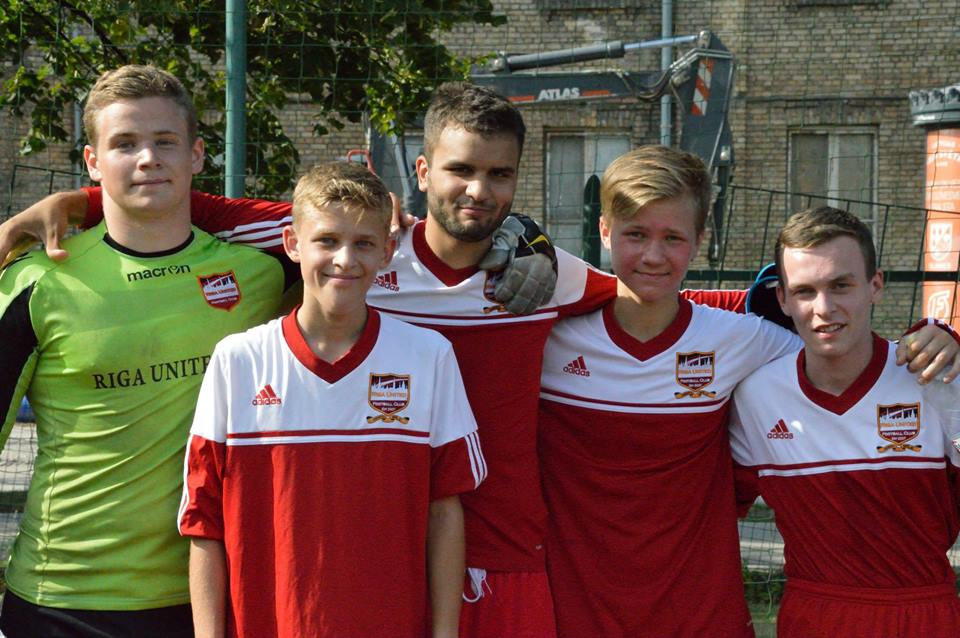 Academy head coach Daniel Lopes Martins (centre) with four of his youth team players as they play for Riga United Reserves
More female coaches
In July 2015, Ieva Bidermane joined Liga Patupa as the second of the players from the ladies team to work at Riga United Academy.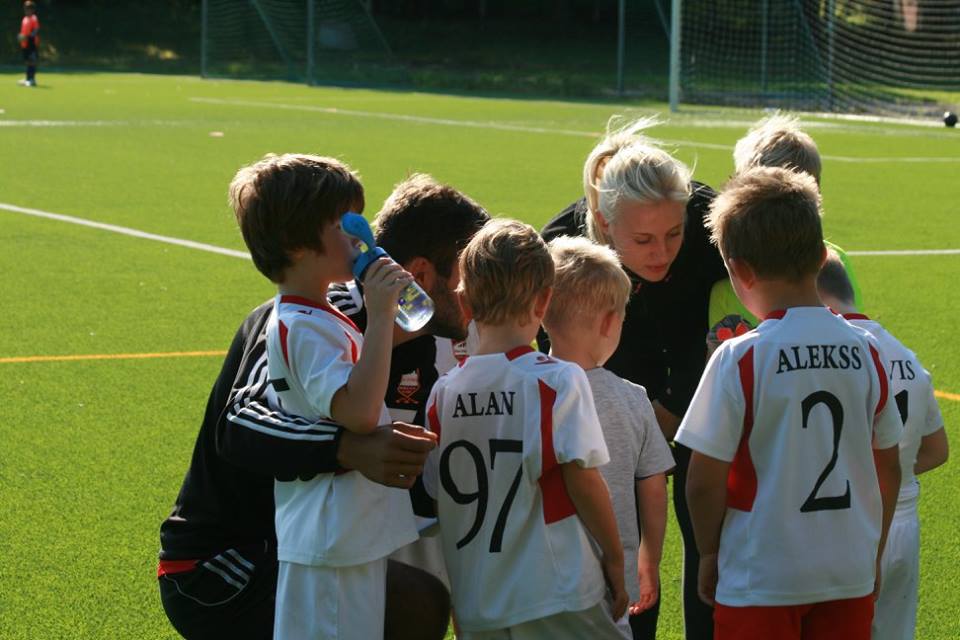 Liga Patupa: Riga United's first female coach
Arakelyans signs for RTU
Edgars Arakelyans leaves Riga United after several years at the club to sign for RTU. The skillful winger - twice voted United's Young Player of the Season - attracted attention from a number of other Latvian clubs after a string of excellent performances for the Black Cats. Edgars does however remain with the club as part of its young and dynamic Riga United Youth Academy staff.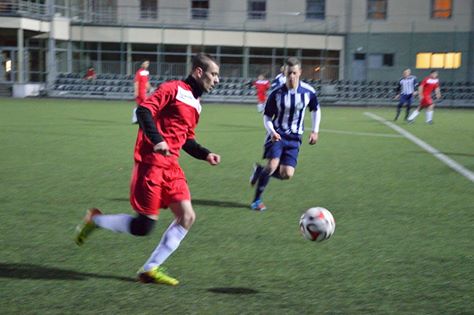 Edgars Arakelyans in action against Upesciems
Ladies record win
After a two-month break from action, RUFC Ladies returned to the pitch with a record 7-0 away win against Ceriba.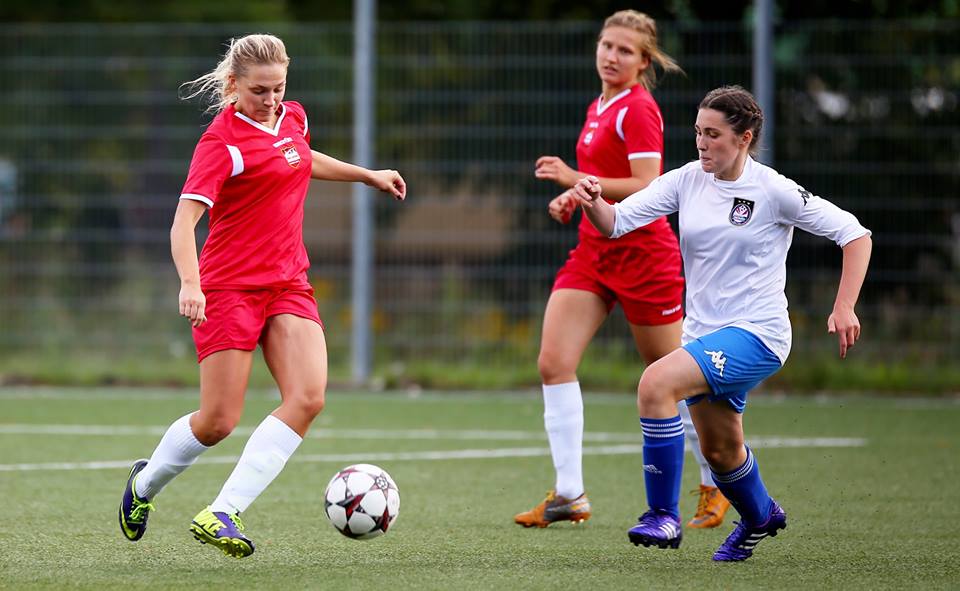 Agota Ceponyte in action during United's 7-0 victory over Ceriba
First women's hattrick
Ieva Bidermane became the first Riga United Ladies player to ever score a hattrick for the club as she scored three and hit the crossbar twice in the club's 7-0 away victory over Ceriba.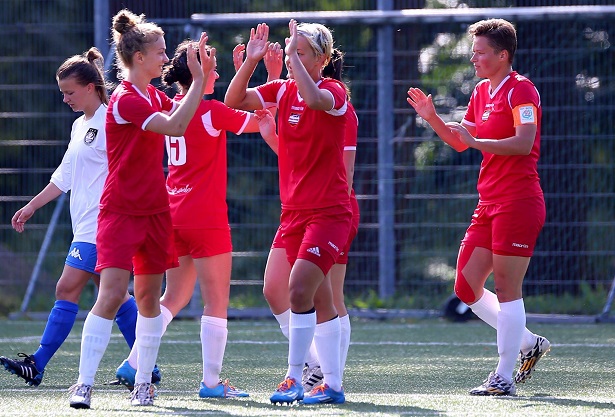 Ieva Bidermane celebrates her hattrick against Ceriba
Women finish league season on a high
Riga United Ladies finish their league campaign on a high as they narrowly miss out on beating SFL runners up Liepaja. The match ends 2-2.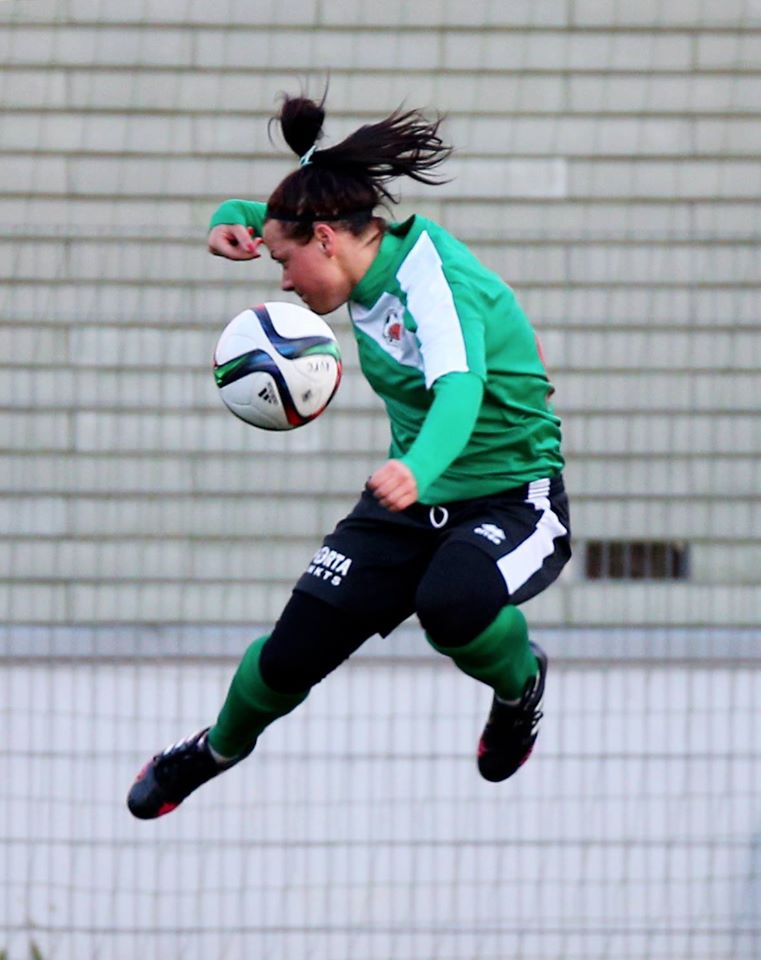 A Liepaja player flying high during her side's 2-2 away draw against the Black Cats
Record crowd for semi final
A club record home crowd of 150 spectators watches Riga United lose in the national cup semi-final for the second successive season against FK Liepaja. Having gone in at half-time drawing 0-0, Liepaja's Tarasova is the difference between the two sides in the second half as she garbs a sensational 20-minute hattrick in a 3-0 victory for the West coast side.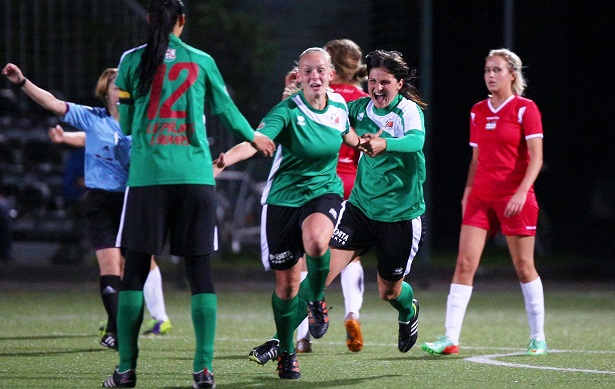 Anastasija Tarasova opens the scoring for Liepaja against United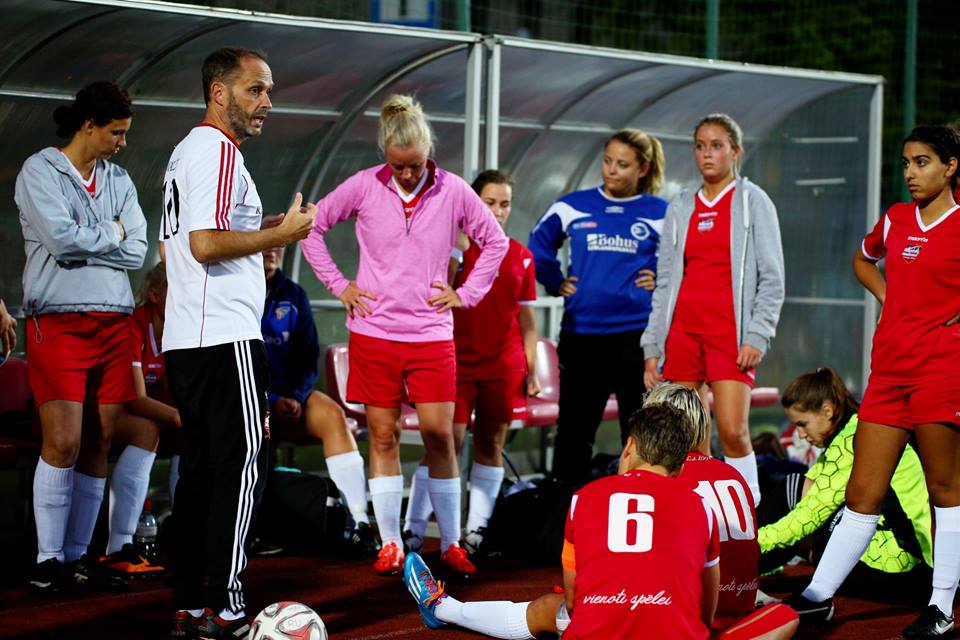 Half time during the semi final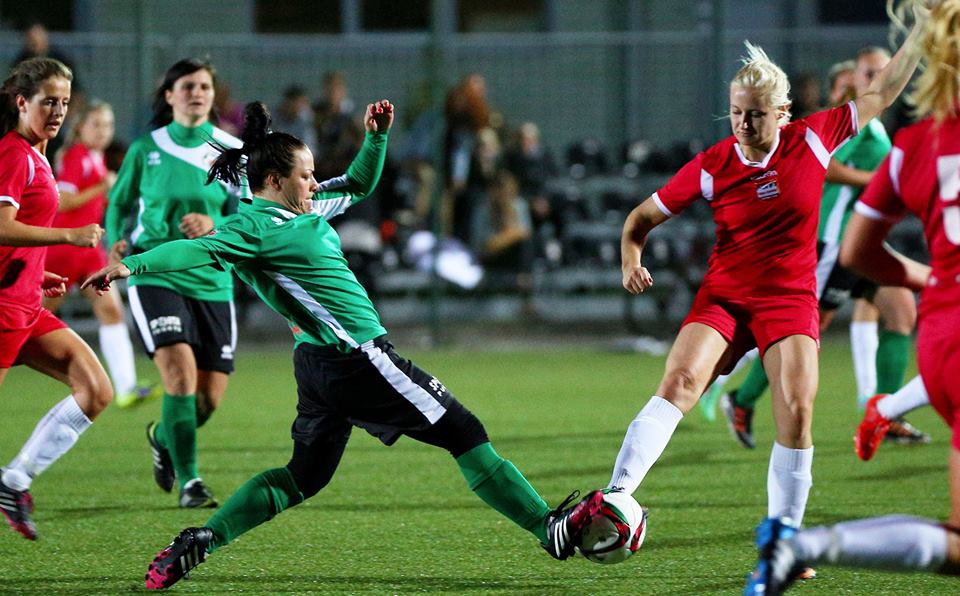 United full back Liga Patupa against Liepaja
Karim super goal goes viral
Karim Gouglou's stunning overhead strike against champions Caramba goes viral, with thousands of views on YouTube and Facebook.
The ladies who made it happen
With the season over, here are the ladies who made the club's first ever season at the highest level of Latvian football happen:
1 Enija Vaivode; 2 Zara Tahir; 3 Ineta Briede; 4 May Ali; 5 Anna Bang; 6 Līga Patupa; 7 Julie Jorgensen; 8 Inese Keiša; 9 Līga Kempe; 10 Elise Thingsaker; 11 Aina Bikse; 12 Anika Wetzel; 13 Simona Zilberte ; 14 Leonie Kohlsaat; 15 Virgīņija Liepiņa; 16 Kristin Aune; 17 Hanna Morad; 18 Maria Morad; 19 Jennifer Olsson; 20 Raquel Xoubanova; 21 Ieva Bidermane; 22 Silje Lykke; 23 Tami Berish; 24 Marit Gjerde; 25 Justīne Dakstiņa; 26 Liene Vāciete; 27 Anne Grete Holm; 28 Carolin Seydel; 29 Lise Langmyr; 30 Agota Ceponyte; 31 Alina Miler
Record win for men
Riga United recorded their biggest ever league victory as they trounced Marienburg 8-0 at home. Five different players got on the score sheet as United turned on the style. Anton Agebrant got a brace as he departed the club for a move back to Sweden.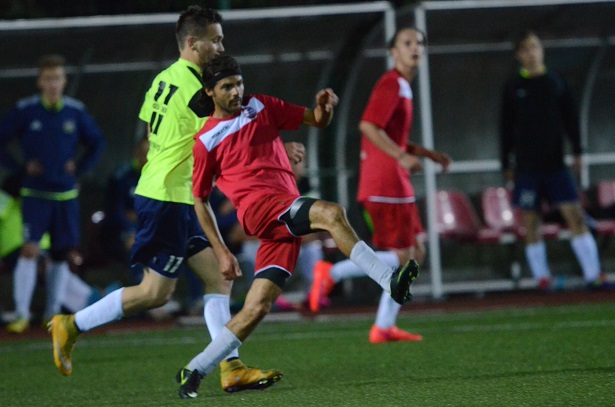 Karim Gouglou in action against Marienburg
Men finish the season with a flourish
The United men's team finished their 2015 season on a high as they won three of their last four games, including a memorable 3-2 victory over top six team FK Lacplesis. The season ended with a 2-1 victory over local rivals Marienburg.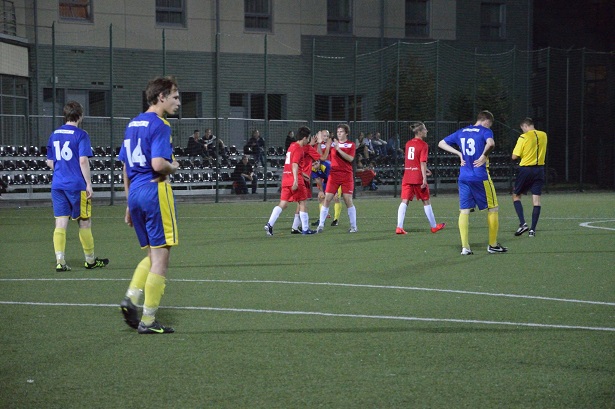 United take the lead against FK Lacplesis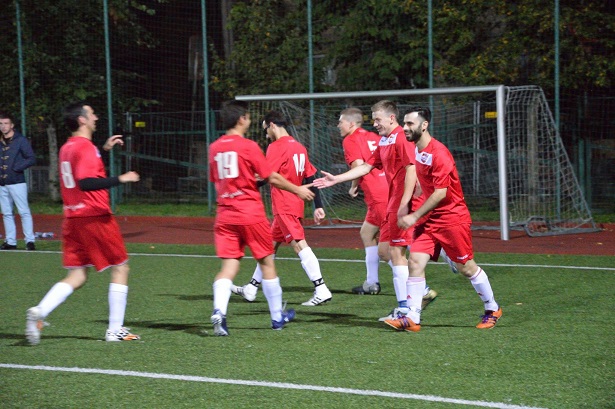 United celebrate their winning goal against Marienburg
Best matchday atmosphere award
At the 2015 Riga Football Federation end-of-season awards evening Riga United Football Club picked up a special award: "Labākais Mājas Spēļu Organizators 2015" (The best home game organizers 2015). Match officials and RFF personnel felt that Riga United home games had a match atmosphere like no other in the league.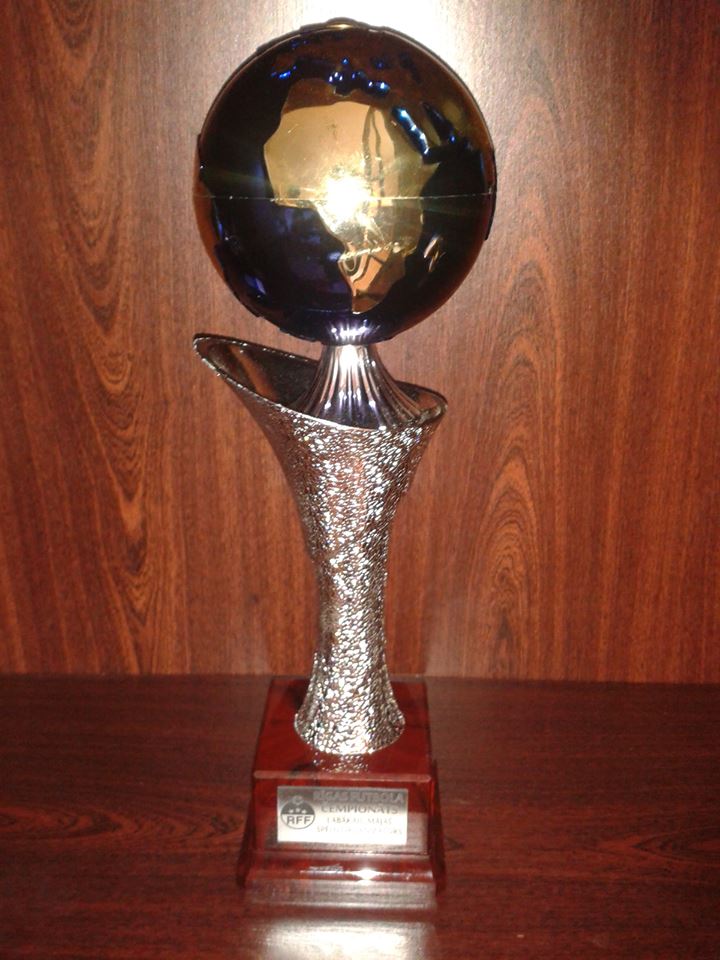 The special LFF/RFF award for the 'best matchday atmosphere in Division Two'
The 2015 Riga United men's squad:
Mohammad Awada (England) Murat Kelkit (Turkey) Edgars Arakelyans (Latvia) Ulids Aliks (Latvia) Sergey Chetverikov (Russia) Quentin Herbreteau (France) Alessandro Marini (Italy) Klāvs Jurciks (Latvia) Anton Edvard Agebrant (Sweden) Nandor Norbert Bardosi (Hungary) Artūrs Kožars (Latvia) Niels Sven Krause (Germany) Josu Samaniego del Campo (Spain) Vjačeslavs Meļņiks (Latvia) Alexsandre Jean Luc Gemin (France) Paul Gloria Andrez (Germany) Sedat Vildirim (Turkey) Graham Williams (England) Stefanos Panagidis (Cyprus) Jules Bothorel (France) Dainis Savickis (Latvia) Julian Lock (Germany) Caner Gokce (Turkey) Romans Šarando (Latvia) Artis Kromanis (Latvia) Sofian Berrahal (Poland) Alfredo Montalto (Italy) Aleksandrs Jano Alunans (USA/Latvia) ( Marco Spinola (Italy) Dans Gorobecs (Latvia) Edmunds Sniķeris (Latvia) Justin Walley (England) Abdellah Boufakri (Morocco) Rene Brakels (Holland) Salvis Līcītis (Latvia) Uktam Abdunazarov (Uzbekistan) Hansen Jesper Brunn Hartvig (Denmark) Karim Gouglou (Morocco) Maksims Podziava (Latvia) Lucas Robin (USA) Casper Majgaard Famme (Denmark) Jānis Osis (Latvia) Margus Leiar (Estonia) Cyril Taudiere (France) Alexander Root (Germany)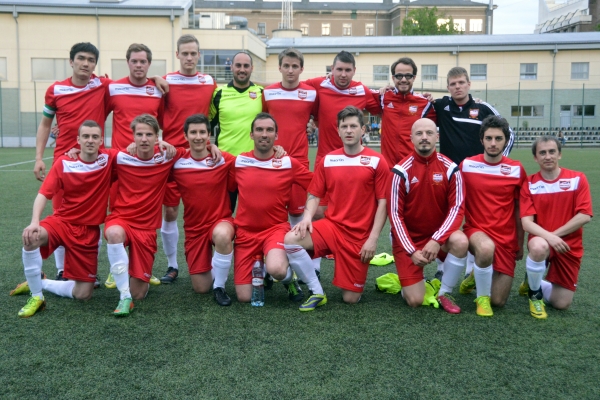 The Riga United 2015 squad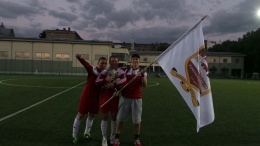 New Academy Leader appointed
In October 2015, Riga United's board agreed that Graham Williams should become the new Riga United Academy Leader. Graham, who had been United's men's coach for the 2015 season, agreed to take on the role as the club looked to develop its youth set up.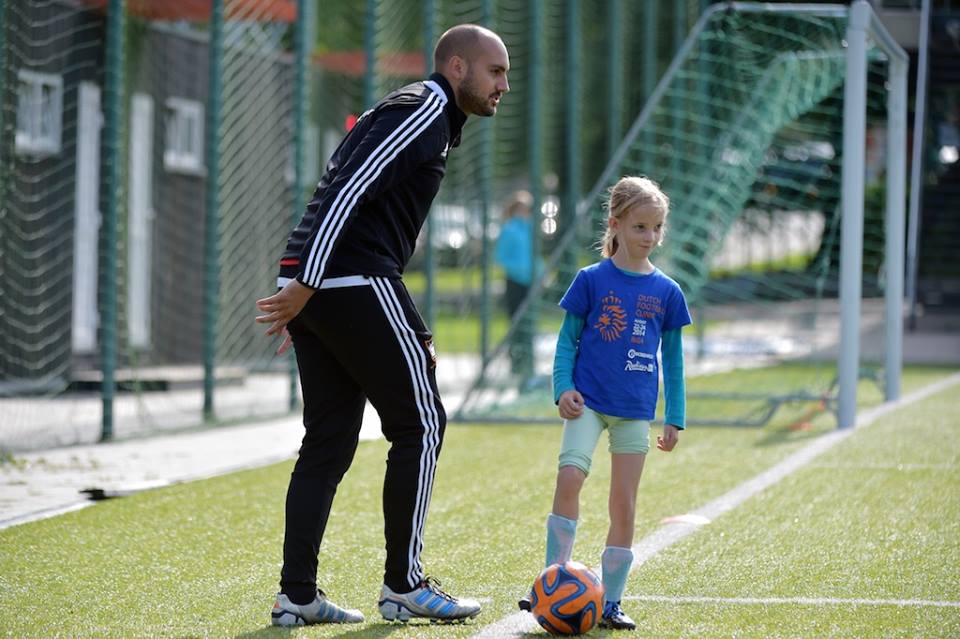 RUFC's new Academy Youth Leader, Graham Williams
2015 awards night
On October 17th, 2015 Riga United had its third annual end of season party/award ceremony. For the second time it was held at Paddy Whelan's.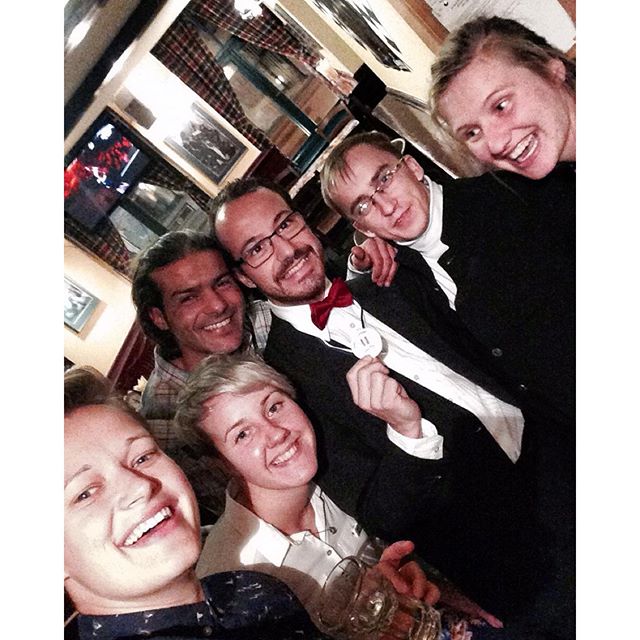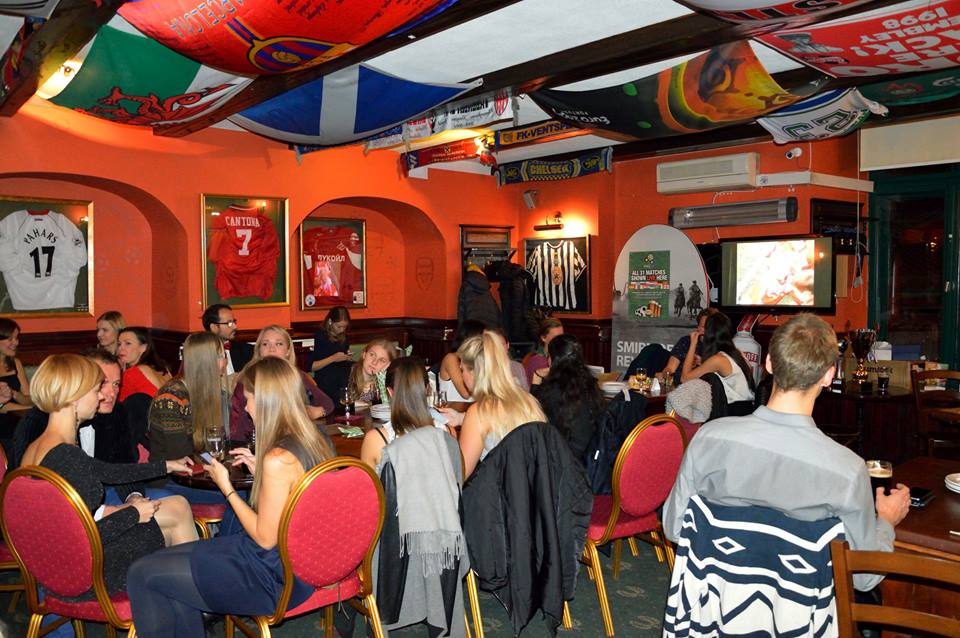 The 2015 Awards Evening hosted by Paddy Whelan's
The winners were as follows:

Club Person:
Paul Gloria Andrez

Top Goalscorer:
Ieva Bidermane
Kareem Gouglou

Manager's Player:
Kristin Aune
Niels Krause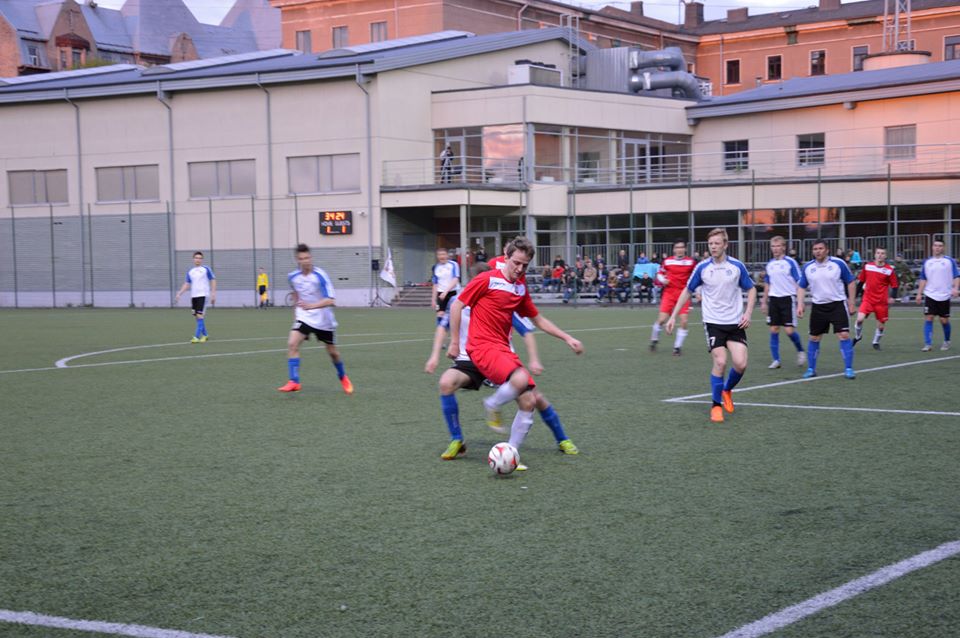 Manager's player of the season Niels Krause in action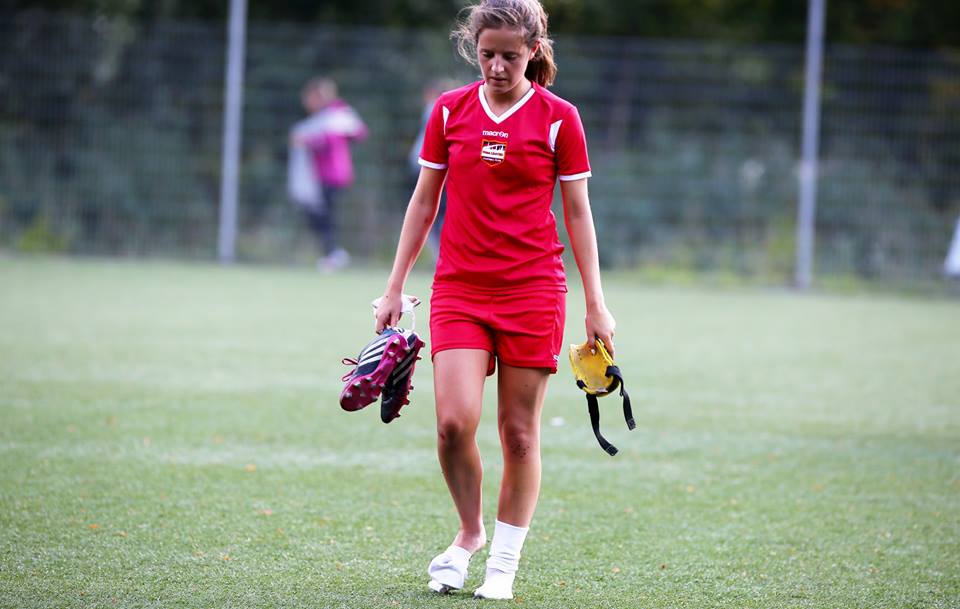 Kristin Aune


Players' Player:
Ieva Bidermane
Kareem Gouglou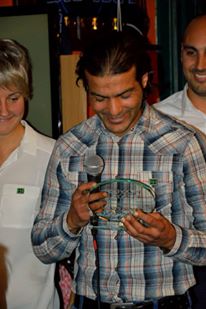 Karim Gouglou (centre) and Ieva Bidermane

Supporters' Player:
Liene Vaciete
Anton Agebrant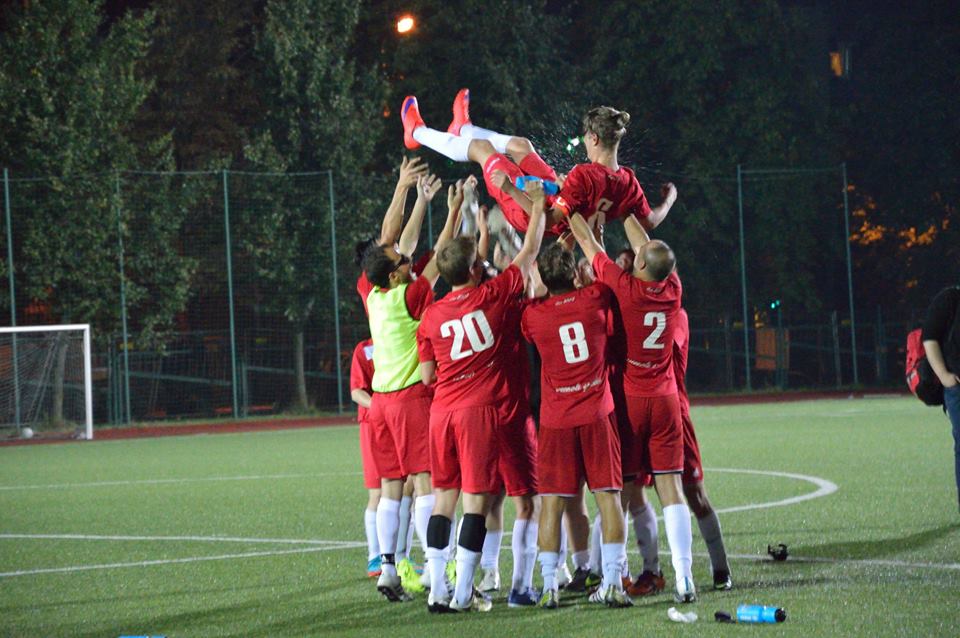 Supporters player of the season Anton Agebrant is given a farewell he will never forget by his team mates as he plays his final game for the club

Goal of the Season:
Ieva Bidermane
Kareem Gouglou

Best Trainee:
Viginija Liepina
Stefanos Panagidis

Stefanos Panagidis

Most Improved Player:
Aina Bikse
Uldis Aliks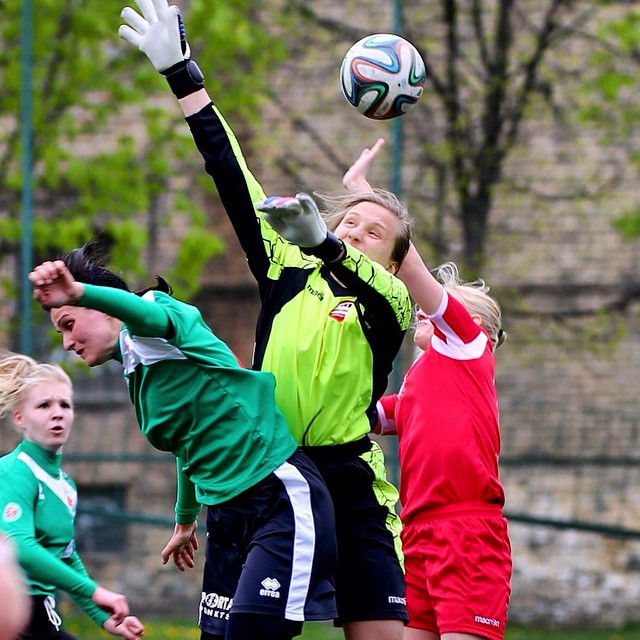 Aina Bikse filling in as goalkeeper for United

HeroAwards:
Nandi Bardosi
Paul Gloria Andrez
Niels Krause
Murat Kelkit
Euro 2016 honour
Riga United Academy player Mariano Kool (below) proudly accompanying Latvia's number 5 (Olegs Laizans) at the Euro 2016 qualifier against Kazakhstan at Skonto Stadium. Mariano was representing the club as a player escort after Riga United was invited to send one academy child by the LFF.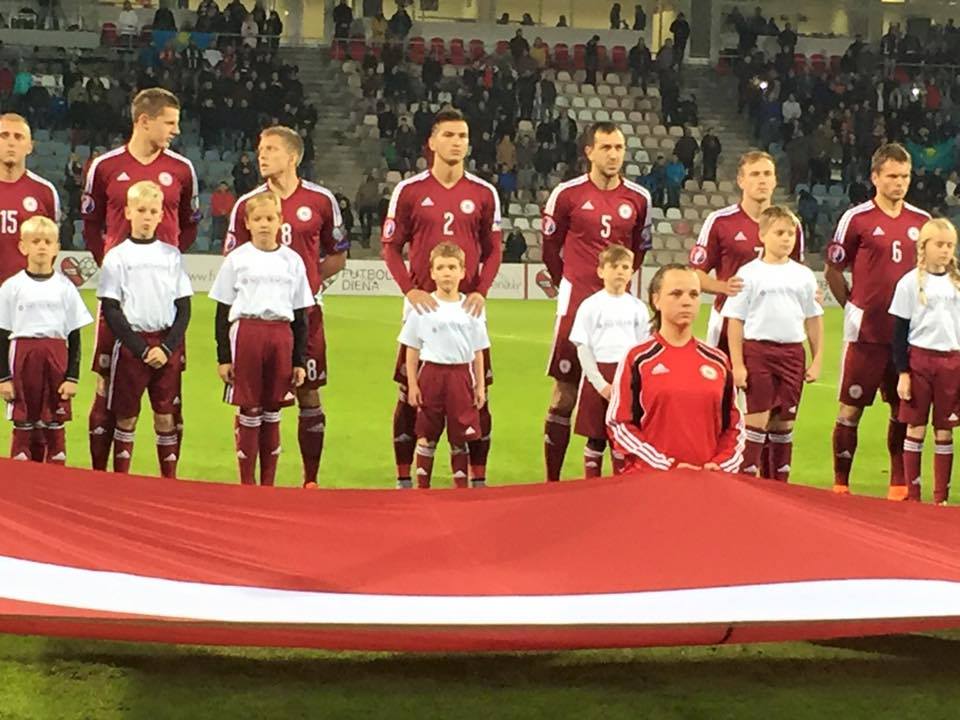 Riga United Academy boy Mariano at Latvia's Euro 2016 qualifier
Youth Academy team looks to the future
Riga United Youth Academy looks to the future as it announces its exciting new coaching team. Liene Vaciete and Miks Fogels join Edgars Arakelyans, Liga Patupa, Arturs Zalitis and Daniel Lopes Martins. The young and enthusiastic team are all qualified multi-lingual coaches, as Graham Williams, the academy head, builds for the future of the club.
Baltic Four Cup Champions
In October 2015, Riga United won the 'Baltic Four' friendly tournament. Four teams took place: from Germany - FC Kickers Pufendorfer Berlin, from Estonia - FC Rumori Calcio and from Latvia - Riga United FC and FK Lielupe. United won all of their games: 4-0, 1-0 and 2-0 respectively.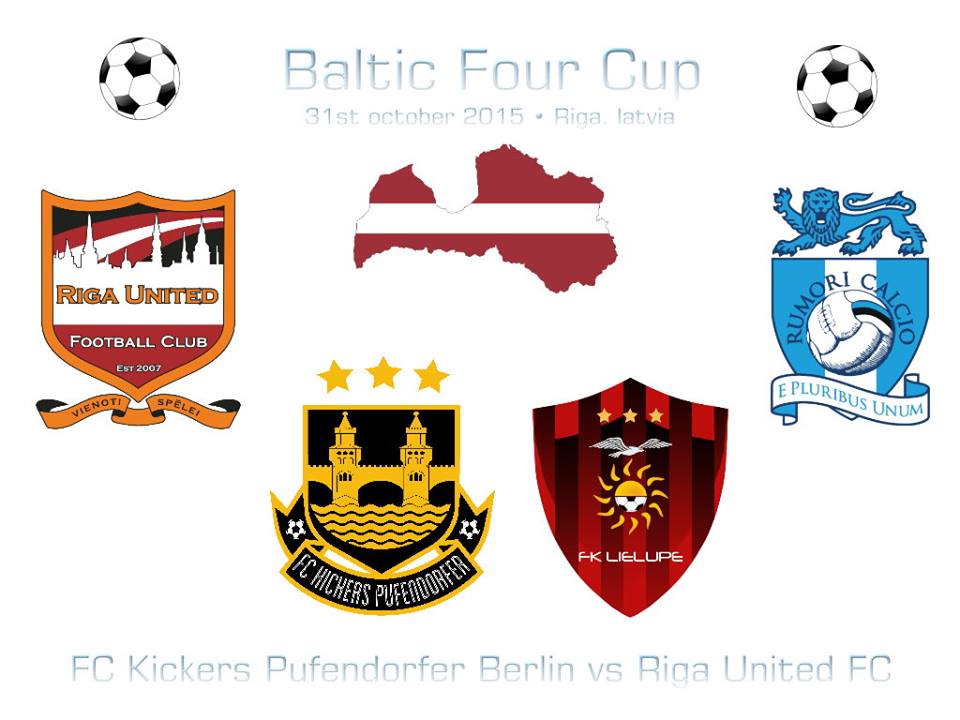 2015 AGM
Following the 2015 Riga United Annual General Meeting, a new five-member-board was elected on November 13, subject to legal paperwork.
Previously, the club had a three-member board of Richard Youatt, Mo Awada and Justin Walley. Richard Youatt decided to not stand for re-election, while Awada and Walley were successfully re-elected. Three new board members were elected: Karina Muzikante, Josu Samaniego and John Whitmore. Karina Muzikante becomes the first lady to join the board. She is also the first parent representative to join the RUFC board.
Winter futsal
For the first time since its founding, the club enters a men's futsal team into a winter league. The team is managed by Edgars Arakelyans.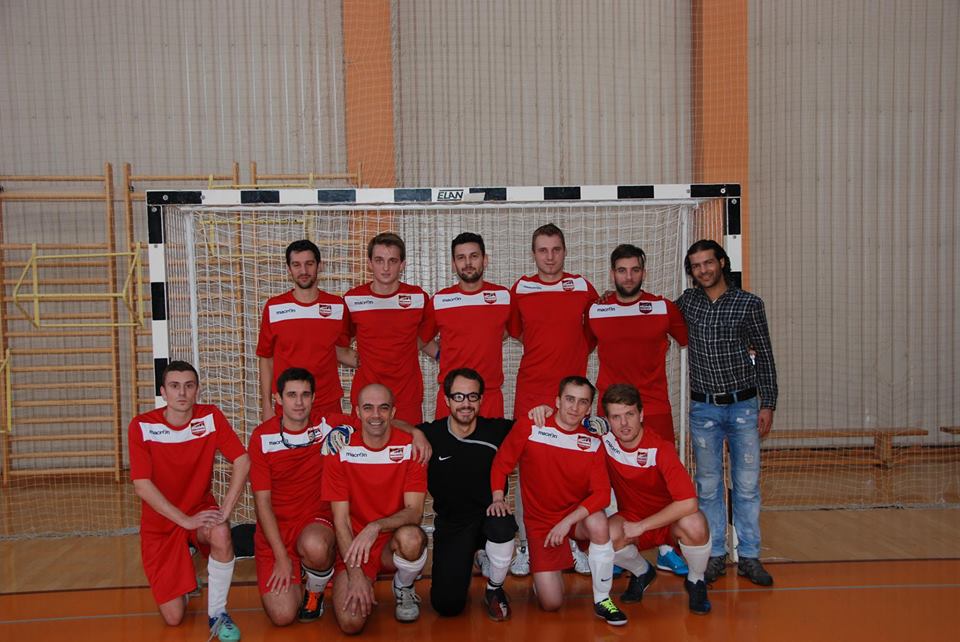 United's 2015 futsal squad
Best midfield player in Latvia
At the annual SFL end-of-season awards evening, hosted by the Latvian Football Federation, Riga United's Ieva Bidermane picked up the award for the best midfield player in the Latvian league. The prize was voted for by the national team coach and the head coaches of all Latvian Premier League clubs. United's goalkeeper Enija Vaivode was also nominated for the best goalkepper award.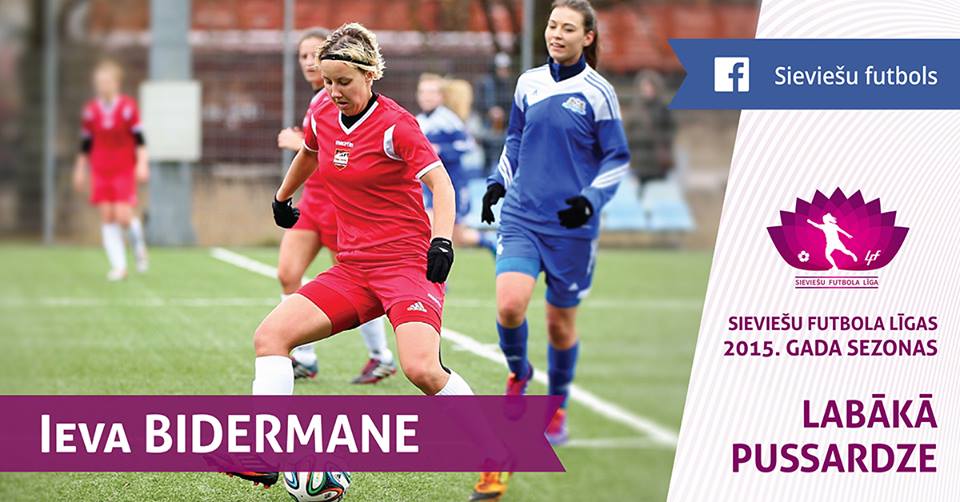 Under-16 girls make 11-a-side debut
On November 29, 2015 Riga United's Under-16 players made their debut for the club in a friendly match against Riga Football School Reserves. The United line-up included seven youth team players. The youth team players were coached by Liene Vaciete.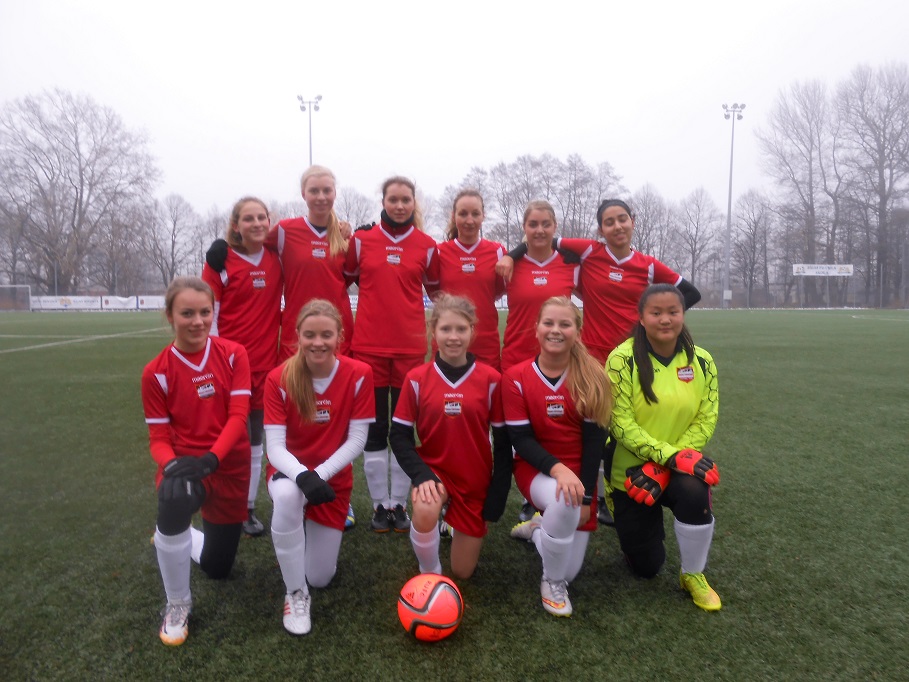 The Riga United Under-16/Reserves starting lineup against RFS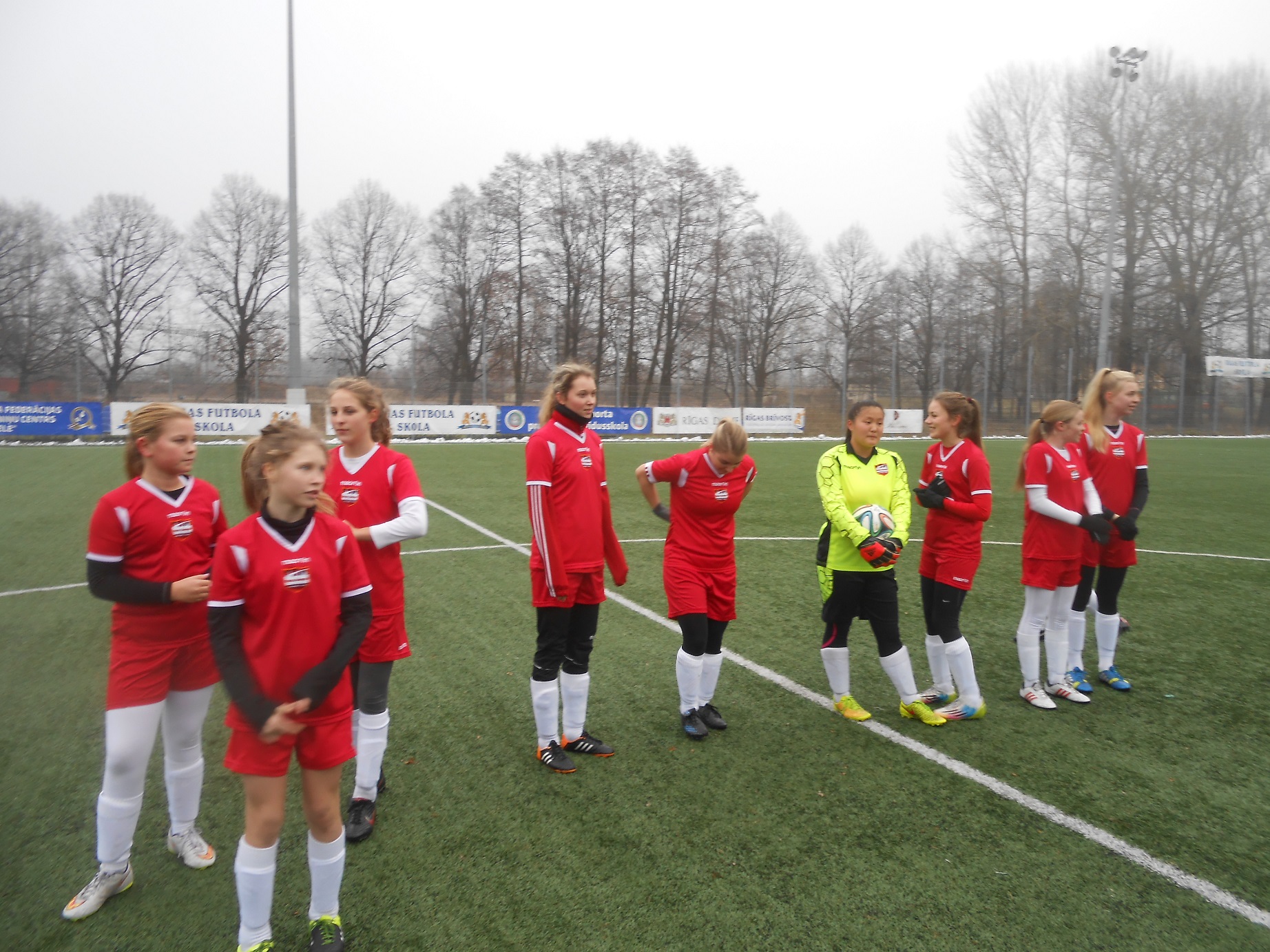 Ladies win first trophy
On December 13, 2015, Riga United Ladies took two teams to play in a 10-team 6-a-side competition in Estonia, which included the best women's teams in Estonia. RUFC Ladies first team won their group, then advanced through the quarter finals and semi finals to meet Levadia in the final. They lost the final 2-1 to a very talented Levadia side with the winner coming in the last minute, after Anna Bang had earlier given United the lead. Pia Foosnaes picked up the award for the best United player of the tournament. Riga United '2' won one game and made it to the quarter finals.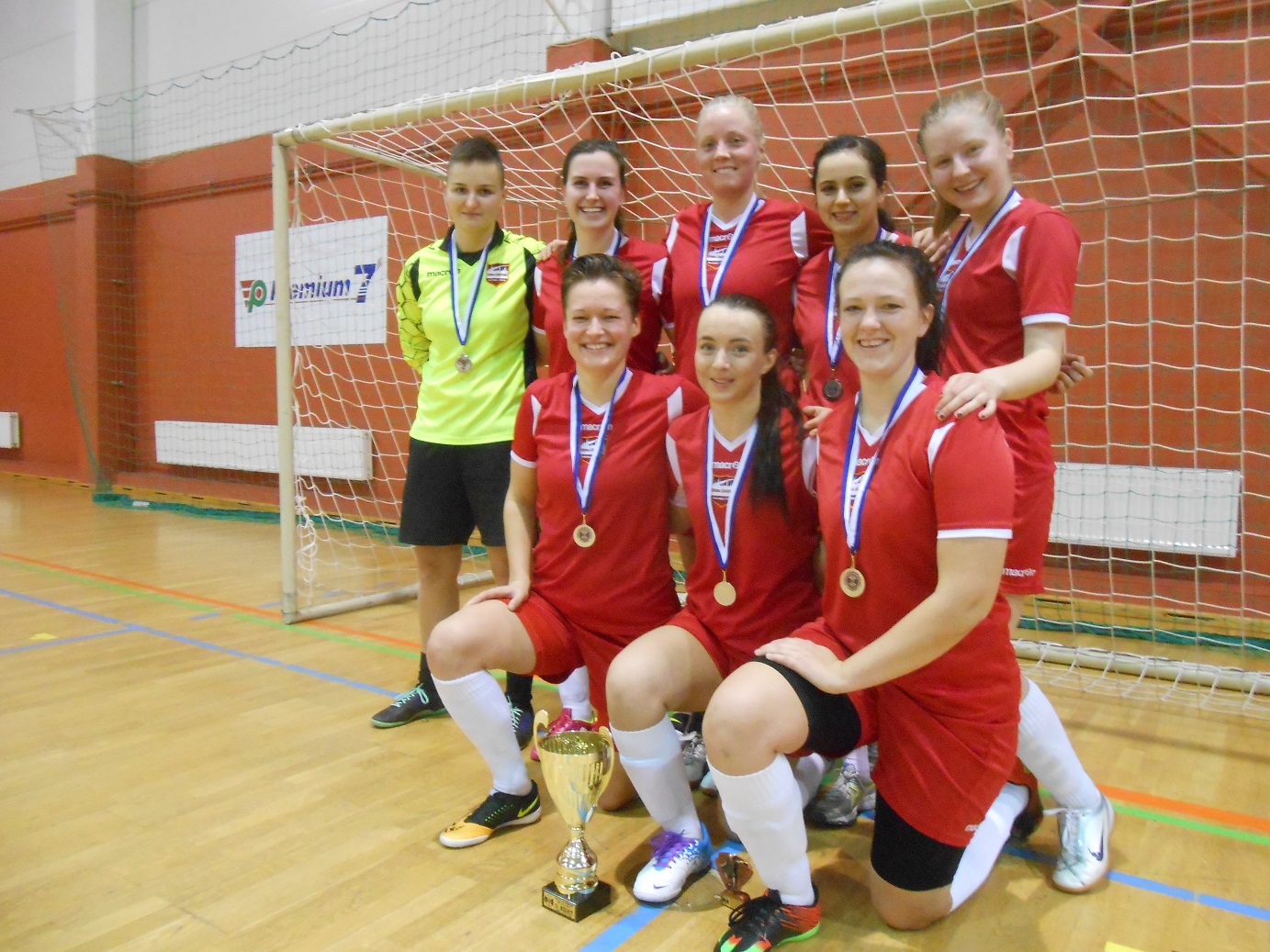 Riga United Ladies '1' with their runners up trophy
New website launched
On December 15, 2015 Riga United launched its brand new website; the third in the club's history.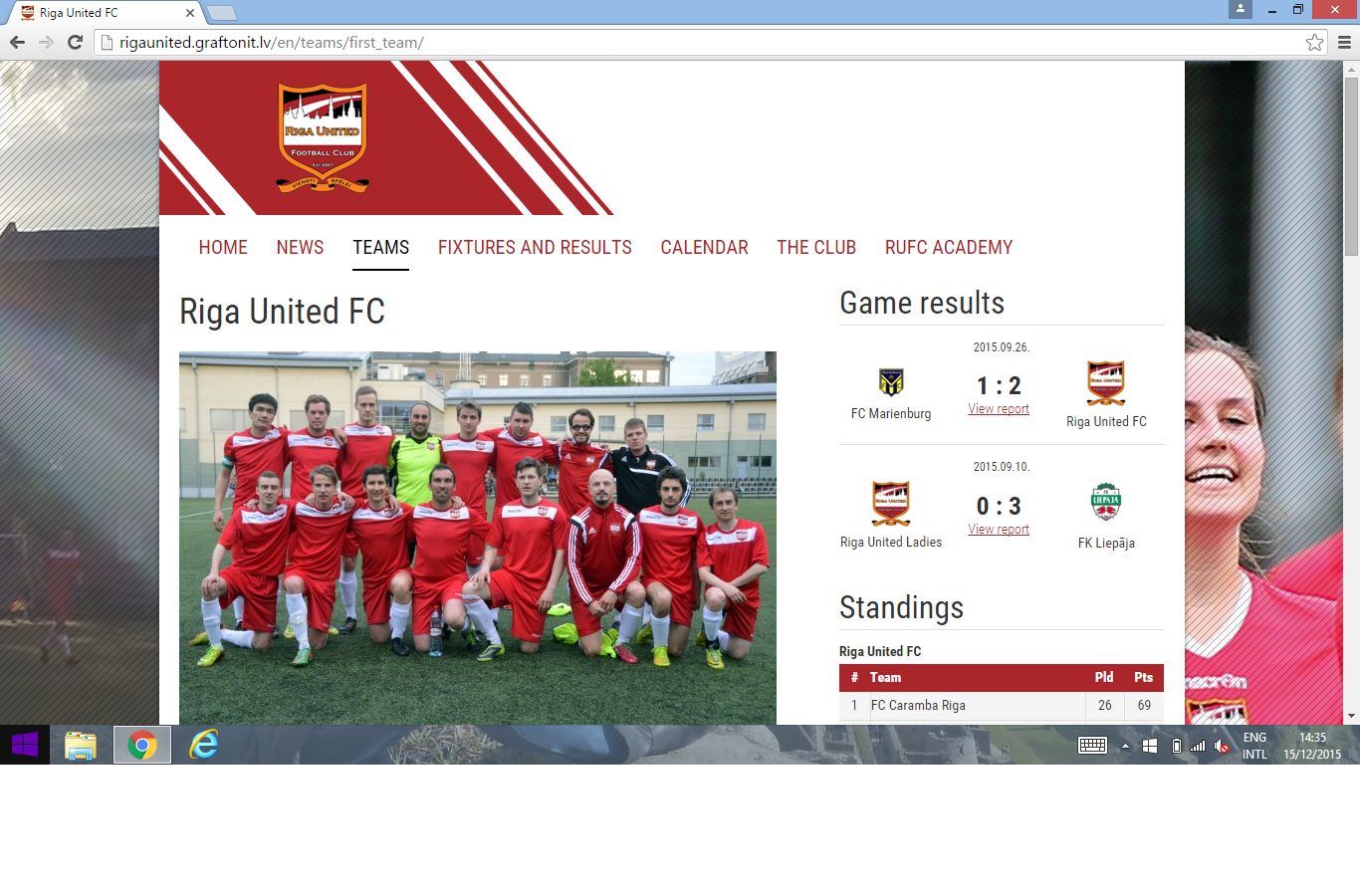 Macron agree match kits for five Riga United academy teams
After a successful first 12 months as Riga United's official kit sponsor, Italian sportswear brand Macron agrees to provide United with free match kits for all of its five youth team sides for the 2016 season.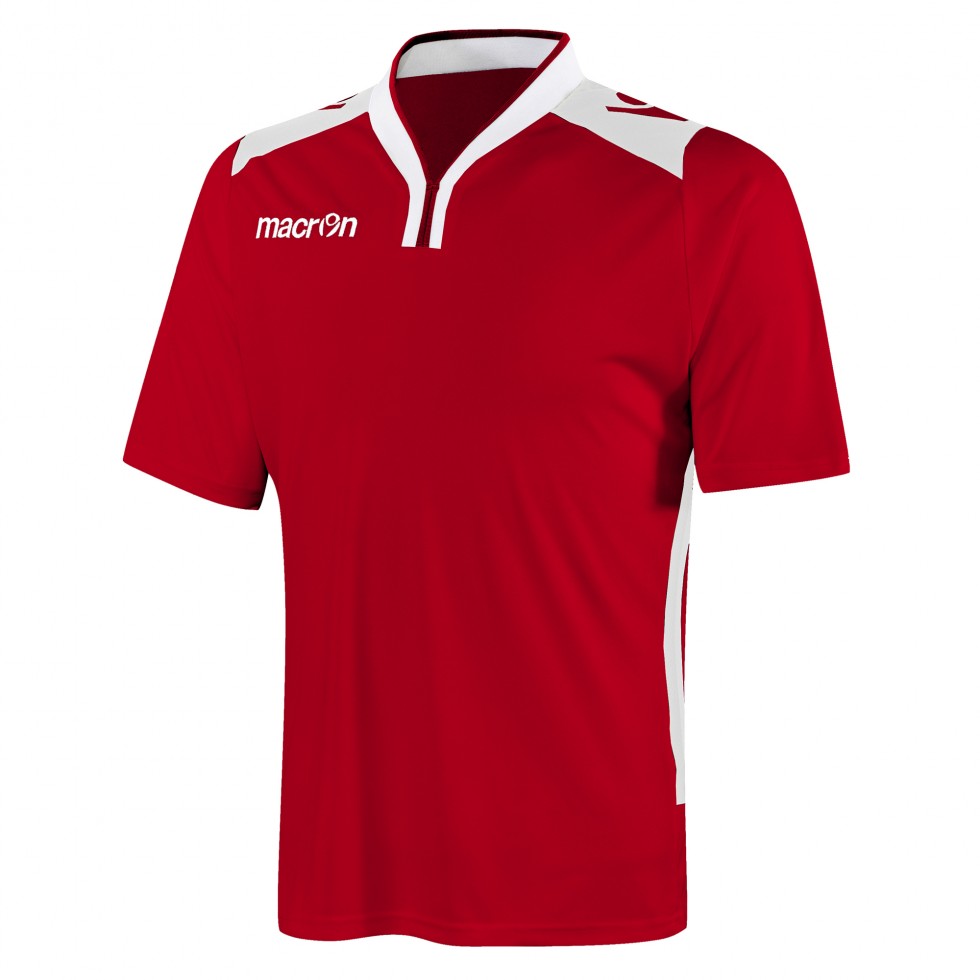 'Best Footballer in Latvia' awarded to Riga United player
On December 21, 2015 Ieva Bidermane picks up the presigious award for 'Latvia's best footballer', at the 2015 LFF annual awards held at Splendid Palace in Riga. Andris Vaņins, who plays for FC Sion in Switzerland, took the award for the best men's player in Latvia.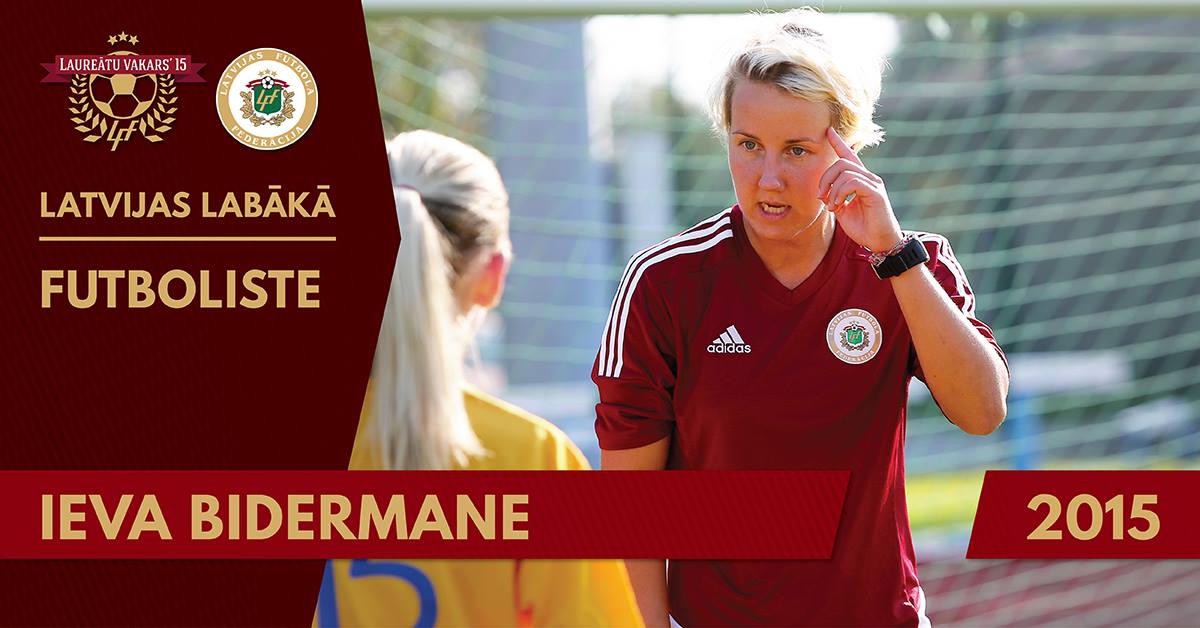 2016
Head coach announces new coaching staff
Riga United men's head coach Mo Awada announces his new coaching team for the 2016 season, when he will be assisted by Alex Alunans, Karim Gouglou and new addition Martins Klincars (pictured below).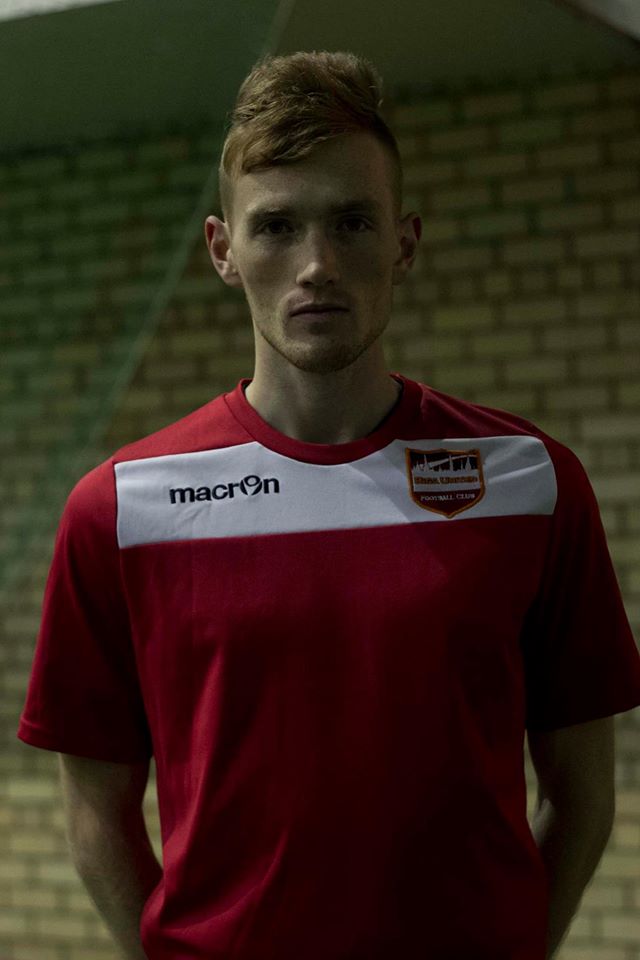 Dedicated second team ladies team created
Riga United Ladies has split training sessions with 1st team training taken by Justin Walley and the 2nd team lead by former 1st team assistant John Whitmore. Whitmore is announced as official Riga United Reserves manager for the 2016 season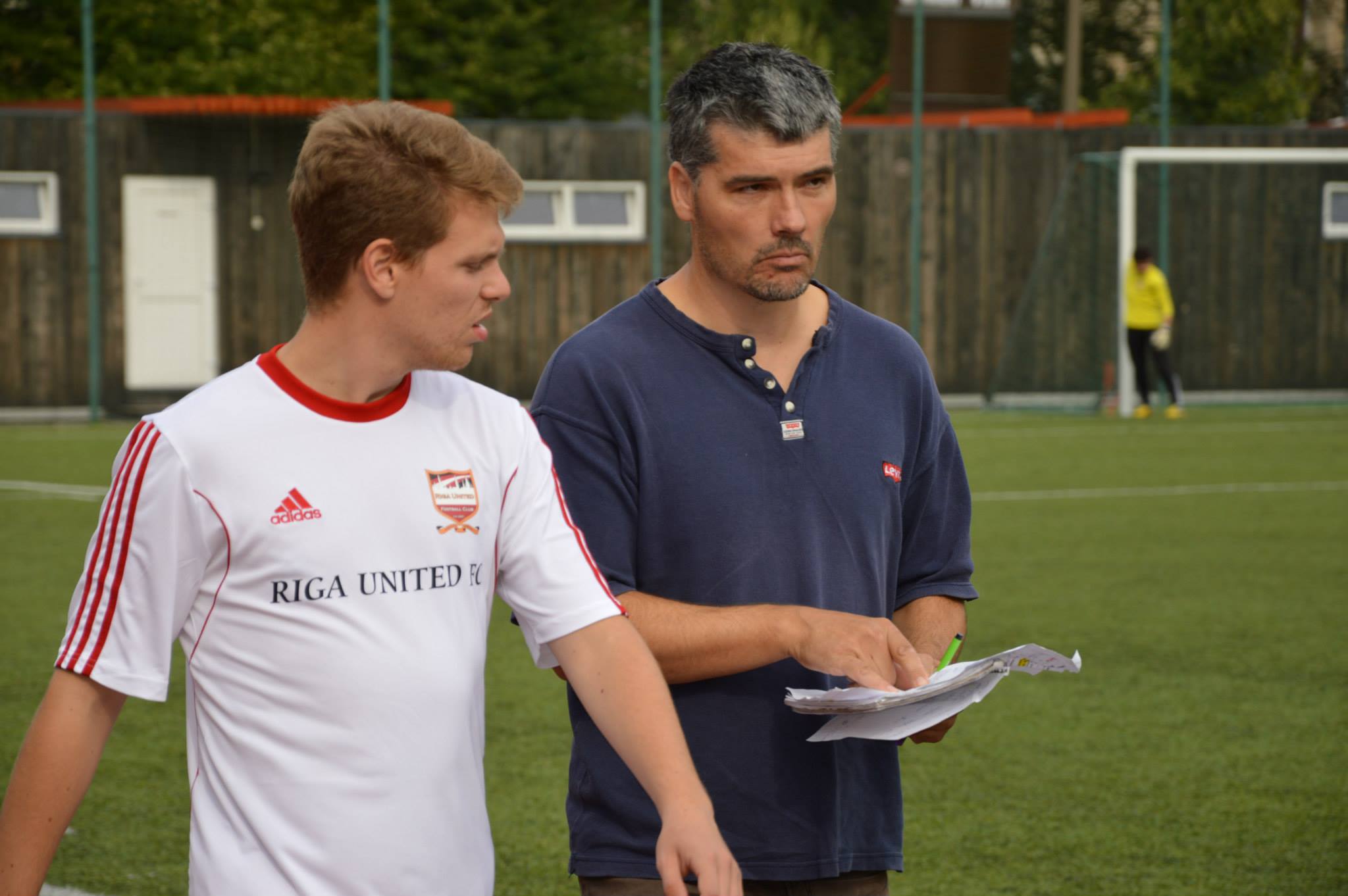 Vaciete scores last-minute equalizer for Latvia
Liene Vaciete comes off the bench to score a 93rd minute equalizer for Latvia in Malta on January 21, 2016. It is her 7th international goal in less than 12 months.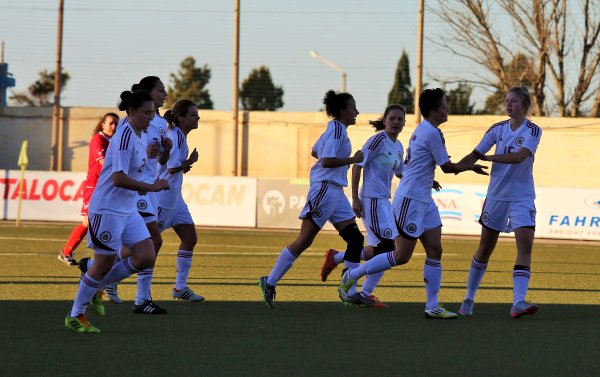 Riga United Ladies 'Third Team' makes club debut
On January 24, 2016 Riga United Ladies '3' played their first ever games, drawing 2-2 and losing 0-6 in division 2 of the national futsal league. The new team is coached by Liene Vaciete and includes many of the club's youth team players. The same weekend, the men were also in action winning 3-1, while RUFC Ladies '2', coached by John Whitmore drew 1-1 and lost 0-1 in their first games of 2016.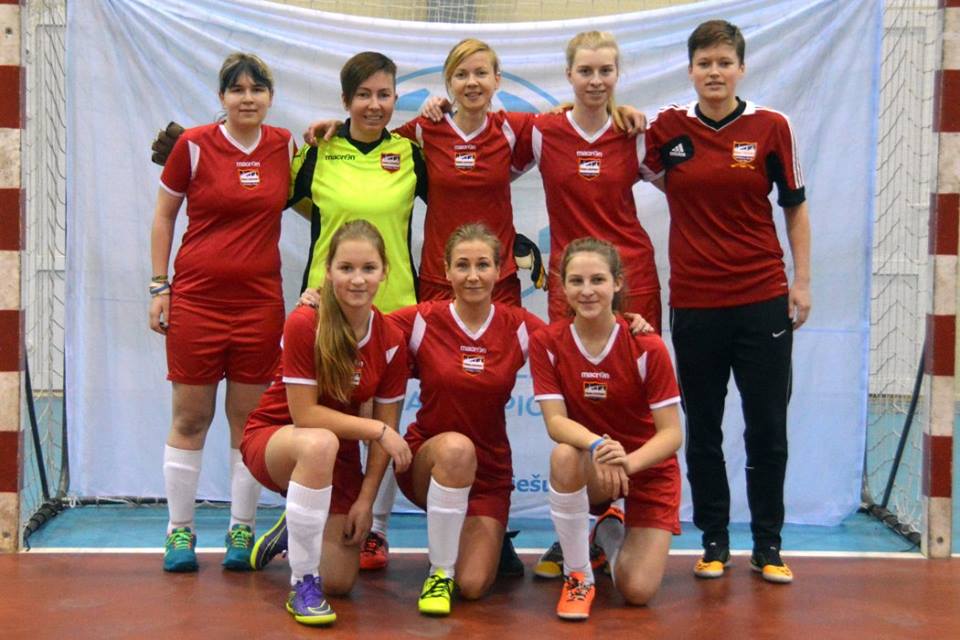 Ladies finish 5th in national futsal league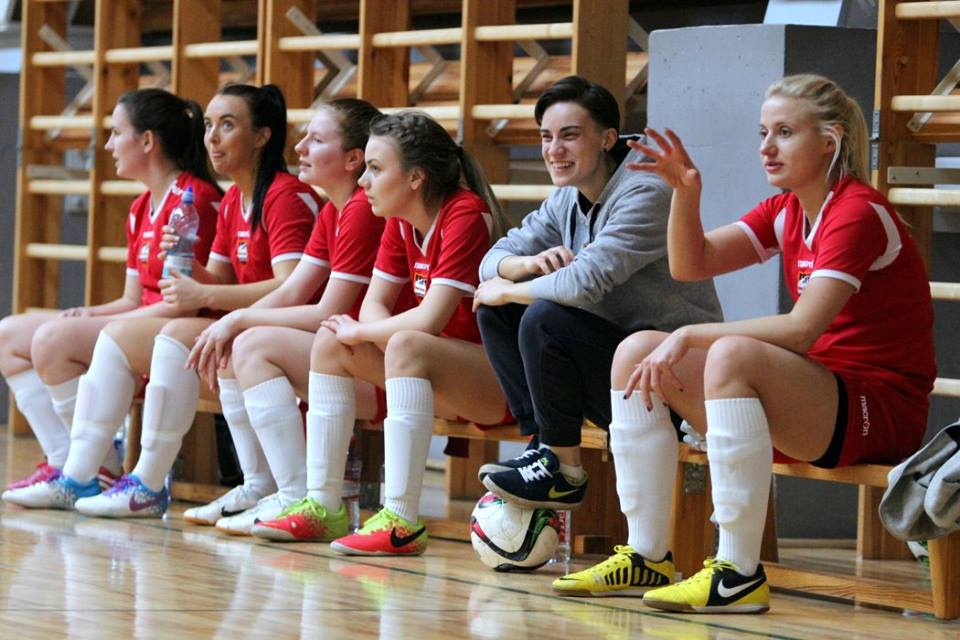 Having been knocked out in the group stage by the eventual winners Liepaja, Riga United Ladies win all their games in the 5-8th place play offs to finish 5th in the 2016 national futsal league.
Club holds first ever official photo shoot
In February 2016, the club held its first ever official club photo shoot with professional photographer Ivars Veikša snapping the men's and women's 2016 squads at Skonto Halle.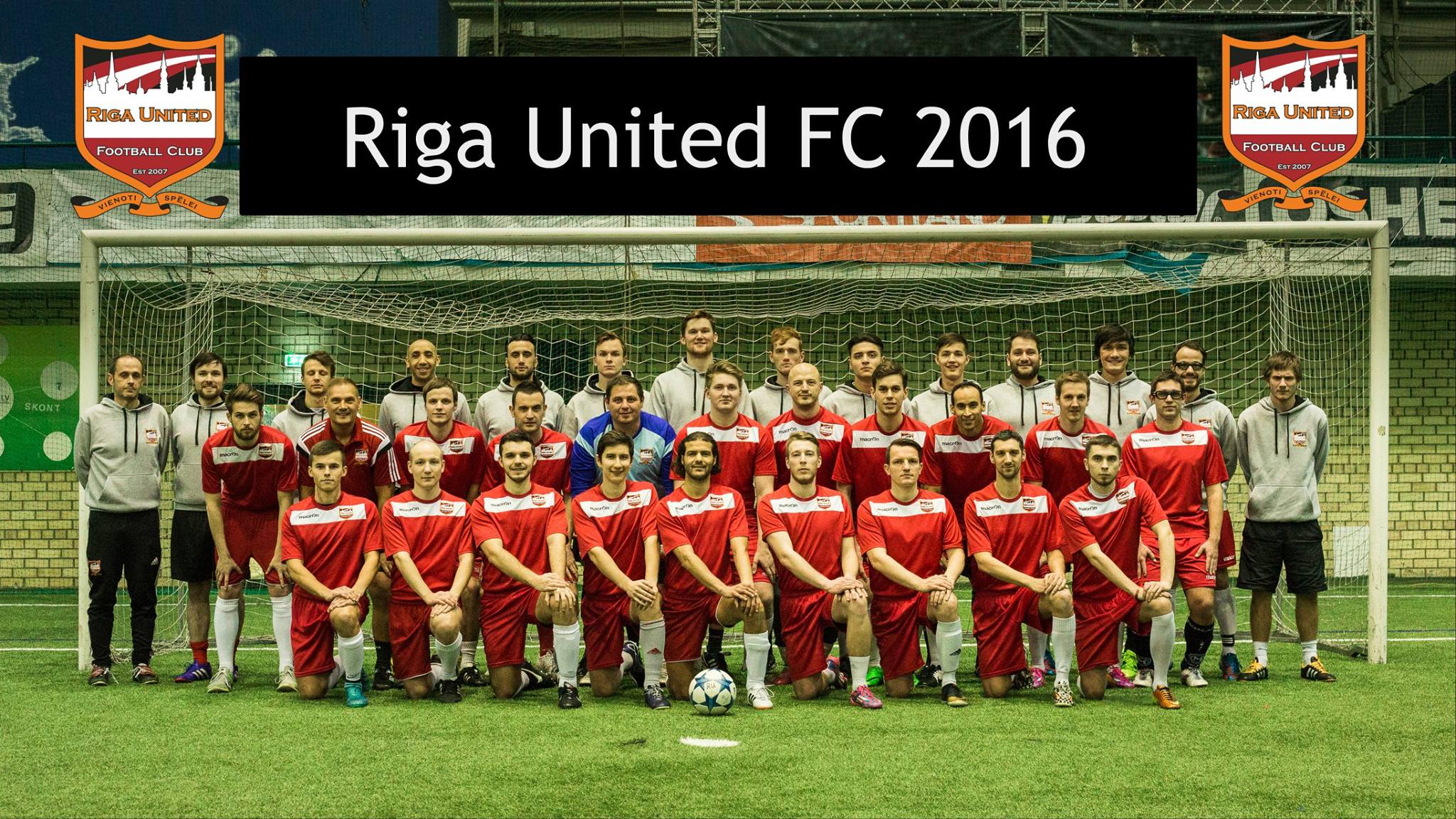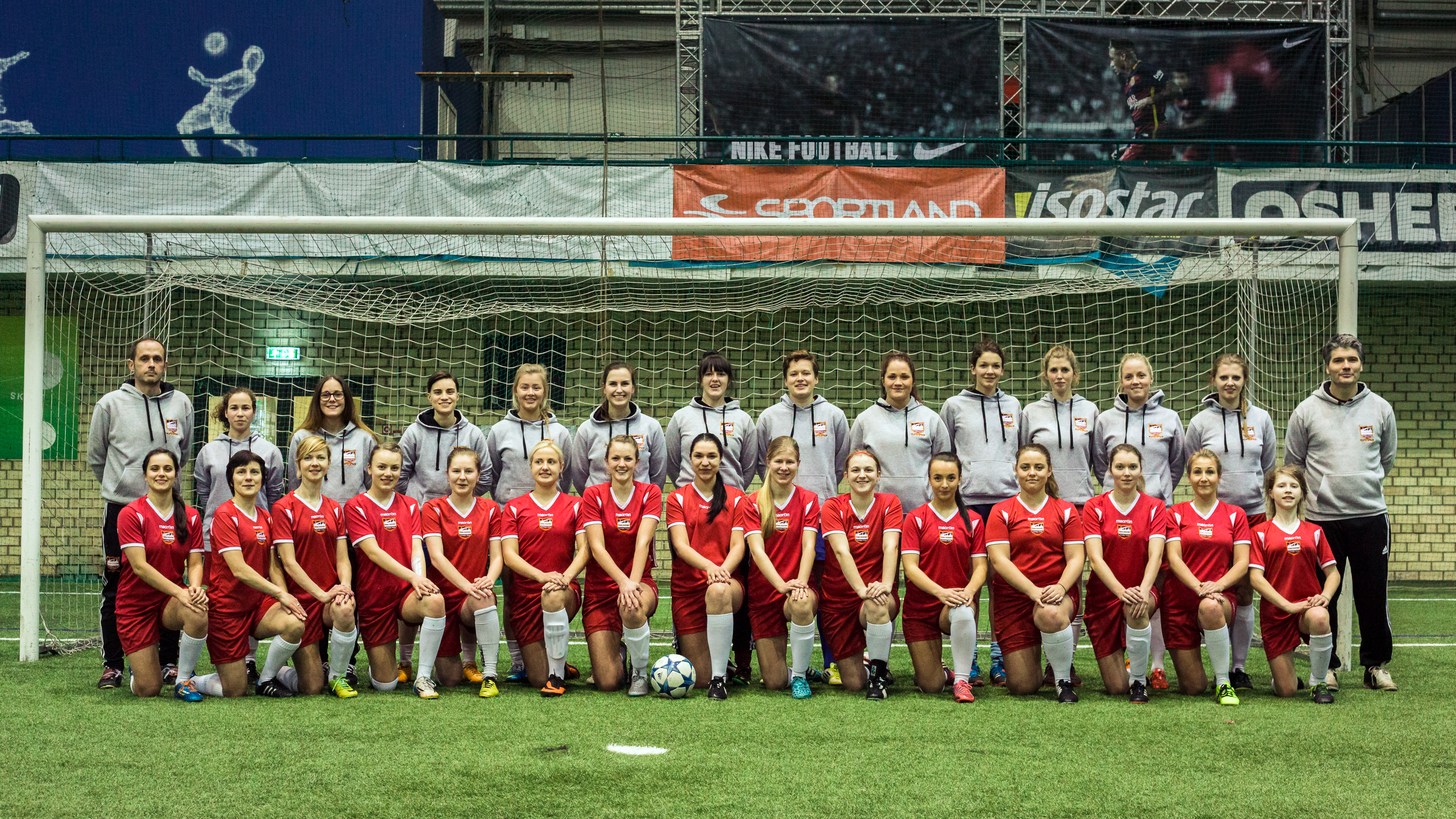 Paddy Whelan's becomes an official partner for 2016
Paddy Whelan's teams up with Riga United for 12 months, with financial support for the club as well as joint marketing campaigns, discounts for Riga United members, and the hosting of board meetings and special events.
Riga United partners at Riga 500
In March 2016, Riga United was an official partner at the largest networking event in Latvia: Riga 500. The event was held at the Latvian National Library, with hundreds of participants taking part.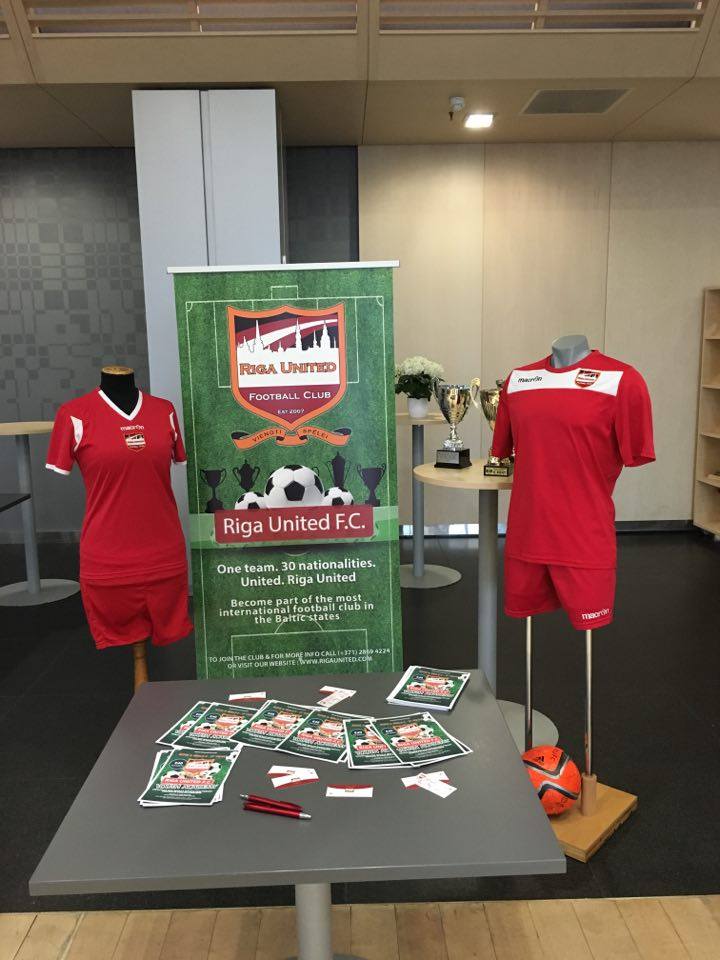 Women 2016 Premier League launch
In March 2016, the SFL held its launch event with Riga United Ladies confirmed as one of the five teams playing in the Premier League. Kristin Aune was featured in a promotion video and poster for the league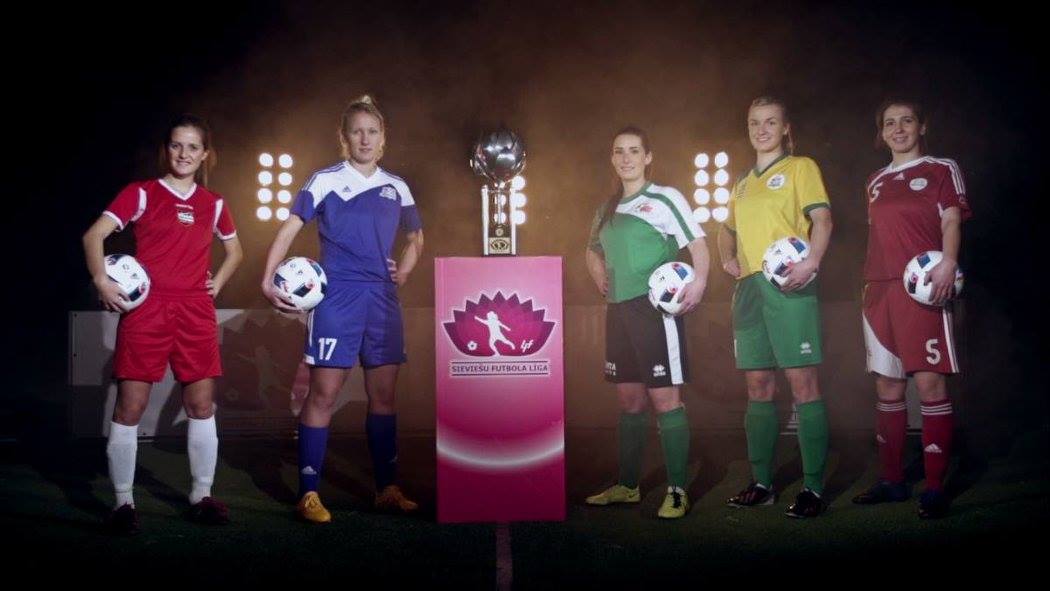 Riga United game televized on live television for the first time ever
On April 10, 2016 the SFL opener between Riga United Ladies and Liepaja was televized live on Latvian national TV. The game was also streamed live on the Internet. This was the first time that any Riga United game was ever shown on the TV and the first time a game was streamed live on the Internet.



Record crowd for United and for SFL
Riga United's record attendance was smashed on April 10, 2016 as 193 spectators attended the SFL match between Riga United Ladies and Liepaja. The crowd topped some attendances that weekend in the Latvian men's premier league.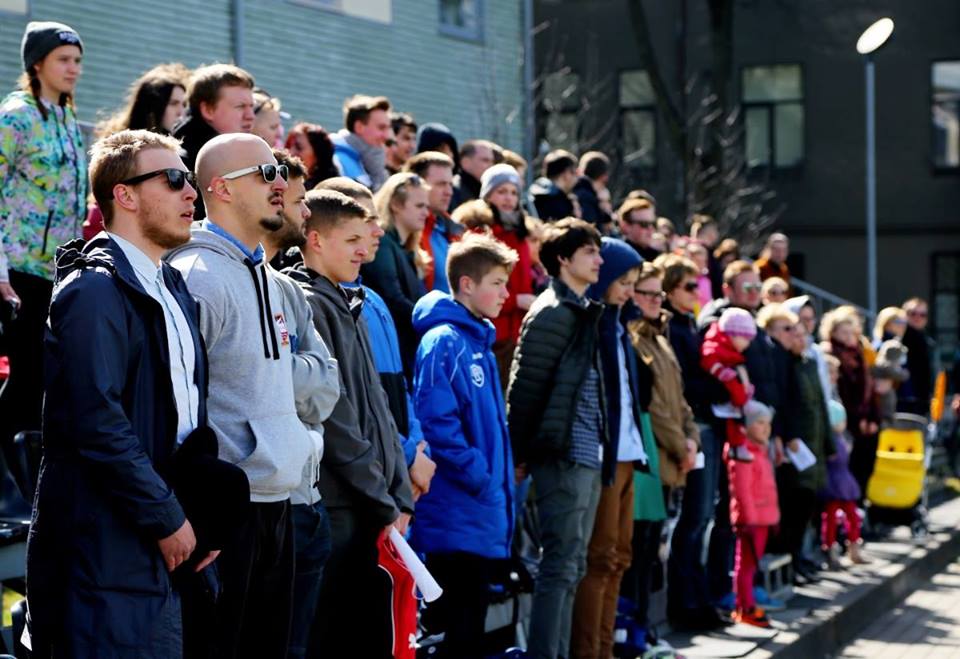 First online matchday programme launched
As well as giving out over 100 free matchday programmes at the opening Riga United game of the 2016 season, the club also broke new ground by publishing a free downloadable online matchday programme in advance of the match. The high quality nine-page programme received rave reviews.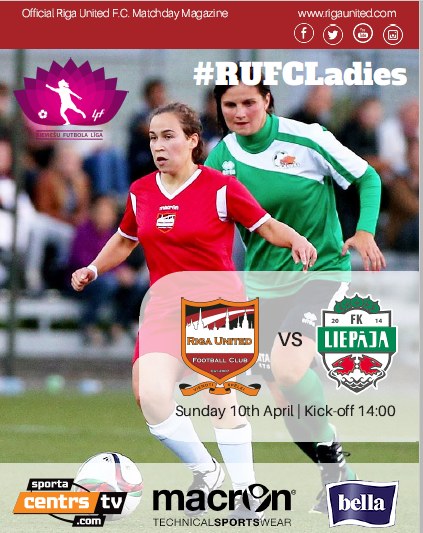 Youth Academy expands locations
Riga United expands its youth academy to a second outdoor location at RTU Stadions in Pardaugava. The academy also continues to operate at Vidusskola 49 and at its indoor locations.
Reserve team men step up to Latvian League 2
Having finished runners up in Latvian League 3 in the team's first two seasons in national league competition, Riga United Reserves joins the newly restructured Latvian League 2 (Vidzeme District) (Western Conference).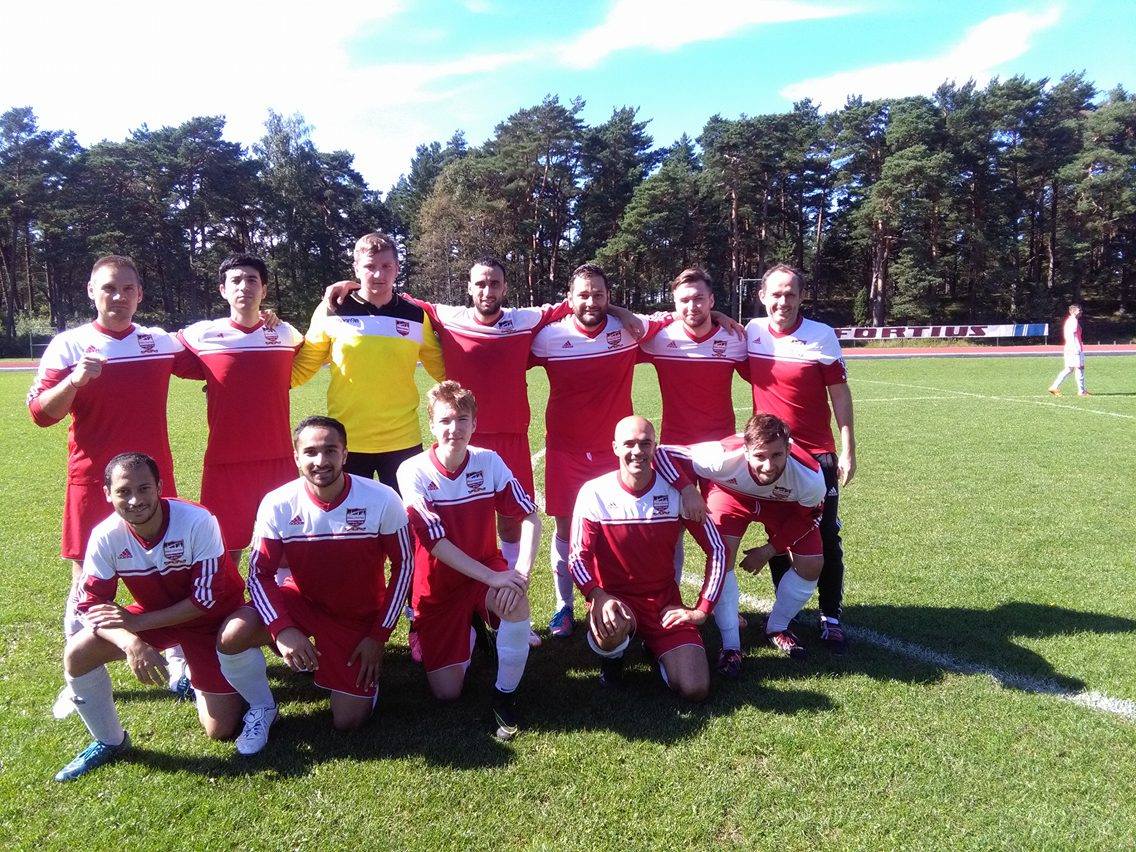 New reserves head coach named
In April 2016, Lmouhtadi Oumezdi is named as the new head coach of Riga United Reserves. The Moroccan has played league one football in Estonia and takes over the full-time running of the Riga United Reserves as they step up to Latvian League 2 for the 2016 season.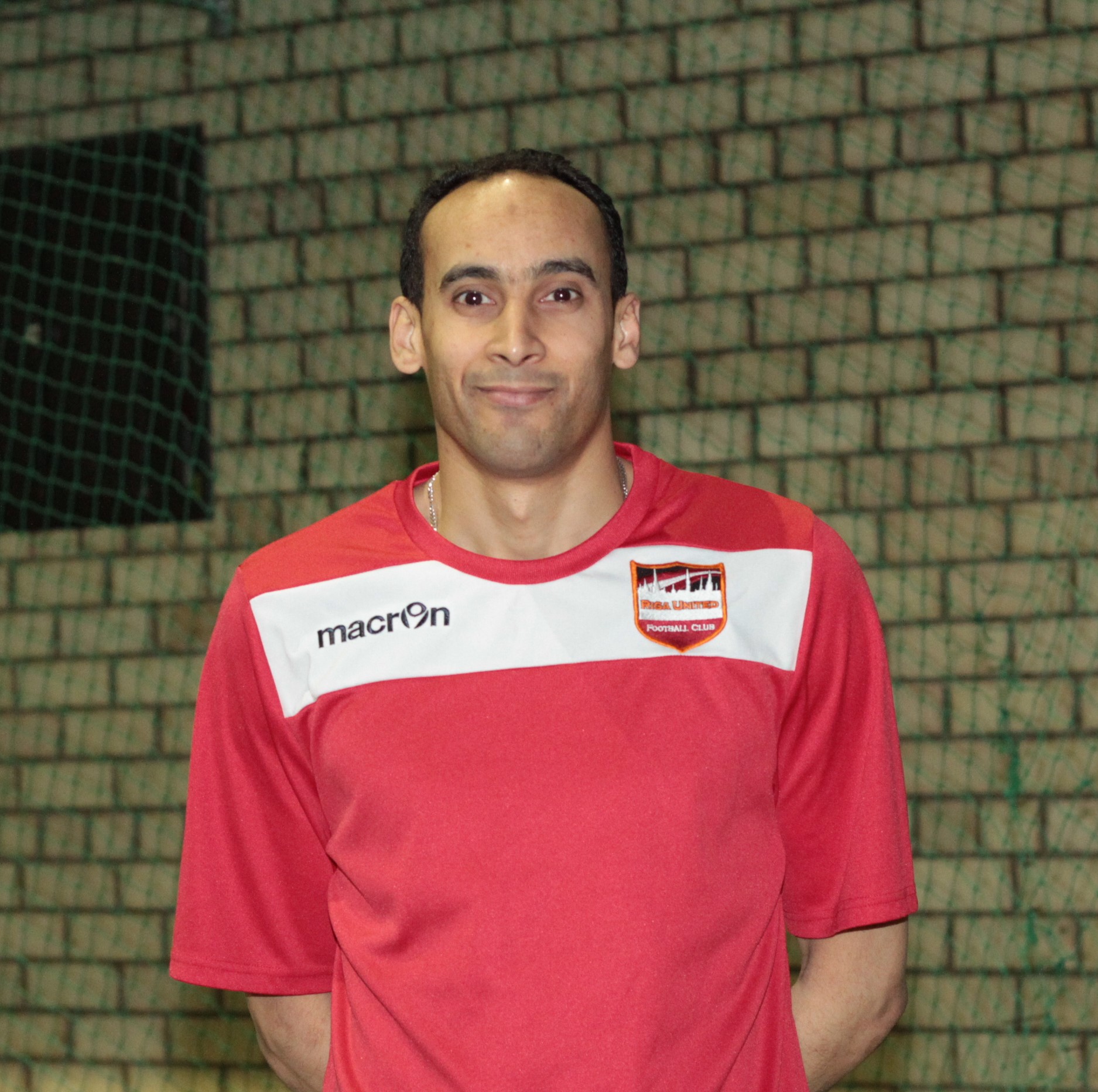 Riga United featured in leading UK football magazine
The Non League Magazine, the top semi-pro football publication in the UK, features a four-page story about Riga United. The story attracts a lot of attention in the United Kingdom, with a number of clubs and players contacting the Black Cats.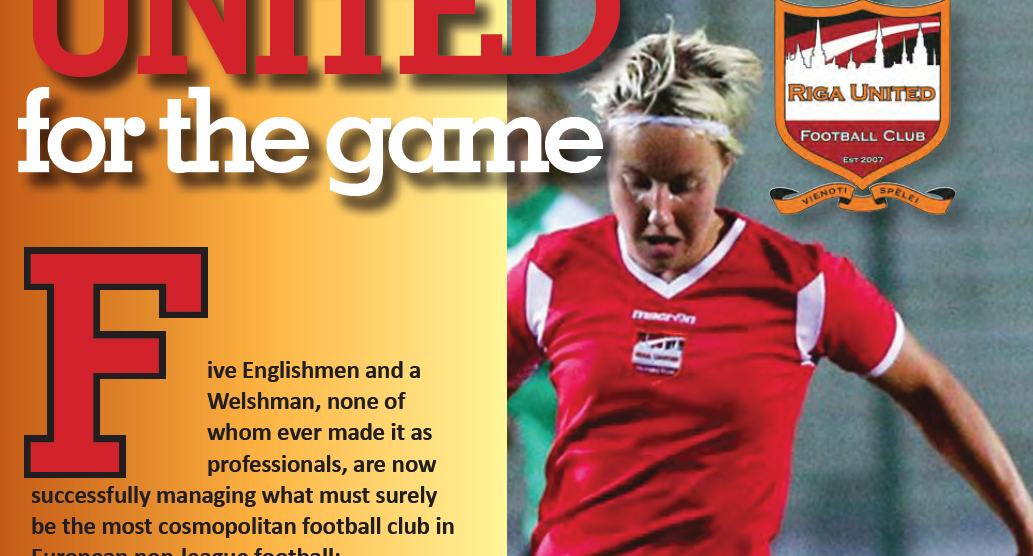 Northern Ireland national team goalkeeper coach guest coaches
In May 2016, Northern Ireland's national youth team goalkeeper Michael Dougherty guest coached for Riga United during his visit to Latvia with the Northern Ireland national team. Michael did a guest session with some of Riga United's keepers and followed this up with a joint session with the first team strikers. A month earlier English pro goalkeeper coach Tony Gandy also guest coached with Riga United.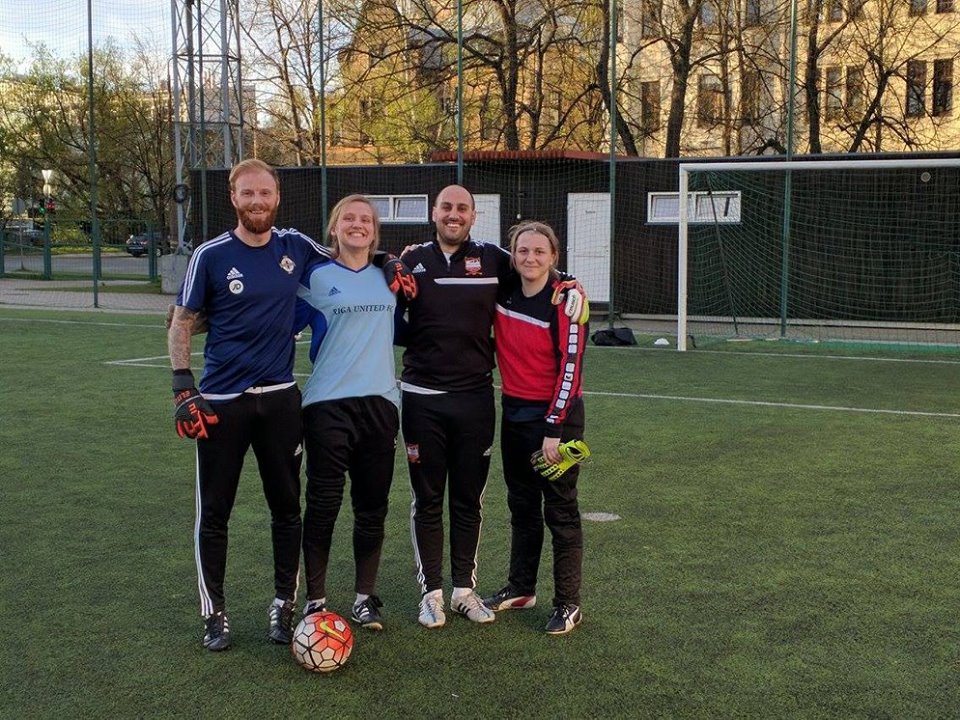 Ladies Youth team player in National Under-17s squad
Linda Kazlauska, who is on a season long loan to the club from FK Auda for the season, is called up to the national team squad to play in Estonia, and makes her full international debut for Latvia. During the 2016 season Linda is a member of both the 1st and 2nd team Riga United Ladies squads.



Riga United featured in the world's premier women's football magazine
It is more great publicity for Riga United and Latvian women's football as She Kicks Magazine runs a feature about Riga United.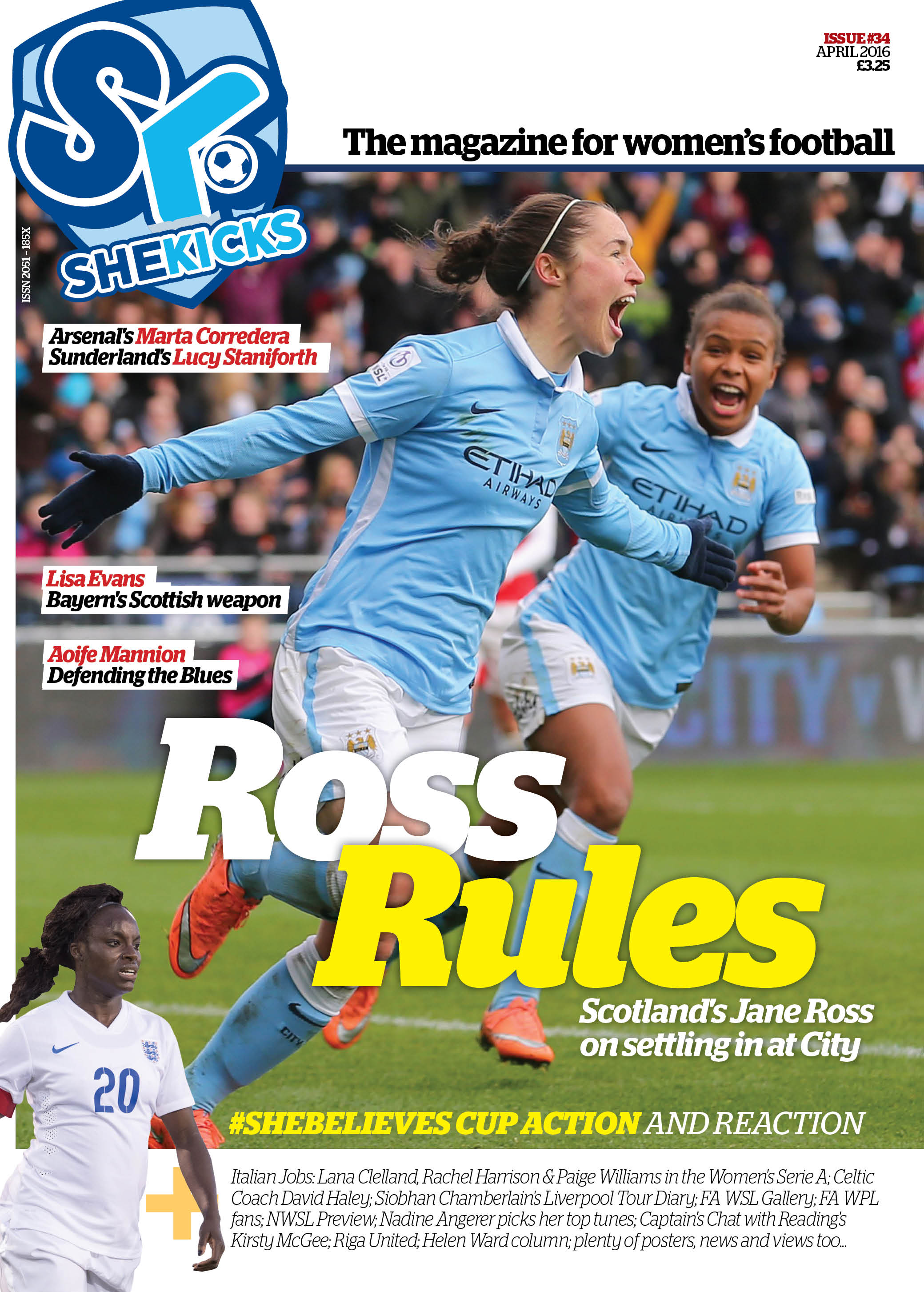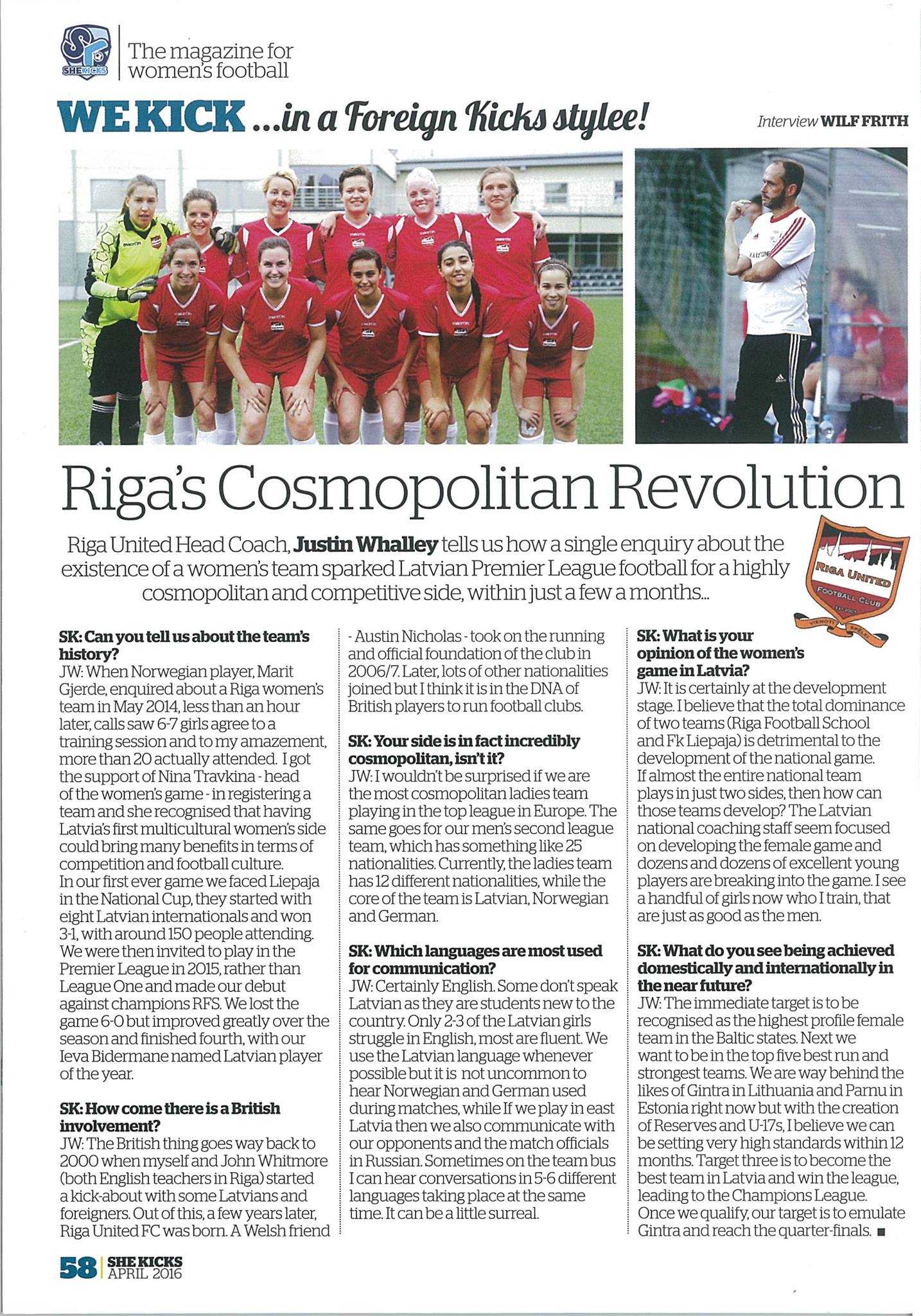 Spanish Pro License coach joins United for the summer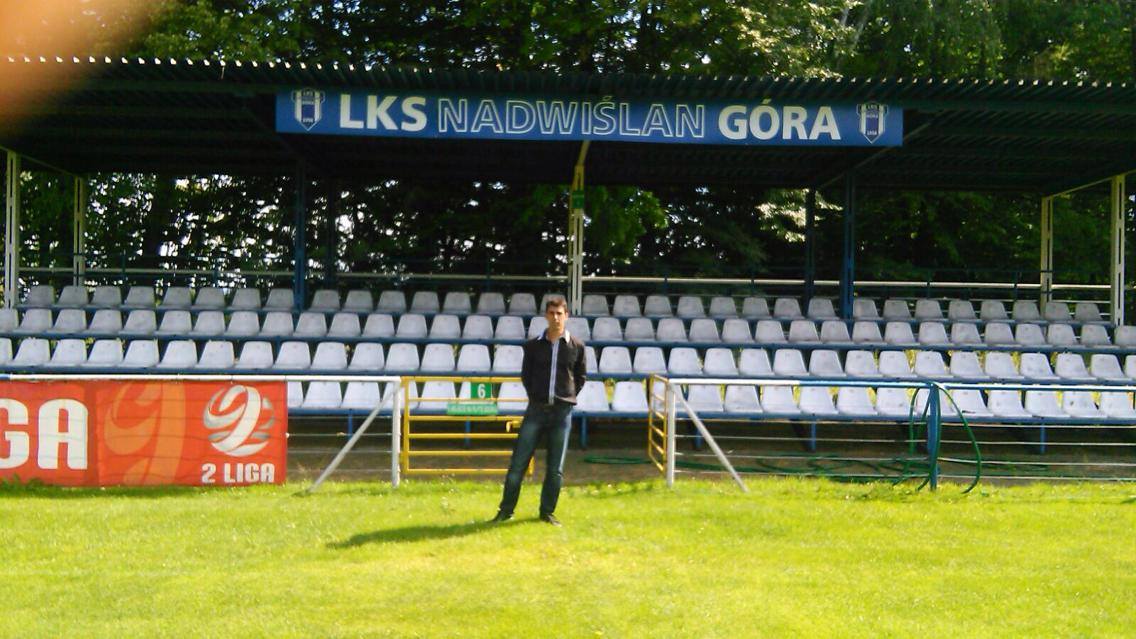 Miguel Domingo Martin joins Riga United for the summer. The Pro License coach from Spain spends a few weeks living in Latvia helping out Riga United with their training sessions at the kids academy and also with the senior teams. Miguel temporarily becomes the Riga United Ladies assistant manager and coach for a handful of games during the summer of 2016 before returning to his native Spain for the new season there.

World Women's Football Show appearance for the club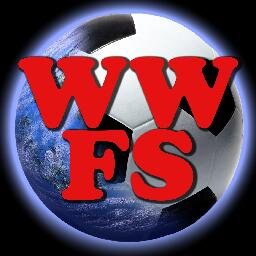 Riga United appears on the World Women's Football Show as Ladies coach Justin Walley is interviewed as part of a podcast for the show. You can listen to the podcast here by clicking this link.
Record crowd for ladies reserve team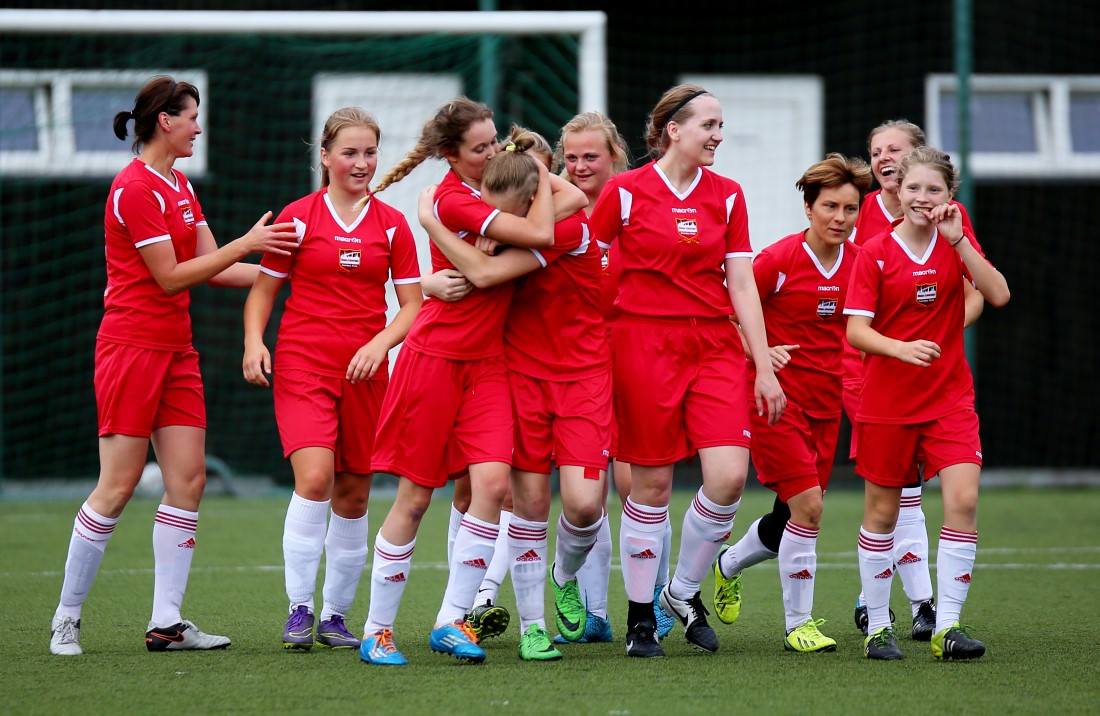 RUFC Ladies Reserve team sets a new attendance record for themselves as 50 supporters attend their 3-2 victory over Rezekne/Progress.

Club doctor departs after 3-month internship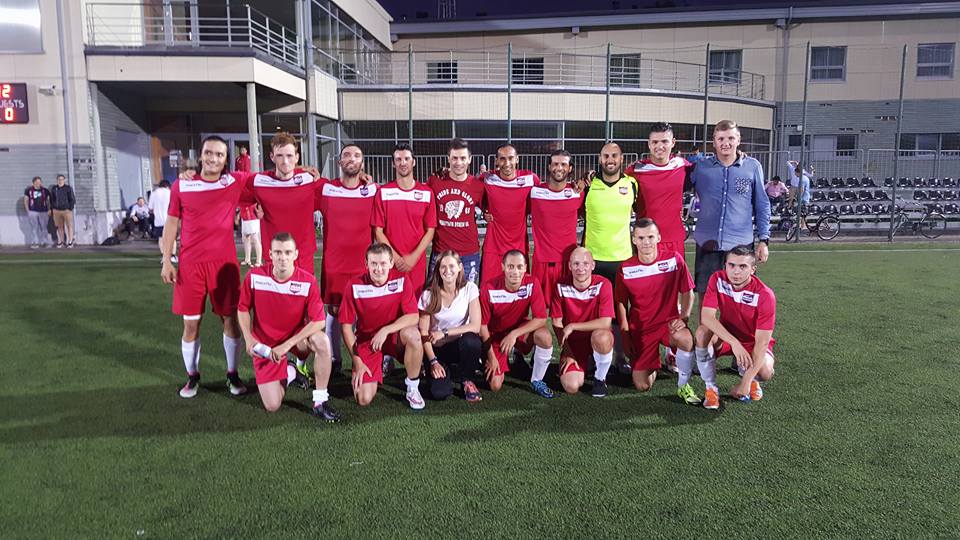 Riga United's first ever full-time doctor, Diana Tanner from the United States, departed the club at the end of July 2016 after spending three months as an intern with the club. Diana was present at all men's and women's trainings and also for men's and women's first team and reserve-team games. She is pictured with the team after her final game as team doctor.
Captain proposes after league match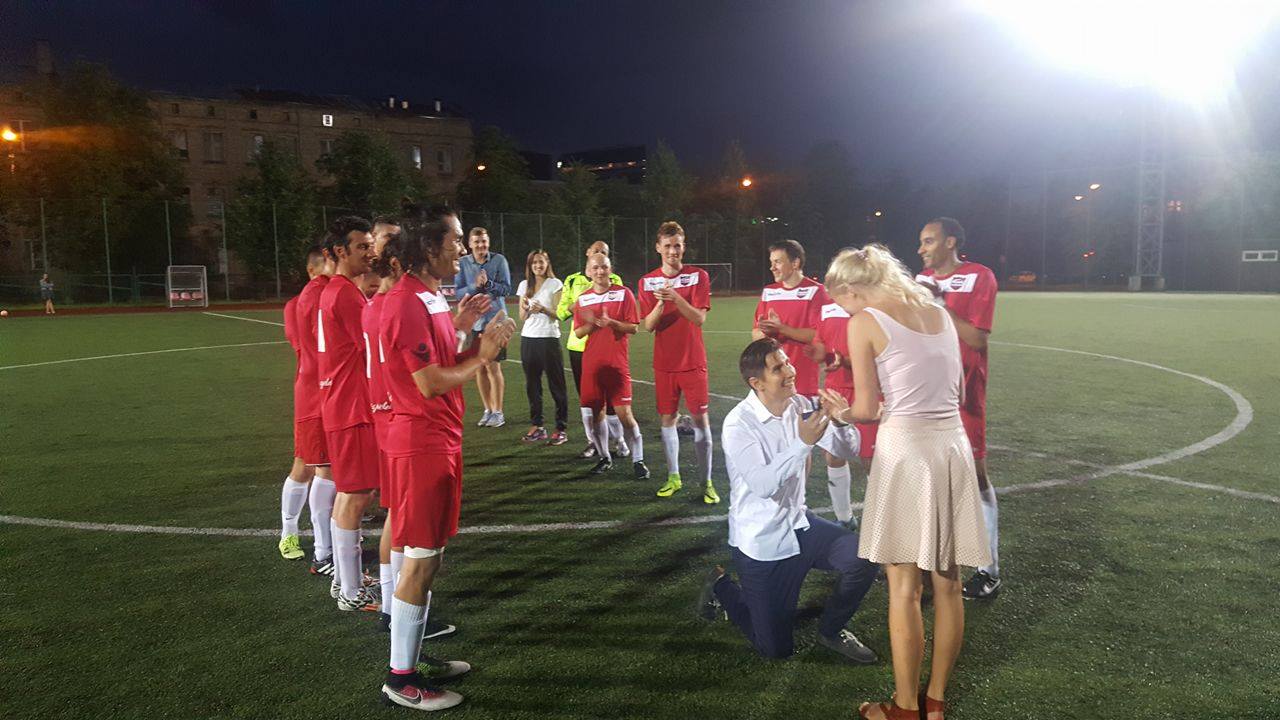 Captain Sofian Berrahal proposed to his girlfriend Liene after playing in the team's 5-0 victory over Olaine on July 28, 2016. Sofian was substituted late on, allowing him enough time to change and be ready to propose to Liene just after the final whistle. The players made a guard of honour and Liene excitedly said: "Yes!!"

Perkons and Whitmore try out a new formula
Second team ladies manager John Whitmore decides, with the support of the club's board, to appoint assistant Ervins Perkons as Ladies Reserve team manager/coach until the end of the season, with John overseeing the running of the team.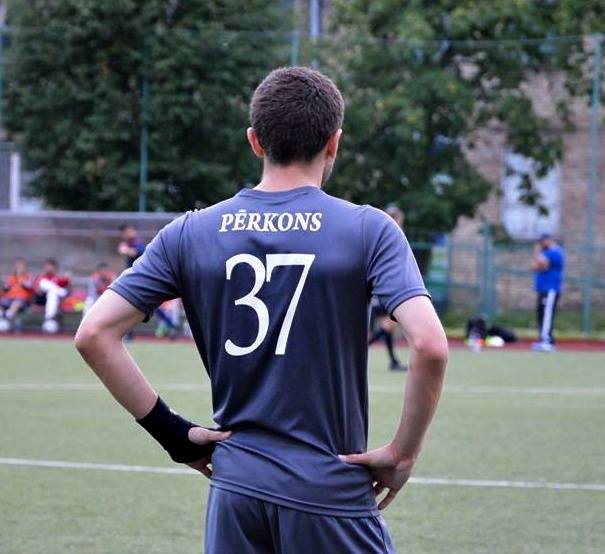 Riga United in the Latvian top 5 for social media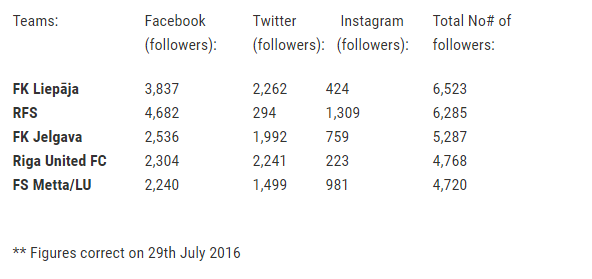 After four years of constant hard work, Riga United became one of the top five football clubs in Latvia for social media following. The other teams in the top 5 all play in the Latvian Premier League, two tiers higher than Riga United.
Selga called up to national team
Selga Whitmore is called up to the national Under-15 side for the 2016 Baltic Cup. Selga, who is on loan for the season from FS Metta/LU, becomes the second Riga United player to be called up for one of the national team youth team squads following Linda Kazlauska's appearances for the U17 national team.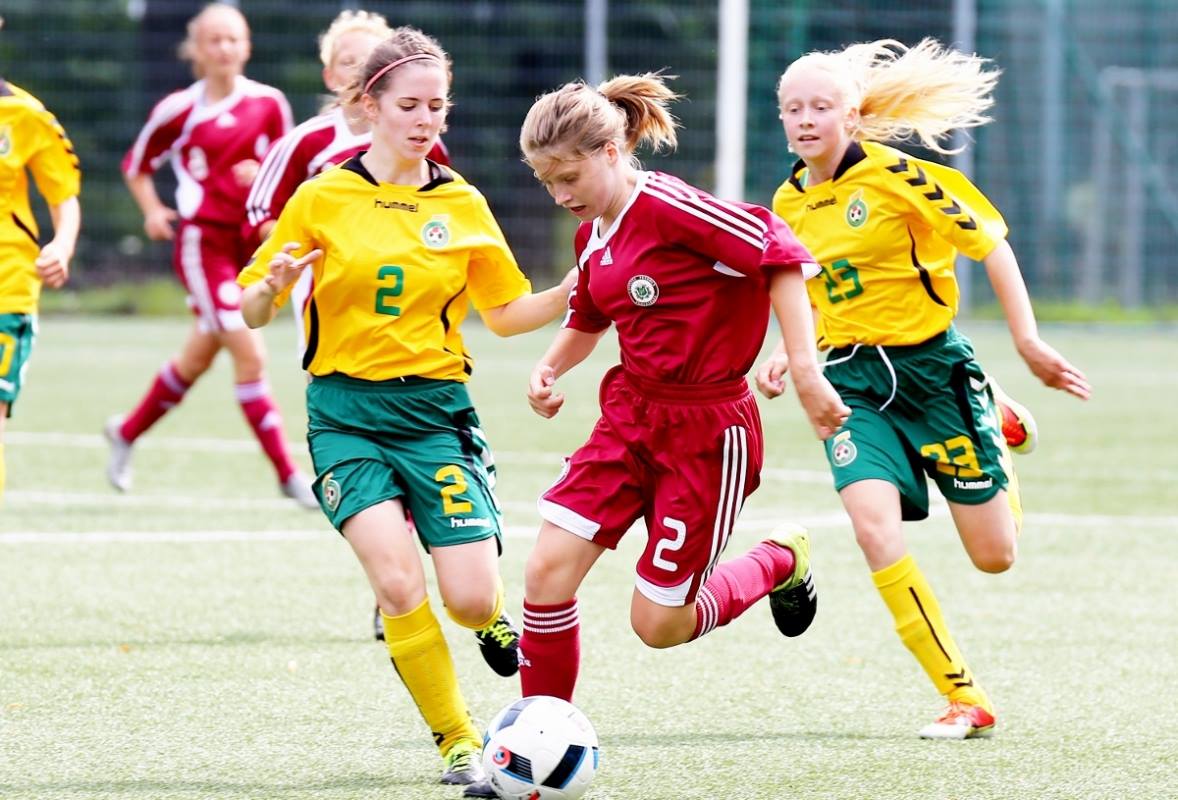 German football magazine features United
Popular German football magazine 11 Freunde featured Riga United in its summer 2016 issue.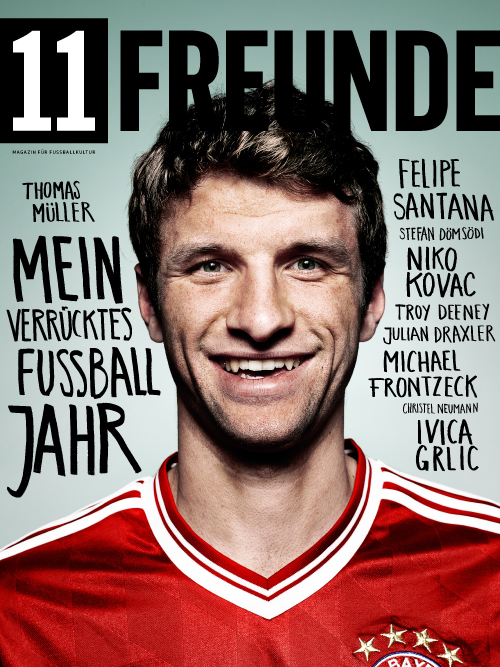 Second Portuguese coach joins United
In August 2016, Riga United gets its second Portuguese coach as Helder Miguel Gonçalves joins the club. Helder is a qualified coach with previous experience coaching a ladies university team in Portugal. Helder joins United as an intern for the year and begins assisting Ladies Head Coach Justin Walley as well as helping out at Riga United Academy.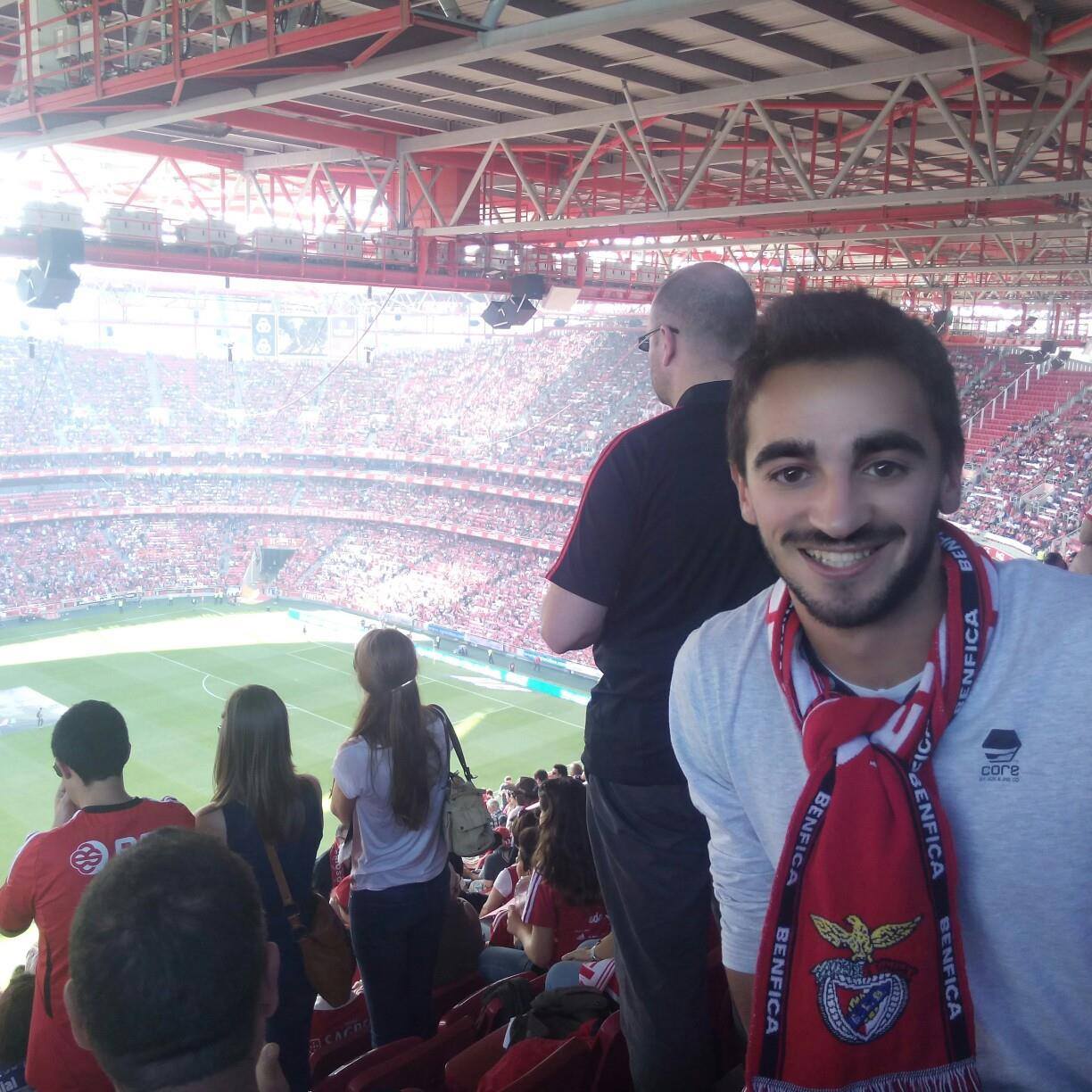 Reserve team ladies claim first ever away victory
On September 4, 2016 RUFC Ladies Reserves clinched their first ever away victory in the team's history as they won 1-0 away at Talsi. Jekaterina Volkovica (pictured with her arm raised) got the winner.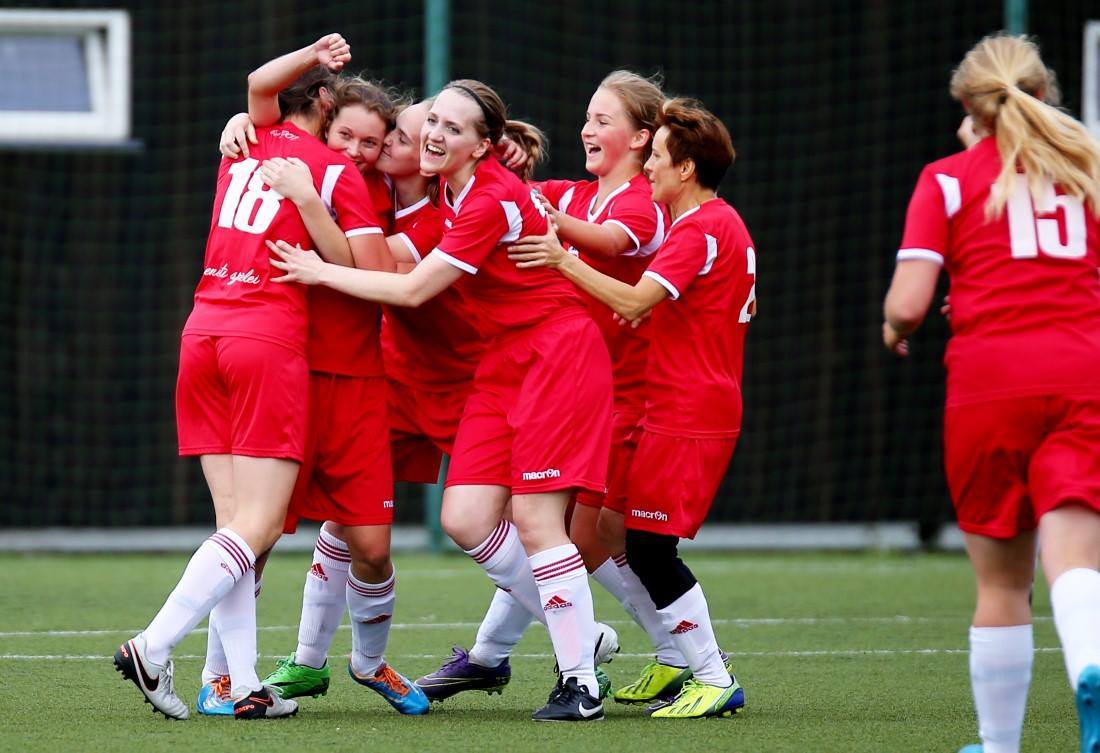 Men's reserves finish disappointing season
RUFC Reserve team men completed their first season in Latvian League 2 with a humiliating 7-1 away defeat which left them 6th from seven teams in the final league table. It was the reserve team's third season in national league competition with the team previously finishing as runners up in Latvian League 3 in 2014 and 2015. Below is the final league table for Latvian League 2 (Vidzeme West Zone) After the season ended, Riga United Reserves played a play-off match against the team that finished 6th in the Eastern zone. FK Limbazi won the game 6-3 although they fielded four league one players in the tie.

"Hero" calls it a day after a decade with Riga United
Turkish goalkeeper Murat Kelkit announces he is leaving the club and retiring from competitive football after 10 years with Riga United Football Club. He played his final game in a 1-1 draw with Latvian League 2 leaders Rinuzi on September 8, 2016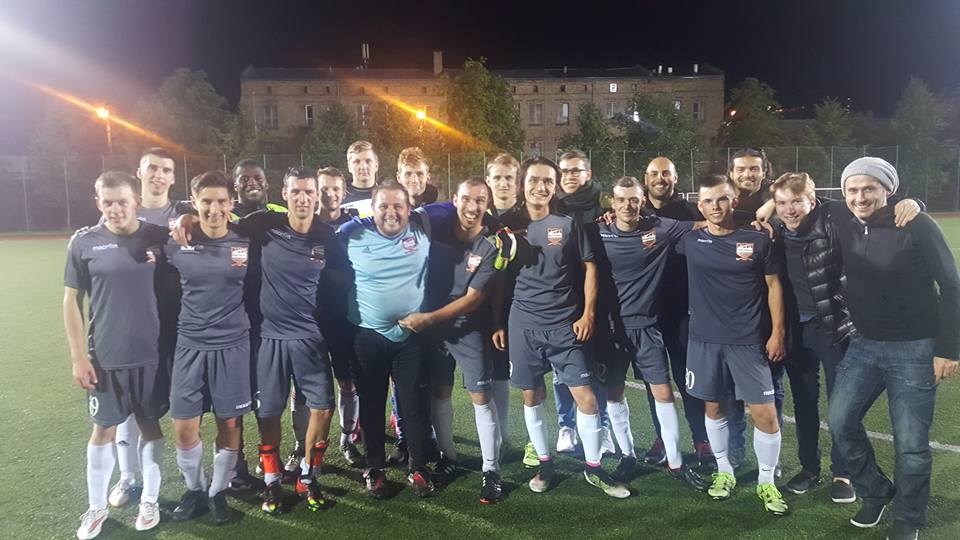 Riga United 2016 AGM
Riga United held its 2016 Annual General Meeting on September 20, 2016. During the meeting, the club's finances, academy, senior teams and club progress over the past 12 months were discussed. Those present were able to ask the board any questions they wanted about the running of the football club.
Four members of the outgoing board decided to step down: Karina Muzikants, John Whitmore, Josu Samaniego and Justin Walley.
Pavel Gognidze was elected by the Riga United youth academy parents to represent them as the new parent representative on the board. André Kliese, Graham Williams and Sofian Berrahal also joned the board as new board members. Of the outgoing board, only Mo Awada stood for re-election and was successfully voted in. All five are pictured below.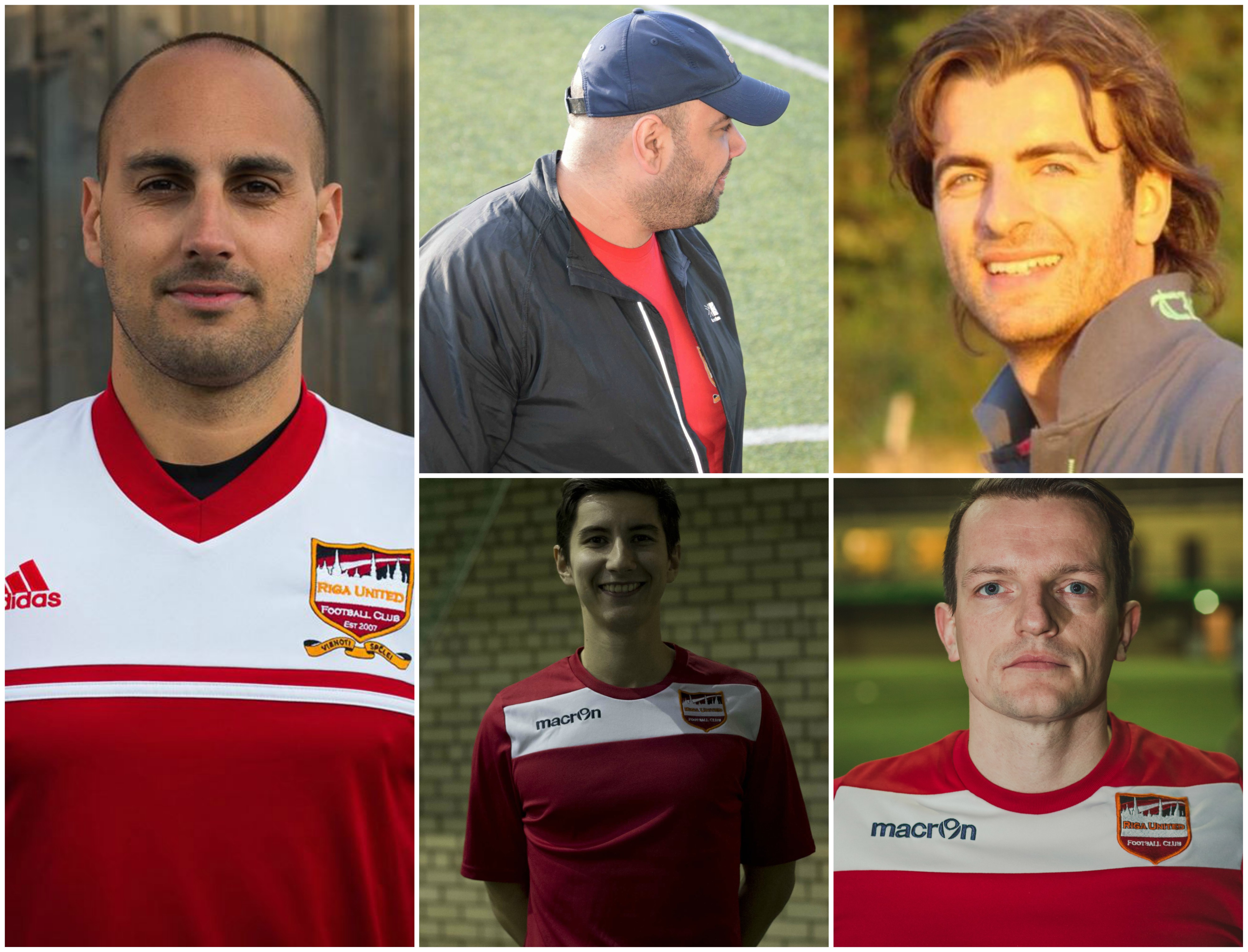 Linda takes on Germany
Linda Kazlauska is named in a 19-player-squad which take on Germany, Turkey and Wales in Under-17 European Championships qualification in October 2016.
Testimonial time for Richard, Margus and Justin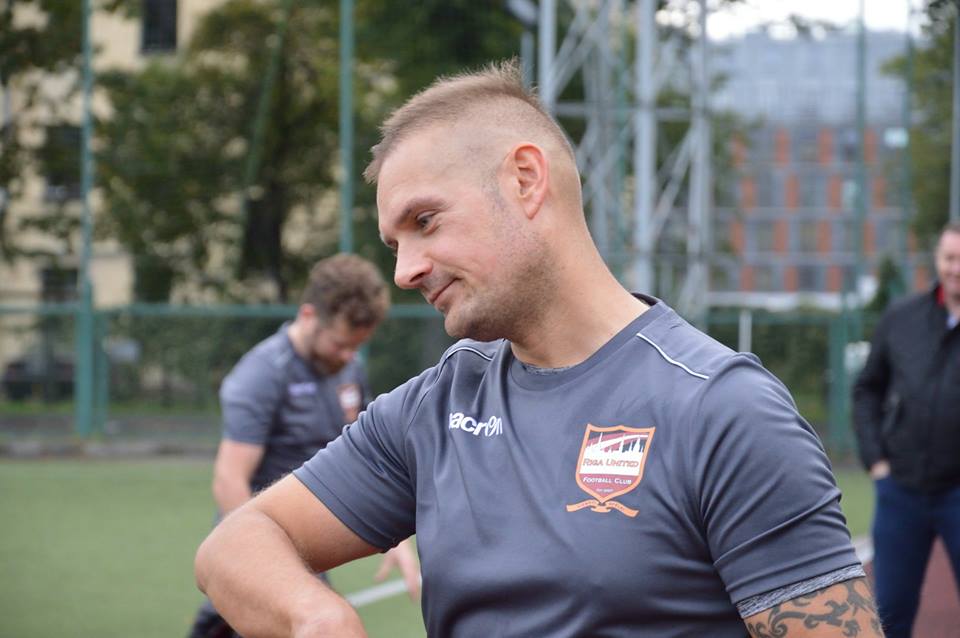 Reserves finish first season in League One
United Ladies finish season
2016 Awards evening
Margus leaves United
Richard leaves United
Justin leaves United
United men finish season