Riga United FC / Vīriešu 1. un 2.komanda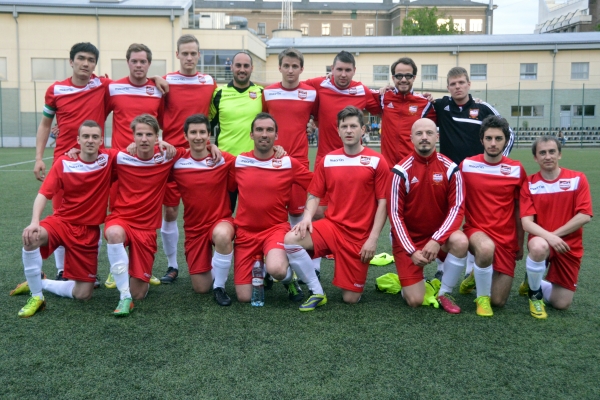 Riga United FC is an amateur team who play at Rīgas Vidusskola 49 in the Latvian capital, Riga. They play their football in National League Two (Riga division) and have a reserve team in National League Three. Riga United FC pride themselves on being a Latvian team willing to incorporate different cultures and nationalities. Over the history of the team, the club can boast having had over 40 different nationalities, while still keeping a solid core of Latvian players. The club's motto is "Vienoti Spelei" (United for the Game). The current men's team manager is Mo Awada.
Riga United FC ir amatieru futbola komanda, kas spēlē Rīgas 49.vidusskolā, Latvijas galvaspilsētā- Rīgā. Komanda piedalās Latvijas 2.Līgā (Rīgas divīzijā) un rezervistu komanda piedalās Latvijas 3.Līgā. Riga United FC lepojas ar to, ka ir Latvijas komanda, kas labprāt iekļauj komandā dažādu kultūru un nāciju pārstāvjus. Kluba pastāvēšanas laikā to ir pārstāvējuši 40 dažādu valstu pārstāvji, taipat laikā saglabājot komandas kodolu ar latviešu spēlētājiem. Kluba motto ir "Vienoti spēlei!" (United for the Game). Pašreizējais vīriešu komandas treneris ir Mo Awada.