News
"I WANT US TO PUSH TEAMS LIKE RFS": INTERVIEW WITH RUFC LADIES' HEAD COACH JUSTIN WALLEY
11 / 03 / 2016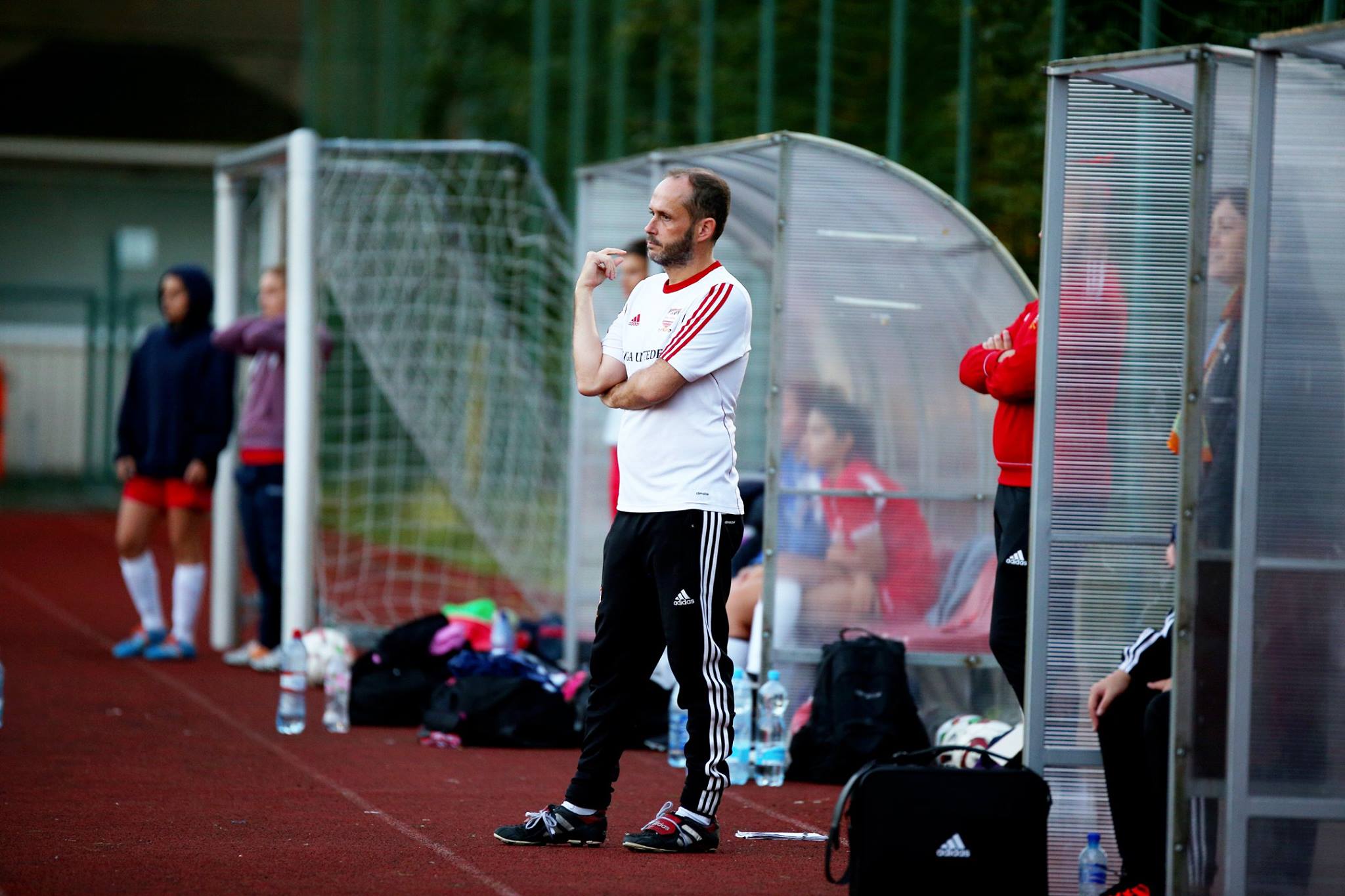 In an interview with Justin Walley, he looks ahead to the friendly game tomorrow in Estonia and the new season.
Author: Richard Youatt
Date Published: 11/03/2016 - 19:17

For the latest interview, Riga United Supporters' Group caught up with the Ladies' team Head Coach Justin Walley for a chat, which included tomorrow's friendly and the big 2nd season in the SFL (Sievišu Fubola Līga), which is one month away with a home game against FK Liepāja on the 10th April. This is what he had to say:

RUSG: Hello Justin, long time no speak. How have you been? Thank you for agreeing to do an interview today.So, it feels like what has been a long off season, how do you feel the preparation has gone?
Justin: Hello Richard. Thanks, for the interview. Pre-season has been excellent. Recently, we have been getting 30 players at our Monday and Wednesday night training sessions, which when you consider they don't finish until nearly 11pm on winter evenings, is really positive. Players from other clubs contact me and want to join which means we must be doing something right. The national league futsal enabled us to give 40 girls competitive football during January and February. We are now making the transition to two completely separate squads: first team and second team. It was impossible to do this before but now we have the numbers and structure in place. My only real frustration is that it is difficult to play 11-a-side matches during the winter and as we approach the start of the outdoor season in April, I don't really get to see how a lot of the new girls can play on a full size pitch. The friendly match in Estonia is a vital part of our preparation. If we had our own pitch, we could develop at three times our current rate.
RUSG: There have been a lot of changes in the team over the winter, is there a core reason for this? Also, how do you feel the players are gelling?
Justin: The challenges I think you are referring to our development issues. Having three futsal teams in competition in a national league is a big pressure on resources and coaches' time. The same applies to our move towards having a dedicated first and second team. Suddenly, we are looking at having 60 female footballers at the club. 12 months ago we had 28. We train on quarter of a pitch at Skonto Hall. Providing high quality coaching session for 30 players on quarter of a football pitch is a huge challenge. But I think we have done well because the numbers attending has been steadily growing and I am seeing a constant improvement in the quality of the girls' football. In terms of bonding, I love the team spirit we currently have at the club. I don't think any other club in Latvia has quite that spirit at the moment. Player wise, Rich, we have kept the majority of our players from last season. We have just added as much quality as is possible.
RUSG: As you mentioned. You have played a few tournaments over the winter, including in Estonia. What's your assessment of the ladies' performance and what do you think they would have gained from it?
Justin: We entered three teams in the futsal league giving football to every female player at the club. Our third team was built on a core of youth team girls, some of whom had never played competitive football before. They drew their first game 2-2 and only suffered two heavy defeats, one against a very good Talsi team. I was very happy about what I saw from them. It was also an opportunity for Liene Vaciete to develop as a young coach. She coached and managed the girls; one minute she was scoring a last minute equalizer for the national team and three days later she was watching her girls losing 5-0 at half time against a much stronger team. You either sink or swim in that situation and she helped turn the girls around and they shut out their opponents in the second half. I don't think she will ever forget that. It might help shape her future development as a player and coach.
The second team finished bottom of their group but all their results were tight. With a bit of fortune they could have finished second. John installed fighting spirit and a defensively minded way of thinking into the girls which will be vital when we go outside.
The first team girls played well against the eventual champions Liepaja, losing 0-2, and that was without our recognised central defensive partnership of Anna and Kristin. Against RFS, the girls could see for themselves that they simply weren't fit enough. They won all their other games and overall I was mildly satisfied with them. I certainly expect and require more from that group in the coming months.
RUSG: Speaking of Estonia, you have a tough preseason friendly in Pärnu, Estonia tomorrow to take on the defending champions PJK Pärnu. What are your hopes/expectations from this game?
Justin: It is an absolute privilege to play against such a great side as Pärnu. They are the best team in the Baltics aside from Gintra [FK Gintra-Universitetas]. 12 months ago they drew with the Latvian national team. I do not expect us to match them but I do want us to compete with them. Hope and expectation can be very different things, Richard. You hope for the sky but your expectations have to be based in reality. I want the 17 travelling to show me that they want to be part of what we are doing.
RUSG: We are now one month away from the new season. How do you feel SFL 2016 will be different from last season? What are your targets for this year?
Justin: I think Liepaja will be even stronger and can challenge RFS. All cliches aside, it will be one game at a time. I want us to push teams like RFS as we did when we drew 2-2 with Liepaja. I will keep my targets private for now because so much can happen – positively or negatively – before the season starts. Will they be fit enough? Hungry enough? Let's see. I believe they will be but... who knows? Losing Ieva Bidermane and Enija Vaivode is massive. Overall though, our 28-player-squad is going to have quality running all the way through it. This was not the case in 2015.
RUSG: Ok, so as we didn't do it with you last time, we have a couple of quick questions we'd like you to answer for us: Favourite moment as RUFC Ladies coach?
Justin: Our first ever competitive match. Semi final of national cup, big passionate crowd. All of hearts beating so much we thought they might explode with nervous expectation. Knowing we had arrived as a team.
RUSG: Worst Moment at RUFC Ladies coach?
Justin: Being in hospital in September and unable to put in place my development plan for the 2015/16 pre-season. Playing wise, it was the cup defeat to Liepaja a couple of days before I got rushed to hospital. We should have led them at the break and I was ready to shut them out in the second half. But we were centimetres away from going in at 1-0 at 45 minutes, Anne Grethe got an injury which tragically spelled the end of her career, Tarasova had another moment of brilliance, and suddenly we fell apart. I truly believed we were going to reach the cup final. The injury to Anne Grethe just doubled the feeling of hurt. Every time a brilliant player like Hanna Eriksson or Ieva Bidermane leaves it hurts deeply. And when players have to quit because of injury I am so so sad for them.
RUSG: Favourite team other than R.U?
Justin: Northampton Town Football Club. My grandfather's team. I have supported them since he took me to a game under the misty floodlights when I was 6. I love the club. I used to travel home and away to 30 games or more a season. I listen now to all their games live on Internet radio and still manage to go to about ten games per season despite spending most of my time in Latvia. I literally check their Twitter account and the local Northampton newspaper every single day for club news. When I see the claret and white Cobblers come out on to the pitch my heart beats faster and I feel like I am home. This season just happens to be the best team we have had in 30 years. The 1986 championship winning side is my favourite football team of all time. I was 15 or 16 and they were winning games 6-3; throwing caution to the wind and playing the most exciting attacking football you can ever imagine. 99 points and 103 league goals. I mention this because that season – that team – has influenced my thinking and playing ever since. This season we are 13 points clear and playing brilliant football. I can't wait to see them away at Mansfield in two week's time, haha.Here is
Northampton town in 1986 - see if you can spot me in the crowd!

RUSG: Favourite Player?
Justin: The best player I have ever seen was undoubtedly Maradona. Different planet. But he isn't my favourite player for many reasons, including cheating his way past England in the 1986 World Cup. For many years my favourite player was Chris Waddle. I played as a winger at the time and his tricks and style of playing was an utter inspiration to me. I tried to copy his tricks. He was also a humble man who played with a smile on his face. He still plays semi pro aged 55. This says it all for me. Legend. He loves football too much to quit. And why should he? I feel exactly the same. I don't want the party to end.


I will also mention fellow Geordie, Paul Gascoigne. He self destructed but was the best footballer of his generation. He did things that did not seem possible. Sometimes you thought there were three Gascoignes on the pitch at the same time. He was that good. And for all of his negatives, he was also a huge character. He played with a smile. Had a laugh. Lost the plot sometimes. He was real. He was a flawed genius. I am not a fan of football robots or plastic fans.
RUSG: Favourite place to play or coach in Latvia?
Justin: As a coach it has to be Liepaja which has a big stand on one side of the ground with a couple thousand seats and the beach behind it.

As a player I would say Aizkraukle: An old school amateur football stadium with a stunning backdrop and friendly locals. If I am allowed to cheat with my answer, then I will say the Lithuanian national stadium where I played for Riga United.
RUSG: When you are not playing football or coaching, you are.....
Justin: Football, haha. Watching it in a stadium or on the TV
RUSG: Something you can't live without?
Justin: But aside from football, the one thing I cannot live without is foreign travel. I am totally addicted. Travelling defines my life to be honest. I have been to more than 100 countries and my dream is to see every country on the planet. If it wasn't for Riga United FC, I'd be on the road right now. Iran, Bhutan, Namibia, Colombia, Gabon are some of the places on my current wish list. If I ever want to make myself smile or laugh, I just remember one of the countless crazy situations I have got myself in on the road.
RUSG: Favourite Proverb?
Justin: Honesty is the best policy. Good things come to those who wait. At the end of the day, it is night. If you don't shoot, you don't score. Learn from yesterday, live for today, hope for tomorrow. Life is an absurd joke. Take your pick. I have got a couple of my own but they are too rude to print.
RUSG: Favorite colour?
Justin: Sorry to say it isn't red. Close though. It has to be claret. The colour of Northampton town, Latvia and wonderful Chilean wine.
RUSG: Message to the RUFC community?
Justin: Please continue to support us in any way possible. We are all this club. It develops the more we all put it. We make it what it is and what it will be. Enjoy the journey! Make friends and create memories that will stay with you.

RUSG: Thank you for joining us. We wish you all the best of luck for tomorrow's game and the upcoming 2016 season we'll be firmly supporting you guys all the way.