News
Historic first away win for ladies reserves
06 / 09 / 2016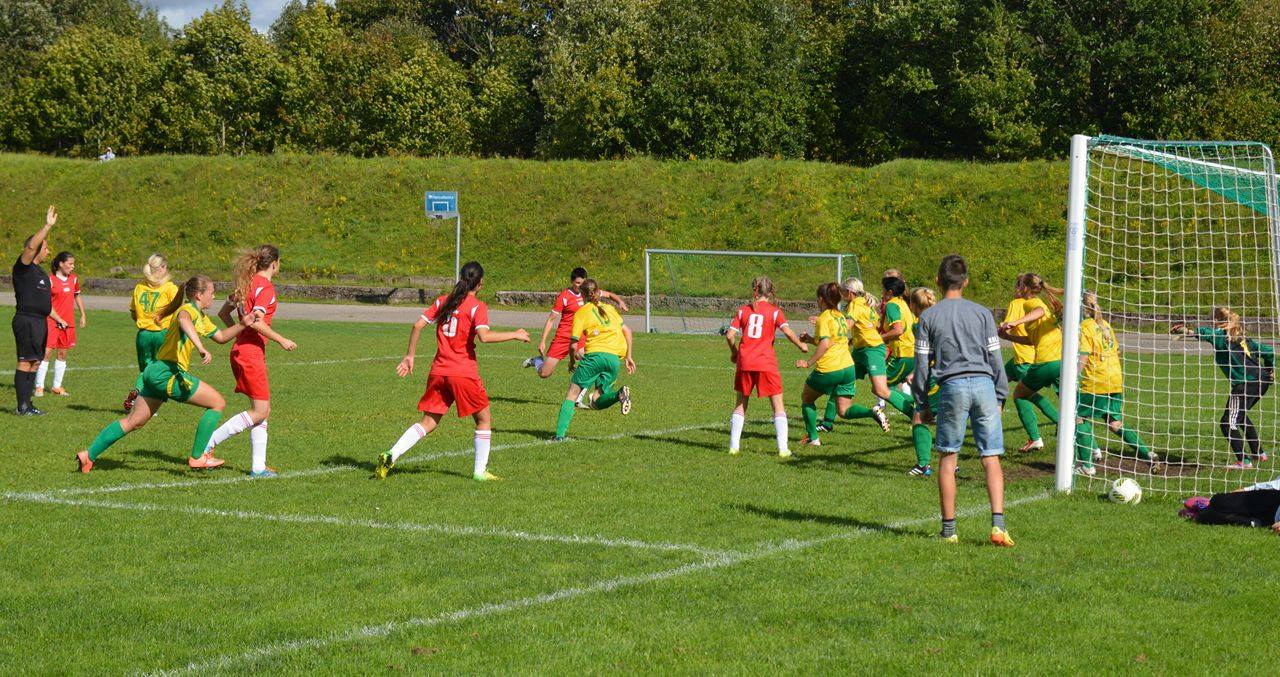 Riga United Ladies Win Bruising Encounter in Kurzeme
Although it was the ladies in red who celebrated at the final whistle, the first ten minutes of the game suggested a more depressing outcome was in store for United. Talsi are a physical, experienced mid-table team, and they were first out of the blocks. The bumpy grass pitch caused them relatively few problems, and their intelligent passing and hard running cut through the Black Cats' midfield and caused the experienced defensive backline of Ķempe, Toka, Zilberte, and Uspele some difficulties. Slowly though, tackle by tackle (led by the tenacious captain Liepina), the midfield began to compete and then overcome their opponents. The front three of Whitmore, Briede, and Volkovica also helped out when not in possession; not only harassing and pressing the Talsi defenders, but darting back into the midfield to dispossess: in short, the unglamorous demands of the beautiful game were being dealt with energetically and with a good dose of spiteful determination.
Although the uneven pitch made it hard to put together flowing moves, the ladies started working their way through the high Talsi back line. Intelligent passes began to release the front three: Whitmore drew a great save when bursting through on to a one-on-one with the keeper; Pozniaka began to threaten with her trademark long shots; and Volkovica and the young Briede began to find space on the flanks in which to display their trickery.
Despite being content with their first-half efforts, the team were looking for the three points, and the reward for all the hard work came in the 62nd minute when Jekaterina Volkovica cut past her defender, sprinted into the area and coolly fired the ball home.
The midfield and front three continued to harry and dispossess, successfully throwing Talsi off their game on their narrow home turf. And, when their opponents did break through, the back four and keeper Romanova were up to the task, dealing with the danger with cool heads, fast feet, and in Romanova's case, a safe pair of hands. The second half substitutes all played their part. Selicka, on for the skillful but fading Morad, impressed with her tenacity and cool head in possession; Levikina, on for Briede, put in a determined shift on the left flank; and Dakstiņa, on for the yellow-carded Liepiņa, smashed the crossbar with a rising rocket of a shot late in the game.
The whistle blew (a little early it seemed - one suspects there was a hockey game to watch), and the ladies tasted an away-day victory for the first time in the team's history - a victory all the sweeter in the context of what has been a long, tough debut season.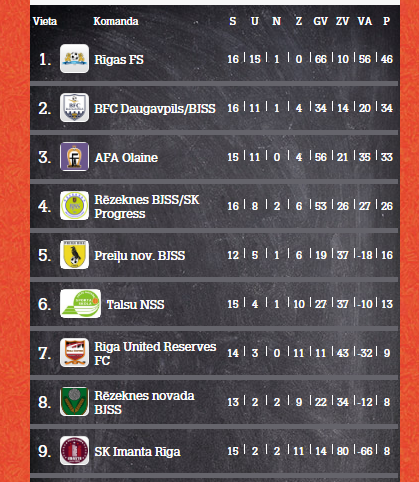 Updated table for September 5, 2016