News
Interview : John & Selga Whitmore, Like Father Like Daughter
16 / 07 / 2017
Selga and John Whitmore are a prime example of what Riga United is all about. As one of the founding members of the club and having sat on the previous board, John has seen the club grow to where it is today. In the midst of all this, he has seen his daughter Selga develop her football to the level where she now represents Latvia at U17 level...
Next week she will play for Latvia at the U17 Baltic Cup, we caught up with the father daughter duo to see how far the apple has fallen from the tree;

RU - How did Selga react when she was given her first international call up for Latvia?
Selga: I was a bit scared, but excited at the same time. I was worried that I would forget to take something that I needed, like my shinguards and passport - this still happens.
John: I think we (her parents) were more excited than she was, though she was very happy and proud, too of course.
RU - How have you seen Selga develop over the past few years in terms of a player and also a character on the field
Selga: I think that I have developed a lot this last year. I think I know how everything works on the field: I mean how people move in their different positions. Also I can head the ball better now. I feel more confident, too.
John: As a youth player, she was a reliable defender. For the reserve team last year, she always worked hard and intelligently in all the positions I or Ervīns played her. This year she has learned so much, not just from Arturs, but also from senior players like Pia, Liga, and Marit - and not just from what they tell her, but from watching them play. When I watched her play for the Latvian team last month, I saw that this experience has made her more confident. She is less shy about telling her teammates what she wants them to do.
RU - When did she first show an interest in playing football and do you think you have been an influence on that?
Selga: When I was nine. Because my dad played football, and I thought that it was pretty awesome, and I wanted to be like him, too.
John: Actually, Selga was interested in playing a long time before that. I remember seeing her play against the boys at kindergarten. I could see she had talent: the boys couldn't get anywhere near her. I took her to organised football coaching when she was nine after I saw her play in a kick about. I saw she had the right character to play football: she didn't give in, didn't sulk, and was the heart of her team. These qualities have never left her on the pitch. Was I an influence? Maybe…:)
RU - Selga is eligible to represent England at international level, do you think this is an avenue she may explore or is she committed to wearing the colours of Latvia?
Selga: Well, my Dad is English, so it would be impressive to do that because it is so much bigger and there are so many more girls playing there. It would be really hard - a big challenge - to get in the team. But it is a real honour to play for Latvia, and even if I ever was given the choice, I think would choose to play for Latvia.
John: Let's be honest: it would be really hard to break into the English team. But, even if she had that opportunity, she is a Latvian patriot, and I am sure she would choose to represent her country here. I am not upset about that - Latvia is a smaller country and needs its people more. Also, as an Englishman, I am all for rooting for the underdog - which in footballing terms at least, Latvia currently is.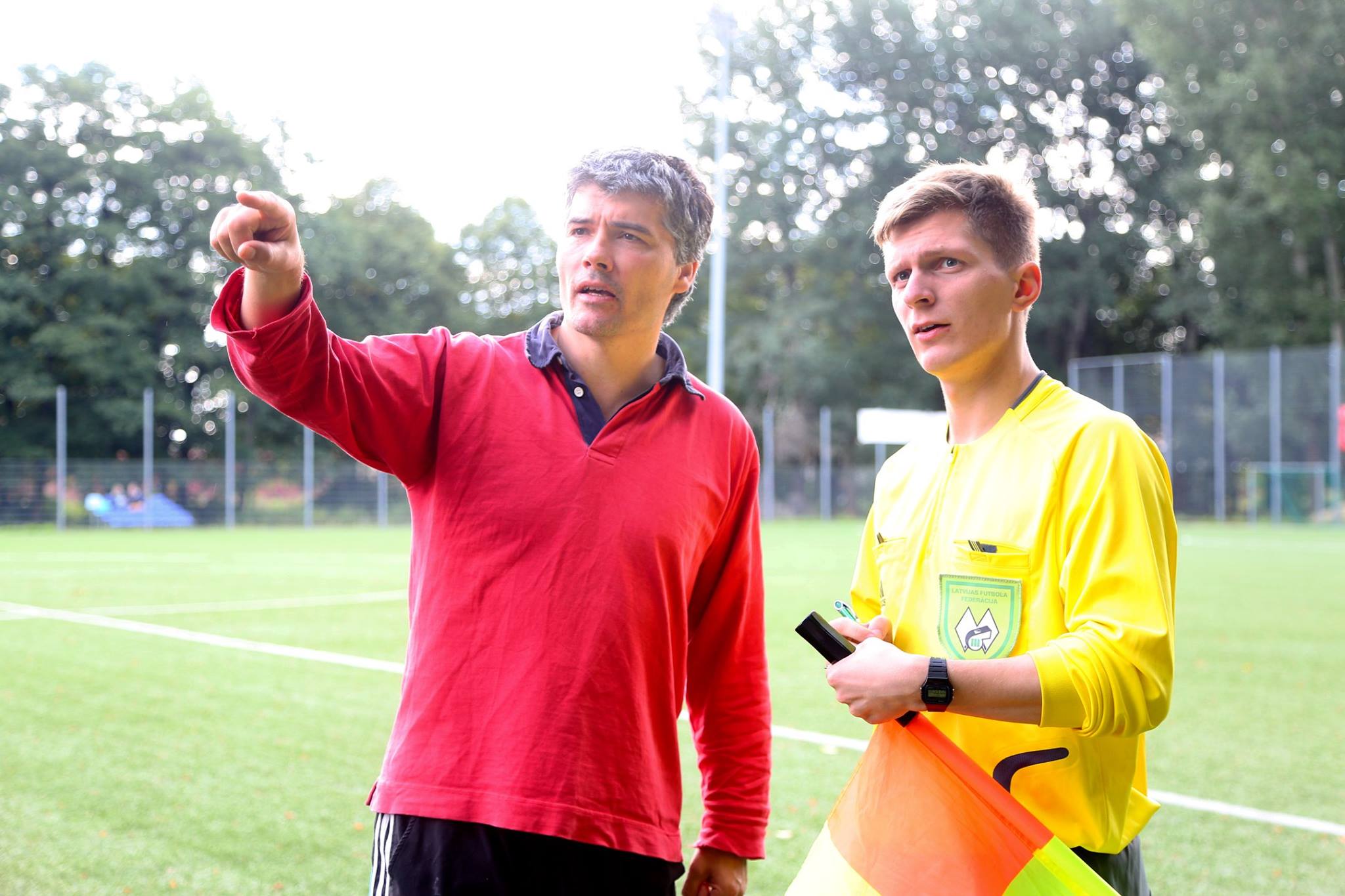 RU - Selga has broken into the Riga United 1st team this year, despite her young age she has put in some fearless performances, has her confidence surprised you?
Selga: Yes, my confidence has surprised me. When we are playing the strongest teams in Latvia, I am bit nervous: but then I start thinking in a more positive way, and then when I am on the pitch, I start to think 'let's get stuck in'!
John: She has always been utterly fearless on the pitch. That comes partly from having to fight her older brother, I am sure. It might also be because I used to show her videos of Julian Dicks, the infamous West Ham left back (I hope no one refers me to the authorities for that), and she took his attitude into games: winning tackles against girls twice her size, never faking injuries, and never complaining. But, yes, her confidence on the ball has surprised me a lot. Arturs has given her some creative license, and it is clear she is enjoying it greatly.
Riga United will have three players representing Latvia at the upcoming U17 & U19 Baltic Cup, we want to wish Selga Whitmore, Karmena Pozņiaka (U17) and Linda Kazlauska (U19) who is currently on loan from FK Auda. You can follow the girls results on our facebook page.