News
The Ladies bring 3 points back home
20 / 09 / 2017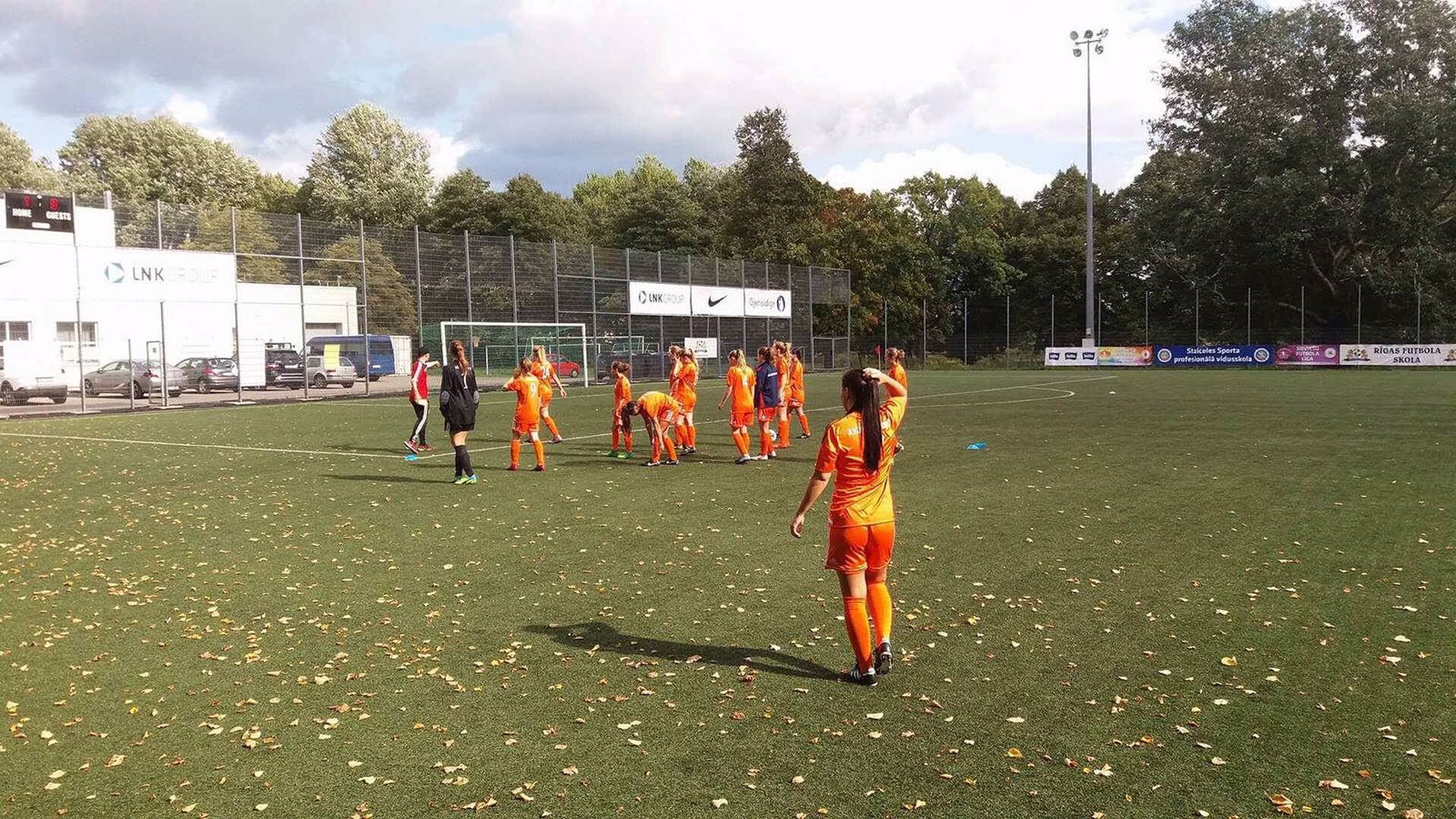 Without a single goal conceded, Riga Untied Ladies celebrated a 3rd consecutive win over Spartaks Jurmala.
On Saturday, the 16.09.17., Riga United Ladies took on FK Spartaks Jūrmala in the second part of the Latvian Women Premier League.
With less than 48h regeneration time since the last game against Liepaja, the Ladies were ready to fight for a much-needed win against Jūrmala.
Coach Artūrs Zālītis chose to start in an offensive manner, with three defensive players and five midfielders, which worked out well. The ball was won in the midfield and distributed over the wings, where the girls overran the opponent and delivered the ball into the box. Unfortunately, the Black cats were unlucky and lacked precision for converting their chances into goals.
Closer to the end of the second half, Larisa Muzikante went with a rocket shot towards the goal, which ricocheted from one of Jurmala's defenders, being counted as an own goal.
Although the girls won most of the tackles, Jurmala showed that they didn't lose their faith at any minute of the game. Jurmala had several shots at the goal of Riga United, of which some were fortunately misplaced, but also Baiba Auzina showed in her second game as a goalkeeper what she's capable of and had some great savings.
The Ladies went for a half-time break leading the game 1:0.
Several minutes after beginning of the second half, Linda Kazlauska carried out a corner with a great delivery into the box, where Pia Foosnaes led Riga United to a 2:0 with a piercing header.
Jurmala tried to get through also in the second half, but the girls kept on fighting. Thanks to our defenders Marit Gjerde, who managed to clear almost every ball during the 90min., as well as May Gullord Ali and Ronja Penkkala, who showed a great game and didn't stop fighting for every ball.
Another great performancee from Pia, who showed again her strength and creativity, this time as a central midfielder, who battled with opponents, finding herself good interventions in crucial moments as well as playing out a lot of Riga United' attacks.
Coach Artūrs Zālītis showed himself satisfied with the team's performance and an industrious win, having 3 academy girls played in the game, two of them reaching the 90min mark.