News
"It has been the best of times, the worst of times": Interview with Justin Walley
21 / 09 / 2016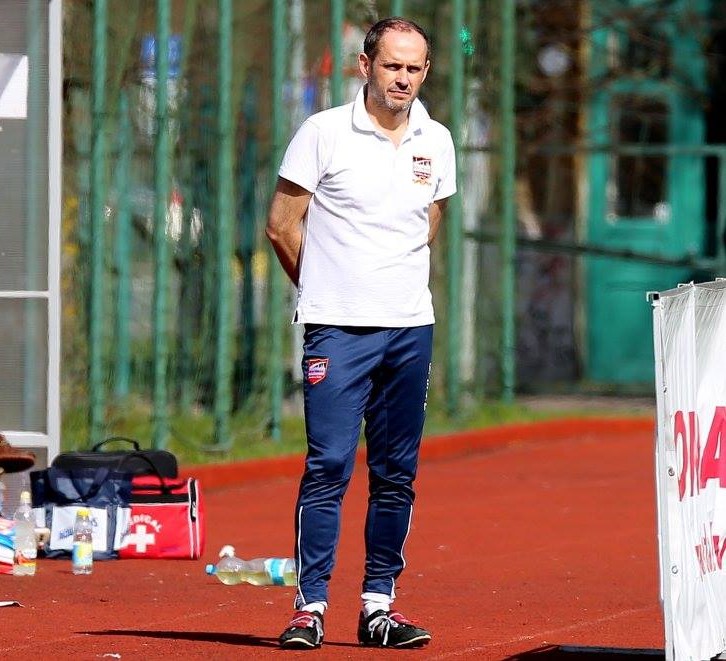 In an interview with rigaunited.com, Justin Walley talks about his time at Riga United and his hopes for the club.
Date published: 21/09/2016 - 19:07


As of last Friday, Justin Walley announced his resignation from not only being the manager of the Ladies' team, but also the Club Secretary role.

Justin has been with the the predecessor of the club and Riga United since its beginnings. There's arguably no one who has put more of their time and effort into the club than Justin. In an interview with rigaunited.com, we sat down with Justin and had an interview with him discussing about his time with the club and what his hopes are for the future.

Hello Justin! How are you? So you have just stepped down from the board. How are you feeling about that?
As you might expect, I have mixed emotions. From one side, I will be honest: it is a relief to finally step down from so much responsibility after four years. As John said to me last night: "I can already feel a weight lifted from my back". I will, however, be club secretary for another 10 days and there is so much to finish before I leave. So, probably best you ask me how I am doing after two weeks!

But, in the sense of seeing a new board elected I am very positive and optimistic about this. On paper it looks like an excellent lineup: Graham [Williams] is already a massively positive influence on our football club and with him even more heavily involved in the day-to-day running of Riga United that can only be a big plus. Mo [Awada], is the only remaining member of the previous board. Having known and worked with Mo for many years, I know he truly loves the club and having at least one member of the previous board was probably vital. Sofian [Berrahal] worked as an advisor to the board 15 months ago and I am always impressed by his no-nonsense-attitude to getting jobs done as well as his great energy for things. He has played all four seasons that the men's team has played national league football so this is another sign that this appointment fits the club. Pavels [Gognidze] is the new parent rep. I don't really know Pavels but his 15 years experience in football working with UEFA has got to be a really big plus for the club. Finally, Andre [Kliese] looks like a really great addition to the board. In my dealings with him I have always found him to be a complete gentleman and he brings a great skill set, fantastic experience and the all important factor of personal free time to get things done in the job,
How would you describe your time as a board member of Riga United?
Hard work. Haha. Ultimately, it is the board that runs the club. The club has developed incredibly over four years and most of that is down to the majority of those individuals who have served on the board.
Two years ago we went through a dark period, in my opinion, when the club was being taken in the wrong direction by one or two members of the board. Fighting that "other agenda" was tough and I felt that it took its toll on my own personal health at the time. But we got through that and I must say that the time since that period has been fantastic for the club's development as were the early days of the board when we worked so hard to make our little football club a more serious project and created a national league side and youth academy.
So in short, why have you decided to leave?
I wanted to step down from the board 12 months ago but I didn't feel the club was quite ready to continue its progress without my day-to-day involvement. I did, however, promise at the last AGM that I would be stepping down this year, whatever happened.
I have based my entire life around Riga United Football Club for these past five years. It has been the best of times, the worst of times. The highs have been incredible but at times there has been an unbearable amount of personal stress. It is time for me to put myself first and the club second, because for most of the past five years this has been the other way around.
I also strongly believe that in order for the club to grow, my stepping away will allow others to step up and take the club further forward than I could have. Change is sometimes needed. Fresh energy and ideas are needed.
You have been with the club since its inception, also with its predecessor too. What was it that made you stick with the club so long?
Love for the club. Friendship. Passion for what we are doing. The desire and determination to finish what I set out to do. Fun. Enjoyment. Coaching and playing football. I know how much personal enjoyment the club has given to hundreds of people over the years; the friendships and sense of "tribe" RUFC has given us all.
What would be, firstly, your proudest moment with the club?
Gosh, always hard to pick one moment from dozens of amazing memories. I suppose I have to go with captaining the team on our national League Two debut. Knowing how far we had travelled to reach that point felt incredible. You were suddenly playing two tiers below the Latvian Premier League! We had fans cheering and clapping for us! One thing nobody really knows about that day is that Jeff actually named Graham as captain for the debut game. Graham came up to me and said no way should he be captain for that game and, after all my years at the club, it should be my honour. And it certainly proved to be. I will never forget that day and that experience. But I will also never forget that brilliant gesture from Graham. He knows how much captaining that first game meant and means to me.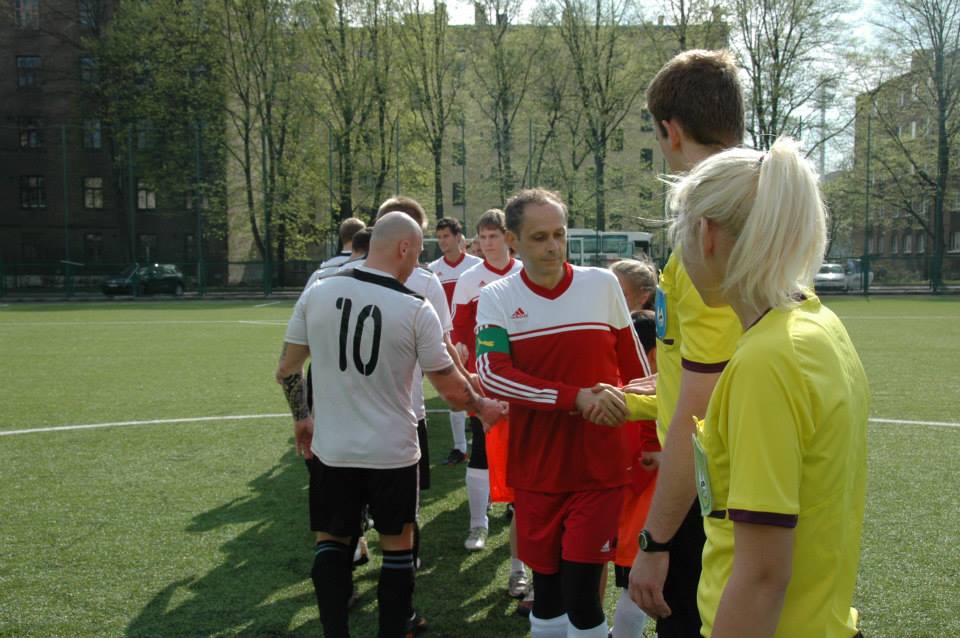 Justin Walley leads the team out in their first ever League 2 game vs FK Ādaži

At this moment there is a proud moment Justin forgot. At the 2nd annual Riga United Awards, Justin Walley recieved "The Funniest Moment of the Year" award for a memorable celebration. The moment was in fact lobbied by members of the Riga United team. It was a cold night and Riga United had a penalty late on in the game, which Justin duly scored. It was not so much the penalty but the now legendary 'chicken celebration' which followed the goal.



Justin 'proudly' winning his "Funniest Moment of the year Award"

Secondly, the club's proudest moment?
Again, these things are hard to quantify. Being televised live on national television and streamed across the world on the Internet this year and having 200 supporters at that match is hard to beat. Having Liene and Ieva representing the club for the Latvian national team also has to be a proud moment for Riga United. When Ieva [Bidermane] was voted the best footballer in Latvia last December was also a moment that gave me goosebumps. But, Richard, the club has proud moments all the time: two weeks ago the men's team drew 1-1 with the best football team in Latvian League Two! The list goes on!
In your eyes, what is the future direction of the club?
More of the same, I hope. Fundamentally, we do not need to change who we are or how we do things. Look at St Pauli in Germany! They are a club that puts its supporters, players, members, local community first. We should not try to copy the countless boring, corporate clubs out there full of money men and stupidly overblown egos. We should instead focus on doing what we are doing now, but doing it better. I have no doubt that we are the friendliest, most open, most democratic, most fun and the coolest football club in the entire Baltic states...and long may it continue!
What are your plans after leaving at the end of the month?
Having a lot of fun and adventure! I am looking forward to being free in the true sense of the word. Firstly, I am going to spend some time with my family in England and then, all being well, I am setting off on a backpacking adventure with my girlfriend. Beyond that I would like to do some voluntary work for a few months.

And finally... Liepāja on Saturday; notoriously a tough team and the result defining the 3rd place. How do you think it will go? Are you all ready?
In training on Monday, the girls were brutal in the session. Everyone gave 100% and I honestly think in that state of mind they could have beaten a men's team if they had played them. If the girls who turn up on Saturday turn up in exactly the same state of mind, then I have absolutely no doubt they will win. That is up to them. We have never beaten Liepaja. We have the opportunity to finish third in the league. All of this should be motivation enough.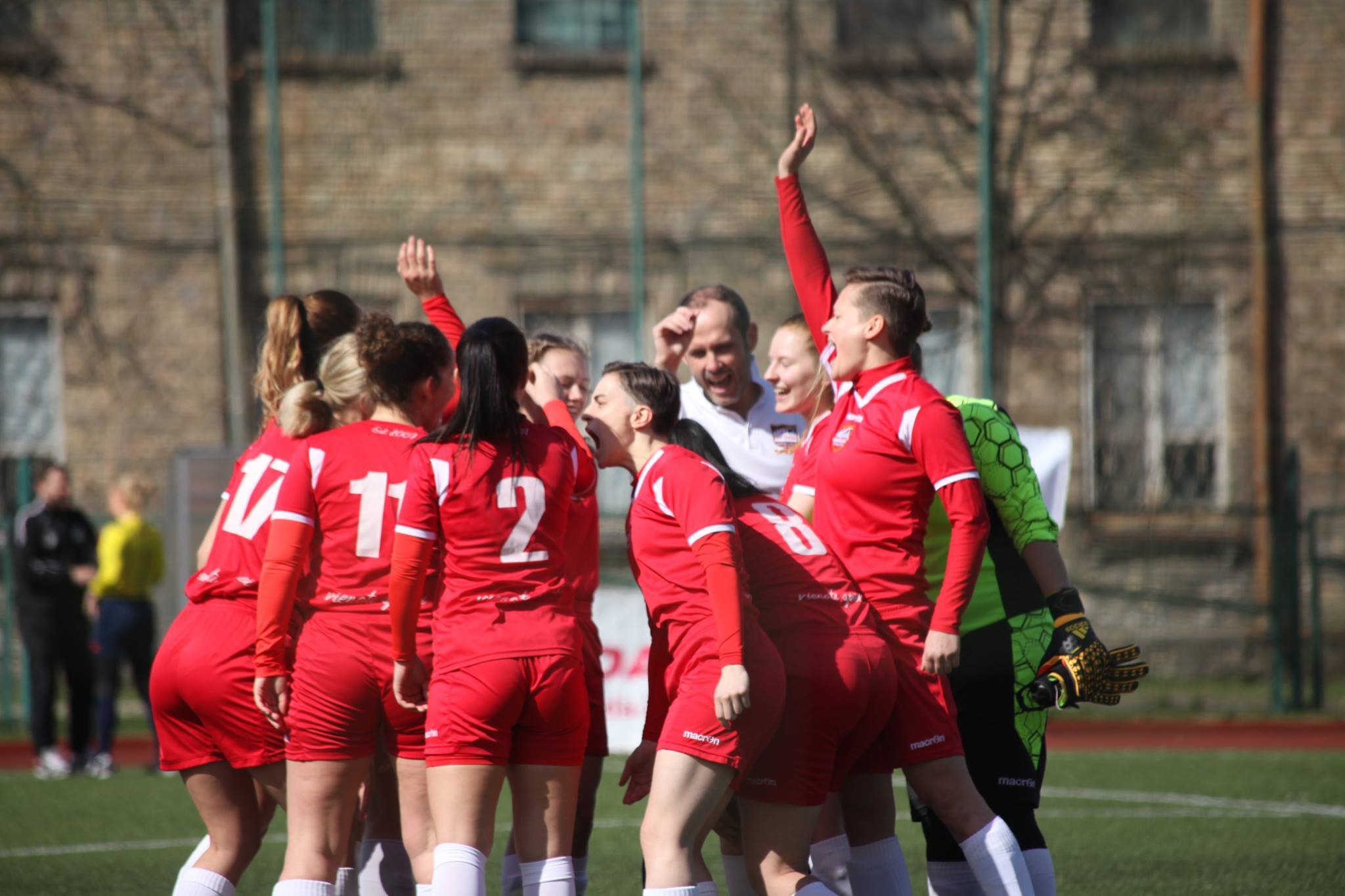 Justin and the Ladies' team before the first game of the season vs FK Liepāja


Thank you very much for your time today and thank you for your time and dedication to the club. Good luck on Saturday!
Richard, your hard work and dedication is an absolute inspiration. Thank you so much for all that you have done!